Over the last two years, retail and professional investors have tried to call the bottom in the crude oil market over and over again. In late 2014, professional investors mentioned that crude oil prices below $70.00 were unthinkable. Later, we heard that crude oil prices below $50.00 were outrageous and that many crude oil producers were going out of business. Now that crude oil trades at $26.00, investors seem to have lost any trace of hope on a possible price stabilization or bounce. This is the time when we hear bearish comments on oil several times each day. For instance, the Bank of Russia expects crude oil prices below $25.00 in the interim. Barclays also released a bearish outlook on crude oil last month.
Following the investment psychology chart, it means that the bottom in the crude oil market is in, and that we must start putting together our shopping lists. Another reason to believe why we are in the despair phase is because most of the financial analysts and experts interviewed by CNBC, Fox Business or Bloomberg said that today's "modest" 11% rally in crude oil prices was nothing but short-cover due to the long-weekend effect or rumors about a possible production cut by the OPEC that were unlikely to materialize.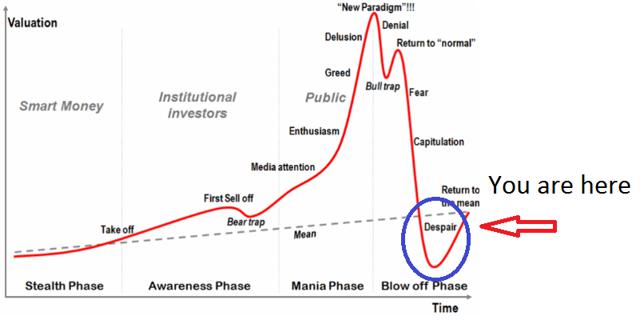 Click to enlarge
You may recall last October and November when I wrote about the possibility of dividend cuts by several MLPs such as Atlas Resource Partners (NYSE: ARP) and Legacy Reserves LP (NASDAQ: LGCY). One or two months later, most of the MLPs slashed dividends by as much as 90%. There is panic on the street, no doubt. Even professional investors such as Carl Icahn, who has a sizable position in Chesapeake Energy (NYSE: CHK), have suffered big losses over the last six months. Nonetheless, as investors, we try to put our money to work, and the truth is that crude oil is still a major energy source and that demand for oil will never dry completely. Presently, crude oil prices seem to be stabilizing in the range of $26 - $32 per barrel over the past month after a 70% decline over a period of 18 months. It seems to me that the bear market in crude oil is reaching its end, and it is now time to start looking for quality investments.
Where not to invest
One of the most common mistakes that retail investors make is to try and mimic the investment strategies of hedge fund managers. For instance, Carl Icahn made bullish bets in Chesapeake and Transocean (NYSE: RIG). As much as I acknowledge that Mr. Icahn has an edge over retail investors such as myself, I cannot help wondering if Mr. Icahn is right in placing a bullish bet on Transocean. In fact, I believe that Transocean is an excellent shorting opportunity at current values.
Transocean is a company that contracts their drilling rigs, equipment and work crew with a particular focus in deep water, and perhaps this is its Achilles' heel. I believe that the business model of Transocean will experience a significant slowdown in the interim if 1) the OPEC decides to cut the production of oil or 2) if crude oil prices remain at current levels. The reasoning is that deep water rigs' operational cost is significantly higher than the onshore rigs' operational cost. Therefore, if any crude oil or natural gas producer decides to reduce its rig count, the producer is likely to unplug offshore rigs compromising Transocean's revenue. On the same note, in order for Transocean to experience an increase in the demand for its services, the crude oil prices must be significantly higher to overcome the costs of offshore extraction.
Moreover, although Transocean reported an operating income of $445 million for the three months ending on September 2015 compared to an operating loss of $2,168 million for the same period, the company spent 20% of its EBITDA on interest expense during Q3 2015. However, I believe that the interest expense / EBITDA ratio will increase in coming quarters because most of the company's long-term debt is now composed mainly by senior notes yielding between 6.00% and 8.00%, compared to yields of about 5.00% on senior notes maturing in 2016, Figure 1. As the interest expense increases, Transocean's ability to fund new projects will be severely undermined and therefore its growth capacity is compromised right now.
| | |
| --- | --- |
| (in millions) | Q3 2015 |
| EBITDA | $ 554.0 |
| Interest Expense | $ 109.0 |
| IE / EBITDA ratio | 20% |
Table 1. Transocean Interest Expense / EBITDA ratio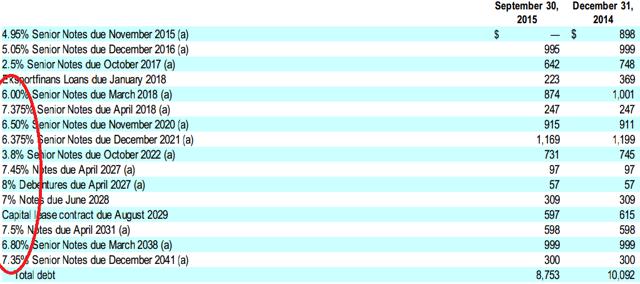 Click to enlarge
Figure 1. Senior notes reported by Transocean
Where to invest
Parsley Energy (NYSE: PE) offers a great bang for your buck, and I believe this will be one of the strongest outperformers in the oil sector in the near future. The company is up 3.6% over the last 12 months compared to a decline of 29% in the Energy Select Sector SPDR (NYSE: XLE), Figure 2. One of the possible reasons for the outperformance could be due to the fact that the company has repaid 18% of its long-term debt since December 2014. This is significant because while most crude oil and natural gas producers are expanding its debt and deteriorating their balance sheets to sustain current operations, Parsley Energy repaid $120 million since January 2015. As the company continues to repay its debt, interest expense should decline giving Parsley more cash to expand ongoing operations or explore new possibilities.

Click to enlarge
Figure 2. 12-month performance of RIG (yellow), PE (red), and XLE (NASDAQ:BLUE)
Investors should also have in mind that although crude oil prices fell by 60% from $102 in Q3 2014 to $45 in Q3 2015, Parsley' revenue declined by 19% from $63.3 million to $51.6 million over the same period. Therefore, it is evident that Parsley's hedging strategy is outstanding, and there is no indication that suggests that this hedging strategy will change.
Another feature that I love about Parsley is that it does not pay dividend. During the last quarter, several crude oil producers were unable to sustain dividend payouts and their shares were taken to the woodshed when the companies announced dividend cuts. Since Parsley does not have a dividend distribution, investors need not to worry about dividend sustainability. On the other hand, should crude oil prices rebound, investors may be in for a nice dividend announcement surprise due to a strong balance sheet.
The take home message
Investors have been trying to catch the bottom on the crude oil market. Presently, the bearish comments overwhelm the bullish cases, and investors are in despair. Therefore, following the simple chart of investment psychology, I believe this is the bottom. Carl Icahn has exposed his portfolio to Transocean in an effort to capitalize gains on a possible crude oil recovery. However, I believe that this company will continue to underperform in the interim because the company focuses on offshore drilling, and if producers are to unplug oil rigs, offshore rigs are likely to be first in line. On the other hand, Parsley has been a solid performer during the crude oil crisis. The company has been able to shrink its long-term debt, while most of the crude oil and natural gas producers are expanding their long-term debt. As the interest expense continues to decline, Parsley should have more cash to expand current operations.
Therefore, a good pair-trade to gain exposure to the crude oil industry is a long position in Parsley Energy and a short position in Transocean.
Disclosure: I am/we are long PE.
I wrote this article myself, and it expresses my own opinions. I am not receiving compensation for it (other than from Seeking Alpha). I have no business relationship with any company whose stock is mentioned in this article.
Editor's Note: This article covers one or more stocks trading at less than $1 per share and/or with less than a $100 million market cap. Please be aware of the risks associated with these stocks.