Michael Kors (NYSE:KORS) is a name that I've been pounding the table on for a long time. The company's products are highly sought after in the fashion world and its fundamentals have been terrific. However, I was caught up in the hype surrounding the company's growth trajectory back in early 2015 and I went long far too early. Indeed, I acknowledged back in November that KORS was struggling and that its valuation expectations needed to be reset in a big way. However, since that time, we've received a huge FQ3 report that sent shares soaring and above the 200 DMA. Is this the all clear that investors were hoping for?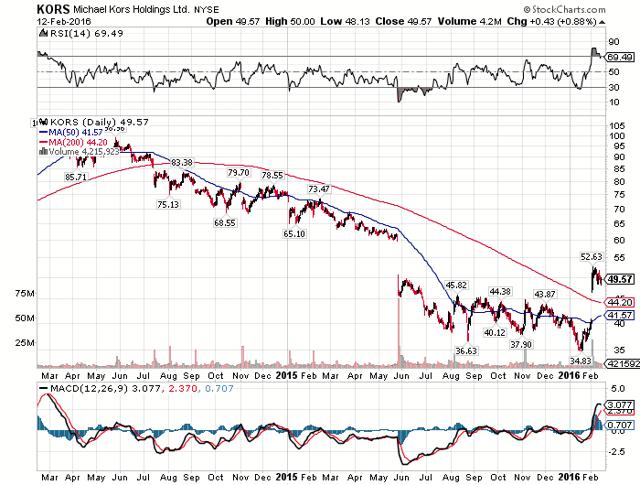 KORS' Q3 really couldn't have looked any more dissimilar to Q2 and that, I assure you, is a very good thing. KORS' Q2 was hideous, producing a massive loss in comp sales and shrinking margins as well as substantial currency headwinds. In FQ3, KORS remedied at least two of those and that is why the stock was up so much on the report.
Revenue in FQ3 moved up 6.3% as the company's comp sales rose 2%. While that isn't an amazing number by any means, after the enormous comp losses KORS has been posting, anything over zero is a win. In addition, the company's revenue ex-forex was up 9.9%, indicating even greater strength than the reported number. I've always said that the ex-forex number doesn't matter for any company and that is true; reported is what matters. However, I mention the ex-forex number here simply because the headwind from the strong dollar in FQ3 was only 3.6% of revenue against 5.4% in FQ2. That's a significant gain in revenue from a weaker dollar (relatively speaking) and that is a huge positive for KORS. And given the fact that the dollar has been weak in 2016 thus far, I expect the headwind of the dollar will be even less substantial in FQ4. This will certainly be something to watch because if the dollar continues to weaken, KORS stands to benefit a great deal on both revenue and margins.
Speaking of margins, the company's gross margins fell 140 bps during FQ3. A full 95 bps of the loss was due to currency translations but still, KORS has been struggling to maintain its margins of late as it continues to promote product to move it. KORS certainly isn't out of the woods yet in terms of margins but the ex-forex loss was manageable and that's a good thing. I'll be eagerly awaiting news of KORS' margins when it reports FQ4 but for now, progress is being made and that is terrific.
Another thing I was very bullish on after the last quarterly report was the company's substantial share repurchase program. At the time, it was good for a total of $758 million and KORS made good on $200 million of that during FQ3, retiring almost 4.7 million shares. It still has $558 million left on its current authorization, good for an additional 6.3% of the float at current prices. That will be a significant tailwind for EPS growth in the coming quarters and I look forward to KORS sopping up all those shares.
At 10.9 times forward earnings, KORS isn't quite as cheap as it was at the trough. However, that is to be expected as the stock has moved up about 40% from its lows. The good news, however, is that KORS raised its guidance after FQ3 and has provided investors with a reason to buy again, something that hasn't been true for a while. If KORS can get a little help from the dollar and keep its sales momentum moving forward, it could easily best its ~3% EPS growth target for next year. It needs to get margins in order but the bar seems pretty low at this point, even after its terrific FQ3 has been digested.
In addition, the stock, as I mentioned, is well in excess of its 200 DMA at this point. That hasn't happened since the middle of 2014, putting into perspective the epic downtrend that took the stock over in the past year and a half or so. But this new development is very positive as it means that if KORS can hold its gains, the 200 DMA will turn higher and likely act as strong support for any uptrend. KORS still has some operational issues to sort through but if it can turn its 200 DMA higher, that would be an enormous buy signal for the stock. The line is the in process of flattening out right now so keep an eye on it over the next few weeks.
KORS made some nice progress in FQ3, not the least of which was turning comps positive. In addition, the dollar is becoming less of a headwind and that could single handedly add millions of dollars to the bottom line in FQ4. Gross margins continue to wane and I certainly don't like that but the declines at this point are manageable. And with the buyback still enough to retire more than 6% of the float, KORS can easily make up for 1% or so of lost product margins. I think EPS estimates for next year are too low and that KORS will trade back into the $60s to start with and if it can keep its momentum going, eventually make a run at its old highs. We're a long way away from that happening but progress is undeniable and KORS is setup to go higher.
Disclosure: I am/we are long KORS.
I wrote this article myself, and it expresses my own opinions. I am not receiving compensation for it (other than from Seeking Alpha). I have no business relationship with any company whose stock is mentioned in this article.