Fellow Seeking Alpha contributor Michael Blair has a knack for not letting the numbers get in his way of being negative on Apple (NASDAQ:AAPL).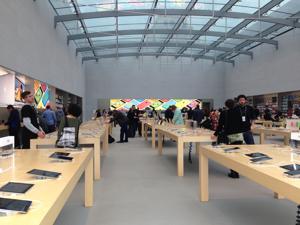 In his latest article, he brings up my note about Apple's gross margins and then utilizes some creative assumptions on how low they could go. He then adds some other analysis that portrays the company as poorly as possible.
In his article, Blair wrote:
Chuck Jones wrote a terrific article setting out the proposition that Apple margins were sustainable even in the face of slower iPhone sales.
My article points out that the company has been able to maintain gross margins between 40.1% and 42.7% when adjusted for warranty accruals over the past 10 quarters even as it has launched the iPhone 5c and 5s, 6 and 6 Plus, 6s and 6s Plus, Apple Watch, new iPads and Macs and services such as Apple Pay.
Blair continued:
What the analysis shows (Blair's analysis) is that if fiscal 2015 iPhone shipments had been 190 million rather than 231.2 million, Apple margins would have dropped to 35.4% from 40.1%. Every 10 million iPhones shifts margins by over one percentage point.
First, Apple didn't sell 190 million iPhones in fiscal 2015 and planned its expenses for a level around 231 million, which Blair acknowledges. I'd counter that one should take a look at fiscal 2014 when Apple sold 169.2 million iPhones and the company generated 38.6% gross margins. In Blair's analysis Apple's gross margin would have been about 34.1% (down one percentage point for every 10 million fewer than the 231.2 million sold in fiscal 2015).
Apple's gross margin guidance for the March quarter is 39.0% to 39.5%, which is lower then the 40.8% a year ago and 40.1% in the December quarter (or 39.7% when the $548 million patent payment is removed). While it looks to be down, it isn't as dramatic as Blair portrays it could be.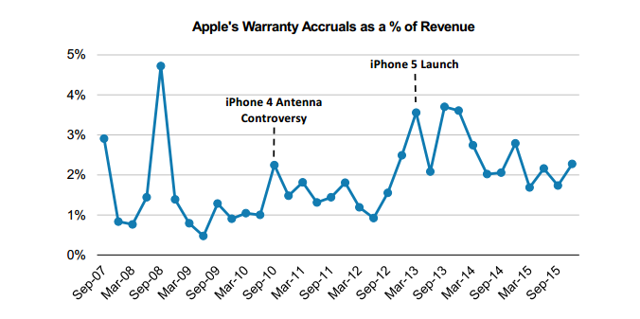 Source: Apple company data, Morgan Stanley research
Blair intonates that iPhone sales could be down 40%
Blair uses a graph from Fiksu, which I have used before in Forbes.com notes, and I agree that the iPhone 6s and 6s Plus have probably sold fewer units than the iPhone 6 and 6 Plus post their respective launches. Blair wrote:
We are halfway through Apple's Q2 and there is scant evidence of any upturn in iPhone sales with usage of the iPhone 6S and 6S Plus lagging last year's models by about 40% according to Fiksu.com data.
Keep in mind that when adjusted for channel inventory, Apple only sold 4% fewer iPhones in the December quarter going from 74.7 million to 71.5 million when the graph looked similar. It appears that iPhone 6s is doing better in areas or countries that Fiksu doesn't track or has a limited view of. Also remember that the iPhone's average selling price increased from $687 in the December 2014 quarter to $740 in constant currency. It sure doesn't look like the iPhone is in trouble.
While Apple doesn't provide product unit guidance you can figure it out. For the March 2016 quarter, it should sell about 50 million iPhones versus 60.2 million a year ago, down 17%. It makes sense that iPhone sales will be down since a year ago the company was still catching up to iPhone 6 and 6 Plus demand in the March 2015 quarter.
Another metric I look at are cumulative sales over the trailing three quarters and four quarters since these help to remove differences in iPhone launch dates and country availability. If it sells 50 and 43 million iPhones in the March and June quarters, respectively, the three quarter unit growth would be down 1% and four quarters would be down 3%. These growth rates give another indication that Apple's iPhone business is not as bad off as some make it out to be.
Not sure where Blair gets his channel inventory estimates
Blair estimates that Apple has stuffed the channel with 23 million iPhones, with no detail explaining his projection. I don't see how he gets that number because Apple has reported that there were 21.6 million iPhones in the channel at the end of December and at the low-end of its 5-to-7 weeks target. Is he saying Apple management isn't telling the truth? Does he expect there to be no inventory in the channel? Apple increased its target channel inventory from 4-to-6 weeks to 5-to-7 weeks starting with the March 2015 quarter due to the size and complexity of its channel.
Not much downside in Apple stock
While it is always worthwhile to understand the downsides to a company and its stock, cherry picking numbers can be more harmful than helpful. I wrote a Forbes.com note outlining three downside scenarios to Apple's sales and gross margins along with the relationship to the ensuing stock price and its net cash position.
The projections cut revenue forecasts by 5% to 10%, dropped gross margins to 37.5% then 35% and then 30% and kept operating expenses for 2016 the same as 2015's $22 billion and then decreased to $20 billion in 2017. The ensuing EPS estimates were $8.50 and $7 in 2016 and $5.50 in 2017.
A more realistic downside case that I believe would be hard to achieve is fiscal 2016's revenue 10% below the Street's projection at $212.4 billion, gross margins at 36% and operating expenses essentially the same as fiscal 2015's at $22 billion. This produces EPS of $7.25. At a PE multiple of 10x the stock price would be $72.50 with no benefit to the $20 in net cash the company would have at that time. While investors won't give the company full credit for the cash, the combination would be close to Friday's closing price of $94. Overall, Apple should still make a significant amount of money, and as its install base of iPhones, iPads and Macs continues to grow this will benefit the company in the long term.
Disclosure: I am/we are long AAPL.
I wrote this article myself, and it expresses my own opinions. I am not receiving compensation for it (other than from Seeking Alpha). I have no business relationship with any company whose stock is mentioned in this article.
Additional disclosure: Sand Hill Insights and Chuck Jones is not a registered investment advisor or broker/dealer. Readers are advised that the material contained herein should be used solely for informational purposes. Sand Hill Insights/Chuck Jones does not purport to tell or suggest which investment securities readers should buy or sell. Readers should conduct their own research and due diligence and obtain professional advice before making investment decision. Sand Hill Insights/Chuck Jones will not be liable for any loss or damage caused by information obtained in our materials. Readers are solely responsible for their own investment decisions.