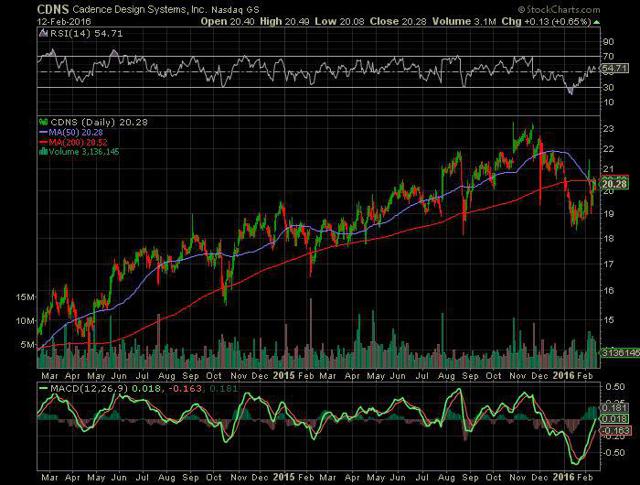 Click to enlarge
Cadence Design Systems (NASDAQ:CDNS) is a key player in the tech world. The company makes electronic design software that is used in the semiconductor and electronics industries. Cadence also produces prototyping and emulation hardware, verification intellectual property and design intellectual property. The company's software allows customers to design whole electronics systems and complex integrated circuits (ICs). The value in Cadence's products is that it allows customers to reduce the time that it takes to bring electronic systems to market and reduces design, development and manufacturing costs.
Cadence has attractive fundamentals that are likely to drive the stock higher and outperform the averages for at least the next two years. Revenue is expected to grow 7% in 2016 and 6% in 2017 according to consensus. Earnings are expected to grow at about 11% annually for both years. The S&P 500 is only expected to grow earnings at about 5% or 6% annually over the same period.
The company's strong ROE of 18.6% will help drive Cadence's above average earnings growth. Cadence consistently produces strong free cash flow which is used for share repurchases. The stock buybacks boost EPS and make shares more valuable for shareholders. There is $960 million remaining on the current share repurchase plan, which will probably be used within about a year. That is equal to about 16% of the current market cap of $5.95 billion. Therefore, the buyback is likely to help boost the stock.
Cadence just beat estimates for its top and bottom lines for Q4. The company is performing well even in a challenging environment. Cadence expects to continue its strong performance through effective execution. That will provide customers with solutions that will ultimately save them money, but also allow them to produce quality products.
Over 90% of the company's revenue is recurring (based on 2015 sales) as the company stated in the Q4 conference call. This is a primary reason that Cadence has consistently grown operating and free cash flow. The growth in free cash flow will be positive for shareholders since it is used for share repurchases. The share repurchases will reduce share dilution, thus putting upward pressure on the stock price.
Internet of Things Trend as Catalyst
Cadence is positioned to benefit from the Internet of Things (IoT). IoT is the connection of various devices to the internet. More products are being connected to the internet so that users have more intelligent control over certain things. For example, the Nest brand thermostats, security cameras and smoke alarms can be connected to the internet so that activity can be monitored remotely on smartphones. Another example is systems for vehicles such as dash autopiloting. IoT is increasingly being implemented in numerous industries for a variety of applications. The technology for IoT involves complex circuits and Cadence provides the software that allows its customers to design and produce them.
Cadence has a variety of solutions to capitalize on IoT including: mixed signal, low power, advanced node, automotive, 3D-IC, system to silicon verification, full flow digital and photonics. The company also offers various design and support services so that customers get the full guidance that they need.
The trend toward more IoT applications will last for many years. One relatively recent company announcement explained that Cadence is developing a reference system with ARM Holdings (NASDAQ:ARMH) that targets IoT systems. This reference system includes frequently used functions required in an IoT platform that hosts sensors, actuators and wireless connectivity. The combination of Cadence and ARM working together will make it faster for customers to bring IoT products to market with less risk.
There are many applications for IoT in various industries that will likely create growing business opportunities for Cadence for many years. This is why I think that the company and the stock will benefit for multiple years over the long term.
Attractive Valuation
Cadence stands out in its industry with an attractive valuation and the highest growth among its closest competitors. Here's how Cadence compares to its peers:
Cadence

Mentor Graphics

(NASDAQ:MENT)

Synopsys

(NASDAQ:SNPS)

Ansys

(NASDAQ:ANSS)

EV/EBITDA

13.9

7

13.5

15.55

EV/FCF

16.6

17.17

82

22.9

PEG

1.75

1.22

1.91

2.9

Expected 2016 EPS Growth

11%

5.7%

6.5%

8.6%
Data: Seeking Alpha, Yahoo Finance
Although Mentor Graphics has an attractive valuation, Cadence's higher expected growth is likely to drive the stock to outperform its competitors. One key metric to point out is that Cadence has the lowest EV/FCF due to the company's strong free cash flow. Cadence's FCF is what the company uses for its buybacks. The buybacks help boost EPS, which has helped Cadence to meet/beat its earnings expectations and it should help the company to do so in the future. That is likely to give the stock continued positive momentum.
Since Cadence has strong FCF growth, I performed a discounted cash flow analysis to determine the stock's intrinsic value. I used 10% as the discount rate, since that is the market's long-term annual return that we aim to beat. I projected that Cadence would grow FCF at an average of 11% annually for the next five years, which is in-line with expected earnings growth. I then projected annual FCF growth of 5% for years 6-10, and 3% annual growth thereafter. The calculation produced an intrinsic value of $24. This is 18% higher than the current price of $20.28. This reinforces the stock's attractive valuation.
The Risks
The industry is competitive, so investors need to be aware that if competitors offer discounts on their software/IP, then Cadence will be under pressure to lower prices. That would lower the amount of Cadence's total revenue.
Since about 55% of the company's revenue is derived from outside the United States, Cadence faces currency headwinds. If the value of the dollar rises against foreign currencies where Cadence operates, it could have a negative effect on operating results.
Conclusion
Given Cadence's strong likelihood to remain a go-to company for the IoT, I think that the company will continue to grow revenue and earnings for multiple years. The attractive valuation and strong, steady above average earnings growth will drive the stock to outperform the S&P 500 going forward. I think a reasonable one-year price target for the stock is $24, which is an 18% gain from the current price. The growth in the stock price is based on earnings growth plus a boost from buybacks and some multiple expansions. Overall, Cadence should be a multi-year investment that is likely to outperform the broader market.
If you like my analysis, click on FOLLOW at the top of the article near my name. This will allow you to see my new articles on your homepage. If you choose to get real time alerts, you'll get email alerts when my articles are published.
Disclosure: I/we have no positions in any stocks mentioned, and no plans to initiate any positions within the next 72 hours.
I wrote this article myself, and it expresses my own opinions. I am not receiving compensation for it (other than from Seeking Alpha). I have no business relationship with any company whose stock is mentioned in this article.