In the December quarter, ARM Holdings (NASDAQ:ARMH) reports that 4 billion ARM architecture devices were shipped, an all-time high. To put that in perspective, that's more than all of the Intel (NASDAQ:INTC) processors currently in use, including PCs and servers. The ARM processor ecosystem has become a huge, and unstoppable, behemoth.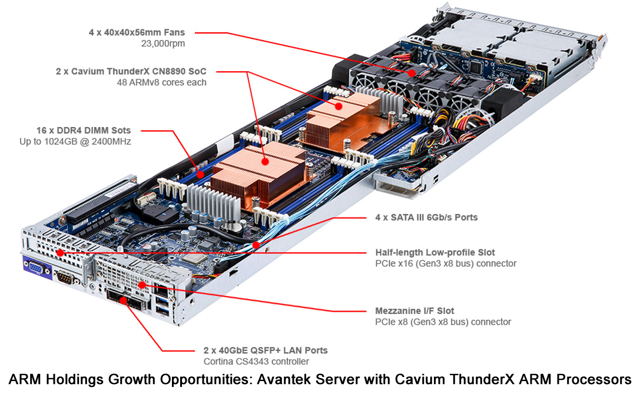 Click to enlarge
Source: ARM Holdings
Trash Talking
ARM's y/y revenue growth for Q4 was 19% in British pounds, 14% in USD to $407.9 million. Operating income was $167 million, up 17.7% y/y in USD, up 23% in pounds. Despite these excellent results, ARM closed 9% lower the day of the earnings report on February 10. An article in Benzinga was fairly typical of coverage of the stock: Analysts Agree: ARM Holdings Is A Dead Stock.
The article features this quote from Trip Chowdhry of Global Equities:
ARMH strength continues to remain in Mobile; however, that business is stable - revenue acceleration is impossible.
So now, if we are to believe Mr. Chowdhry, mere revenue growth is no longer enough, there has to be acceleration of growth, or the stock becomes uninteresting. There's a clear double standard here. The Q4 earnings reports of both Microsoft (NASDAQ:MSFT) and Intel were warmly received by analysts, despite an absence of growth, let alone acceleration.
In addition, Alphabet's (NASDAQ:GOOG) (NASDAQ:GOOGL) Q4 results were rightfully acclaimed in the media as very strong results, but the results of ARM and Alphabet are very comparable. Alphabet's Q4 revenue increased by 18% y/y, and operating income increased by 22%.
The market reaction to ARM's results is, in my view, indicative of just how inefficient the market is in the short-term. As I've observed market behavior the past few years, it's becoming increasingly apparent that the market isn't reading the actual earnings reports of companies like ARM or Apple (NASDAQ:AAPL), it's just reading the media take on them.
Self-Contradictory
There's currently a battle for investor hearts and minds playing out in the media along various technological fault lines: Intel vs. ARM, Windows vs. Mac, Android vs. iOS. Generally the tech media are playing it safe and appealing to conventional wisdom. Intel must ultimately triumph over ARM. Windows over Mac. Android over iOS.
Part of the problem with the conventional wisdom is that it's self-contradictory. A good example of this is the difference in reaction to Google's results compared to ARM's. I pointed specifically to Google because it's one of the key players driving growth of the ARM ecosystem. In Q4, nearly 400 million smartphones were shipped, according to IDC. All but an insignificant fraction of those used ARM processors, and more than 80% of them employed the Android operating system.
Google's Android has been and continues to be a huge growth driver for ARM, especially since Android has been adapted to so many other devices including set top boxes and car infotainment systems. Google currently claims greater than a billion active users of Android.
As I pointed out in Sundar Pichai's Very Good Call, Google appears to be poised to convert Android into a truly universal operating system that will span desktop, laptop, tablet and smartphone. For the most part, these will all be based on ARM devices. Google's move not only expands the target market for Android, but ARM as well.
Apple also contributes another roughly 680 million iOS, tvOS, and watchOS users which are based exclusively on Apple's ARM architecture devices, iPhone, iPad, Apple TV, and Apple Watch. Apple recently announced that it has a billion devices (including Mac) in active use. In an interview, Apple executives stated that there are 782 million iCloud users, less than the total number of devices because Apple users often have more than one device.
So Android and iOS users total more than 1.68 billion, more than is commonly claimed for Windows (about 1.5 billion), and almost all of these run on ARM processors. More importantly, the ARM user base is actually growing, whereas the user population of Windows has been stagnant for years.
Primed for IoT
As large as the smartphone market is, it accounted for only 10% of total ARM processor shipments in Q4. The balance was made up in areas such as telecom switching, and even a few servers, but mostly in the so called "embedded controller" market. This has always been a strong area of growth for ARM, due to lightweight, low power and low cost of ARM based controllers.
The embedded market is rapidly transforming into the Internet of Things market, as ARM controllers receive Wifi and cellular communication capability. Intel has placed high hopes of capturing a significant portion of the IoT market, but ARM's cost advantage is eventually going to overcome Intel's efforts, just as it did in smartphones.
One of the chief beneficiaries of the move to connected embedded devices will be Qualcomm (NASDAQ:QCOM), which is looking for adjacent markets, and IoT is in its cross hairs. Qualcomm's experience in modem technology and combining modems with application processors on a single chip gives it industry leadership in this space. Intel has yet to integrate any of its modems on any of its processors, with the possible exception of certain Atom X3 (code named SoFIA) processors. I say possible because it's not clear whether the modems are truly on the processor silicon, or just combined in the same package.
Investor Takeaway
As one looks at the ARM revenue and processor shipment data for the past few years, it becomes obvious that revenue has grown almost in lock step with processor shipments, as the chart below shows.
Initial conditions as of the end of Q4 2009 (using current exchange rate):
Revenue: $123.5 million
Operating income: $28.4 million
Processor Shipments: 1.3 billion
Share Price: $8.56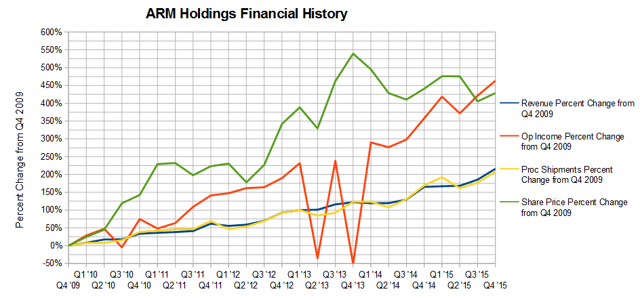 Click to enlarge
Operating income has trended even higher due to the fact that operating expenses have grown more slowly than revenue. ARM continues to expand its R&D, but has been careful to do so at a slower rate than revenue growth.
Also, the opportunities to accelerate revenue growth do exist. Revenue growth for ARM was greatly accelerated by the advent of the 64 bit version of the ARM architecture (ARM v8), which gave ARM processors much more muscle. Apple's first ARM v8 processor was introduced in Q4 2013, and by the following year, many competitors such as Samsung (OTC:SSNLF) were bringing ARM v8 devices to market. ARM receives higher royalties on ARM v8 devices. The chart below shows ARM's y/y revenue growth (for pounds).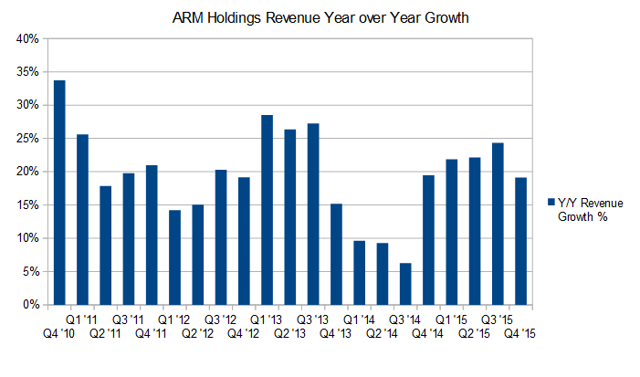 Click to enlarge
ARM is continuing to enhance the performance of the ARM architecture, in order to make it more useful for personal computing and server applications. ARM continues to develop low power and low cost variants for the embedded/IoT market as well.
The bottom line is that I don't see any justification for the negativity about ARM. ARM has three huge industry partners going for it, Alphabet, Apple and Qualcomm. That's a lot of firepower on ARM's side.
Increasingly, I've been drawn to the conclusion that in the area of ARM vs. Intel, ultimately ARM will overwhelm its opponent. It already has a gross numerical advantage, and it's gaining rapidly in performance. Apple's latest Apple A9x processor (in the iPad Pro) is about as good as an Intel Core m3. The fact that it isn't quite as good should not blind anyone to the overall trend: ARM processors are rapidly gaining on Intel's Core series.
Which means that ARM processors are becoming competitive for general purpose computing and even servers. I've pointed out that Qualcomm's efforts in the server area could bear fruit. But even if Qualcomm falters in this area, the overall trend is clear: ARM processors eventually are going to win over Intel on cost in every market Intel serves, or aspires to serve.
There is the interesting issue of whether ARM is overvalued. It has kind of seemed that way in the past year, but as the reader may have noticed, ARM's normalized stock price has fallen below the operating income curve in the above chart. This suggests to me that ARM's valuation has corrected.
There may still be some more downside. Since the end of 2015, ARM's stock price declined another 15%, along with much of the tech market. I doubt that there's any hurry to buy ARM, but it's a stock I'll be looking at as a buy in the near future. In the mean time, it's very definitely a hold.
Disclosure: I am/we are long AAPL.
I wrote this article myself, and it expresses my own opinions. I am not receiving compensation for it (other than from Seeking Alpha). I have no business relationship with any company whose stock is mentioned in this article.
Editor's Note: This article discusses one or more securities that do not trade on a major U.S. exchange. Please be aware of the risks associated with these stocks.