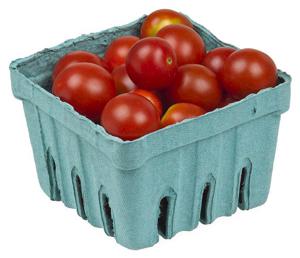 Stock investors in search of more defensive allocations are often drawn to the food industry. After all, no matter how much economic conditions deteriorate, people still need to eat. But not all food companies are created equally. For while some provide the earnings growth consistency and price stability that investors are often seeking during periods of economic stress, others are highly cyclical and experience greater price volatility. This is particular true of organic food companies. For while their products may help protect your body, their price performance may not necessarily protect your portfolio.
The challenge for more specialized organic food companies versus their larger counterparts in many respects comes down to a matter of the elasticity of demand. For while food in general is a broadly defined market that benefits from its inelasticity of demand since people have no choice but to eat, organic food specifically is a narrowly defined market whose demand is much more elastic. This is due to the fact that organic food is more of a luxury item where lower price substitutes are readily available. In short, if economic conditions deteriorate, grocery shoppers can simply forgo higher priced organic food for their lower priced traditional counterparts.
Thus, while larger traditional food companies are considered more defensive, more specialized organic food companies are far more cyclical. The recent price performance of those companies that are most directly exposed to organic foods clearly highlight this differentiation.
As a point of reference, the following is a price chart for General Mills (NYSE:GIS) from January 2013 to the present. Ranked among the largest packaged food companies in the world with a market capitalization of $34 billion, the maker of Cheerios cereal, Pillsbury refrigerated dough and Betty Crocker dessert mixes has demonstrated the consistency of upside performance that would be expected of a food company during what may be the early stages of a new bear market starting in May 2015. For while the stock has struggled to break out above a dividend adjusted $59 per share, the overall trend in the stock price remains definitively higher despite the fact that the broader market as measured by the S&P 500 Index (NYSEARCA:SPY) has suffered some meaningful downside volatility over the past year.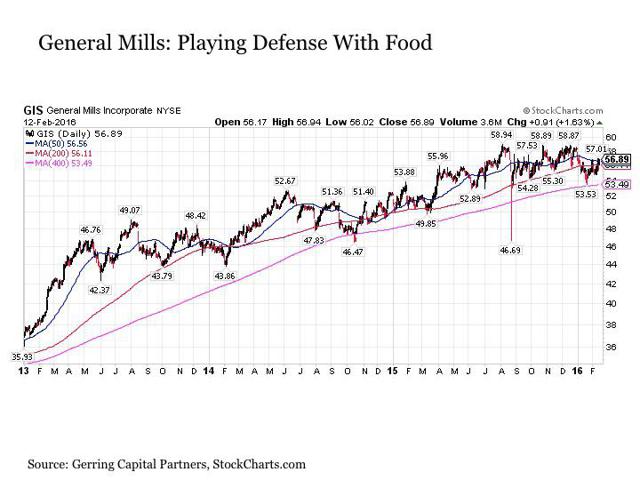 Click to enlarge
In contrast, the stock market has on offer for investors six major companies that are focused specifically on the organic and natural food space.
Three are focused on the grocery side of the business. By far the largest among them is Whole Foods Market (NASDAQ:WFM) with a market capitalization of just over $10 billion. The others are Sprouts Farmers Market (NASDAQ:SFM) at $3.6 billion and The Fresh Market (NASDAQ:TFM) at $1.1 billion. The stock prices for all three of these grocery providers have fallen precipitously over the past two years.
In the case of Whole Foods Market, it is now down -52% from its October 2013 peak.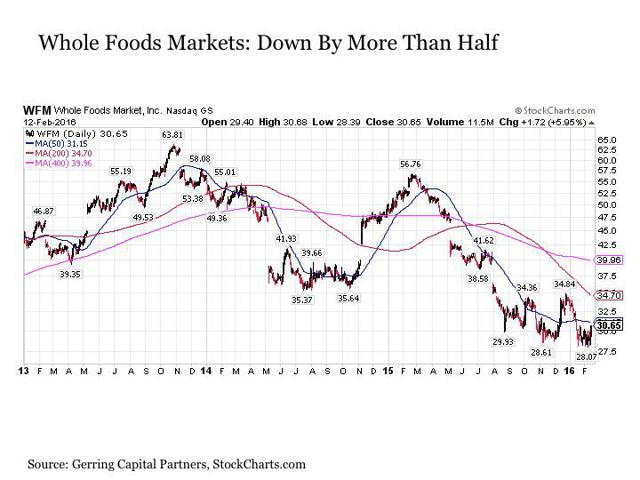 Click to enlarge
The decline in value has been roughly equivalent for Sprouts Farmers Market, which is also down -53% over roughly the same time period since October 2013.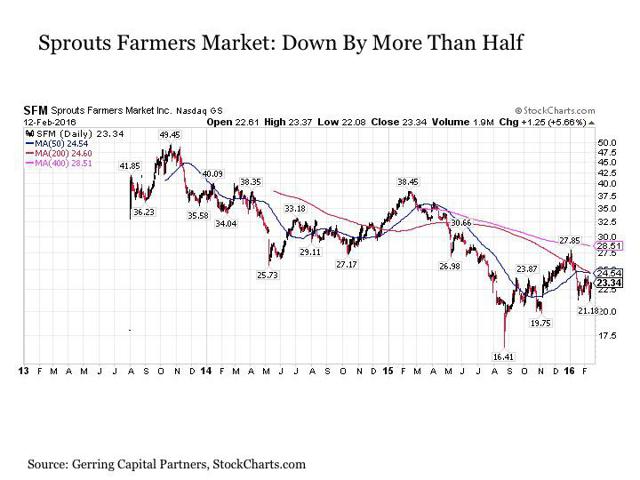 Click to enlarge
As for The Fresh Market, it is still down over -65% from its mid-2012 peak even after the news broke on Friday that acquirers were interested in the chain, including grocery store giant Kroger's (NYSE:KR).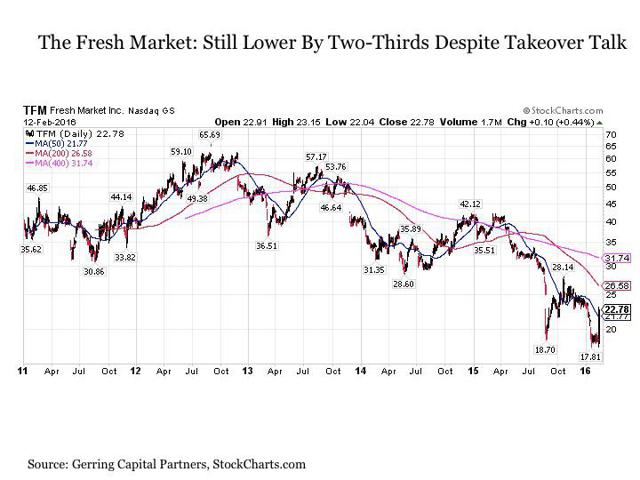 Click to enlarge
Despite the differentiated grocery approach by these three firms - Whole Foods Market primarily operates larger stores while Sprouts and The Fresh Market use a smaller store format - all three have been suffering from similar challenges. These include increased competition in organic and natural food offerings from traditional grocery stores and supercenters such as Wal-Mart (NYSE:WMT), as well as operating at a higher price point in many cases relative to their traditional grocery retail competition. Put more simply, many customers no longer need to make an extra trip to these specialty stores for organic and natural food products, as many of these offerings are increasingly available in regular grocery stores. And this is particularly true in cases where customers end up paying higher prices for the extra trip too.
The challenges at organic grocery retailers has had negative feed through effects for distributors such as United Natural Foods (NASDAQ:UNFI), which has Whole Foods Markets as one of its largest customers. Shares of the firm have fallen by nearly -60% over the past year.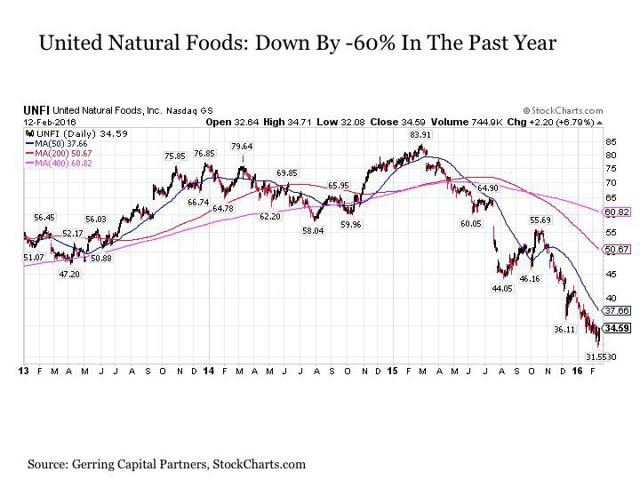 Click to enlarge
The remaining two major independent players in the organic food space are packaged product companies WhiteWave Foods (NYSE:WWAV) and Hain Celestial Group (NASDAQ:HAIN).
These companies have not been suffering the same fate as their organic grocery store counterparts since these products are also being stocked in traditional grocery stores and supercenters. As a result, as mass market grocers increased their store space dedicated to organic and natural food offerings, WhiteWave and Hain were participating in this resulting increased demand from the segment.
But what has dogging these organic food providers more recently is the increasingly fierce competition from the major consumer packaged good companies. For example, General Mills mentioned above has owned the Cascadian Farm brand for many years but has expanded more aggressively into the organic food space more recently with the purchase of Annie's in late 2014, and most recently, EPIC Provisions in January 2016. The expansion of these major packaged good companies into the organic space puts specialty firms like WhiteWave and Hain at a competitive disadvantage, as they do not, in many cases, have the same distribution efficiencies or influence over shelf space enjoyed by these larger, more established players.
Adding to the competition in the organic space is the entry and expanding array of organic product offerings from the store owners themselves. For example, major retailers such as Kroger's, Target (NYSE:TGT) and Wegman's now have their own extensive organic product lines. This only serves to further squeeze the future opportunity set for the specialty organic players in WhiteWave and Hain.
So despite the fact that both companies continue to generate solid growth that is in excess of their traditional food company peers, their stock prices have recently been in steady decline.
WhiteWave Foods, which has a $6.3 billion market capitalization, has held up relatively better between the two but is still down more than -30% since its early August peak.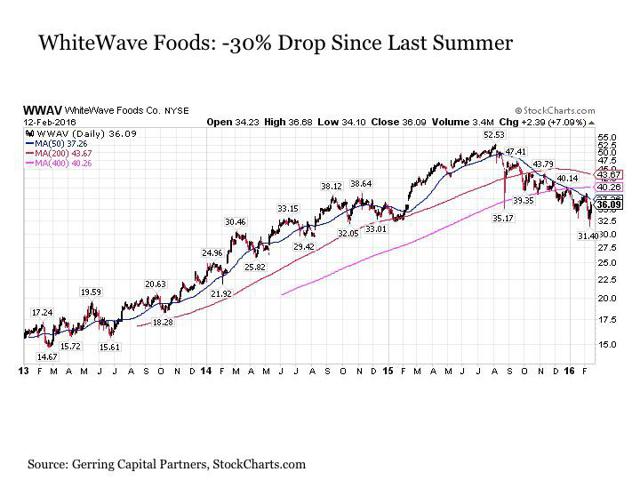 Click to enlarge
Hain Celestial, which is smaller with a market cap of $3.7 billion, has fared worse, falling by -50% over this same time period since last summer.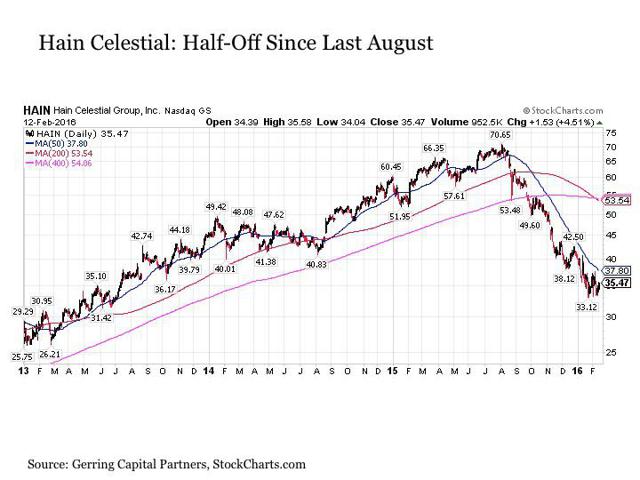 Click to enlarge
How Much Further To Fall?
The challenges facing the organic food business raises the natural question looking forward. Exactly how much further can we expect these share prices to fall? And at what point do they depart from the growth space and instead begin to offer appeal to value investors?
In the case of The Fresh Market, it appears we already have the answer with several potential suitors apparently now circling the firm. And this is taking place with the niche grocer trading at 17.5 times trailing twelve-month earnings, 14.6 times forward earnings and 5.5 times enterprise value to EBITDA.
By comparison, much larger Whole Foods Market is trading at 20.8 times trailing, 18.1 times forward earnings and roughly 7.0 times EV/EBITDA, none of which are measures that would be considered cheap. At best, Whole Foods Market is a grocer that is likely trading at fair value if not a modest premium despite its major price decline over the past couple of years.
Sprouts Farmers Market would fall even further into the expensive side. The stock is trading at more than 30 times trailing and 24 times forward earnings with an EV/EBITDA ratio of 12.6, all of this despite the fact that the shares have been more than cut in half over the past two and a half years.
In short, we have not yet arrived at a juncture where attractive value exists in the organic grocery space. The best case could be made for The Fresh Market, and acquirers have already descended to take a run at the company.
On the distributor side, United Natural Foods does offer some potential appeal from a valuation perspective. The stock currently trades at 12.8 times trailing and 11.4 times forward earnings, which is compelling given the fact that these are lowest valuations that the company has seen since the turn of the millennium. And this includes the depths of the financial crisis in 2008 and early 2009. With that said, the company does not pay a dividend and its stock price chart shows absolutely no signs of a bottoming pattern. In short, this is a stock that appears likely to be headed further to the downside before it finally finds its footing. As a result, it could end up getting even cheaper than it already is now before it is all said and done.
For WhiteWave Foods, it only recently came public in October 2012 following its departure from Dean Foods (NYSE:DF). Despite its recent price decline, the stock still trades at more than 42 times trailing, 23 times forward earnings and 18.6 times EV/EBIDTA. In other words, this is still a company that remains soundly on the growth side of the spectrum.
Hain Celestial is arguably the most interesting of the five remaining names from a valuation perspective. The company now trades at 18.3 times trailing and 15.5 times forward earnings, both of which are not only meaningful discounts to the company's historical average but also to the relative valuations across the broader food industry. And this is a company that is trading at a measurable discount to its peers despite the fact that it still has some of the fastest growth rates in the food business. But despite these advantages, the company does not pay a dividend and its stock price, much like UNFI, is showing no signs of bottoming at the present time. With that said, the potential for at least an attempted acquisition of Hain Celestial by one of the major packaged food companies should not be completely ruled out going forward, particularly given how low the company's valuations have fallen to date in the current correction.
Bottom Line
When investing defensively in your portfolio, it is important to make a distinction among the food companies, for not all are created equal. While traditional packaged food companies typically exhibit much greater price consistency over time, while organic food companies are likely to experience a more cyclical pattern in their operating results and are likely to see wider price swings as a result. Much of the recent price movement have been to the downside, yet other than UNFI and HAIN, these stocks have not arrived at the point where they represent attractive values. But they remain worth monitoring for the potential value and upside once they finally arrive at a bottom.
Disclosure: This article is for information purposes only. There are risks involved with investing including loss of principal. Gerring Capital Partners makes no explicit or implicit guarantee with respect to performance or the outcome of any investment or projections made. There is no guarantee that the goals of the strategies discussed by Gerring Capital Partners will be met.
Disclosure: I am/we are long GIS,WMT.
I wrote this article myself, and it expresses my own opinions. I am not receiving compensation for it (other than from Seeking Alpha). I have no business relationship with any company whose stock is mentioned in this article.