Despite reporting another year of record profits and oil prices taking another leg down, Delta Air Lines (NYSE:DAL) shares have had a rough 2016 so far falling 15% year-to-date. While Delta is far from the only airline where valuation has divorced from fundamentals, the recent upgrade of Delta's credit rating to investment-grade shows just how far the Atlanta-based carrier has come since 2009.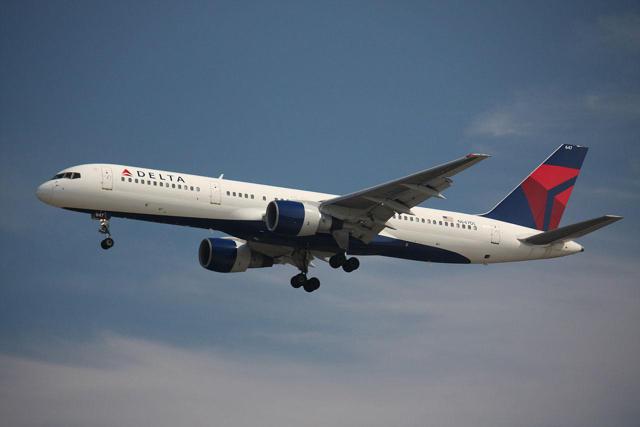 Click to enlarge
source: Wikimedia Commons
Debt and risk management
Many investors are concerned that corporate America is leveraging up on cheap debt but Delta Air Lines has been an exception since it began its plan to slash debt in 2009. And slash it did. In 2009 adjusted net debt tipped the scales at $17.0 billion but this was reduced to $6.7 billion by the end of 2015. Important to note is that although Delta has boosted dividends and buybacks, the debt reduction is not finished with the airline setting a $4 billion long-term target on track for 2017.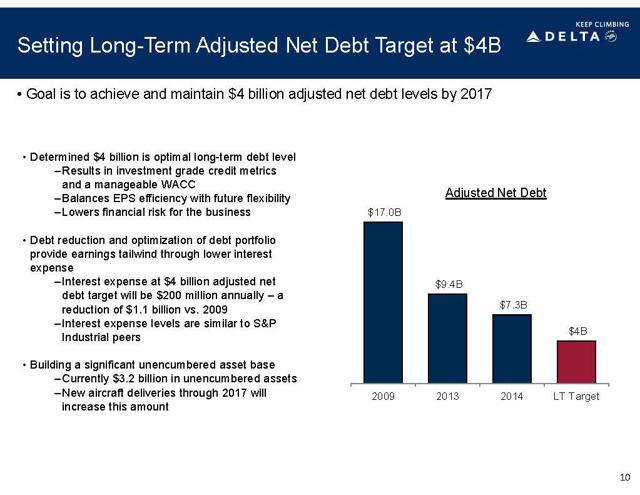 Click to enlarge
Source: Delta Air Lines presentation
This debt reduction, combined with much improved profit generation, have earned Delta a series of credit rating upgrades over the past few years and last week the airline earned an investment-grade Baa3 from Moody's (NYSE:MCO). This makes Delta the only one of the big three legacy carriers to have an investment-grade rating and allows Delta to join Southwest Airlines (NYSE:LUV) and Alaska Air Group (NYSE:ALK) in the higher rated airline group.
Valuations matter
Delta may be generating record profits and improving its credit profile but the market is not giving the airline much credit. Shares of the airline trade at about the same levels as they did in mid-2014 and plenty of volatility in between has shares down 15% year-to-date. With a stagnant share price and sharply higher profits Delta shares have actually seen significant valuation compression and now trade at only 6.2x est. 2016 EPS and 5.9x est. 2017 EPS.
This stands in contrast to Southwest Airlines which trades at 8.5x est. 2016 EPS and Alaska Air Group at 8.9x est. 2016 EPS. To be fair, these airlines are seeing faster revenue growth than Delta and their smaller sizes give them more room for future growth. Even so, these airlines appear undervalued given that the S&P 500 Index trades at 14.5x est. 2016 EPS while it sees far less earnings growth.
Given Delta's current valuation and its fundamental improvements I believe there is plenty of room for valuation expansion in the future although timing will depend on market sentiment.
If Delta were to trade at only half of the S&P 500's forward P/E shares would trade at $49.88 providing 16% upside on the current share price. Due to Delta's strategy of deleveraging and significant earnings growth I still believe shares would be undervalued at these levels although this estimate can serve as a minimum fair valuation in my opinion.
If Delta were to trade at the same valuation as the Dow Transportation, or 11.4x forward EPS, shares would trade at $79.69 offering 85% upside to the current share price. I believe this index is a more reasonable comparison for Delta than the S&P 500 average since it includes companies involved in transportation like Delta and includes companies of a cyclical nature. Keep in mind that railroads, which are included in the transportation index, were once treated like airlines by the market however a change in industry fundamentals (similar to what has happened with airlines over the past few years) have allowed these companies to achieve valuations largely in-line with the index. Over time, I would expect airlines to move towards similar valuations with investment-grade airlines including Delta, Southwest, and Alaska Air leading the way.
Based on Delta's continuing earnings growth, improving fundamentals, and current valuation I believe shares have a reasonable chance of moving into the $70-$80 range in the next few years. However, this will likely require market sentiment to improve regarding airlines since I believe it would be difficult for Delta to achieve a significantly higher valuation than faster growing Southwest Airlines and Alaska Air Group.
Risks
As with all investments, Delta does have risks that investors should be aware of before investing. The primary risk for the airline in an economic recession which could reduce consumer demand putting pressure on revenue. But while the stock market has been acting like a recession is just around the corner, economic data is not telling the same story. Even if a recession does happen, Delta is much better prepared than it was in 2008 as it carries far less debt, has far less competition, and has made significant operational improvements.
Delta could also be negatively impacted if oil prices rebound as it would drive up the cost of jet fuel. However, Delta shares have seen little benefit from the drop in oil prices as shares trade at roughly the same levels as when oil topped $100 per barrel. It should also be noted that higher oil prices may actually help Delta shares since it could provide a tailwind to the broader market and boost economic confidence.
In my opinion these risks are worth accepting in Delta shares since the valuation has largely priced in some major turbulence in the near-future.
Delta takeaway
Shares of Delta Air Lines are trading at rock-bottom levels despite fundamental improvements in the company. While the credit rating upgrade is not going to make or break the airline, it is another sign of the impressive work Delta has done in de-risking its business since 2009.
Market sentiment remains highly negative on airlines and likely will continue to do so for at least the near-term. In the meantime, Delta's management is taking advantage of its low share price to run a $5 billion stock buyback program. In my opinion, investors looking for low-priced quality stocks should consider joining them.
Disclosure: I am/we are long DAL.
I wrote this article myself, and it expresses my own opinions. I am not receiving compensation for it (other than from Seeking Alpha). I have no business relationship with any company whose stock is mentioned in this article.
Additional disclosure: The author does not guarantee the performance of any investments and potential investors should always do their own due diligence before making any investment decisions. Although the author believes that the information presented here is correct to the best of his knowledge, no warranties are made and potential investors should always conduct their own independent research before making any investment decisions. Investing carries risk of loss and is not suitable for all individuals.