The good thing about a market correction? Income stocks are getting cheaper. And when income stocks are on sale, investors can enjoy higher cash returns in the future. That's the positive way to see the market correction. The other way, of course, is to quickly sells stocks and put money into safer investments. The first option, I think, gives investors an investment advantage over the long haul. Why?
Because dividend stocks produce monthly, quarterly, or annual dividend income that can be reinvested at lower market prices, and that money is going to earn a return in the future, too. Since dividend payments make up a good chunk of the total return investors earn over time, income investors don't really have to care too much about market downturns. In fact, downturns make income investing more appealing from a return point of view.
The market crash of 2016, which has seen the S&P 500 so far retreat ~9% and the Dow Jones Industrial Average fall 8%, has made a lot of stocks a lot cheaper, including real estate investment trusts.
One such REIT is Stag Industrial, Inc. (NYSE:STAG).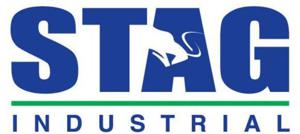 Stag Industrial pays a handsome monthly dividend to income investors, but the stock has nonetheless fallen off a cliff in 2015 (and in 2016). Further, Stag Industrial's statement late in January that its Chief Financial Officer Mr. Jervis abruptly left the company made investors even more cautious about the REIT. I have discussed the CFO departure in this article.
Sudden, unplanned CFO departures are not a good way to advertise a company since they are often viewed with suspicion by stock investors. That said, though, the company did replace Mr. Jervis internally, and has been going on about its business without further incident.
I concluded my last piece on Stag Industrial by saying that income investors need to monitor the CFO situation carefully, and that STAG should remain a small portfolio position. That's still true today.
However, the REIT has become a LOT cheaper in 2016, and reached a level where the stock is really appealing from a valuation and yield point of view.
Four Reasons To Buy Stag Industrial
I liked Stag Industrial at $18, but I love at $15.
Mr. Market has dealt a real blow to (income) stocks this year, that's true, but STAG continues to be an interesting yield play for an income-centered, diversified dividend portfolio, for four reasons:
1. STAG now sells for ~9.8x Q3-15 run-rate core FFO. That's cheap.
2. STAG is a monthly dividend payer whose yield has spiked to ~9.1%.
3. Stag Industrial, despite being of higher risk than the average real estate investment trust, is nonetheless highly diversified along multiple dimensions including industry, tenant base, and geography.
4. Income vehicles have taken a beating in 2015/6 and Stag Industrial has not been an exception. As far as I am concerned, Stag Industrial has fallen too hard, too fast...even when taking the abrupt CFO departure into account.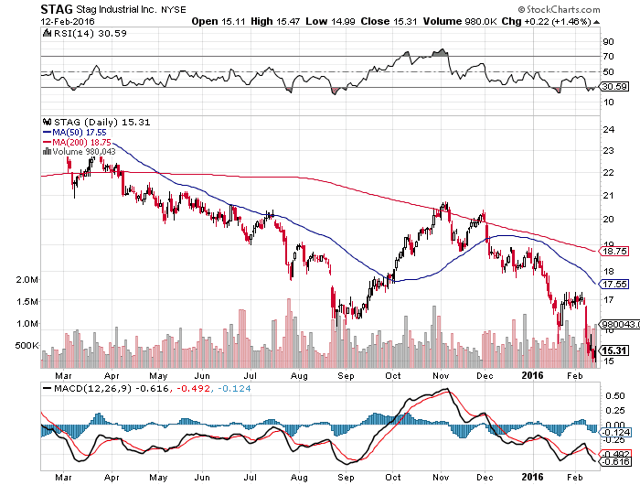 Click to enlarge
Source: StockCharts.com
Your Takeaway
Stag Industrial is eagerly growing its portfolio of single-tenant, industrial properties in the United States. The REIT's sell-off has made the company very appealing from an income and valuation point of view. STAG is cheap on a run-rate FFO basis and yields more than 9%. That said, Stag Industrial is a cyclical, industrial REIT and therefore a risky income investment. If you buy, keep the position small.
Disclosure: I/we have no positions in any stocks mentioned, but may initiate a long position in STAG over the next 72 hours.
I wrote this article myself, and it expresses my own opinions. I am not receiving compensation for it (other than from Seeking Alpha). I have no business relationship with any company whose stock is mentioned in this article.