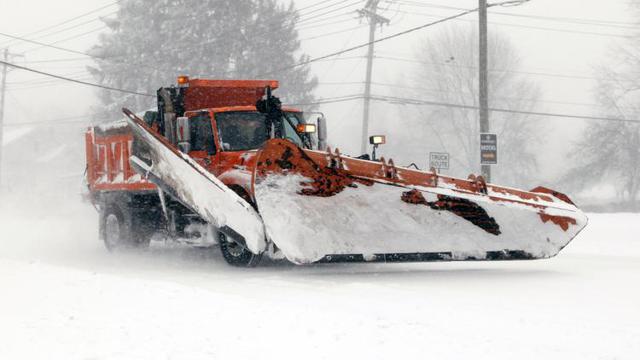 Click to enlarge
(Source: bizjournals.com)
Douglas Dynamics (NYSE:PLOW) is the largest distributor of snowplows in the United States; hence their successful claim of the ticker "PLOW." In addition to these two impress feats, PLOW has made the list of the top 100 workplaces in the United States six years in a row.
But some investors are looking past the surface, asking questions about the fundamentals of the company. A reader of my article on IBM, asked: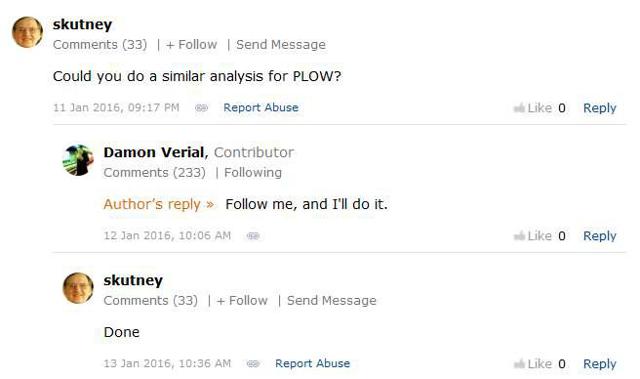 Click to enlarge
Like the previous article, I will write this article in the form of questions. We will answer three main questions today. Let's begin.
Can PLOW Cover Its Dividends?
A previous article on PLOW pointed out that the income does not cover the dividends. If this is true, then of course cash flow cannot cover dividends either, implying that PLOW must rely on debt for dividend payouts.
Let's dive into this issue. First, notice that PLOW has a strong history of dividend raises. If PLOW stays on this track for 2016, the next dividend raise should be in March and be of value $0.2281: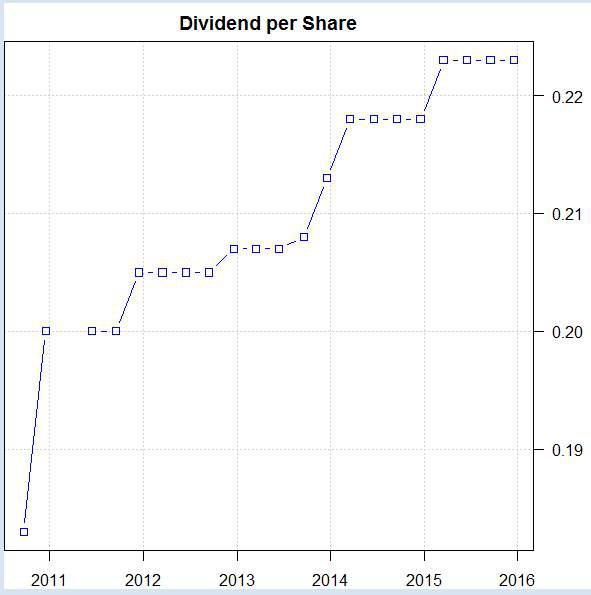 Remarkably, the stock price seems to have lagged behind the dividend in growth, though they have both grown significantly since 2011. But while the dividend increases steadily, the stock price has recently taken a dip in spite of the positive earnings report released in November. Later you will see that the dividend increases have not outpaced stock growth; quite the contrary: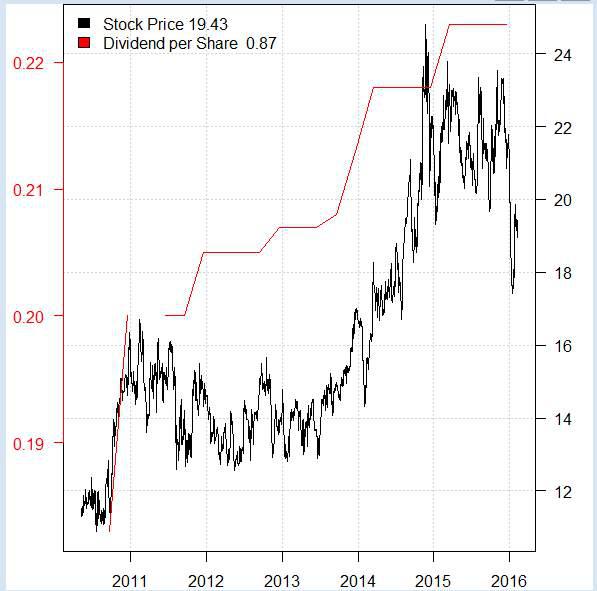 PLOW's buyback ratio is slightly negative, implying that the company is more predisposed toward issuing new shares than buyback programs. I'm not a huge fan of buyback programs anyway, as they inflate stock price and occupy free cash flow that can be dedicated to dividend growth. I am more a fan of large dividend increases than buyback programs, for reasons mentioned here.
Now, the current 4.58% yield, produced by the recent drop in PLOW's price, seems appealing. However, the yield has been on a steady decline. Barring significant dividend increases (NASDAQ:GOOD) or a large drop in the share price (bad), this decline should continue, as stock price seems to have actually outpaced the yield growth: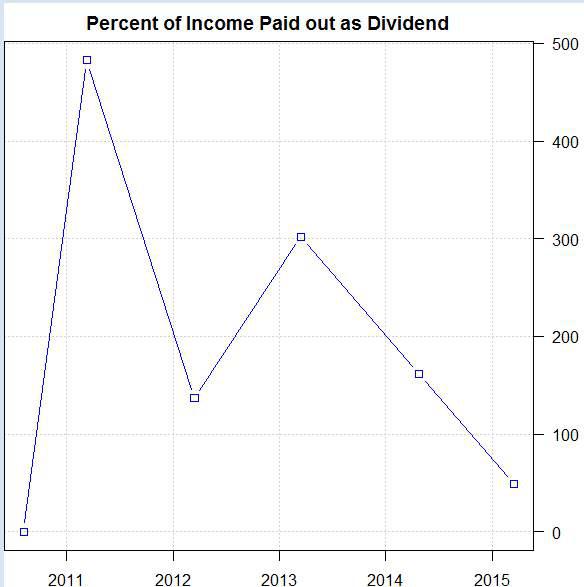 Finally, we can dive into the income versus payout ratio. My article falls in line with the mentioned article, showing that income certainly wasn't enough to cover the dividend, optimistic investors will see the same in both charts: recent income has soared, more than covering the dividend. The projected dividend payout for 2016 - assuming a dividend raise - is 20.44M. The income for 2015 looks on track to outpacing that of 2014, implying that PLOW should have no problem paying out future dividends, even with increases: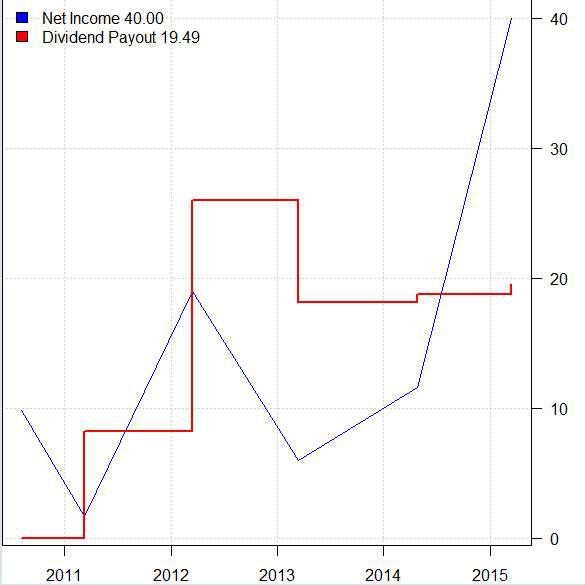 Indeed, the author of the aforementioned article was not mistaken when he mentioned the dividend previously being unstable. The percentage of income paid as dividends was over 100% until recently. But three years of steady decline in this ratio has brought us to sub-100 levels: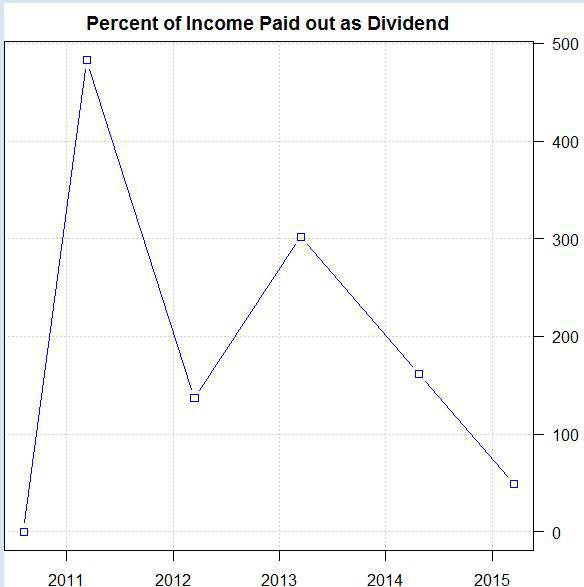 Of course, we are talking income here - not cash. Cash is what pays dividends, and PLOW's cash situation looks good: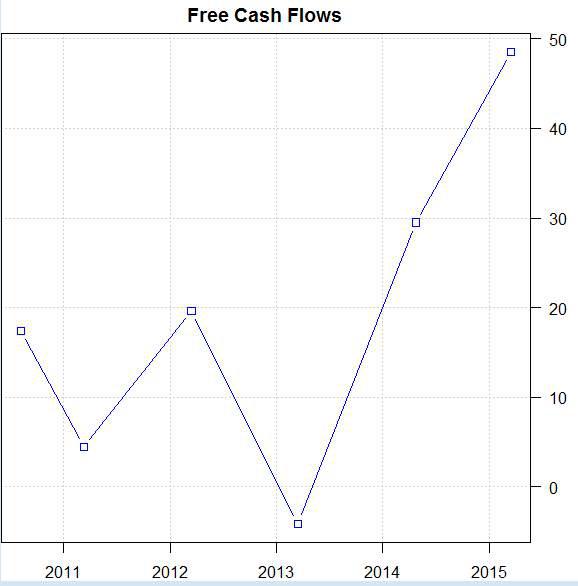 Using a 5-year running average as an estimate for cash on hand, I find that PLOW looks just about even in making good on dividend payouts. That is, the current estimate implies that PLOW need not dip into debt to make its investors happy. The cash estimate gives $19.60M and the payout calculation gives $19.49M - nearly even. And with free cash flow rising faster than the dividend rate, the future PLOW will easily cover its dividend with free cash.
Why Is PLOW Suddenly Financially Sound?
The sudden change related to PLOW's ability to pay dividends begs the question: Why is PLOW suddenly so different? First of all, it is not so sudden. As the previous graphs show, PLOW has been on this path for a while.
However, its recent acquisition of Henderson Products at the end of 2014 has helped it bolster its free cash flow faster than it could have done on its own. Henderson Products brings in roughly $80M in sales every year. The $95M buyout has already been recouped by these figures, making Henderson a lucrative investment on PLOW's part.
Second, truck sales, correlated with plow sales, has been on the rise since 2009. Recent truck sales have stabilized in spite of the relatively harsh winter the US suffered this year. Nevertheless, if this weather pattern continues, it could be good for PLOW's business.
Of course, weather itself is a moot issue, as this would bring us into an argument on global warming versus global cooling. In any case, PLOW runs a seasonal business. This prompts the next question.
Does PLOW Exhibit Seasonality?
Some of my most popular articles on Seeking Alpha have been analyses on seasonal patterns in stocks. With the snowplow business obviously being a seasonal business, we should expect such a pattern in PLOW. You would expect winter earnings to be higher than those of other seasons, but that is not what we find: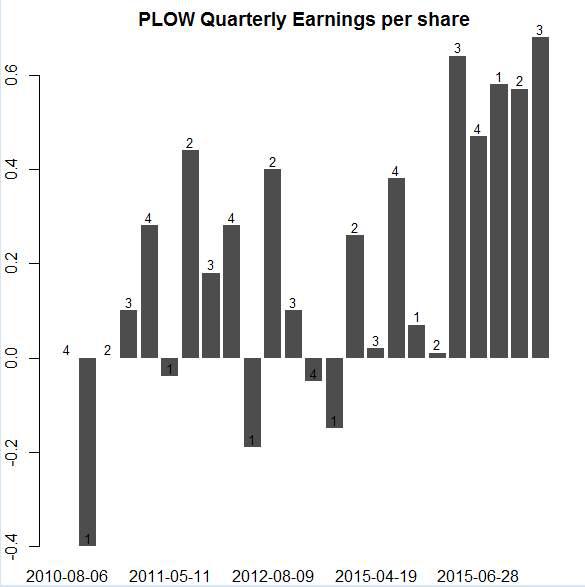 In fact, no obvious pattern is visible in this chart. However, when we look at rolling averages, we do see something interesting: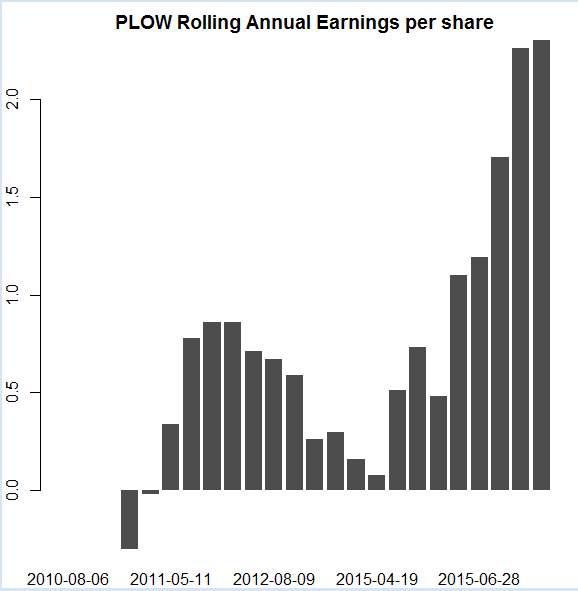 Earnings fell into 2015, rebounding roughly at the time of Henderson Products. Actually, the strategy of holding PLOW only in the winter months is a losing strategy. The negative returns from this strategy, in conjunction with the positive returns of buy-and-hold, implies that dropping PLOW in the winter might be a winning strategy: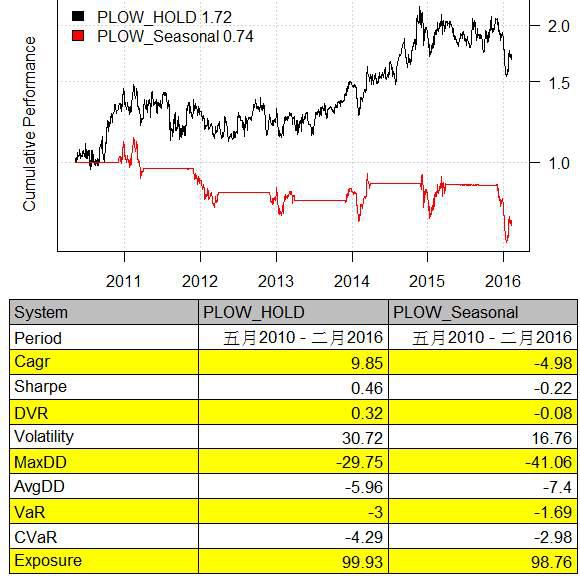 Oddly enough, the opposite strategy - holding PLOW only during the non-winter months (buy March 1, sell November 1) - does in fact beat buy-and-hold. The differences in gains, Sharpe, average drawdown and volatility are slight, but significant enough to consider employing this strategy in an IRA or other tax-neutral account: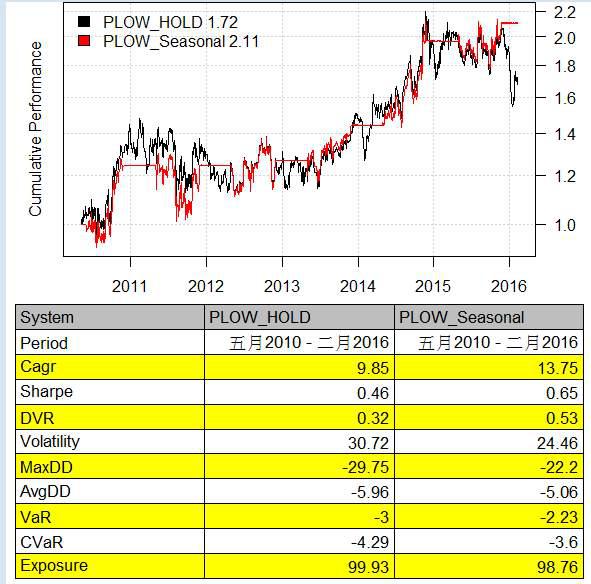 Conclusion
Based on the above, PLOW looks like a good buy-and-hold. However, the yield does seem to be shrinking, and the likely increase in stock price will further amplify this fact. PLOW would be well-advised to use its newfound profits so as to bolster the dividend.
PLOW could get much bigger from here, which is why investors will be rewarded with an early buy. The key figure to watch is free cash flow, as this will determine PLOW's ability to drastically increase the dividend, which will soon fall below 4%. Rather unknown, PLOW is a diamond in the rough for seasoned hunters of growth stocks masquerading as dividend stocks.
Request a Statistical Study
If you would like for me to run a statistical study on a specific aspect of a specific stock, commodity, or market, just request so in the comments section below. Alternatively, send me a message or e-mail.
Disclosure: I/we have no positions in any stocks mentioned, and no plans to initiate any positions within the next 72 hours.
I wrote this article myself, and it expresses my own opinions. I am not receiving compensation for it (other than from Seeking Alpha). I have no business relationship with any company whose stock is mentioned in this article.