It has been a trade that has been 35 years in the making. It is the relentless bull market run not in stocks but instead in the U.S. Treasury market. And despite a three and a half decade run, this impressive upside opportunity is showing no signs of stopping as we move into the second half of the current decade. For those with a long-term view in mind, exactly where is the best place to get on board?
The current bull market in U.S. Treasuries has its origins dating back to the early 1980s. At the time, the U.S. Federal Reserve led by Chair Paul Volcker had raised rates dramatically in order to defeat the inflationary problems of the 1970s. Over the 35 years that have followed since, we have seen long-term interest rates steadily decline for a variety of reasons. These include increased globalization serving to depress pricing power, the rise of emerging economies resulting in a global savings glut, a demographic shift toward an aging global population, and the demand for safe haven assets in an increasingly unpredictable global economy, among others.
This has resulted in long-term U.S. Treasury yields moving in a predictable pattern over the past 35 years. The following two charts show the yields on the 10-year (NYSEARCA:IEF) and 30-year U.S. Treasuries (NYSEARCA:TLT). As we know, when bond yields fall, bond prices are rising. And these yields have been moving in a consistent downward sloping trading channel throughout their 35-plus year bull market run.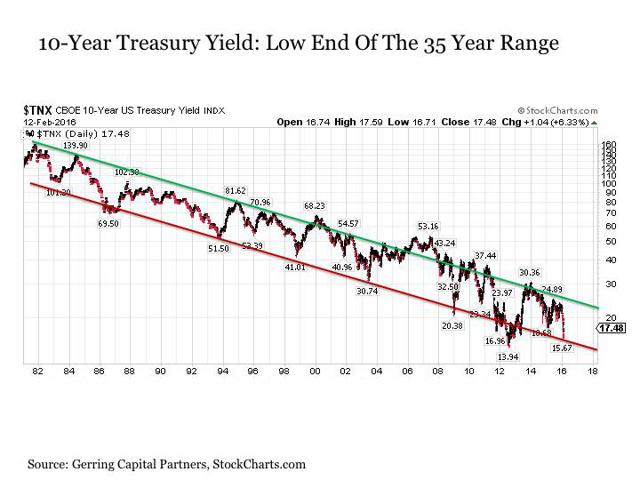 Click to enlarge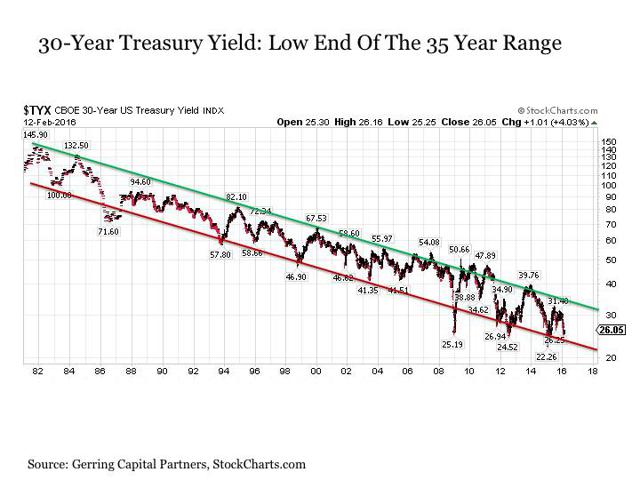 Click to enlarge
The long-term downtrend in Treasury yields remains very much intact. Looking forward, it appears that this downtrend is likely to continue for the foreseeable future despite the fact that yields have already fallen to notably low levels on an absolute basis. This is due to the fact that global deflationary pressures continue to persist despite extraordinarily aggressive monetary policy in recent years, which has resulted in an environment of negative interest rates in many parts of the world. In fact, U.S. Treasury yields remain relatively high on an absolute basis relative to its developed world counterparts in both Germany and Japan.
So for those interested in participating in a potential continued upside move in Treasuries over the next few years, exactly where should one target to get on board?
In short, today is not the time to be adding positions in long-term U.S. Treasuries. The safe haven Treasury market has rallied hard in recent months and has resulted in the 10-year and 30-year U.S. Treasury yields now pushing against resistance at the bottom of their long-term trading channels shown above.
Could these yields break through resistance to the downside (and thus result in upside price return on these bonds)? Absolutely, but history has shown that any such breakouts are typically short lived as yields eventually find their way back into their respective trading channels.
Instead, waiting for a pullback in yields is the best approach for those with a long-term perspective in mind. In a perfect world, this would involve a pullback in yields to the 2.2% to 2.4% range on the 10-year and 3.2% to 3.4% range on the 30-year U.S. Treasury yields sometime over the next two years. Today, these yields are at 1.75% and 2.60%, respectively.
While these yield differentials may not sound like much, they can lead to return differentials of more than +10% at any given point in time, which is substantial considering the total returns environment that we may be operating in the coming years.
An ultra long-term trading horizon that has unfolded over three and a half decades requires patience when waiting for entry points to establish long-term positions. But when these entry points present themselves, it remains worthwhile to step in and take advantage. For until we arrive at a point where the global economy appears poised to finally shed the weights of the financial crisis and enter into a new sustained phase of secular growth, the trend in long-term U.S. Treasury yields appears highly likely to remain to the downside and thus to the upside for Treasury prices.
Disclosure: This article is for information purposes only. There are risks involved with investing including loss of principal. Gerring Capital Partners makes no explicit or implicit guarantee with respect to performance or the outcome of any investment or projections made. There is no guarantee that the goals of the strategies discussed by Gerring Capital Partners will be met.
Disclosure: I am/we are long IEF,TLT.
I wrote this article myself, and it expresses my own opinions. I am not receiving compensation for it (other than from Seeking Alpha). I have no business relationship with any company whose stock is mentioned in this article.