It is hard to overstate the pain emanating from the domestic oil patch, as oil prices are now into a year and a half of an epic decline that has taken the price of crude down by some 70% since the early summer of 2014. It is no longer a matter of if, but when, a good portion of small, mid and even quite large producers circle the drain via bankruptcy proceedings.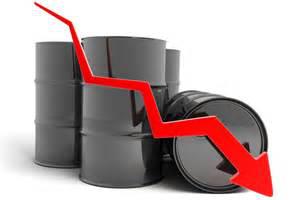 Barring a last-minute "Hail Mary" from OPEC and Russia via substantial production cuts, it is hard to imagine a scenario that could bolster the price of oil fast enough for most producers that are in distress to survive through the year. Forward production hedges that were made when oil was trading at much higher levels continue to fall off the books. In addition, banks are no longer in "extend and pretend" mode, and are curtailing credit lines.
According to AlixPartners, U.S. and Canadian producers are losing some $350 million a day at current energy prices. Storage facilities are overfilling, and there is an increasing amount of painful moans coming up from the oil patch. Once-significant upstream master limited partnerships like Linn Energy (NASDAQ:LINE) and BreitBurn Energy (NASDAQ:BBEP) are beating a path to bankruptcy, making this brutal shakeout in the energy industry painful for both equity and income investors.
The bankruptcy of Chesapeake Energy (NYSE:CHK), the number two natural gas producer in the country, is not only not unthinkable anymore, but is looking more and more likely. Some of the former "poster boy" for domestic natural gas production bonds are trading at 20 cents on the dollar. The possibility that mighty Chesapeake could go under started to reverberate through other sectors in the energy complex this week.
Click to enlarge
Pipeline companies sold off early in the week as investors woke to the realization that if Chesapeake does go the bankruptcy route, their long-term contracts to carry their natural gas production could face renegotiation that could result in significantly lower cash flow going forward. Even the over $30 billion plus merger between Williams Companies (NYSE:WMB) and Energy Transfer Equity (NYSE:ETE) might be in jeopardy. CHK traded above $30.00 a share in 2014, but currently, is just above $1.50 a share. The pain does not look like it will stop there, and UBS just put a $.50 a share price target on Chesapeake
I know it is tempting for some contrarian investors to go bottom-fishing given the implosion of values over the past year and a half in this sector. My inbox has been overflowing in recent months with tales of woe from investors who kept dollar-cost averaging into some of the names listed above. As my regular readers know, I took my lumps in the first quarter of 2015, when I exited my energy bets entirely even though I had to take steep losses on a good portion of then. I felt like a puppy with my tail between my legs, but I saved a substantial amount of losses by swallowing my pride and biting the bullet.
One has to understand that this is not the "internet bust" where many firms were trading at a significant discount to the cash on their balance sheet. These are enterprises with large debt obligations, negative cash flow and are tied to a commodity price they cannot control. With the bankers, private equity and hedge funds either reeling in credit lines or buying up their debt at pennies on the dollar in order to force these entities into restructuring, there will be little or nothing left over for equity holders.
In addition, don't be fooled by some of the remaining players in energy that have healthy dividend yields. Dividend payouts will continue to be slashed, and most dividend payouts will be end up being pipe dreams. ConocoPhillips (NYSE:COP) was yielding some eight percent before it was forced to cut its dividend payout by two-thirds earlier this month.
In the coming months, we will see more delisting notices like the one oil services Pacific Drilling (NYSE:PACD) just got from the Nasdaq. Bankruptcies in the small producers will multiply, with one-time holdings like Warren Resources (NASDAQ:WRES) and Emerald Oil (NYSEMKT:EOX) most likely in bankruptcy proceedings before the quarter is out.
They will not be alone. In short, all investors should expect from this sector in the months ahead unless oil stages a miraculous near-term recovery are dividend and capital budget cuts, along with reverse splits, restructurings and bankruptcies. Not a pretty picture by any stretch of the imagination.
Therefore, the retail investor should leave the sector to distressed debt funds and short sellers who have their biggest positions percentage-wise in the sector in more than a decade. Investors should look elsewhere for bargains in this very rocky market in the first half of 2016. It is hard to see solid risk/reward bets in energy as the industry sees so many of its once attractive names circle the drain in 2016.
Disclosure: I/we have no positions in any stocks mentioned, and no plans to initiate any positions within the next 72 hours.
I wrote this article myself, and it expresses my own opinions. I am not receiving compensation for it (other than from Seeking Alpha). I have no business relationship with any company whose stock is mentioned in this article.