By Patrick Rooney
We believe that the market is wrong about Ryanair Holdings (NASDAQ:RYAAY) for a number of reasons. The market and institutional traders are currently looking for hidden value in the airline sector given the rapidly declining energy prices. Understandably so, this value is extremely difficult to find. That being said, we see Ryanair as a strong growth play for the 2016 fiscal year.
Ryanair has posted strong growth in recent quarters, and we see this growth continuing throughout the next 12 months. It has the ability to expand its market share even further throughout the United Kingdom as well as Ireland. We feel that the market has not accurately priced in the level of expansion Ryanair will see throughout the year. Record traffic in UK airports provide extreme upside for the Ryanair brand. Ryanair has the ability to capture the bulk of this traffic through its ultra low-cost fares relative to competitors. To the downside, we see the risk being relatively conservative and controlled as Ryanair is less exposure to global macroeconomic risk when compared to its peers based in the US, Europe and Asia.
Ryanair is trading at $78.65, as of February 11th, 2016. Ryanair boasts a PEG (five-year expected) of 0.39. However, this impressive level of growth will likely be unsustainable in the longer term as it is nearly 4x its peer average. The five-year average EPS growth rate is a resounding 21.8%, while the current EPS growth rate sits at 6.1%, suggesting that growth is beginning to flag. We do see this as an immediate risk, but it is a trend occurring throughout the industry. We strongly believe Ryanair is maintaining its strong growth noticeably better than its peers. As Ryanair begins to establish a more realistic growth rate its current P/E of 19.472 will likely continue to increase, giving it a boost in future share price. Ryanair displays a strong current ratio of 1.71, giving investors confidence in its ability to easily pay off its debt.
These strong fundamentals align Ryanair alongside its competitor Easyjet. As of September, 2015 Easyjet had a current ratio of 0.72. Ryanair is in a much safer position in terms of meeting debt obligations than Easyjet and a number of its other peers. Ryanair currently has total revenue (TTM) of $6.7B versus Easyjet's total revenue of $7.1B. As Ryanair continues to grow it will have an opportunity to surpass Easyjet's annual revenue figures, further building its brand as a leader in European transportation. Ryanair has the ability to capture market share away from Easyjet if its current debt begins to place strain on the airlines operations. Ryanair has its fundamentals better aligned than Easyjet, which will create more opportunities for Ryanair to expand its operations
The 2015 fiscal year was monumental for Ryanair. It substantially increased its balance sheet after a small decline in 2014. The surplus in its cash balance substantially reduces its risk when compared to a number of other airliners on a value basis on top of its consistently growing revenue as displayed below. Lastly Ryanair's strong boost in cash flows for the 2015 fiscal year will demonstrate its strong momentum to investors and analysts in the coming quarters.

Taken from proprietary trading software
In March of 2015 Ryanair management unveiled its 8-point promise plan, commonly referred to as the "Always Getting Better" program. This initiative has been incredibly effective at generating increasing numbers of customers and an improved load factor. This has led to a very strong revenue per employee, at nearly 2.5x the industry average. Ryanair's incredibly efficient management team, beginning with CEO Michael O'Leary, has exhibited supreme confidence in the company, through its focus on generating growth as well as large buyback programs. We believe the successes of Ryanair's management team are increasingly scalable, allowing for Ryanair to maintain its value and add to future growth.
Company Buyback Program
Ryanair has announced a company program to buy back approximately $893 million worth of shares, commencing on February 5, 2016. This program is expected to be implemented over a 9-month period, and is the company's single largest buyback program to date. This supports our thesis in that Ryanair management's confidence and effectiveness will allow its future growth to be uncapped. Upon completion of the buyback program, Ryanair will have returned over $4.4 billion to shareholders since 2008. Ryanair has consistently put its large cash reserves to good use through share buybacks.
Regional Stability and Growth
As an airline headquartered in Ireland, that flies exclusively in the United Kingdom, Europe, and Morocco, Ryanair is less exposed to many of the risk factors common to American airline companies. The Chinese economy does not impact Ryanair to the degree in which it does major airlines in the United States. The bulk of international risk lies within the United Kingdom and nearby European nations. This is much more controlled and limited exposure when compared to your standard airline play.
Passenger numbers in Belfast International Airport saw a near 20% increase in January and the airport is expecting 5 million passengers this year, up from 4.4 million in 2015. Ryanair is planning to establish a hub in Belfast in March, in an effort to capitalize on the growing market of Northern Ireland. This news follows the record-breaking numbers reported by Gatwick airport for the month of January. 2.5 million passengers traveled through Gatwick, up 5.7% on previous year. This growth in air traffic will give Ryanair plenty of opportunity to expand its network and further seize more market share from competitors.
Technical Analysis
Ryanair recently broke down through a key level of support, however we see this sub 75/share level as an excellent buying opportunity. On a technical basis we see a downside of approximately 70.00/share before the next wave of buyers step in. To the upside, we do see 80.00/share and 87.5/share as significant levels of resistance with potential upside through its recent highs of 88.24/share.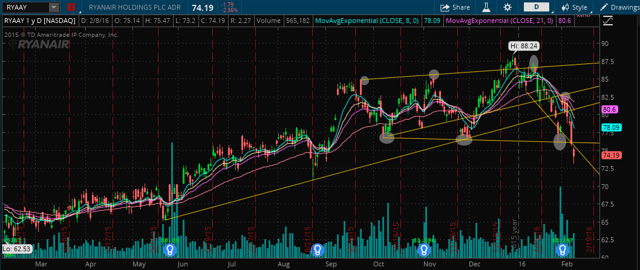 Key Risks
As always when dealing with a transportation company we must account for the volatile oil market. As oil prices experience high levels of volatility, it will likely be reflected in share prices of Ryanair and a number of its peers. This will offer substantial opportunity to enter a long position in Ryanair at a discounted price.
Terror attacks also have the ability to present substantial and unpredictable risk to airline companies. Ryanair is not immune to these events, however they have demonstrated their ability to react accordingly to such attacks. According to CEO Michael O'Leary,
"Following a strong first half of Q3, we noted weaker pricing and bookings immediately after the terrorist events in Paris and Brussels. We reacted to this softness by running price promotions and discounted fares to stimulate double digit traffic growth. While average fares fell 1% (previously guided flat pricing), this was offset by lower unit costs."
(Source: investor.ryanair.com/wp-content/uploads/...)
Time to Board!
Ryanair has stronger fundamentals than its immediate competitor, Easyjet, providing Ryanair with the opportunity to capture market share from Easyjet in the future. We believe the fundamental strength of Ryanair allows the company the ability to sustain stronger levels of growth than competitors. The market is currently leaving Ryanair undervalued due to risk factors common amongst major airlines. However, Ryanair is less exposed to these typical airline risks, because of its focused operations in the UK and continental Europe. Continued share buybacks will support share value in the future as well. We believe Ryanair's commitment to increasing share buybacks will continue to trend and provide great value for investors down the road. Increased air traffic in the United Kingdom will provide Ryanair with ample opportunity to expand its network, likely at a more efficient pace than Easyjet and British Airlines. Shares are currently trading at great value, and offer investors the opportunity to buy into a fundamentally strong company at discounted prices.
Disclosure: I/we have no positions in any stocks mentioned, but may initiate a long position in RYAAY over the next 72 hours.
I wrote this article myself, and it expresses my own opinions. I am not receiving compensation for it (other than from Seeking Alpha). I have no business relationship with any company whose stock is mentioned in this article.
Additional disclosure: The contributing analyst as well as www.MainStreetTrading.net does not have any synthetic positions in RYAAY through options or other derivatives.