When Wal-Mart (NYSE:WMT), likely still the world's (and certainly the largest US) retailer by revenue, reports its fiscal Q4 2016 financial results on Thursday morning, February 18th, 2016, investors will likely see the first year-over-year (y/y) decline in revenue for the retail giant in, well, at least 25 years. Even during the height of the financial and mortgage crisis, when Wal-Mart reported its January 2009 quarter during the teeth of the stock market meltdown and the headlines about TARP, the company managed to report y/y revenue growth of 1.65% on an EPS decline of less than 1%.
For what was often considered a bullet-proof business model that to this day operates under the "every day low price" (EDLP) mantra, it is clear that today, and in the last year in particular, Wal-Mart is seeing significant top line pressure from Amazon (NASDAQ:AMZN), and will likely continue to see pressure as the latter expands into 2-hour and same-day delivery.
It is a classic example of Schumpeter's "creative destruction" at work, with Amazon being the upstart and Wal-Mart being the former leader that is being brought to its knees.
When Wal-Mart reports its fiscal Q4 2016 quarter results (ended January 2016) on Thursday, February 18th, 2016, Street consensus per Thomson Reuters is expecting $130.76 billion in revenue, which is expected to generate $1.42 in earnings per share (EPS) for an expected y/y decline in revenue of -0.5% and a drop in EPS of 10%.
For full-year fiscal 2016, the y/y declines are about the same: -0.50% in revenue generating a 10% drop in earnings per share, which amounts to $4.54 in full-year earnings per share on $483 billion in revenue.
In terms of guidance and Street consensus, fiscal 2017 is expected to see a drop in earnings per share of 8% currently ($4.17) on a 1% increase in revenue of $490.4 billion.
From memory, I do think Wal-Mart has guided down every one of the last 4 quarters, but 2017's consensus already expects tough numbers.
To give the reader clarity on the trends, here is how the last few years fall out in terms of EPS and revenue and y/y growth, presented graphically:
EPS

y/y

Growth

Revenue

y/y

Growth

Fiscal 2018 - est.
$4.40
+6%
$503
+3%
Fiscal 2017 - est.
$4.17
-8%
$490
+1%
Fiscal 2016 - est.
$4.54
-10%
$483
-0.5%
fiscal 2015 - actual
$4.99
-1%
$486
+2%
Fiscal 2014 - actual
$5.11
+4%
$476
+2%
(Source: Thomson Reuters)
EPS = earnings per share
Revenue ($s in billions)
The beauty of the Wal-Mart model is that it doesn't take much in terms of revenue growth to leverage SG&A and generate earnings growth for shareholders, but it is abundantly clear that the company's revenue is being pressured, and the pressure is likely to be sustained for a while given the ever-increasing popularity of Amazon and other "dollar-priced" retail.
With the revenue pressure, WMT's operating margins have been pressured.
| | | | | | | | | | |
| --- | --- | --- | --- | --- | --- | --- | --- | --- | --- |
| | 10/15 q3 | 7/15 q2 | 4/15 q1 | 1/15 q4 | 10/14 q3 | 7/14 q2 | 4/14 q1 | 1/14 q4 | 10/13 q3 |
| Op. margin | 4.87% | 5.05% | 4.95 | 6.04% | 5.26% | 5.61% | 5.39% | 5.66% | 5.45% |
| Seq change | -0.18% | +0.10% | -1.10% | +0.78% | -0.35% | +0.22% | -0.28% | +0.21% | -0.35% |
| y/y change | -0.40% | -0.56% | -0.44% | -0.38% | -0.19% | -0.20% | -0.27% | -1.06% | +0.10% |
(Source: Internal spreadsheet based on WMT income statement)
Seq and y/y change in "basis points"
Readers can see how there has been a steady erosion in WMT's operating margin the last few years, but more on this in a minute.
What has changed?
With the stock down from $90 to $57, there have actually been some areas of operating improvement at Wal-Mart the last 2-3 quarters. Here is a quick summary of what has changed and what hasn't:
What is improving:
WMT's US "comps" and Sam's Club's comps have improved for three straight quarters - that is good news. However, comps are not earnings. Traffic has driven improvement in the comp, which is a very good sign, but the "price" last quarter was negative. Wal-Mart has to continue to tweak the price versus traffic combination to maximize its model. The company's model is built on volume and leverage, or if we think about the DuPont (NYSE:DD) ROE (return on equity) model, it is "asset turnover" driven by high traffic (volume) and lower margin. I'm guessing that with Amazon's growing presence, maybe Wal-Mart used to be able to deliver a predictable amount of traffic at a certain "price". Not anymore. (Here is an article from early 2015 where traffic weakness is discussed.)
Starting in the April, 2010 quarter, y/y inventory growth exceeded sales growth for 20 quarters (with some exceptions around the Christmas Q4 quarter), but WMT has corrected the inventory problem (whatever it was), and now, sales have exceeded inventory growth for the last two quarters. This is HUGELY important for a retailer of Wal-Mart's size. Again, to tie in the DuPont ROE model, it gets back to asset turnover and working capital utilization, and that matters to earnings per share. (Here is an article from May 2015, where the inventory issue was discussed.)
While there continues to be pressure on WMT's US operating margin, (see above table), Sam's and the International segment operating margin have improved and have been positive in terms of y/y growth in 3 of the last 5 quarters. I'd like WMT to be able to improve those segments in the face of the brutal competitive pressure at Wal-Mart US.
The "Neighborhood market" comps are in the high single digits, but it is a small part of Wal-Mart's US business right now. Still, this is a viable strategy for large urban markets like Chicago, where the politicians give Wal-Mart a hard time about its wage scales, etc.
The drop in gasoline prices and the strengthening of the US dollar could have positive impacts on the company's results: the source can't be recalled, but roughly 30% of WMT's typical demographic spends not an insignificant amount of their disposable income on gasoline. In addition, with the weakening of the yuan, the company has greater purchasing power over Chinese suppliers. Better gas at $2 than over $4 in terms of Wal-Mart's typical customer. However, I don't recall lower gasoline prices being discussed as a positive contributor to anything in the last 4 quarters.
What is the same:
WMT's gross margin management is airtight, and like the inventory-to-sales metric (and after some pressure in calendar mid-2014), gross margin has improved y/y for the last 4 quarters.
Its capex is slowly declining, which means free cash flow is stabilizing. WMT generated $9 billion in free cash flow in the January 2015 quarter (last year's Q4), which is the highest since January 2010's $10 billion in free cash flow and the $9 billion in January 2009.
It will be interesting to see if the company can generate over $10 billion and a new record for free cash flow with January 2016's quarter to be reported Thursday morning.
WMT is consistently returning capital to shareholders in an orderly fashion. The dividend in dollars (not the payout ratio) has been roughly 40-45% of total free cash flow. The company seems most comfortable with returning about $2 billion in free cash flow per year to shareholders, and has done as much as $3 billion per year on occasion.
I hate to say it, but the forward EPS and revenue estimates remain on their slow downward track, in terms of revisions, for the retail giant. Fiscal 2017 and 2018 revenue estimates continue to decline, albeit from starting estimates which do show some y/y revenue growth.
In my opinion, the key metric to watch given WMT's business model and the "low-margin, high-turnover" business model is revenue growth. Revenue growth is a function of traffic. The company can't really use "price", since that lever takes the retailer away from its EDLP mantra, but without revenue growth, or if Wal-Mart should face years of declining revenue growth, it could become the equivalent of so many busted retailers, and that wouldn't be good.
If you want to study one of the great stock turnarounds in retail, study what Home Depot (NYSE:HD) did and how it managed to drive returns for shareholders that sent the stock from the low $30s in 2011 to $120 in 2015.
See here and here for articles for comparisons on Home Depot and WMT, and what WMT could potentially do in terms of operating and return of capital to shareholders to improve returns to them.
The one problem with this strategy is that the "do-it-yourself" home improvement strategy, particularly the Pro (contractor) business, is thought to be insulated or protected from the Amazon model, while Wal-Mart's "sell anything to anybody at EDLP" is right square in front of the Amazon steamroller.
Technical analysis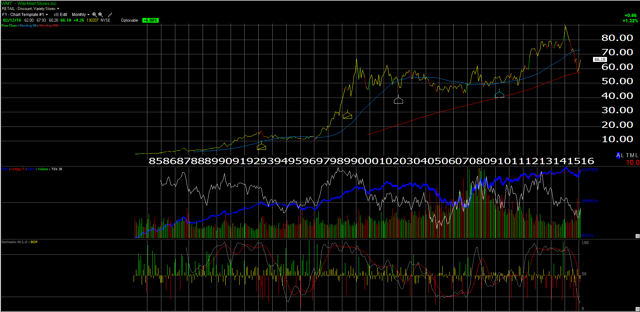 Click to enlarge
Readers can quickly see how WMT's stock bounced off its 200-month moving average, which is obviously an important level.
The growth stock bubble high for Wal-Mart was $70.26 in January 2000. It took 12 years to take out this high, and now the stock is back below it again. I wouldn't be surprised if the low $60s are re-tested again.
Conclusion
Thanks to Amazon, Wal-Mart is probably faced with its most significant competitive threat in the last 30 years. And with Amazon generating over $100 billion in annual sales (versus Wal-Mart's $480 billion), Wal-Mart has time to fix the issue - though time is growing short. For 30 years, WMT owned general merchandise, price-sensitive retail, but that has changed over the last 18 months.
The Amazon retail business model is focused directly at Wal-Mart's market share. The thing that amazes me is that Amazon is throwing up distribution centers right and left over the last 5 years, while Wal-Mart is trying to get the Walmart.com e-commerce to be a formidable competitor to Amazon. These are two gigantic retail aircraft carriers passing each other in the night, trying to duplicate the other's strategy. Why Amazon doesn't use Wal-Mart stores as distribution centers is something I've wondered about.
Already in Lincoln Park, just north of Chicago, when out to lunch on weekdays, more and more cars are seen sporting the "Amazon 2-hour delivery" placard on the driver's door.
Amazon seems to be "driving" (no pun intended) the innovation, while Wal-Mart follows. The real longer-term question is: Does the Amazon model portend a secular decline for Wal-Mart in the form of "death by a thousand cuts"?
What Home Depot did under Frank Blake to rejuvenate the stock price was brilliant:
It stopped opening new stores.
Management focused on store productivity, and the operating margin nearly doubled over a 3-4 year time frame.
The free cash flow generated from very little capex (no new store openings) and expanded margins was then used to repurchase stock, and in addition, HD issued long-term debt to supplement the capital return to shareholders.
HD stock traded from $30 in 2011 to $120 last year, or a 400% return, all driven by EPS growth from share repos on mid-single digit revenue growth.
Granted, I started selling a lot of clients HD when Frank Blake left, and I don't own very much now, since I think HD is running on fumes, but WMT could adopt a similar strategy with fewer store openings and return that free cash to shareholders.
Wal-Mart needs to be hip and cool again. That may be its biggest struggle. The retailer has been the poster-child for every meathead, wealth-redistributing, politician and union flunky since the early 1990s.
It is just an opinion, but having fewer stores, along with better margins (store productivity) and more free cash flow returned to shareholders could help.
Disclosure: I am/we are long WMT, AMZN, HD.
I wrote this article myself, and it expresses my own opinions. I am not receiving compensation for it (other than from Seeking Alpha). I have no business relationship with any company whose stock is mentioned in this article.