Healthcare REITs have become part of a "love/hate" relationship for me - I love the high dividend yields, but I hate the decline in share values that are driving the dividends through the roof.
Just a few days ago, I wrote an article on HCP, Inc. (NYSE:HCP) - one of the stalwart dividend payers with a track record of increasing annual dividends for over 30 years in a row. Who couldn't love owing a stalwart REIT that is now commanding a yield of 8.8%?
Me.
As far as I'm concerned, if a dividend is not durable, it's dangerous. There is simply no way that past performance can guarantee future success, and while HCP has an enviable record of dividend safety, it's clear that the future of the dividend is in doubt.
As many of you know, I manage a portfolio (within my newsletter Forbes Real Estate Investor) called the Durable Income Portfolio. HCP is no longer a candidate in the portfolio in which healthcare REITs represent around 28% of the overall sector allocation.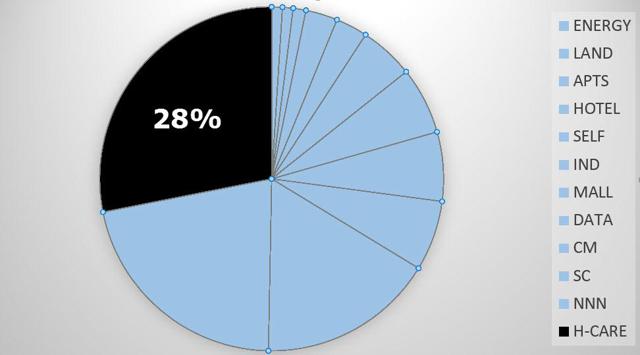 Click to enlarge
Late last year, I began to focus my efforts on pruning the REITs that I believed would underperform (like HCP), so that I could enhance my returns by over-weighting shares in the most durable names. Recognizing risk within skilled nursing (government pay) and senior housing, I felt compelled to pay close attention to the revenue drivers and to stay closely aligned with the higher-quality, more predictable REITs.
One such REIT that I decided to build a strong position in was Physicians Realty Trust (NYSE:DOC). I began purchasing shares in the medical office building (or MOB) REIT in May 2014, and since that time, the shares have returned over 37% - beating all other healthcare REITs that I own.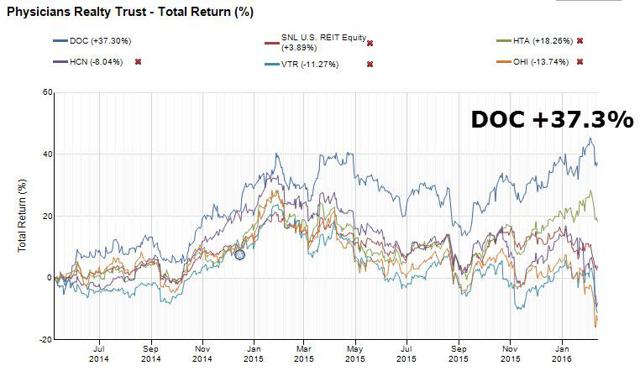 Click to enlarge
Physicians Realty Is A Strong Buy
In November, I upgraded DOC from a Buy to a Strong Buy. In a Seeking Alpha article, I explained:
DOC has become a formidable player in the REIT sector and as the company has evolved, it has become a more durable company, the most recent evidence of that is based on the Q3 payout ratio…I consider DOC a STRONG BUY as I have upgraded the shares with a target price of $16.00.
I started covering DOC back in 2013 after the Milwaukee-based REIT listed shares on the NYSE (on July 18, 2013). Since that time, I have written a few articles on the company (the latest ones are here and here).
As a public company, DOC exploded out of the gate, having completed its IPO less than a year ago, and since that time, the company has grown its assets to around $1.7 billion (from $124 million at the IPO).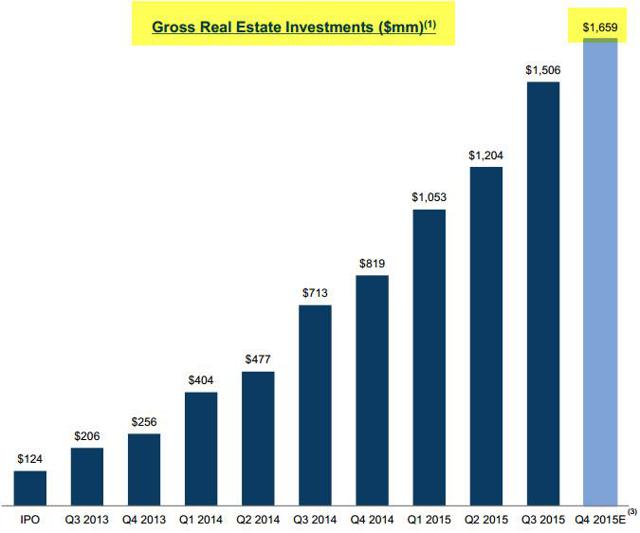 Click to enlarge
DOC completed the $135 million IPO and multiple follow-on equity offerings (the 6th on 1/25/16), and now, the company has a market capitalization in excess of $1.73 billion. Here's a snapshot of the REIT's history and access to capital since its IPO.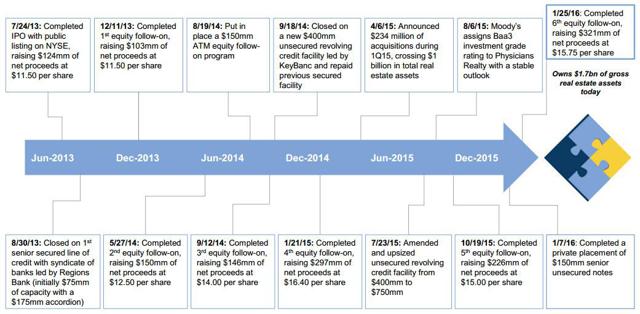 Click to enlarge
Here's a snapshot comparing DOC to its peers (based on market cap):

Click to enlarge
DOC is a diversified Healthcare REIT that seeks to acquire, selectively develop, own, and manage healthcare properties that are leased to physicians, hospitals, and healthcare delivery systems. Today, it has grown from 19 properties (at IPO) to 151 properties (in 26 states). Here's a snapshot of the company's geographic distribution: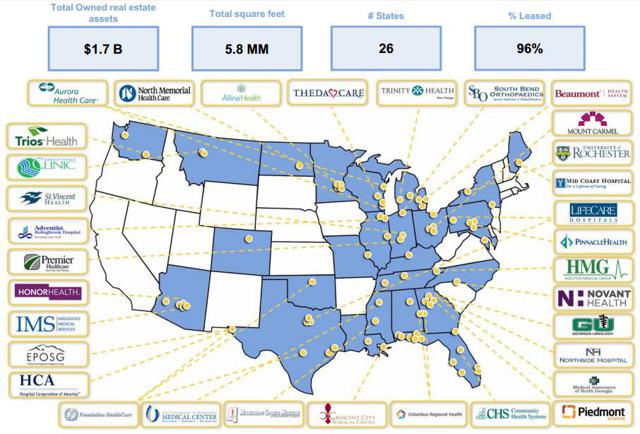 Click to enlarge
In a relatively short time frame, DOC has diversified its portfolio by locating assets in strategic markets with strong demand generators and limited new development. In 2015, the REIT was targeting $700-900 million in acquisitions, and a few weeks ago, the company said it closed on $841 million in 2015, representing 103% growth in gross assets year over year. In 2016, DOC is targeting between $750 million and $1 billion in total assets closed.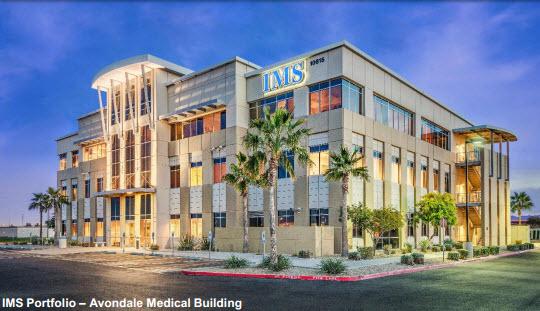 It generates over 60% of NOI (net operating income) from the top 50 MSAs.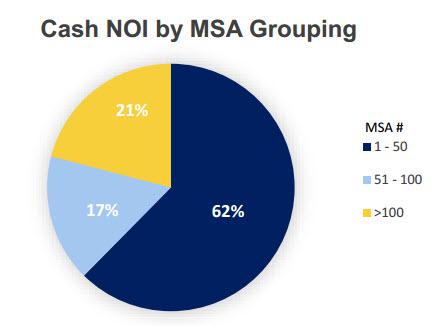 The Balance Sheet
DOC utilizes its line of credit to fund acquisition activity with a balance of $473 million. The company's debt-to-gross assets at the end of the third quarter was 38.4%, and its net debt-to-adjusted EBITDA ratio was 5.9X.

Click to enlarge
DOC executed a follow-on offering in January 2016. The upsized offering (8.8% upsize) generated net proceeds of $335 million. Part of that offering was used to pay down the line of credit, including working capital and to fund investments.
Following DOC's recent equity offering, the debt-to-asset ratio was ~14%, and then the company immediately went to work putting the cheap equity capital to work, paying down the line. In January 2016, it announced $153 million of 4Q-15 acquisitions and provided the 2016 acquisition guidance of $750mm-$1.0B
As of 1/25/16, DOC's $750 million line of credit had zero outstanding, and the line also has an accordion with another $350 million available. The company has around $1.3 billion of unencumbered assets; the percentage of secured debt-to-total debt is around 33.4%.

Click to enlarge
DOC is investment grade rated by Moody's (Baa3), and as evidenced below, the company has strong banking relationships across multiple banks.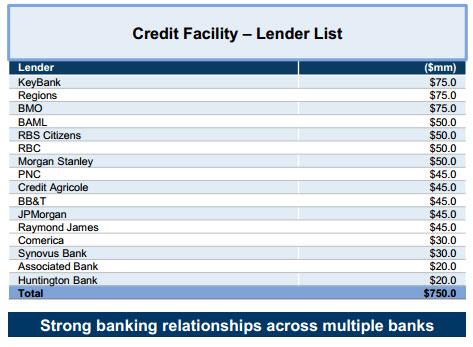 Its Adjusted EBITDA Fixed Charge Coverage is 6.2x, and here's how the company's "best-in-class" debt-to-total capitalization compares with that of the peer group:

Click to enlarge
To give you an idea of DOC's overall profitability scorecard, I decided to provide you with a quick "back of the napkin" weighted average cost of capital (WACC) analysis. The company's average cap rate (net income / purchase price) in 2015 was 6.98%, and as you can see below, DOC's low WACC multiple is around 5.6%. This means it produces attractive profits on the margin - around 140 bps on high-quality leases (with 2.5-3% annual rent bumps).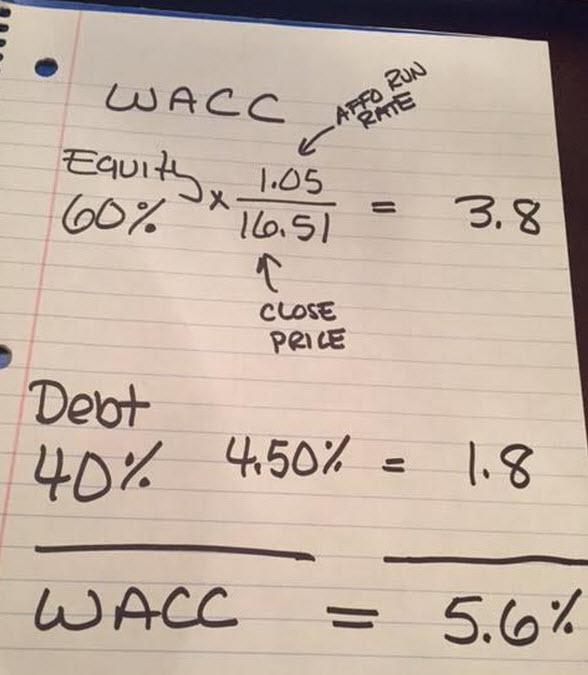 Let's Examine the Historical Profit Scorecard
DOC's third-quarter 2015 funds from operations (or FFO) was $16 million, or $0.21 per diluted share. Normalized FFO (which added back $3.3 million of acquisition expenses and some other small normalizing adjustments) was $19.3 million.
Normalized FFO per share was $0.26 per share, which represents a year-over-year increase of 53% from the third quarter 2014 normalized FFO per share of $0.17. Normalized funds available for distribution (or FAD) for the third quarter was approximately $16.9 million, or $0.23 per diluted share.
DOC provides us with AFFO (adjusted funds from operations) data, which is good, because it shows us the "true run rate cash flow" for the company. Unlike senior housing, which is less predictable, cap-ex for MOB properties are more predictable. Here's DOC's AFFO per share history:

Click to enlarge
Now, as you can see below, it has maintained a flat dividend history since going public. However, upon closer examination, you can see that the company is now covering its dividend (Q3-15 AFFO per share was $.23).

Click to enlarge
What I find most attractive about DOC is its disciplined approach to managing balance sheet risk. The company could easily boost leverage to generate outsized profits; however, it continues to preserve its prudent risk management profile by maintaining low leverage. By combining a robust acquisition model and a disciplined balance sheet, DOC has all of the healthy ingredients for success.
In fact, upon closer examination, it's clear that the company has been extremely intelligent with its recent equity deals - $225 million in October and $300 million in January (one of the few healthcare REITs to issue equity in a few months). Because of this very healthy access to capital, I consider DOC to be an outlier worth owning.
Another good indicator, at least for me, is the fact that DOC is now better positioned to grow its dividend. After around two years into the game, it is now in a better position to boost its dividend and/or continue reducing its payout ratio. I'm not picky. I'll take either, since they both suggest a safer business model.
Finally, I'm glad to see the REIT achieve its first investment grade rating in August 2015 from Moody's; however, I believe S&P and Fitch will soon follow, giving DOC more financial flexibility (to issue unsecured debt) and enhancing dividend safety.
Is DOC a BUY Today?
Clearly, DOC has all of the healthy ingredients of something special, and I'm glad I got on the train before it left the station. But what about those who are still waiting on a ticket? Let's take a look at the company's P/FFO multiple compared to that of the peer group:

Click to enlarge
Yes, I'm glad I punched my ticket early. What about the dividend yield?

Click to enlarge
Compared with the peer group, DOC's 5.5% yield appears a tad low. However, remember that the company is only trading at a premium when compared with other higher risk REITs with less predictable revenue generators. Also, DOC has a superior growth profile with an underleveraged balance sheet that warrants a higher multiple.
I know it's not really an "apples-to-apples" approach, but I sometimes think it's useful to compare DOC's yield (or similar MOB REITs) with that of pure-play Office REITs. In reality, an office building is an office building, and although DOC doesn't own properties in Manhattan, the predictability of the rental stream is quite comparable.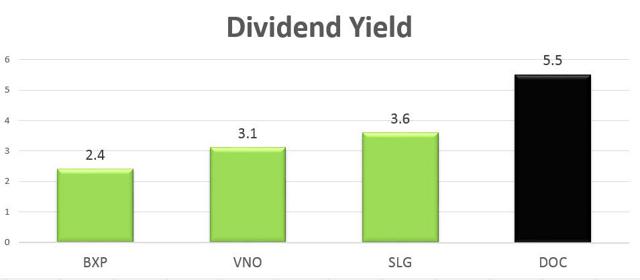 Click to enlarge
Regardless of the comparisons, I still view DOC as a soundly valued healthcare REIT. I am still very bullish with this name, and am expecting the company to continue down the path of multiple expansion. Although it has not "officially" made it to my "sleep well at night" list, I am seeing strong evidence to support the upgrade, and the next earnings results (November 29th) will weigh heavily into that final determination.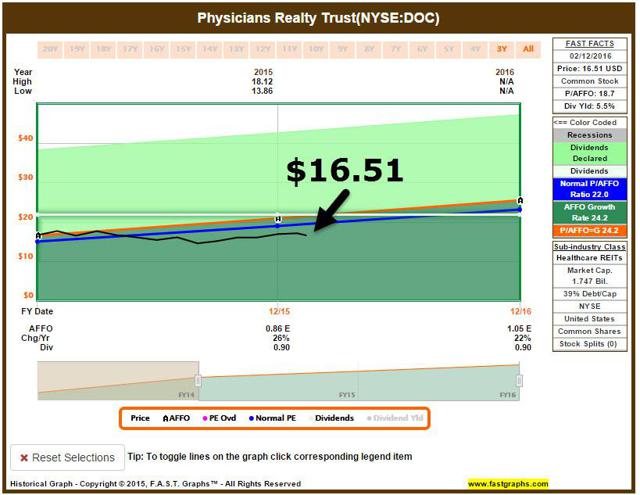 Click to enlarge
A few more charts:

Click to enlarge

Click to enlarge

Click to enlarge
Author's Note: I'm a Wall Street writer, and that means that I am not always right with my predictions or recommendations. That also applies to my grammar. Please excuse any typos, and I assure you that I will do my best to correct any errors if they are overlooked.
Finally, this article is free, and my sole purpose for writing it is to assist with my research (I am the editor of a newsletter, Forbes Real Estate Investor), while also providing a forum for second-level thinking. If you have not followed me, please take 5 seconds and click my name above (top of the page).
The only guarantee that I will give you is that I will uncover each and every rock I can in an effort to find satisfactory investments that "upon thorough analysis promises safety of principal and satisfactory return. Operations not meeting these requirements are speculative." (Ben Graham)
Disclaimer: This article is intended to provide information to interested parties. As I have no knowledge of individual investor circumstances, goals, and/or portfolio concentration or diversification, readers are expected to complete their own due diligence before purchasing any stocks mentioned or recommended.
Source: SNL Financial, F.A.S.T. Graphs, and DOC Investor Presentation.
REITs mentioned: LTC Properties (NYSE:LTC), Healthcare Trust of America (NYSE:HTA), Ventas, Inc. (NYSE:VTR), Welltower Inc. (NYSE:HCN), CareTrust REIT (NASDAQ:CTRE), Healthcare Realty Trust (NYSE:HR), National Health Investors Inc. (NYSE:NHI), Universal Health Realty Income Trust (NYSE:UHT), Sabra Health Care REIT (NASDAQ:SBRA), Omega Healthcare Investors (NYSE:OHI), Medical Properties Trust (NYSE:MPW), Senior Housing Properties Trust (NYSE:SNH), New Senior Investment Group (NYSE:SNR), Community Healthcare Trust (NYSE:CHCT), and Care Capital Properties (NYSE:CCP).
Disclosure: I am/we are long O, DLR, VTR, HTA , STAG, GPT, ROIC, HCN, OHI, LXP, KIM, WPC, DOC, EXR, MYCC, BX, TCO, SKT, UBA, STWD, CONE, BRX, CLDT, HST, APTS, FPI, CORR, NHI, CCP, WSR, CTRE, WPG, KRG, SNR, LADR, HCN, HCP.
I wrote this article myself, and it expresses my own opinions. I am not receiving compensation for it (other than from Seeking Alpha). I have no business relationship with any company whose stock is mentioned in this article.