Recently, I wrote an article about mortgage REITs ("mREITs") in which I showed that, from a total return standpoint, mREITs have underperformed equity REITs over virtually all time frames. In response to the article, a couple of readers asked me about my prior commercial mortgage REIT recommendations. As one reader put it:
Also positive on BXMT and STWD. How are the commercial mreits significantly different from the other mreits?
I responded to the comment by stating that I would write an article explaining how commercial mortgage REITs differed from residential mortgage REITs.
Let's start off with the principal differences between residential mortgages and commercial mortgages:
· A typical residential mortgage is 30 years, fully amortizing, 10-20% down payment, and freely prepayable.
· A typical commercial mortgage is 10 years, 30-year amortization schedule with a balloon payment at maturity, 25 - 45% down payment, and not prepayable.
· Principal protection on agency residential mortgages is provided through Fannie or Freddie, making credit risk negligible. There is no principal protection available on "private label" or non-agency mortgages and as a result, there is credit risk (risk of principal loss).
· Commercial mortgages are individually underwritten with a view to property cash flows (i.e. rents) and therefore are exposed to credit risk.
· Agency residential mortgages are very liquid, non-agency mortgages and commercial mortgages less so. Both non-agency and commercial mortgage conduits/securitization vehicles are very sensitive to changes in market liquidity and attitudes towards risk.
As a result of these characteristics of the underlying assets, investors in residential mortgages (such as investors who buy public residential mREIT stocks) take on substantial interest rate risk and repayment risk. Commercial mortgages have much less interest rate risk. The key risk is typically credit risk, so the competence of the underwriting team is very important.
A summary of risks embedded in the various types of mortgage REITs is as follows:

As the table above shows, the availability of multiple types of mortgage REITs allows an investor to essentially choose what type of risk she is investing in and tailor her investment to her market outlook.
The commercial mREIT sector can be further broken down into two categories: pure balance sheet lender and balance sheet/conduit lender.
· A pure balance sheet lender originates or purchases loans for their own balance sheet and holds these loans on their balance sheet (although they may sell participation units in the loans to diversify some of the risks). Blackstone Mortgage Trust (NYSE:BXMT) and Apollo Commercial Real Estate Finance (NYSE:ARI)
· A balance sheet/conduit lender originates and/or purchases loans for its own account (balance sheet) or to be sold into a securitized vehicle such as CMBS (conduit). Ares Commercial Real Estate (NYSE:ACRE), Ladder Capital (NYSE:LADR) and Starwood Property Trust (NYSE:STWD).
There are differences between these two types as well and risk can be further diversified. Balance sheet lenders originate loans with the intent of holding them on their books. Balance sheet/conduit lenders originate loans for both their own books and to sell into securitized markets such as CMBS.
The risk with balance sheet lenders is relatively straightforward - the risk that the loans don't perform as expected. Balance sheet / conduit lenders have the risk of non-performance as well as the risk that the conduit market experiences a disruption and cannot take as many loans as expected.
The bottom line is that investors in mortgage REITs have multiple options and risk profiles from which to choose. How an investor views the world and the market can be accommodated by the type of mortgage REIT they choose.
Most of my followers understand that I am not a fan of the agency mREIT variety due to the sensitivity to interest rates through prepayments and the impact on hedges and book values. Commercial mortgage REITs are less sensitive to interest rates and an underwriter's ability to underwrite quality loans can be shown through default and delinquency data.
Lastly, a couple of readers had mentioned further breaking down mREITs to more of their portfolio focus. I have attempted to do that here. I must note that not all mortgage REITs are represented here, but the majority of the bigger players are, I hope it helps.
In my upcoming newsletter, Forbes Real Estate Investor, I will provide a recap of my commercial mortgage REIT portfolio.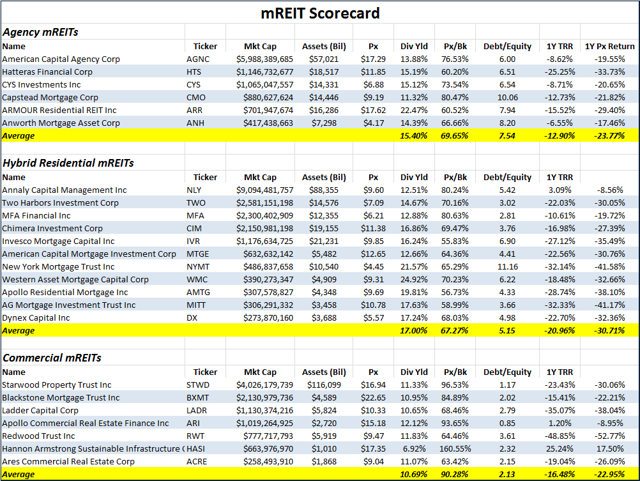 Click to enlarge
Redwood Trust, while listed as a commercial mREIT, is more of a hybrid and has just recently exited their conduit business.
Author's Note: I'm a Wall Street writer, and that means that I am not always right with my predictions or recommendations. That also applies to my grammar. Please excuse any typos, and I assure you that I will do my best to correct any errors if they are overlooked.
Finally, this article is free, and my sole purpose for writing it is to assist with my research (I am the editor of a newsletter, Forbes Real Estate Investor), while also providing a forum for second-level thinking. If you have not followed me, please take 5 seconds and click my name above (top of the page).
The only guarantee that I will give you is that I will uncover each and every rock I can in an effort to find satisfactory investments that "upon thorough analysis promises safety of principal and satisfactory return. Operations not meeting these requirements are speculative." (Ben Graham)
Disclaimer: This article is intended to provide information to interested parties. As I have no knowledge of individual investor circumstances, goals, and/or portfolio concentration or diversification, readers are expected to complete their own due diligence before purchasing any stocks mentioned or recommended.
Disclosure: I am/we are long O, DLR, VTR, HTA , STAG, GPT, ROIC, HCN, OHI, LXP, KIM, WPC, DOC, EXR, MYCC, BX, TCO, SKT, UBA, STWD, CONE, BRX, CLDT, HST, APTS, FPI, CORR, NHI, CCP, WSR, CTRE, WPG, KRG, SNR, LADR, HCN, HCP.
I wrote this article myself, and it expresses my own opinions. I am not receiving compensation for it (other than from Seeking Alpha). I have no business relationship with any company whose stock is mentioned in this article.