Even after a weaker than expected Q4 GDP report showing the Japanese economy shrank more than expected, stocks in Japan ripped higher in Monday's trading and spiked 7.2%. So how far back do you have to go to find a day where the Nikkei saw a similar gain? Actually, not that far. Less than six months ago, Japanese stocks saw an even larger one day gain when the index rallied 7.7% on 9/9/15.
In fact, Monday's rally was the third time in the last six months that the Nikkei saw a one day gain of more than 5%. The truly depressing aspect of Japanese equity performance over the last six months is that despite these three large one day gains, the Nikkei is still down 21% in the last six months.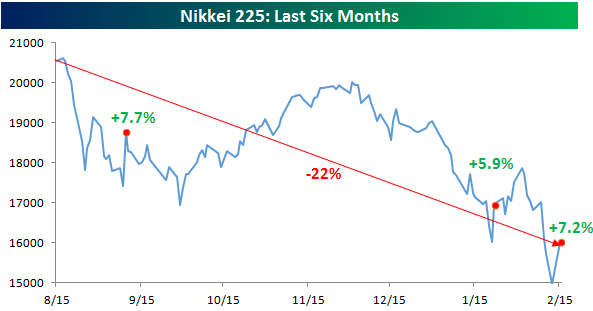 From a longer term perspective, Monday's 7.2% rally was the 33rd time since the beginning of 1970 that the Nikkei rallied 5% or more in a day. Looking at the index's performance going forward, the average one month return following these prior occurrences was a gain of 1.65% with positive returns 62.5% of the time. Looking out over the next three months, the returns were a lot less positive as the index saw an average return of just 0.30% with positive returns 43.75% of the time.