What started off as another choppy ride in the markets last week, turned into another downdraft following Fed Chairwoman Janet Yellen's clear as mud testimony before the House Finance.
Committee midweek. Then on Friday, amid a flurry of upsized stock repurchase plans, insider buying disclosures and comments from the energy minister of OPEC member United Arab Emirates that fueled speculation on production cuts, we saw the sharp market rally.
This combination of events and oil speculation that drove the market higher on Friday, likely resulted in a hefty amount of short covering along the way. Of course, despite Friday's 2 percent rally in the S&P 500, that index as well as the other major market indices once again closed the week in the red.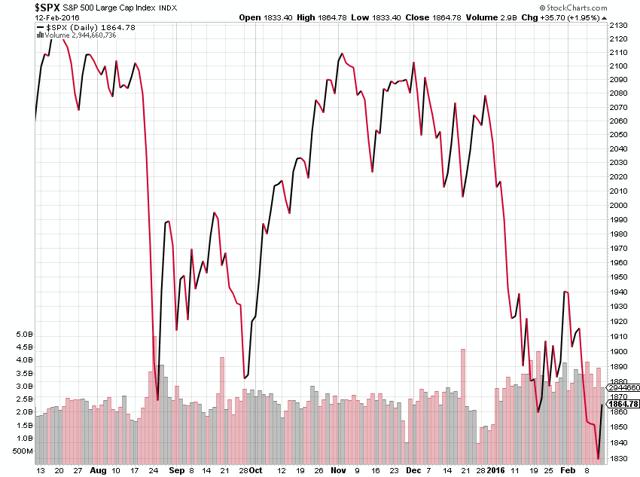 Click to enlarge
What's to Be Learned from the Stock Repurchase Trend
Stock repurchase plans are certainly not new, but they have exploded over the last few years, thanks to money on the cheap following the Fed's "low to no" interest rate policy of the last few years. According to data from FactSet, over the 12-month period ending last September, $566.1 billion was spent on share repurchases, nearly 65 percent of net income. Digging into the data, there is even more reason for some eyebrow raising - in the trailing 12 months ending in the third quarter of 2015, 130 companies had a buyback to net income ratio that exceeded 100%!
This of course sends our minds reeling wondering how those 130 companies are investing for future growth as well as what they may have done to their balance sheet simply to buy back stock. Now we're not going to paint all companies with the same brush as some like Apple (NASDAQ:AAPL), which has added debt to its balance sheet, but still has ample cash and cash flow to fund its R&D and product development efforts. That doesn't seem to be the case though for some of the biggest share repurchasers: Microsoft (NASDAQ:MSFT), American International Group (NYSE:AIG), Disney (NYSE:DIS), Qualcomm (NASDAQ:QCOM), Gilead Sciences (NASDAQ:GILD), Oracle (NYSE:ORCL), Biogen (NASDAQ:BIIB), Wells Fargo (NYSE:WFC), Boeing (NYSE:BA), Pfizer (NYSE:PFE), Intel (NASDAQ:INTC) and McDonald's (NYSE:MCD).
Moving past that aspect of the share buyback boom, investors who are assessing EPS growth as part of their normal and recurring due diligence need to beware of the financial engineering that occurs as a company executes on its buyback authorization, shrinks its share count and makes its EPS look even better. Here's some simple math to hammer it home:
If a company's net income is $10 million and shrinks its outstanding shares by 5 percent to 19 million from 20 million shares, its reported EPS jumps to $0.53 from what would have been $0.50, yielding EPS that is 6 percent higher even though net income hasn't budged a smidgen.
We at Tematica have shifted our gaze to comparing net income growth in lieu of reported EPS growth, and we continue to focus on our preferred metrics that are operating profit growth and operating margin expansion.
Insider buying tends to be a positive development, and we'll certainly look for more such moves.
Now, let's turn to oil
Oil prices took a near Olympic pole vault like move of more than 12 percent on Friday. We've recently seen similar speculation in oil, only to see that rumor be dispelled and oil prices retreat. While we could see OPEC cut production, we continue to think OPEC is not inclined to cut production until it has its boot on the neck of the North American shale industry. Given the steep production cost differences and the fact that we are starting to hear talk that up to half of US shale producers could go bankrupt, we suspect OPEC is not likely to shutter production near until it inflicts more pain on those shale producers.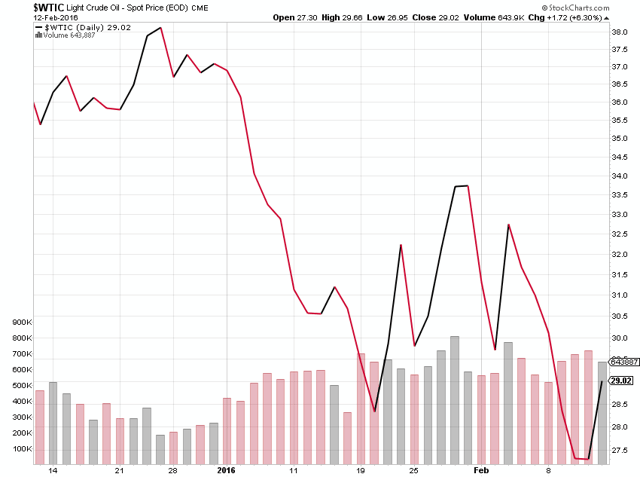 Click to enlarge
If we are wrong, and OPEC does cut production, the reality is the subsequent move up in oil prices will only re-ignite talk of a global slowdown and recession. Let's remember that where the stock market is concerned, perception is reality and that means keeping your five-point harness nearby.
The bottom line on last week's market
While trading on Friday likely left investors feeling a little better, the reality is there are still a number of underlying concerns that will pressure the market in the weeks ahead, particularly, if the comments from United Arab Emirates turn out to be something other than what the market is reading. Other shoes yet to drop include what's going on with the European banks and the latest corporate earnings. Also, in the coming two weeks, we'll get more economic data that will give us a clearer picture of how the current quarter is doing. Earlier this week, Deutsche Bank (NYSE:DB) and others cut GDP expectations for the first half of 2016, and, subsequently, their full-year expectations as well. I expect more to follow.
Turning to the Week Ahead
We still have roughly 25 percent of the S&P 500 companies yet to report their quarterly results. For this holiday-shortened trading week, we'll be getting 56 S&P 500 company earnings reports. Earnings expectations for the index this year continued to move lower this week to hit $122.42 per share (up 3.7 percent year over year) and we suspect it still has room to drift lower as those remaining S&P 500 companies report their results. Remember all those S&P 500 companies with big buyback plans we talked about a few paragraphs above? It means that 3.7 percent year-over-year increase in EPS means net income growth is growing far slower if at all.
We have quite a full economic calendar this week, with several regional Fed manufacturing surveys and housing reports being published, as well as the latest Industrial Production reading. While we expect the January housing reports to be impacted in the East by the late January snowstorm, it's the February regional Fed reports and the January Industrial Production reports that we're looking forward to determine if the industrial/manufacturing contraction has continued. We also have both inflation indicators - the PPI and CPI - for January coming at us, but given the move in oil and other commodities, we are not expecting any pronounced changes in those indices.
Following Fed Chairwoman Janet Yellen's testimony last week, all eyes will be looking to read into the FOMC Minutes from the Fed's Jan 27th meeting when they are released this coming Wednesday (Feb. 17). Our view remains that any increase in rates by the Fed will come later than sooner, as we doubt the Fed wants to pour a combination of sand and water on the flailing fire that is the domestic economy (at least according to the latest data).
Earnings on Tap this Week
We have no Tematica Select List companies reporting their quarterly earnings, but there are still a number of key reports among the more than 500 that we'll keep tabs on as they tend to be teeming with useful data. Subscribers to Tematica Research saw a great example of that last week. Here's what we'll be paying attention to during this shortened week:
Tuesday, February 16
While there is no single "must dissect" earnings report on this day, the ones from Cheesecake Factory (NASDAQ:CAKE), Boyd Gaming (BOYD), Fossil (NASDAQ:FOSL) and Build-A-Bear Workshop (NYSE:BBW) will help us get into the mindset of the consumer and perhaps a glimmer of rising minimum wage pressures at CAKE and BBW. While healthcare information IT company Cerner Corp. (NASDAQ:CERN) recently reiterated its 2016 guidance, we'll be looking to see if there are any modest changes at the margin and what the impact might be for Allscripts (NASDAQ:MDRX), McKesson Corp. (NYSE:MCK) and Quality Systems (NASDAQ:QSII). While results and comments from material handling equipment company Terex (NYSE:TEX) are likely to be impacted by the weak mining market, its comments on the tone of domestic construction activity will be worth following.
Wednesday, February 17
With more and more devices and apps utilizing GPS capabilities, we'll check in to see how Garmin (NASDAQ:GRMN) is weathering the storm as we'll get a feel for its progress in the wearables market against Apple and Fitbit (NYSE:FIT). American Express (NYSE:AXP) talked about slower corporate travel, and we'll be listening to see what Priceline (NASDAQ:PCLN) has to say on the consumer side of the equation. It's no secret we love our coffee and even though we are bigger fans of Nespresso, we'll be seeing what's dripping with Keurig Green Mountain (NASDAQ:GMCR) on both the coffee and other beverage front.
Thursday, February 18
To us, the two most important earnings reports being issued on Thursday are those from Applied Materials (NASDAQ:AMAT) and Wal-Mart (NYSE:WMT). As part of its industry commentary, semiconductor capital equipment company Applied Materials tends to discuss semiconductor market demand for its equipment, as well as industry capacity utilization levels and capital spending levels for the coming year. This bears listening to as a gauge for the technology hardware sector as well as insights into Intel, Taiwan Semiconductor (NYSE:TSM), Samsung and similar companies. Wal-Mart's results and comments should peel the onion on consumer spending as well as the retail landscape, which meshes with our Cash Strapped Consumer theme. In particular, we'll be listening for any incremental news on Wal-Mart's online plans as it looks to combat Amazon (NASDAQ:AMZN) and Costco Wholesale (NASDAQ:COST) as part of our Connected Society investing theme.
Friday, February 19
The two big reports on tap for Friday include Deere & Co. (NYSE:DE) and V.F. Corp. (NYSE:VFC). DE's commentary on agricultural and construction equipment from around the globe will add another layer of sharpness to global economic demand, while VFC could offer a stronger outlook for its North Face products in the current quarter following the January snowstorm and this past weekend's Polar Vortex.
Disclosure: I/we have no positions in any stocks mentioned, and no plans to initiate any positions within the next 72 hours.
I wrote this article myself, and it expresses my own opinions. I am not receiving compensation for it. I have no business relationship with any company whose stock is mentioned in this article.