US Foods to Test the IPO Market
The US IPO market has been declared dead by many investors, and thus far, only four biotech companies have braved the market in 2016. In the face of sharp sell-offs in the global markets since the beginning of the year and the dismal performance of many over-hyped new issues in 2015, investors have justifiably been reluctant to back new issues. Further restricting the IPO market is the overall ineffectiveness of the Jumpstart Our Business Startups Act of 2012 ("JOBS Act").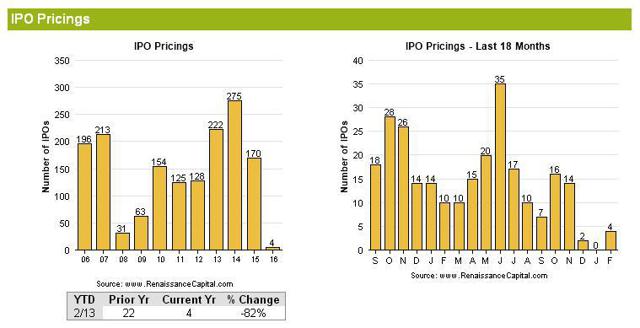 (Source: Renaissance Capital)
The JOBS Act legislation was designed to ease the process of early-stage companies to raise funds from the public and allow for confidential filings of a registration statement with the SEC. We believe these steps were certainly positive, but have failed to attract significant small and rapidly growing businesses to pursue a public offering because the regulatory and disclosure burden remains overly restrictive and expensive. As a result, capital formation has suffered dramatically, and the IPO market has become a major structural problem within the US equity market. With that being said, we believe the upcoming US Foods (NYSE:USFD) IPO has the opportunity to become a rare success story in an otherwise decimated IPO market.
US Foods, backed by private equity firms KKR and Clayton Dubilier & Rice, is looking to raise $1 billion in the equity market and plans to use the proceeds to lower the company's indebtedness and fund its long-term growth strategy. US Foods is somewhat of a reluctant issuer, as KKR and CD&R had planned to exit their investment through the sale of the company to Sysco Corp. (NYSE: SYY) for $3.5 billion.
The transaction was challenged by the FTC on antitrust concerns, and ultimately, a federal judge sided with the FTC in June. Following the termination of the merger agreement with Sysco, we believe the options for exiting the investment are limited, and an IPO makes the most sense, although the timing is less than ideal for KKR and CD&R. We believe this presents an opportunity for long-term investors, and depending on the pricing of the offering, there may be a compelling upside for investors with a 5-year investment horizon.
US Foods: Background of #2 Player in the Foodservice Distribution Industry
US Foods is one of the largest foodservice distributors in the United States and ranks second in net sales in the US with $23 billion, behind only Sysco's $36 billion. Despite its substantial revenue base, the company has only 9% market share of the highly fragmented $268 billion U.S. market. US Foods serves four main customers: independent restaurants and regional chains, healthcare and hospital systems, hospitality, and national restaurant chains. The growth prospects of each of the customer segments are fairly strong and are expected to increase by 1.7-3.5% per year. Given the uncertainty among customers while the Sysco transaction was under review, the operating performance at US Foods suffered slightly.
(Source: US Foods S-1 Filing)
In our view, however, the top line will resume growth in 2016, following a modest decline of $74 million (or 0.43%) through the first nine months of 2015. We expect to see sales to grow in 2016 based on US Foods strength in the independent restaurants customer segment (estimated market size of $64 billion), where the company's high performance in on-time delivery, food safety, and the ease of doing business with US Foods has given it the advantage with customers. Overall, we believe net sales will grow by 4.5% in 2016 to $23.98 billion and 5% in 2017 to $25.02 billion. Our estimate also assumes the company will benefit from its e-commerce and mobile technology investments.
The e-commerce platform now allows customers to place orders more easily, track shipments, and effectively manage inventory. E-commerce sales within the independent restaurant customer segment grew from 8% in 2011 to 37% in 2015. We expect this trend to continue. According to the company, this shift has resulted in 7% higher retention rates and 5% higher purchase volumes in this customer segment.

(Source: US Foods S-1 Filing)
Additionally, we believe management has the ability to outperform through margin expansion opportunities and the implementation of an aggressive acquisition strategy. The plan management has put in place to reduce operating expenses is underway, and last year, the company began consolidating its distribution footprint. US Foods has closed its Lakeland, Florida distribution center and may potentially close its Baltimore distribution center. In addition to the increased productivity from the actions, management is investing in more efficient distribution facilities in high-growth markets.
We believe the optimization plan will benefit margins, but will also extend beyond distribution and into the sales organization and corporate overhead. Through a combination of e-commerce investments and a team-based selling approach, we expect customers will be able to efficiently place orders through the platform, and the company will benefit from increased productivity. Furthermore, there appears to be an opportunity for cost savings in G&A. As a result of these actions, we believe US Foods' EBITDA will total $679.9 million (2.8% EBITDA margin) in 2016 and increase to $717.3 million (2.9% EBITDA margin) in 2017.
We also expect a well-executed acquisition program to further drive growth. There are many small players in the highly fragmented U.S. market, and in December, the company acquired a leading broadline distributor based in Milwaukee with over $100 million in net sales. We believe there is ample opportunity for the company to continue to pursue its disciplined acquisition program, and this will further benefit growth. Based on our outlook and projections for growth, we have arrived at an enterprise value of between $7.6 billion and $8.1 billion for US Foods.

(Source: Author's estimates)
At the mid-point valuation of $7.9 billion, this represents an 11.5X 2016 EBITDA multiple, which is less than Sysco's EV/EBITDA multiple of 12X. We believe our assumptions for growth are fairly conservative, and would not be surprised if the performance exceeds our estimates. If our projected growth is achieved, the EV/EBITDA is less than 11X, based on our estimate for 2017 EBITDA of $717 million. We believe there is further upside if management outperforms our growth projection and the market multiple is closer to 12-13X EBITDA.
The most significant risk facing potential investors in US Foods is the substantial indebtedness that will remain on the balance sheet post IPO. The company currently has $4.74 billion of debt and $698 million in cash, or net debt of $4 billion. If the company is able to raise $1 billion in the IPO, the indebtedness will fall substantially, but it still represents a concern for shareholders. Also, if US Foods is able to reduce net debt to even $3.5 billion as a public company (assuming $500 million in IPO proceeds to retire a portion of debt), we believe its equity will be worth over $4 billion.
Until details on the pricing of the IPO shares are disclosed, we do not know the extent of the potential value of the investment in the equity. However, based on the information available to-date, post IPO it appears US Foods will have a viable capital structure for the long term and management will have the flexibility to effectively execute its growth strategy. In our view, US Foods is a high-quality business that generates significant cash flow and has the ability to grow steadily over the next five years. For these reasons, we believe the company is worth a closer look by IPO investors as a potential long-term investment.
Disclosure: I/we have no positions in any stocks mentioned, and no plans to initiate any positions within the next 72 hours.
I wrote this article myself, and it expresses my own opinions. I am not receiving compensation for it (other than from Seeking Alpha). I have no business relationship with any company whose stock is mentioned in this article.