My bottom call survived. It got tense there last week, but 1,800 held and the market bounced hard on Friday. And of this writing on Monday evening, the futures markets show the S&P 500 (NYSEARCA:SPY) up 34 points, or almost 2% on top of Friday's large gains.

Click to enlarge
This correction now looks very much like the one seen in August. At that time, we had a fast and large decline, the market rallied strongly off the lows, fell back to the lows a month later, and then went higher.
If we keep following the August pattern, the market should rally strongly for the next week or two. The 1950 level is key, and if and when the bulls clear that level, the market should be in the clear. Then once again, 2,100 will be the target. For the bears to regain the initiative, they would need the market to top out at under 1,950 and resume heading downward.
Throughout this correction, I've been quick to point out that until otherwise proven, this is still a bull market. Global economic conditions, earnings, and Fed chatter have all been bearish for quite a while now, and yet, bulls keep holding bid at the crucial levels.
I think you're going to need some unexpected negative catalyst to scare the market through 1,800. For now, bulls have the momentum. Let's see how well this rally sticks during the week.
Fear Recedes
Last week, there was a huge move into fear assets. Gold (NYSEARCA:GLD) and long-term bonds went absolutely soaring. These moves have sharply reversed now. If you were buying protection last week, you were buying into a emotional top.

Click to enlarge
Gold, in particular, has gone back to its usual ways. After popping as high as $1,250/oz, the metal has fallen back under $1,200/oz. Almost without exception, if you buy gold during a fear-based spike, you'll end up regretting it.
The time to buy gold is when it's deeply out of favor and no one is talking about it. Buying after a 20% straight up move is just asking for trouble:

Click to enlarge
As of this writing, gold is down almost $50 on the day. That flood of money out of stocks and into gold can, and will, reverse on the slightest of changes of opinion.
For gold to start a real run higher, it needs to be bought by long-term holders who believe in gold. Moves that are based on fear and short-term trading won't stick. For anyone wanting to get long gold, I'd wait for $1,100/oz to come back around in a month or two.
Interestingly, the dollar is again trading more strongly. It sold off sharply with the market over the past couple weeks, which is somewhat counterintuitive.
In talking with various people, it seems some foreigners are starting to price in the possibility of a Sanders presidency, which would have huge negative ramifications for the stock market. Foreigners selling stocks and pulling their funds out of the US entirely would help explain why both the dollar and stocks were dropping together.
This leaves bulls in a somewhat awkward position, since a weaker dollar helps earnings significantly. The pullback in the dollar should help underpin the market by boosting earnings and helping put a bid in for oil. But it hasn't worked that way in practice.
Alternative Energy: It Can Always Get Worse
SunEdison (SUNE) failed to enjoy the Friday rally. In fact, the shares cratered more than 30%, heading deep into penny-stock land.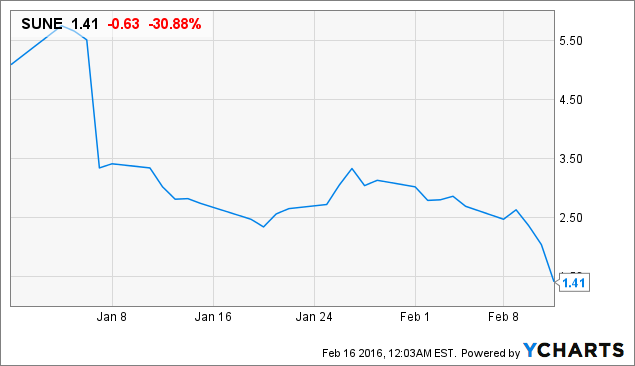 SUNE data by YCharts
SUNE fell on news of a restraining order being placed against the company, which will delay a pending asset transfer. The party suing suggested that SunEdison may become insolvent in the near future, and thus, they need protection for their arbitration claim in the meantime. The restraining order alone shouldn't justify a move this large - the amount of money in question is rather limited. However, the market is (at last) pricing in the likely bankruptcy of the company as excess optimism finally dims.
This stock is likely to going to end up at zero, leaving many folks with large losses. What went wrong? Specifically, management ran the company ineptly, managed expectations poorly, and was seemingly insufficiently transparent.
And that's all true. But it misses the broader issue. Solar was an only marginally economic source of electricity back in 2014, when energy prices much higher. With oil, natural gas, coal, uranium, etc. all plunging, what's the incentive to use solar now?
If your bull case is based around subsidies, that's fine. But know that if the Democrats lose the election, there's a good chance government policy will move back toward defending what's left of the domestic oil, gas, and coal industries rather than wasting more money on alternatives while the world drowns in natural gas.
Experiments like Solyndra didn't work even when energy prices were far higher. There's little reason to expect taxpayers to want to foot the bill for solar in 2016.
While SolarCity (NASDAQ:SCTY) lacks the specific management concerns that dogged SunEdison or Abengoa SA (NASDAQ:ABGB), the stock chart is heading in the same trajectory: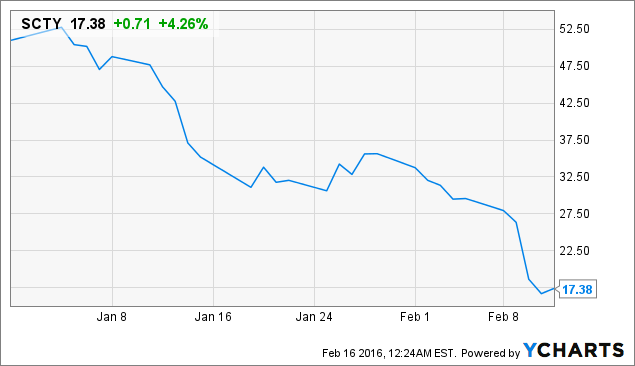 SCTY data by YCharts
Or take Cheniere (NYSEMKT:LNG). Back in October, I noted that the company lacked a proven business model, and collapsing oil prices (NYSEARCA:USO) would likely leave their operations not viable.
People were quick to dispute that in the comments. The arguments were very granular. Despite the collapse in energy prices, long-term contracts were supposed to protect the company from significant downside, it was claimed. Since October, however, this has happened: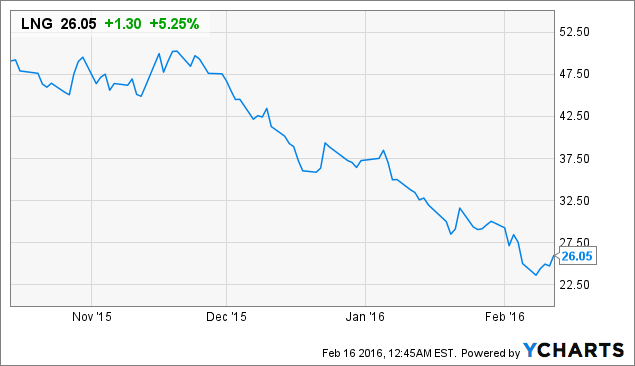 LNG data by YCharts
The key thing is to see the forest and not focus too much on one tree. If you've read up on the '80s oil bust, you'd know that alternative energy failed as a concept. The oil bust killed off the alternatives for a good twenty years. The specifics didn't matter too much - the tidal wave was big enough to take down everything.
People have been spending too much time trying to do deep analysis on SunEdison, Cheniere, or pipelines, to name a few examples. The pipelines, for example, it was held as gospel truth that the contracts were money good. Now, Williams Companies (NYSE:WMB) shares are under fire, as it appears Chesapeake (NYSE:CHK) may alter the contracts as it likely goes into bankruptcy.
If your business model is no longer economic, it's likely better to sell the stock and move on rather than trying to find technical reasons to hold on in the face of huge headwinds. If you're a pipeline transporting gas that is no longer economic to produce, you can expect problems sooner or later. Same with Cheniere's not significantly profitable LNG services or SunEdison's unneeded solar product.
In good times, contracts will protect even poor businesses. In bad times, people go to bankruptcy courts to throw off the weight of poor decisions made during the last upcycle. A business that is relying on lawyers to enforce contracts that hurt the counterparty is among the single worst forms of a moat you can imagine.
Disclosure: I/we have no positions in any stocks mentioned, and no plans to initiate any positions within the next 72 hours.
I wrote this article myself, and it expresses my own opinions. I am not receiving compensation for it (other than from Seeking Alpha). I have no business relationship with any company whose stock is mentioned in this article.