Boeing (NYSE:BA) shares plunged as the SEC is investigating the jetmaker's accounting methods and estimated sales for the Boeing 787 Dreamliner and the Boeing 747. Year-to-date Boeing shares have lost 25% of their value and saw 2 steep declines. One caused by the disappointing outlook for 2016 and the other caused by the SEC probe.
Although the drop hurts current shareholders, I do think it offers some nice opportunities as well.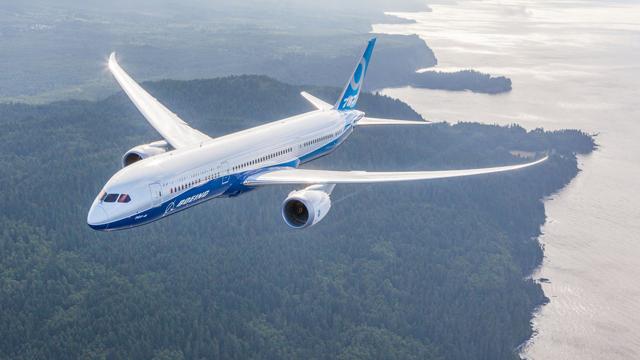 Click to enlarge
Figure 1: A Boeing 787 in company livery (Source: boeing.com)
Buying back shares at lower prices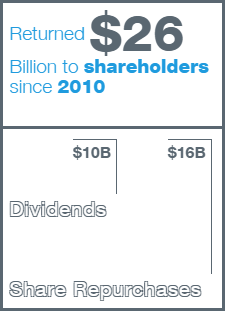 Figure 2: Boeing's return to shareholders since 2010 (Source: investors.boeing.com)
Boeing has been ramping up its share buyback in recent years. Since 2010, Boeing bought back $16bn in shares and returned $10bn in dividends.
In December 2015 Boeing replaced its $12bn buyback program with a new $14bn program. Until the end of 2015 $6.75bn was used, leaving $7.25bn unused. With current lower stock prices this means that more stocks can be bought with the same amount of money.
Doing some quick math, the following results are obtained:

In the last quarter of 2015 Boeing bought back 5 million shares worth $750 mln. At those share prices Boeing could buy back 48.3 million shares, which would save the company $210.7 million in annual dividends. Currently shares are trading under $110, but I expect share prices to rebound. This means that with lower share prices Boeing could buy back 60-66 million shares, which would save the company about $263-$287 million in annual dividends.
So the lower prices allow Boeing to buy back more shares and decrease its total annual dividend pay-out by 10%, this could help the company in hiking dividends per share year-over-year.
Nice entry point for long term investors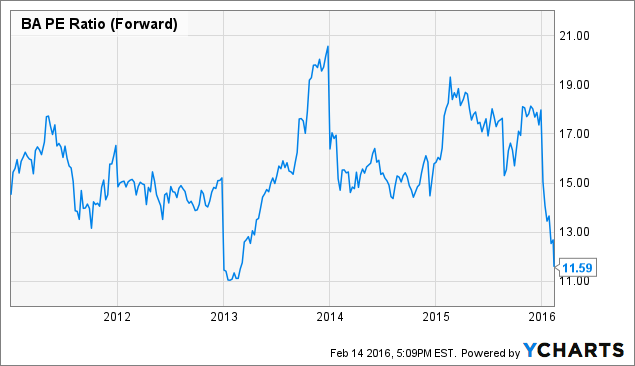 BA PE Ratio (Forward) data by YCharts
Despite the fact that the coming 1-2 years might not be the nicest years for Boeing investors, I do think that current share prices do offer a nice opportunity. Currently Boeing shares are trading at a forward P/E of 11.59, while the company's P/E average over the past 10 years is closer to 16.
This means that Boeing shares should be trading at $138, 27% upside from current trading levels. While I don't expect a lot of upward price action for Boeing shares, the 4% yield it currently offers is a nice dividend to settle for next to the 'fair value' that signals a 27% upward potential.
Conclusion
Although lower share prices are justified after a weak guidance and SEC probe, I do think that the current drop is overdone.
Even when the weak guidance for the full year is taken into account, shares are trading 27% lower than they are supposed using the forward price multiple.
For long term investors the current drop offers a nice entry point, while also collecting a dividend that is likely to increase over time.
Disclosure: I am/we are long BA.
I wrote this article myself, and it expresses my own opinions. I am not receiving compensation for it (other than from Seeking Alpha). I have no business relationship with any company whose stock is mentioned in this article.