As a company, LeapFrog Enterprises' (NYSE:LF) investors have become accustomed to the volatility in the toy business. Over the past ten years, annual profitability has been about as frequent as losses. Shares, meanwhile, have been just as volatile. It can be argued, however, that the company's most recent bout of volatility could have been managed more in the interest of shareholders.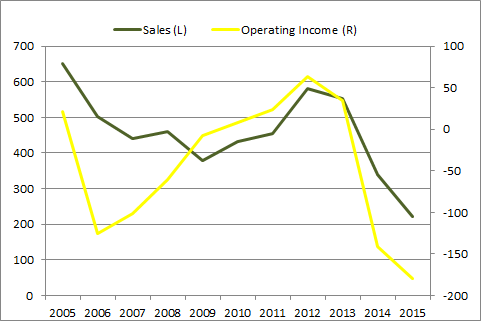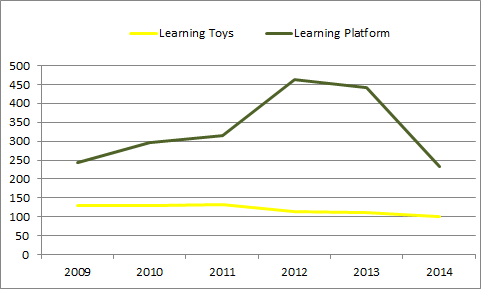 LeapFrog participates in two primary businesses: sales of handheld devices (learning platform) and sales of toys (learning toys). LeapFrog was able to ride the tablet wave (learning platform) from 2011-2013. In this case 'ride the wave' is probably too strong of a phrase considering that during that period, the company produced a total of $131 million in net income, while losing $321 in the following two years. Something started happening at the end of 2013 that is well illustrated in the chart below; growth in industry shipments of tablets collapsed, eventually turning into a contraction for the product category. A year ago, analysts started questioning whether the tablet business was an economically viable one to remain in, given that many parents were purchasing their children mainstream tablets, enabling them to download apps for little or no cost vs. games for the company's LeapPad which come in at $15-$20 a piece. Not only was the company losing its footing in the tablet business, but its launch of children's gaming system LeapTV was stumbling out of the gate due to a late holiday rollout and poor price planning. At this point, tangible book value (TBV) per share and net cash per share were at 2.55 and 1.76, respectively.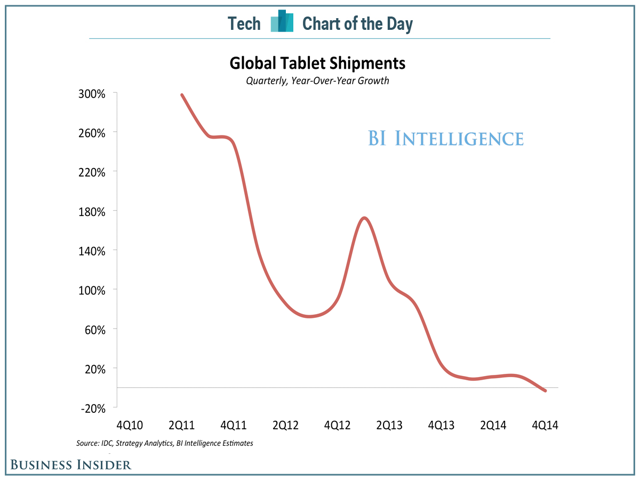 Click to enlarge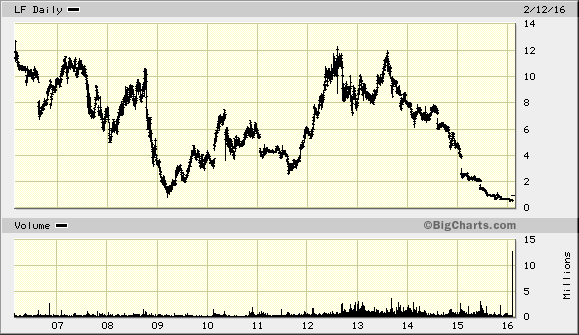 Quarter after quarter, earnings call after earnings call, management insisted that the tablet business would survive this downturn in the market. The turnaround never materialized and the company agreed to sell itself to maybe its largest direct competitor, VTech (OTCPK:VTKLY), for $1 per share, 19% less than the company's tangible book value at the end of 2015. The timing is nearly as bad as it could get. It's not as if the company is facing an inventory problem; inventory hasn't been as low as it was at the end of 2015, since 2009. In selling the business for less than its tangible book value, management is admitting that having spent a war-chest of $300 million in shareholder equity was not enough to at least stabilize the business, thus rendering it utterly worthless, despite the fact that LeapFrog remains one of the most trusted brands among parents in the toy business.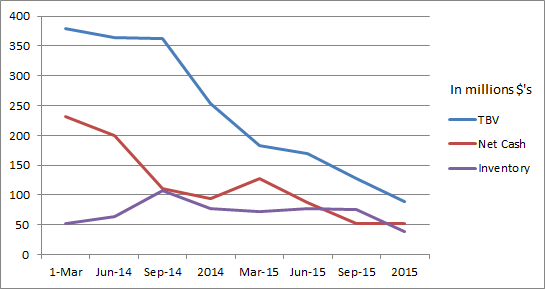 Over the past two years as more than 80% of the value of LeapFrog has been destroyed, the top five managers have taken total compensation, excluding stock options, of nearly $12 million, while directly holding less than $250,000 worth of stock collectively. If VTech lays these same executives off, they stand to gain another $5.5 million collectively as severance. This collective $17.7 million in executive compensation could have been used to boost investor value on this transaction by greater than 20%; just the severance could boost it by greater than 7%. Also, since the beginning of 2014, executives have sold 153,000 shares (net of purchases) for an average price of $4.35, considerably higher than the $1 merger price that investors will be left with.
Warning signs that flashed at LeapFrog during its demise:
Technology and consumer preferences change fast and companies that are not agile enough to appropriately address it will be left behind
Management relentlessly sticking to its strategy despite posting significant losses quarter after quarter
No sign that the Board of Directors was looking to preserve shareholder value during this period, for example, by forcing management to cut expenses more drastically and/or pursue strategic alternatives at an earlier time
Shareholder activism could have played a successful role in this story. One possible factor keeping that at bay was Michael Milken's 40% voting ownership of the company
If a company's executives are selling stock as it is reeling, it likely means that the company is in even worse shape than it appears
Investors should be able to expect better out of both the management teams and Boards of Directors that they trust with their investment dollars. LeapFrog is an example of how reading the tea leaves not only on what management's strategy is, but how they are going to implement it is crucial in the investment decision-making process. In this case, management was set on pursuing a tablet strategy, at a cost of $300 million, that ultimately did not work out.
Disclosure: I am/we are long LF.
I wrote this article myself, and it expresses my own opinions. I am not receiving compensation for it (other than from Seeking Alpha). I have no business relationship with any company whose stock is mentioned in this article.
Editor's Note: This article covers one or more stocks trading at less than $1 per share and/or with less than a $100 million market cap. Please be aware of the risks associated with these stocks.