When we last spoke about Yum! Brands (NYSE:YUM) we were very encouraged by what we saw, but were hesitant to invest until we saw proof of improvements in the Chinese market. There had been a lot of talk in the industry of a pick up in sales in China, especially with McDonald's (NYSE:MCD) reporting a strong performance, and the signs were looking good for a turnaround for Yum Brands. While things have picked up, the shares still remain low and we are still holding fire.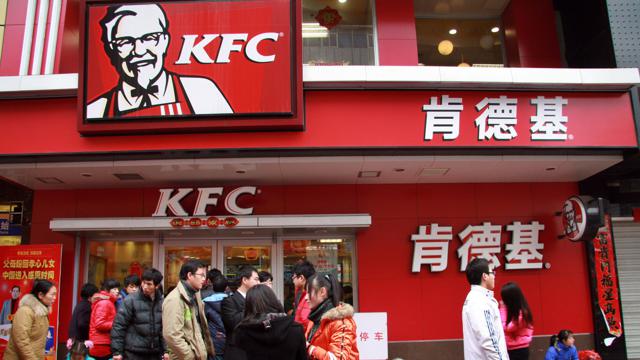 Click to enlarge
For those that are not aware, Yum Brands operates three well-known brands in the food industry. Through KFC, Pizza Hut and Taco Bell, it develops, operates, franchises and licenses a system of restaurants which prepare, package and sell a menu of competitively priced food items.
Up until recently the performance in China had been very disappointing, and was a big reason for the shares tumbling down from a 52-week high of $95.90 to a lowly $64.58. Despite the positive performance in China the shares still hover just less than three dollars above the 52-week low at $67.34.
The China Division system sales increased 7%, which was driven by a 7% increase in unit growth and 2% same-store sales growth. Its restaurant margin also increased, this was by 4.3 percentage points to 11.4%, and operating profit increased a massive 207%. This looks like an improvement, so why are the shares still so low?
Firstly, we need to point out that due to the planned spin-off of Yum's China segment, the performance in the country is of huge significance right now. On the image below you can see the plans that management has for the future of the two businesses.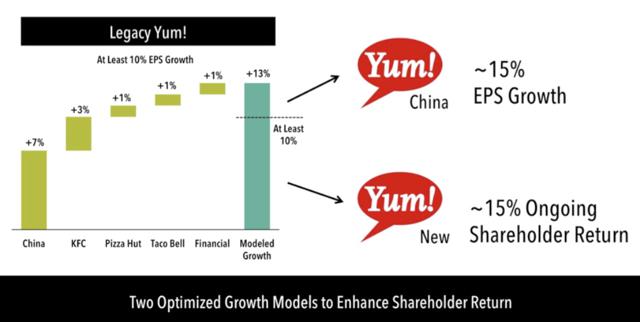 Click to enlarge
(Source: Company Presentation)
By splitting up the company it believes it can grow earnings by 15% in the Yum! China segments, whilst providing shareholders in Yum! New with a 15% total shareholder return thanks to a combination of a growing dividend and earnings growth.
The fact the McDonald's is performing better in China than KFC appears to have spooked investors. We feel there are concerns floating around that the plans laid out above by management are starting to look less achievable. In our opinion if that is the case then suddenly the shares look a lot less desirable than they did when the plans were first put forward.
McDonald's recently reported that fourth-quarter same-store sales in China were up 4%, which was a second straight quarter of growth for the company. Yum, on the other hand, reported 2% same-store sales which led to annual sales in the region falling for the first time. Despite being in the same industry, and with a greater presence, the company is trailing McDonald's rebound.
Recent research has revealed that some Chinese consumers are still very wary of eating chicken. While McDonald's does have chicken on its menu, it is in no way as prominent as KFC which is almost entirely chicken. Concerns of food safety and avian flu appear to have worried Chinese consumers. How long these concerns will last is the biggest worry for investors. Clearly things are much improved in the last quarter, but the rebound is still much slower than McDonald's, despite having far more locations in the region.
Building trust back up with Chinese consumers will be key. The market is clearly there. Chinese consumers have more money than they have ever had, and the consumer class has grown (and continues to grow) at an incredible rate. It's just about winning them over and bringing them through its doors.
Another worrying trend for us is the decline of Pizza Hut. In the last quarter same-store sales were down 8%, and 4% for the full year. We spoke recently about how management was tackling the slowdown with cheaper offerings during the week where it felt it was losing out to McDonald's. This clearly hasn't worked yet, but hopefully we will see a pick up in the first quarter.
Once again, we are holding back from investing in Yum currently due to what we perceive as a mixed bag of results. If things do pick up in China then we feel investors, and ourselves, will be clambering to be a part of the Yum! China spin off. With almost 95% of the stores in China planned to be franchised, it will bring consistent and growing earnings that create great returns for shareholders.
Disclosure: I/we have no positions in any stocks mentioned, and no plans to initiate any positions within the next 72 hours.
I wrote this article myself, and it expresses my own opinions. I am not receiving compensation for it (other than from Seeking Alpha). I have no business relationship with any company whose stock is mentioned in this article.