Economic Reports Scorecard

Relative to expectations, the incoming reports over the last two weeks have run about even, just about as many better than expected as worse. That's a significant improvement over the trend from last year and early this year. I would emphasize, however, this is a result of reduced expectations not an improvement in the actual data. From the perspective of the investor though, that may not matter. Stocks have fallen as economic and earnings growth expectations have fallen. At some point, they will have fallen far enough to compensate for the actual economic situation. There is no guarantee, of course, that the situation won't continue to deteriorate necessitating a further reduction in expectations and lower stock prices. But it is generally decent news that analysts' expectations have caught up to reality.
Looking at the actual data does not provide much comfort for the economic bulls, however. There are bright spots if you squint. The income and retail spending numbers haven't been all that bad, at least for this recovery; they still look pretty awful compared to past ones. Construction still looks pretty solid up 8.2% year over year, although that growth rate has come down from double digits. Jobless claims continue to trend below 300k, a coincident indicator for which the trend has yet to change. Employment was a positive if quite a bit less than expected.
But there is plenty that worries as well. The manufacturing data continues to lead on the downside and now the services sector may be slowing as well. The ISM manufacturing survey at 48.2 wasn't much of a surprise (it was under 50 last month too) but the non-manufacturing version at 53.5 was down and missed expectations badly. Inventories are still stacked pretty high relative to sales with business inventories to sales now at a cycle high of 1.39. One has to go back to May of 2009 to find a higher number and it was falling back then. In a rising trend the last time we breached that level was in the depths of the Great Recession in November of 2008. That is not a comforting thought and no it isn't all about oil. Even in employment there was one report that might give Yellen pause - Challenger reported a big surge in layoffs led by retail with energy coming in second.
The market-based indicators we follow confirm a drop in growth expectations. The yield curve has continued to flatten, credit spreads widen while inflation expectations, nominal and real interest rates, stocks and the dollar index all fall. Whether those expectations are realized in the form of a recession is not known yet but the odds are rising. In fact, the market movements themselves can be, at least to some degree, self-fulfilling prophecies. A flatter yield curve and wider credit spreads have an economic impact. A weaker dollar has effects far beyond US borders.
The 10/2 yield spread is the lowest of the cycle: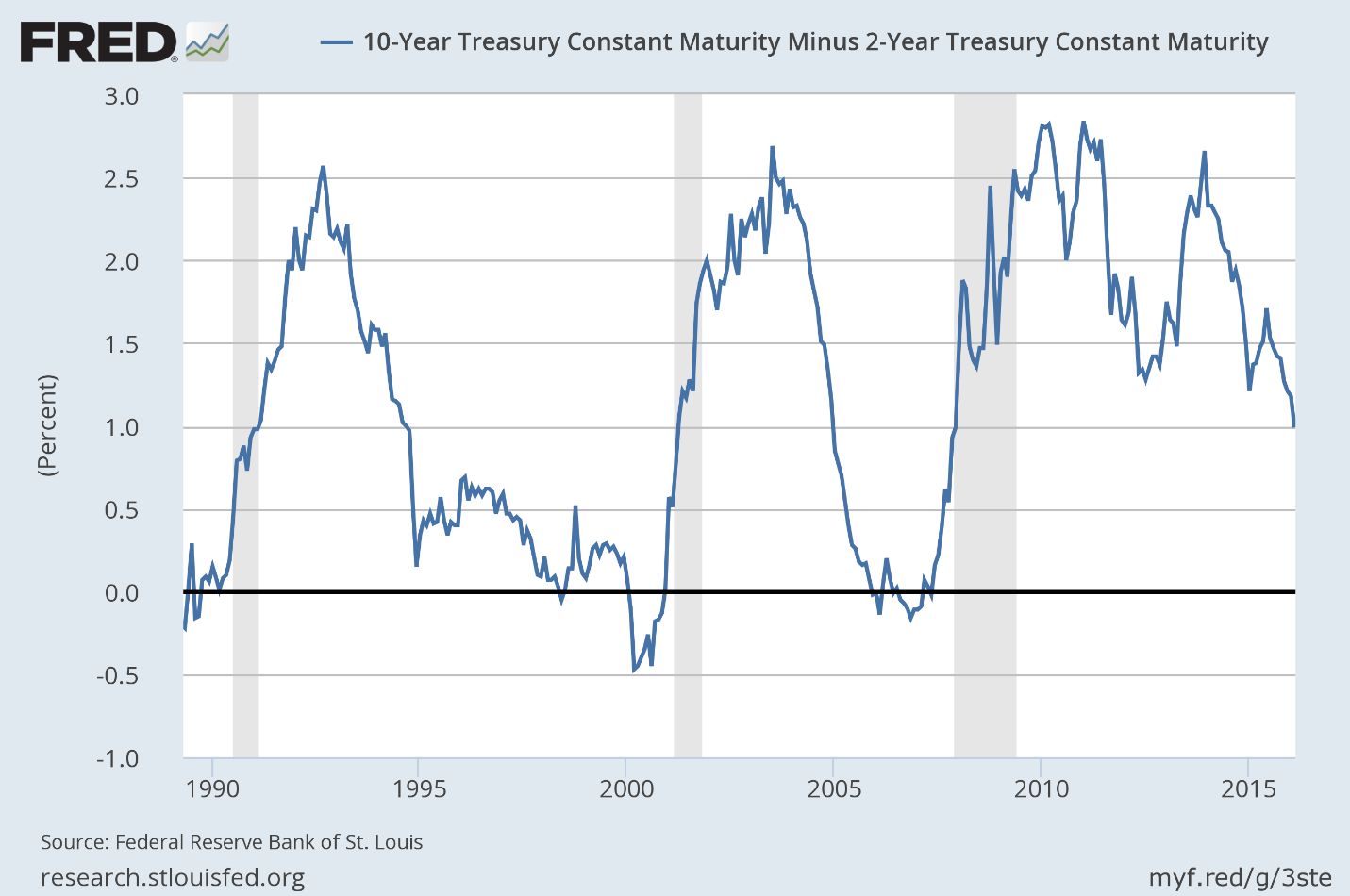 High yield credit spreads are near the highs seen during the Euro crisis in 2011: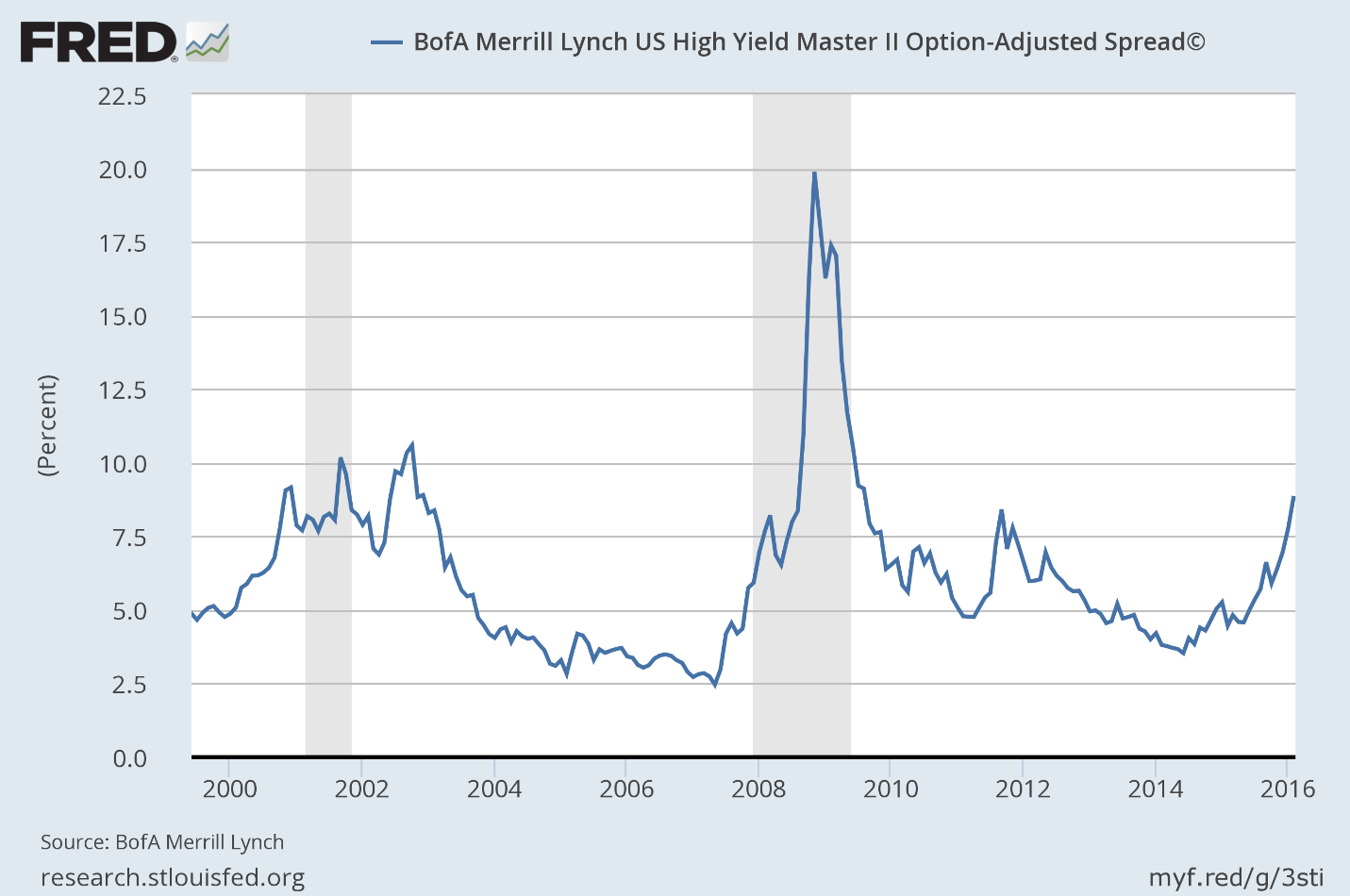 Baa spreads are higher than the start of the last two recessions: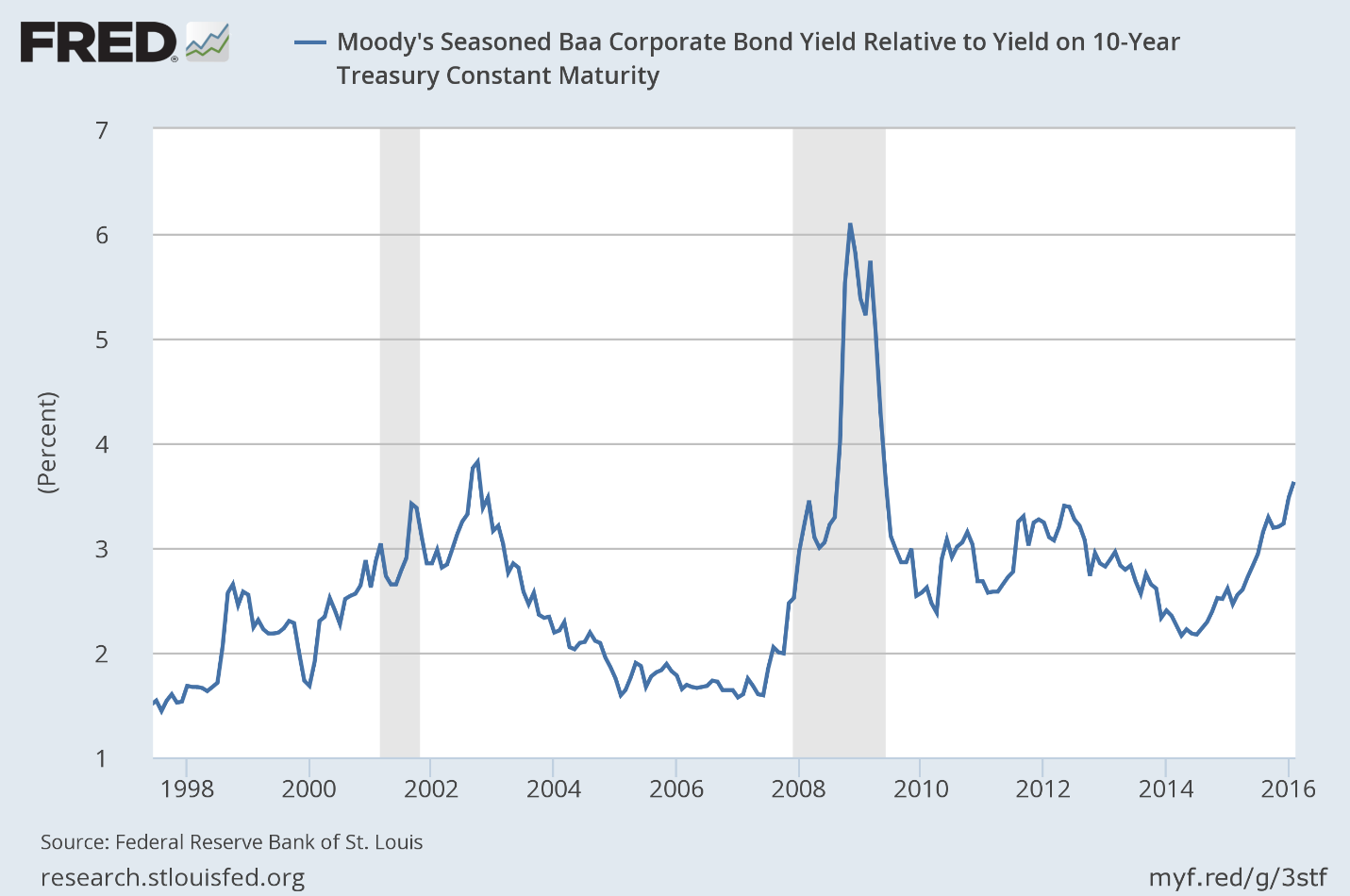 With much of the recent market angst centered on concerns about Europe, it is interesting that Euro High Yield spreads look less concerning than their US counterparts: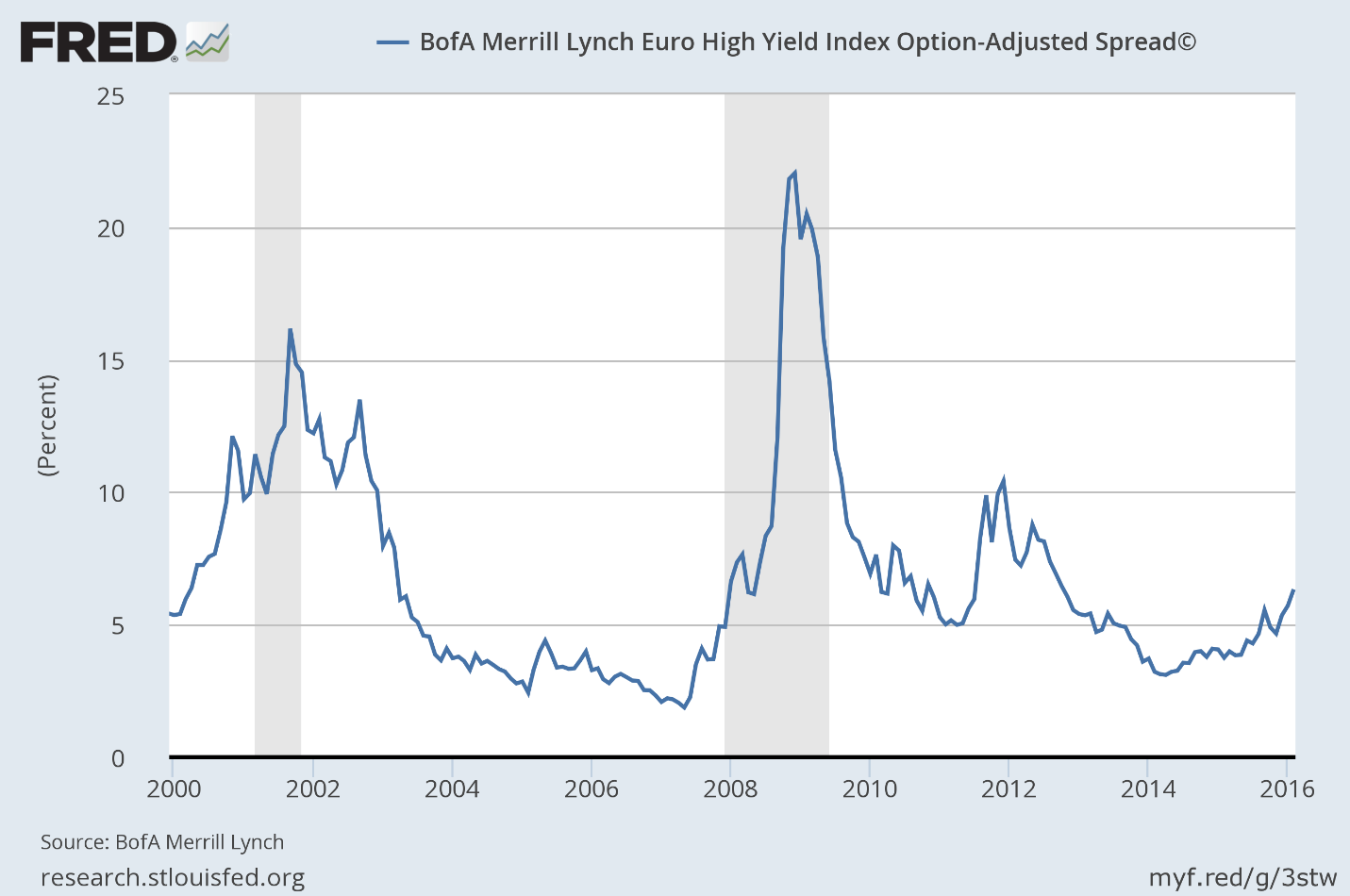 Inflation expectations are still falling despite the recent drop in the dollar: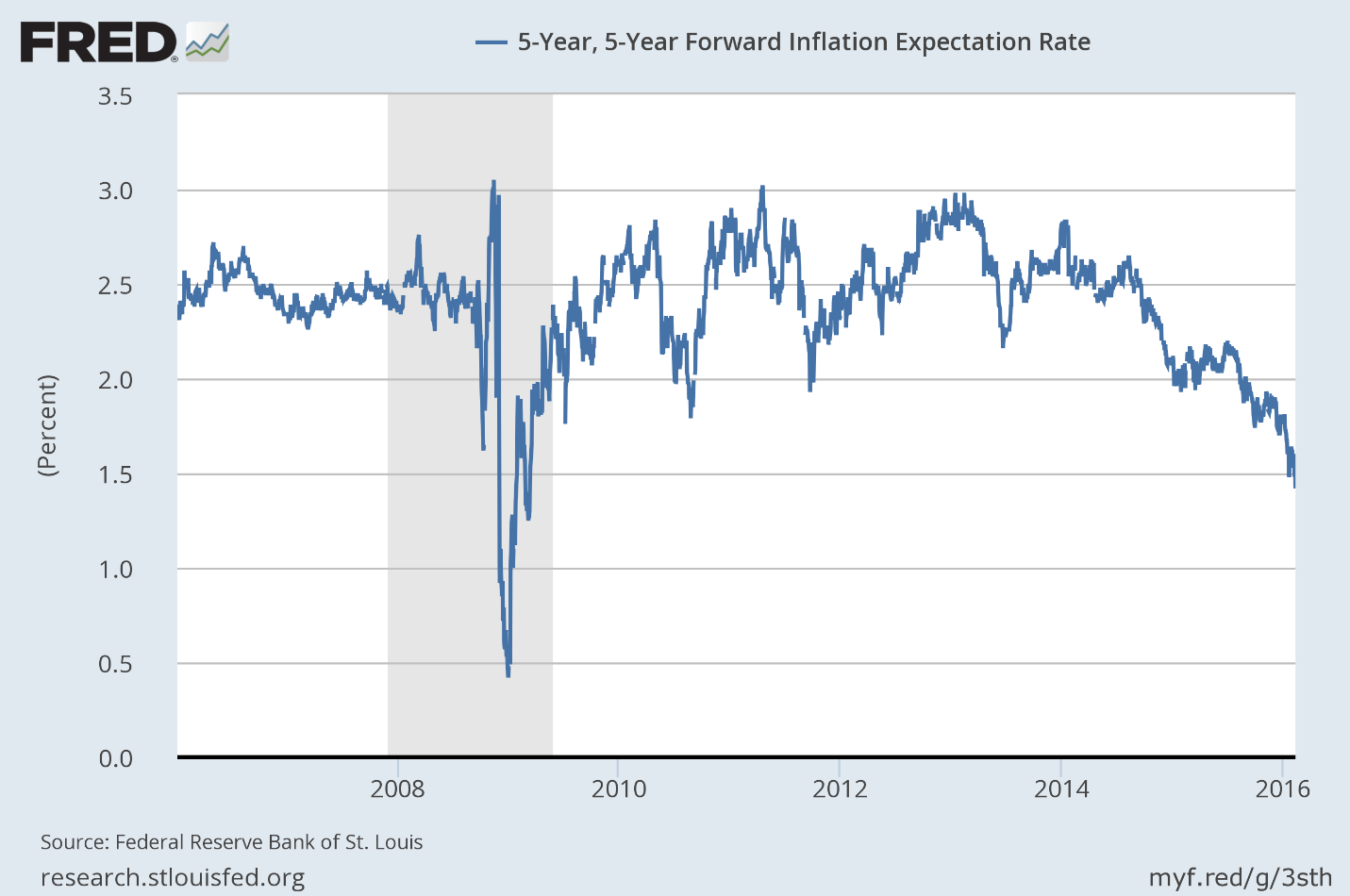 The dollar's topping process continues: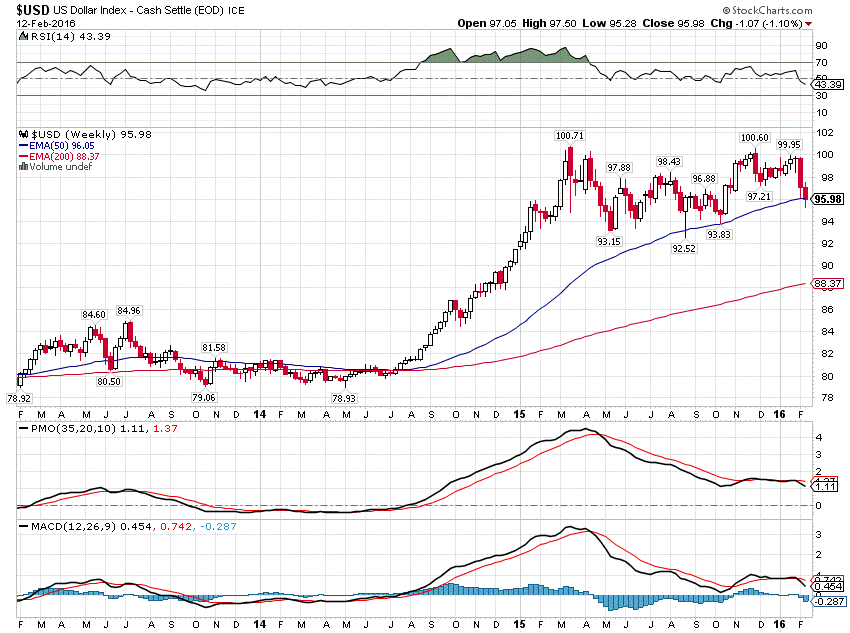 10-year Treasury yields are approaching the low of the cycle set in early 2012.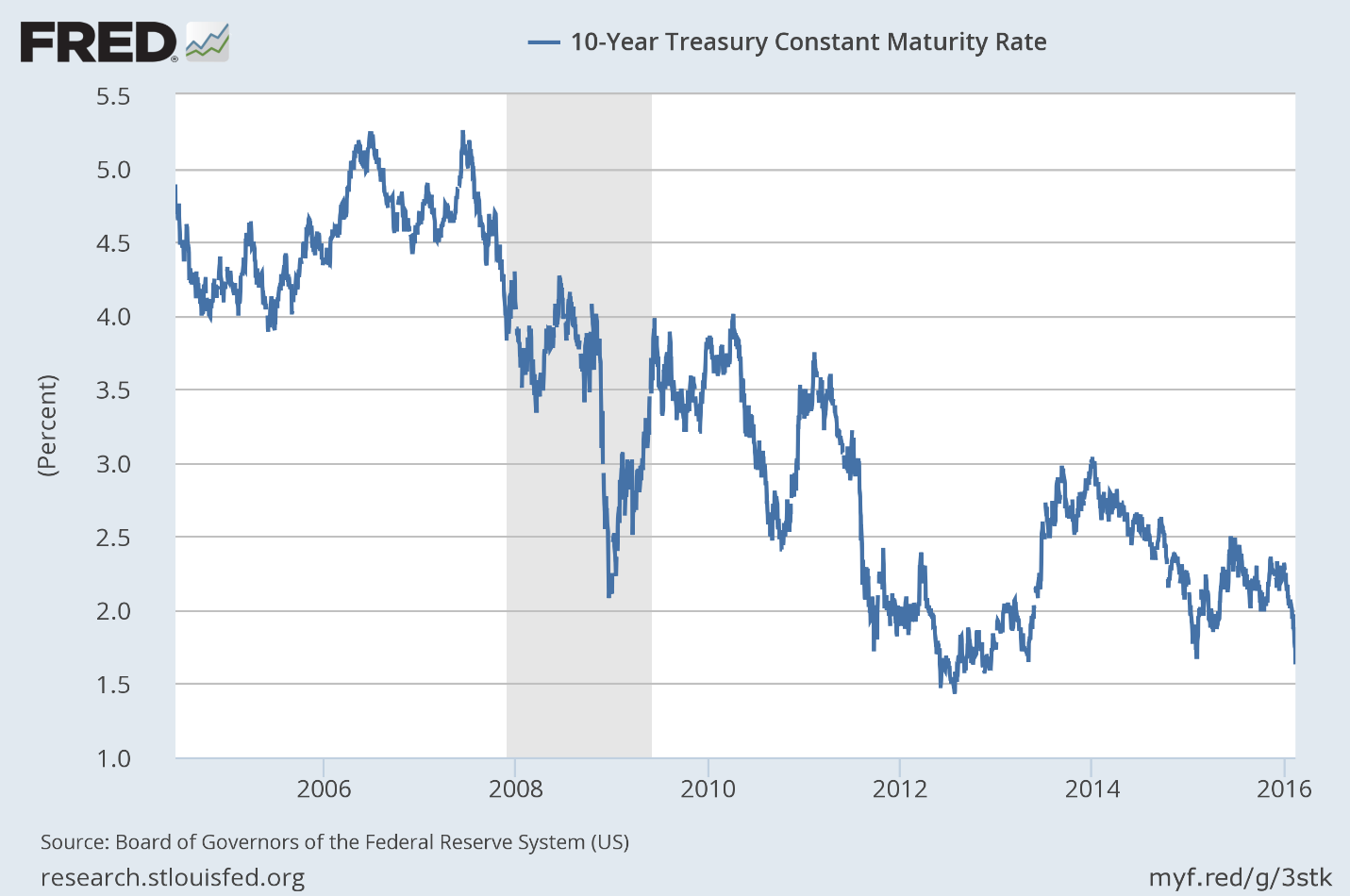 Real rates have fallen significantly since the beginning of the year. That is driving the dollar and gold.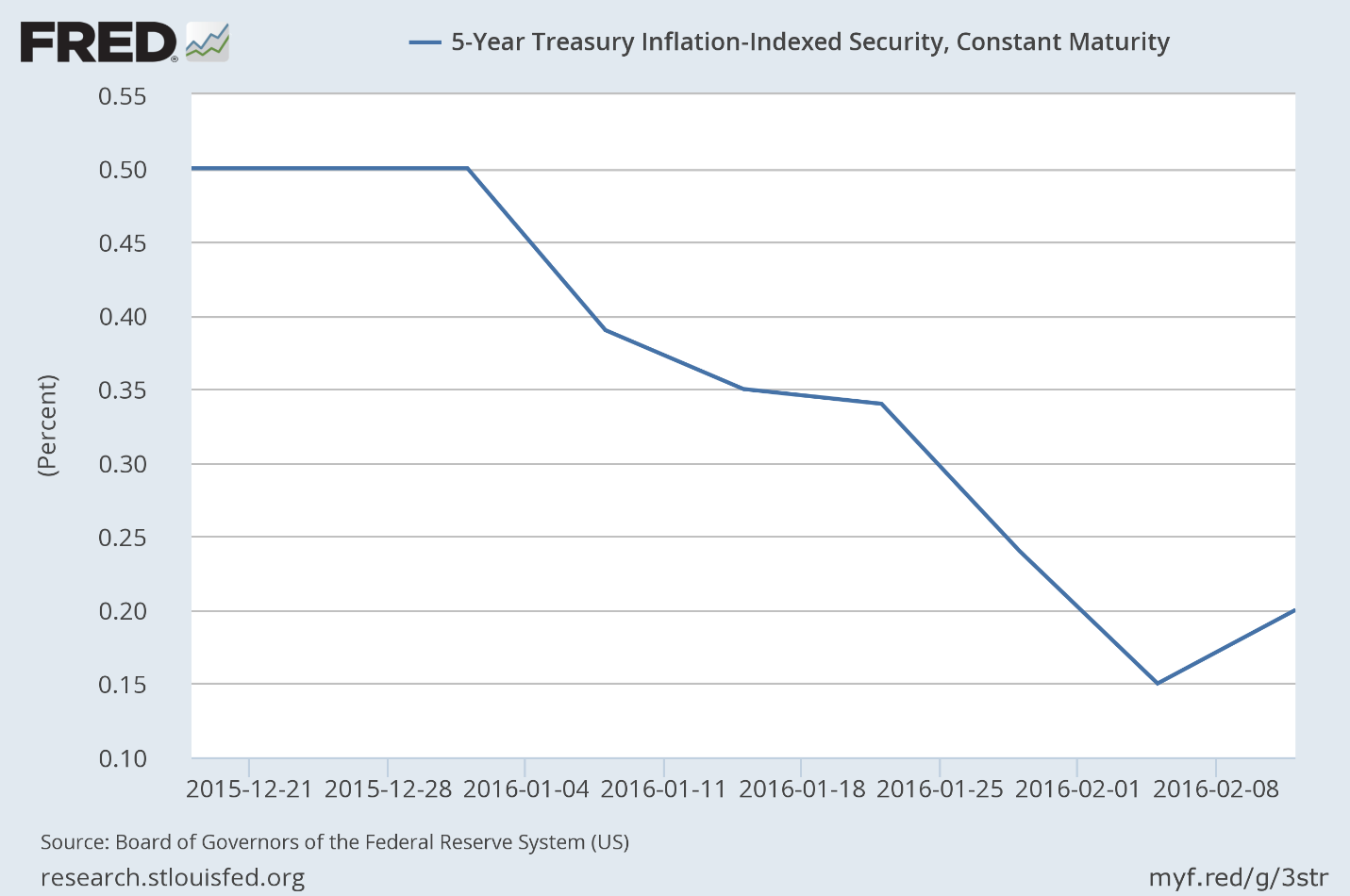 So does all this add up to recession? I don't think so yet, but the trend of our market indicators as well as the actual economic data definitely makes one sit up and take notice. One thing we can say for sure is that growth expectations are equalizing, the US now falling back to the global mean. If this does develop into recession, the policy response promises to be interesting if nothing else. We surely won't get a fiscal response in an election year. And one shudders to think what the clueless, Yellen-led Fed might attempt. Let's hope it doesn't come to that.