Initial rally found heavy resistance
In my previous article, a crude oil rally is imminent, I made the case for a rally in oil with an initial target of $34.25. Although we hit this level within two weeks, we failed to get any strong follow through above it and this ultimately led to further weakness in crude.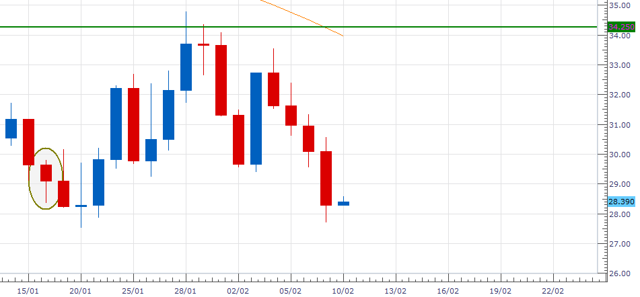 Click to enlarge
(Source: The Oil Report)
Another test of resistance is next
After testing the January lows under $28 oil managed to find some relief and this set the stage for another rally. After posting the best one day gain in 7 years on Friday, price has since pushed through$ 30 again and this should see a retest of that stubborn $34 level. The action in coming sessions could be critical for our half-year and year-end targets.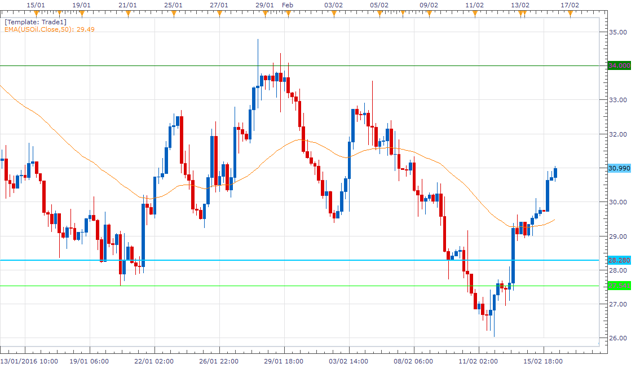 Click to enlarge
(Source: The Oil Report)
If we do get some follow-through above $34, we may see some short-covering in oil that would see it play catch up with the other commodities, such as gold which has rallied hard in the last week. This would open up the key $40 level again.
If oil fails to see any meaningful gains then investors would again turn bearish which would put new lows on the table.
Short-term Fundamental Outlook
As oil does start to push higher, the fundamental picture will be less important as everyone has priced in the "glut" picture. There is nothing we do not know, or can model, about supply-and-demand or rig counts right now but those who are focused on that would create the fuel for short-covering.
The market is currently pricing-in, or at least trimming bearish bets on the hope of a production cut from OPEC and until this is confirmed or not, then it will dictate price in coming sessions. News out this morning stated that Russia has agreed to meet OPEC nations so we will await the results of their meeting. If they can get some agreement we'll be off to the races, however the market will expect something meaningful for the medium term and a failure to produce that could see a brisk sell-off.
Summary
The failure to hold further losses on the year was bullish for crude and we could be mounting another challenge of the recent top around $34. If we do see follow through then my previous levels are still in play: $37.80, $42 and $50.
For regular price analysis on WTI crude and Brent, please subscribe to The Oil Report.
Disclosure: I am/we are long CRUDE OIL FUTURES.
I wrote this article myself, and it expresses my own opinions. I am not receiving compensation for it. I have no business relationship with any company whose stock is mentioned in this article.