This article is the continuation of debate between Ocean Rig (NYSE: ORIG) bulls and bears. Previously, I argued from the bear side with an article "Ocean Rig - Target Price Is Zero". Fellow contributor Fun Trading laid out his current views in "Ocean Rig UDW - An Investor Conundrum Hard To Decipher Through The Oil Price Collapse". You might want to check these articles if you haven't done this already as I won't repeat myself here and will focus solely on the analysis of recent news.
On February 15, Ocean Rig released a press release where it announced a cancellation of two drilling contracts.
Eirik Raude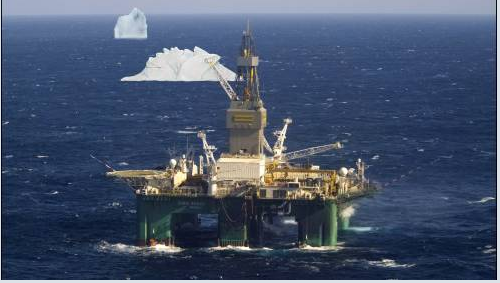 Eirik Raude Source: Ocean Rig
Premier Oil terminated the contract for Eirik Raude that was operating in the Falklands. This news was not a surprise, as Ocean Rig previously announced that it received the notice of breach of material obligations on the Eirik Raude. The new information is that Ocean Rig believes that it is entitled to a termination fee of $62.9 million.
However, there is no information regarding whether Premier Oil accepts this termination fee. In the press release, Ocean Rig stated that it was ready to commence in arbitration process should Premier Oil contest the fee. I believe this is exactly what will happen. It looks like the rig underperformed and Premier Oil was not termination for "convenience", as stated in the Ocean Rig's press release, but rather because the rig did not do the job.
Thus, I think it's too early to add $62.9 million to Ocean Rig's liquidity. I strongly believe that this issue will be solved in court, so this will take significant time. Until then, getting $62.9 million is just one of the possibilities for Ocean Rig.
That said, I don't think that Eirik Raude news will have any influence on Ocean Rig's valuation. The problems with the rig were well known before, and the termination is hardly a surprise to anyone. That said, the rig is just dead now. There is zero chance that a rig that reportedly failed a job might get a new job in the current environment.
Ocean Rig Apollo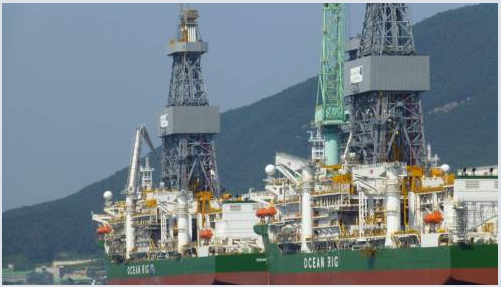 Ocean Rig Apollo Source: Ocean Rig
This is a surprise that strengthens the bear thesis. Ocean Rig Apollo was working in Congo for Total (NYSE:TOT). The work was expected to last up to the second quarter of 2018. Total chose to terminate the contract for convenience. This is a blow for Ocean Rig and a very bad sign for the whole industry which questions the strength of backlogs of other drillers. The termination of a long-term contract by a company like Total signals disaster for the drilling contract activity in 2016 and possibly beyond. Even a bear like me is surprised with this outcome.
Ocean Rig stated that it was entitled to a termination fee that varies from 50% to 95% of the operating daily rate and will be payable over the balance of contract. Depending on how the deal was actually structured, Ocean Rig might easily lose more than $100 million of revenue due to this termination. Also, the company will have discussions with lenders regarding the impact of the contract termination.
Apollo news is just awful and follow the termination of the Ocean Rig Olympia, which was operated by Eni (NYS: EE). However, the Eni news did not look as disastrous as Olympia was scheduled to finish the job in June 2016. The situation is quite different with Apollo as it was one of the longest-term contracts for Ocean Rig. While the company stated that the rig will be available for alternative employment, I don't think that it has a big chance of getting a contract in the current market environment.
A note on oil prices
Both WTI (NYSE: USO) and Brent (NYSE: BNO) rallied from lows on the news about possible cooperation between Russia and Saudi Arabia on oil production cuts. In my article "Russia Will Not Cut Oil Production Now And RSX Will Head Lower" I explained why Russia won't be making any production cuts in the first half of this year.
Recent reports confirm my stance. Saudi Arabia and Russia agreed to freeze oil output if (and it's a rather big if) others will follow. All countries have to persuade Iran to also freeze the output, which will likely be a difficult task. I think that the outcome of the talks is a clear disappointment to anyone who believe in the rapid rebound of oil prices, which, in turn, should have fueled new contract activity for drillers.
The lower for longer scenario is still in play. This is negative for the offshore drilling industry and particularly for the most leveraged players like Ocean Rig. I believe that the recent news confirms my stance on Ocean Rig - the company's shares are heading to zero.
Disclosure: I/we have no positions in any stocks mentioned, and no plans to initiate any positions within the next 72 hours.
I wrote this article myself, and it expresses my own opinions. I am not receiving compensation for it (other than from Seeking Alpha). I have no business relationship with any company whose stock is mentioned in this article.
Editor's Note: This article covers one or more stocks trading at less than $1 per share and/or with less than a $100 million market cap. Please be aware of the risks associated with these stocks.