Introduction
Any oil daytrader most likely found today interesting. On the back of additional comments that OPEC was willing to cooperate on a production cut, comments that we've been seeing for months now, oil prices shot higher for 12%. To me, such a jump indicates that investors are looking for any indication of a recovery to begin investing, potentially indicating that a bottom, or near bottom is in.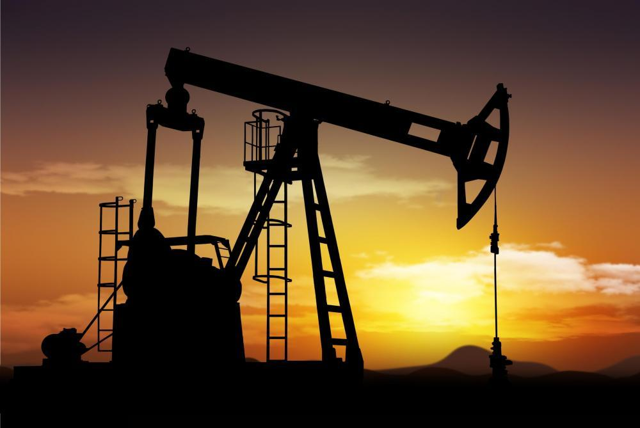 Click to enlarge
However, starting your oil investments with companies like Linn Energy (NASDAQ:LINE), Seadrill (NYSE:SDRL), and Energy Transfer Equity (NYSE:ETE) is a way to experience serious volatility over the short-term. The goal of this article is to introduce a way of investing in oil without dealing with the volatility individual stocks present.
Exchange Traded Funds
Exchange Traded Funds, or ETFs, are investment funds that are commonly traded on stock exchanges. An ETF effectively buys a basket of stocks represented by what that ETF chooses to achieve. A energy ETF buys a basket of energy stocks, an S&P 500 buys a basket of stocks to represent the S&P 500, and a total stock market ETF buys a basket of stocks designed to represent the overall stock market.
ETFs are effectively designed to emulate the market that they represent. As a result, the goal of this article will be to discuss playing an oil recovery using oil ETFs. Especially the Vanguard Energy ETF (NYSEARCA:VDE), which is designed to emulate the energy markets.
While some would prefer to play the oil markets by effectively buying oil through funds like the United States Oil Fund (NYSEARCA:USO), these funds suffer from contango which leads to decay over time. Other funds like the VelocityShares 3x Inverse Crude Oil ETN (NYSEARCA:DWTI) and the VelocityShares 3x Long Crude Oil ETN (NYSEARCA:UWTI) might have greater returns but they'll also decay even faster over time and have more volatility.
Vanguard Energy ETF Overview
Now we have an introduction to oil and exchange traded funds, let us talk specifically about the Vanguard Energy ETF. The Vanguard Energy ETF states itself as an ETF that "seeks to track the performance of a benchmark index that measures the investment return of stocks in the energy sector."
The ETF is passively managed with a beautifully low expense ratio of 0.10%, which is 93% lower than the expense ratio of funds with similar holdings. The ETF includes the stock of companies involved in the exploration and production of oil, natural gas, and coal. Since it is well established that coal is a dying industry, even if it will take a few decades, I find it a drag that the ETF holds coal assets, especially after their horrendous fall.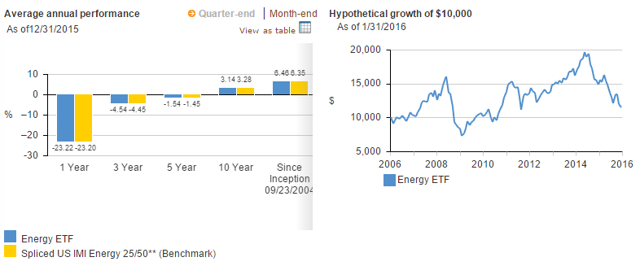 Click to enlarge
Vanguard Energy ETF Historic Returns - Vanguard Energy ETF
The above image provides an indication of the Vanguard Energy ETF's performance. The ETF has returned -23.2% over the past year which has resulted in a five year return of -1.5%. However, since its 2004 inception, which includes two enormous oil crashes (we are in the middle of the second) the ETF has returned 6.5% annually slightly above the 6.4% benchmark.
At the same time, looking at the hypothetical growth of $10,000, the ETF is in the lowest value seen since 2009. The ETF grew rapidly up to over $15,000 (for a $10,000 investment) before falling to approximately $8000 during the 2008 crash. The ETF grew from that point up to almost $20,000 before the most recent crash before dropping to $12,000 as of this point.
Vanguard ETF Holdings
Now that we have an overview of the Vanguard Energy ETF let us talk more specifically about the ETF's holdings.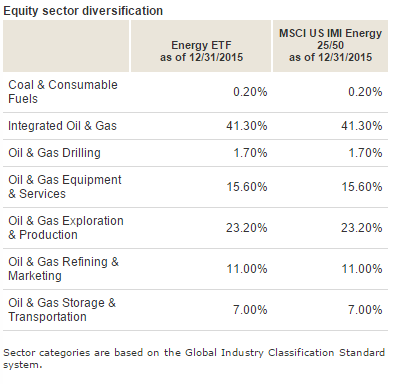 Vanguard Energy ETF Sector Breakdown - Vanguard Energy ETF
Before we delve into the specific holdings let us talk about the overall holdings. With coal and consumable fuels making up just 0.20% of the ETF, even though I would prefer it if the ETF had no coal holdings, the current coal holdings are a negligible part of the ETF. The rest of the ETF is oil and gas products, primarily integrated oil and gas which is made up of companies like ExxonMobil (NYSE:XOM).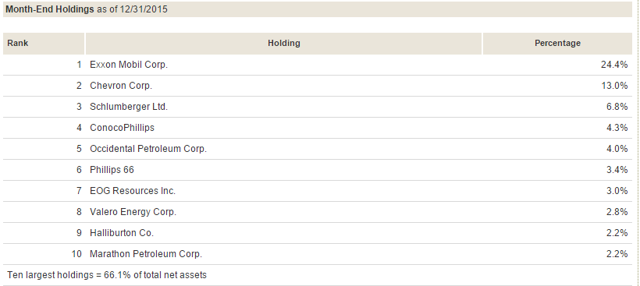 Click to enlarge
Vanguard Energy ETF Top Holdings - Vanguard Energy ETF
From a holdings specific point of view, the Vanguard Energy ETF is more concentrated than most with 66.1% of value concentrated in its top 10 holdings. Out of these holdings, ExxonMobil and Chevron (NYSE:CVX) together result in 37.4% of the portfolio's holdings. In this regard, I am disappointed to see no major holding in Royal Dutch Shell (NYSE:RDS.A) (NYSE:RDS.B) or other out of country companies that play major roles in the world's oil markets.
While many would argue that the ETF is worse as a result of its remarkable portfolio concentration, by market cap the world's oil companies are relatively concentrated. ExxonMobil's $340 billion market cap is equal than Chevron's $160 billion market cap added on to Royal Dutch Shell's $140 billion market cap added on to ConocoPhillips (NYSE:COP) $40 billion market cap. ExxonMobil is by far the largest oil company.
However, this concentration does open up the ETF to an element of risk. Should ExxonMobil choose to cut or halt its dividend or should Chevron choose to cut or halt its dividend, the two dividend aristocrats on the list, these companies would see a stock price drop of 10% or more. Such a drop would lead to a rapid drop of the ETFs price.
Oil Markets
So far, we have talked about exchange traded funds overall before talking about the Vanguard Energy ETF overall before talking more specifically about the Vanguard Energy ETF's holdings. Now, we'll finish up by talking about the long-term bull argument for a recovery in oil.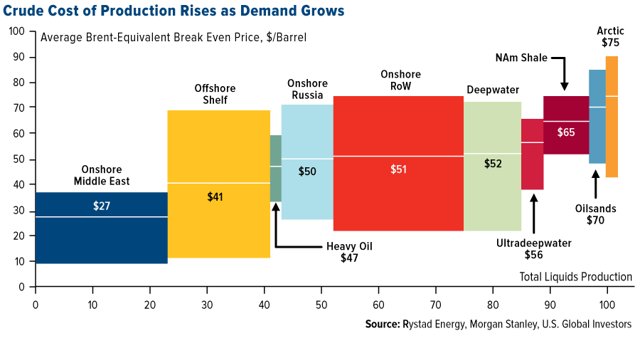 Click to enlarge
Crude Oil Production Cost - US Funds
The above image provides the cost of production for all of the world's major sources of oil. As can clearly be seen, even after today's rapid oil price recovery, at $30 per barrel, only onshore middle east production is cost effective. Not even offshore middle east production which supplies millions of barrels of oil per day is cost effective.
Taking ConocoPhillips as an example, a company that managed to decrease its production cost from $60 per barrel to $45 per barrel, let us assume every production source here manages to decrease its production by the same 25%, the majority of the world's oil production will still be uneconomical. From a pure supply/demand point of view, oil prices need to recover to at least $60 for the long term assuming no increase in demand or a reserve decreases.
For this simple reason, it is reasonable to expect that a few years from now oil prices will be close to double what they are now, barring a major financial recession that crushes demand. That is not to say that the days of $100 per barrel or higher oil will be back anytime soon. However, it is reasonable to assume that $60 per barrel or higher can be back soon, a range where many of these oil majors can be very profitable.
Conclusion
The recent jump in oil prices might spark the hope of a recovery for some, but it is clear that any recovery in oil prices will take a long time to occur. For investors who want to play a cyclical market but don't want to take on the immense risk presented by individual stocks in the current market, the Vanguard Energy ETF represents a powerful equity option.
I recommend investors looking to make a cyclical play begin by opening up a small position in the Vanguard Energy ETF. Throughout this holding period they will be paid a respectable annual dividend of almost 3%. At the same time, should oil prices fall, especially to the $20 per barrel level many tout, investors can double down assuming they have a long-term point of view.
Disclosure: I am/we are long VDE, XOM, CVX, RDS.A.
I wrote this article myself, and it expresses my own opinions. I am not receiving compensation for it (other than from Seeking Alpha). I have no business relationship with any company whose stock is mentioned in this article.
Editor's Note: This article covers one or more stocks trading at less than $1 per share and/or with less than a $100 million market cap. Please be aware of the risks associated with these stocks.