I wrote on Friday that the market didn't seem to know what to think of Cutera's (NASDAQ:CUTR) Q4 earnings report, and the same goes for peer Cynosure (NASDAQ:CYNO), which reported its fourth quarter earnings before the bell on Tuesday: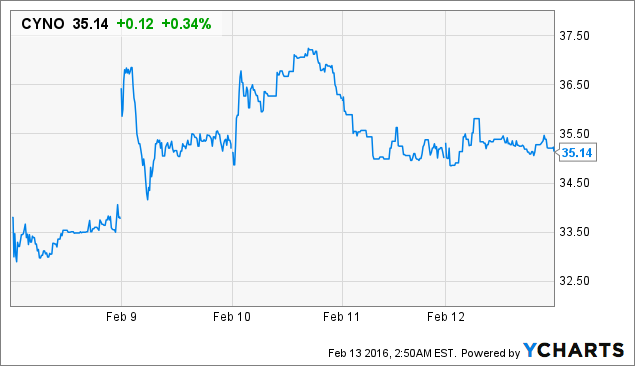 CYNO Price data by YCharts
To be sure, investors don't seem to know what to think of anything these days, and the economically sensitive nature of aesthetics stocks like CYNO and CUTR makes them particularly subject to broader market volatility. But for Cynosure in particular, there's very much a good news/bad news dynamic at the moment that lends some logic to the market's uncertainty. There's reason for significant optimism here; but there's also a decent short case for a stock that still is dearly valued, in a space that has often disappointed investors. All told, I still lean toward the bearish side, as I did last month with the stock at ~$38. There's still too much macro risk, and too much success priced in, to get excited just yet.
Q4 Earnings
Cynosure's fourth quarter beat analyst estimates handily, with year-over-year growth impressive. Revenue rose 19% - an acceleration from earlier in the year - and non-GAAP EPS rose 17%. North America product sales were up 31% year-over-year, and disposables and service revenue jumped 28%.
The top-line drivers, per the Q4 release, were four products: MonaLisa Touch (distributed for manufacturer El.En. SpA (OTC:ELEAF), and approved in the US for vaginal rejuvenation); Icon (hair removal); PicoSure (tattoo removal and pigmented lesion treatment); and SculpSure (launched last summer, for non-invasive body contouring). It's that breadth that drives the bull case here, and an above-estimates quarter likely drove the initial reaction on Tuesday morning.
The problem here is that the success may be broad, but not necessarily that deep. Cynosure doesn't break out product revenue, so it's difficult to specify the exact drivers, but looking at full-year results, growth isn't necessarily that impressive. A 16.1% sales increase looks solid; but Cynosure bought RF technology manufacturer Ellman in September of 2014, which at the time had an annualized revenue run-rate of $25 million. Assuming an incremental eight months of contribution in 2015 implies about $17 million of acquired revenue (even assuming zero growth for Ellman), or roughly six points of growth. That leaves about ~10% of organic growth; even giving credit for a roughly 60/40 US/international split and reported mid-single-digit international currency headwinds year-to-date, constant-currency organic growth seems to be in the 12-13% range this year - at best.
That's not hugely impressive; it's behind that seen at Cutera and far below the 46% increase seen at single-product ZELTIQ Aesthetics (NASDAQ:ZLTQ). In fact, it's not terribly higher than the 10% growth (through the first nine months) seen at Syneron Medical (NASDAQ:ELOS), the laggard in the space (in terms of both sales growth and share price). Meanwhile, a chunk of even the low-teen growth came through the distribution agreement for MonaLisa Touch, which no doubt drives lower margins. Cynosure has posted torrid growth out of the financial crisis, but looking at 2015, organic sales increases aren't quite as impressive as the headline numbers might suggest.
The Good News
That's the bad news (part of it, anyway). The good news is that there's reason to see growth continue, if not accelerate. It appears that SculpSure is seeing early success; CEO Michael Davin did disclose on the Q4 conference call that the product would "easily exceed" a $10 million target in first-year sales, and Northland Securities analyst Suraj Kalia said in the Q&A that "a lot" of the doctors surveyed said the product was on back order. ZELTIQ's CoolSculpting - the leader in the space, and Cynosure's clear target - generated $255 million from CoolSculpting, while Syneron lowered guidance for UltraShape's first full year sales to $16-17 million (and restructured its sales team, an inauspicious sign). There seems to be enough room in the market for SculpSure to grow along with CoolSculpting, particularly given the struggles at Syneron and Cutera's truSculpt.
Even without head-to-head success against CoolSculpting, SculpSure could follow the trajectory Syneron laid out for UltraShape, which originally was projected to go from $20 million to $65 million-plus within two years, and as the installed base grows, disposable sales can boost revenue and margins (so-called PACs, used on a per-procedure basis, offer gross margins of 80% or more, per the company's Q4 presentation). Early reviews are good, and the lower treatment time (25 minutes versus a newly-lowered 45 minutes for CoolSculpting) and the lack of suction (which can cause bruising, though ZELTIQ is looking to remove that aspect of its treatment) offer potential competitive edges. The fat reduction/body contouring opportunity seems huge; with Syneron stumbling, and Solta Medical (part of Valeant Pharmaceuticals (NYSE:VRX)) continuing to struggle, there's certainly room for both Cynosure and ZELTIQ (though Allergan's (NYSE:AGN) Kybella injection treatment for 'double chin' may provide competition, particularly if approved indications are expanded).
PicoSure has room for growth as well; the company still hasn't gained regulatory approval for skin and pigment treatment in China, and that's considered a potentially huge market. The international rollout of SculpSure still has room to run - and the US market will contribute six months of incremental sales in Q1 and Q2 - and Cynosure added Germany, Spain, and UK for MonaLisa Touch distribution, with the potential to expand regulatory approvals for that product.
All told, there are three key products, all of which still have long runways for growth, and the company is having some success cross-selling to existing customers (notably with SculpSure). Meanwhile, the products installed this year will drive consumable sales in 2016 and beyond. The growth story here doesn't seem likely to end in 2016.
The Bad News
The problem is that there's still a lot of growth priced in, given that shares are trading at ~25x trailing EPS plus cash. And sales growth over the past few years hasn't translated to EPS improvement: 2015 non-GAAP EPS was $1.08, against $1.06 in 2014 and $1.04 in 2013.
Launch expenses - notably for SculpSure - are a large reason for the lack of earnings growth, with Cynosure investing in future growth. But the company said on the Q4 call that it will continue to do so in the first half, pushing any operating leverage into the back half of the year at the earliest. Analysts already have pulled down 2015 EPS estimates, yet still are projecting 27% year-over-year growth. That's despite mid-teen sales growth estimates and the fact that 2015 benefited from ~$0.07 in profits recognized from a 2013 settlement, which won't be repeated in 2016.
Meanwhile, the competitive environment may get tougher. PicoSure ASPs are seeing price pressure due to competition, per Davin on the Q4 call. The gynecologists targeted for MonaLisa will be pitched by myriad companies in and out of the device space, and with Syneron and Cutera desperate to drive some growth in fat reduction, there could be additional discounting for SculpSure.
International sales have been lagging as well; the regulatory environment is a bit of an issue there, with PicoSure lacking the key skin treatment clearance in China (which may not arrive until 2017) and SculpSure's entrance into the market may not come until 2018. But constant-currency international product revenue growth actually was negative in Q1 and Q2 (-4% each quarter) before turning positive in the back half (6% in Q3 and 4% in Q4).
Neither of these issues break the bull case. But it does seem like there's enough concern in terms of overseas sales (again, ~40% of total revenue) and margin expansion to create some downward risk. 2016 consensus - even lowered - seems somewhat aggressive, given the modest headwind from the lost royalty revenue and the fact that Cynosure itself isn't guiding for much leverage until the back half. In this market, a stock with a mid-20s multiple likely won't have much room for error - or even a modest disappointment.
Valuation
The longer-term issue for Cynosure is that its own targets don't really imply that much upside, given the macro and sector risks facing the stock. The Q4 presentation cited an operating margin target of 15% and a revenue target of $500 million; on a tax-normalized basis, that implies EPS just above $2 per share. (Cynosure has set a longer-term margin target of 20%, by the end of the decade.) Even accounting for the company's $8 per share in cash, that only implies a ~13x multiple to targeted profits, likely not coming until 2018. Again, if Cynosure executes, there's likely some upside: shares could reach $60 with a low 20s multiple to $2.10-$2.20 in EPS plus $10 in cash. But this is a company operating in a long-disappointing and highly competitive space, and any consumer spending weakness seems likely to have a significant impact on product sales and utilization.
There's still reason to expect shares to move closer to $30, a mid- to high-teen multiple to 2016 consensus, and further downside is possible if CYNO misses estimates (Q1 projections do look a bit soft, however). And it seems there are better opportunities elsewhere to find cyclical and/or growth stocks that would benefit if the market stabilizes or rebounds from current levels. Below $30, I'd surely be tempted; closer to $40, I think a short sale might make some sense, particularly for nimble and/or bearish traders. Cynosure has done a great job so far - but there's still a lot more to do, and a lot of risks along the way.
Disclosure: I/we have no positions in any stocks mentioned, and no plans to initiate any positions within the next 72 hours.
I wrote this article myself, and it expresses my own opinions. I am not receiving compensation for it (other than from Seeking Alpha). I have no business relationship with any company whose stock is mentioned in this article.