Market Timers Try To Time the Markets
Proponents of market timing use all sorts of technical indicators, charts, historical patterns and all manner of techniques, and claim to outperform the markets.
Most market studies indicate that very few of us regular folks, and even few of the market professionals, are capable of doing so on a regular basis. Market timing of this sort requires you to be right twice, once when you make the decision to buy, and then again when you make the decision to sell and exit the position.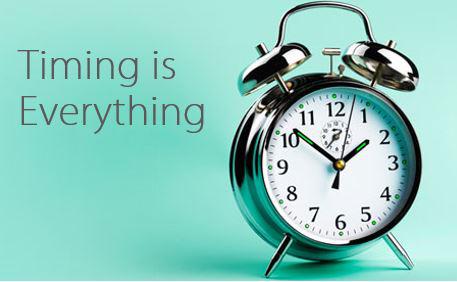 Even if you were able to do this accurately, once in a while, very few folks would be able to do this consistently, time after time, for their entire investing career. Can you imagine putting your retirement money at risk in this manner, constantly swinging for home runs, and actually hitting those homers, over and over? I can't.
Buy And Hold, Whenever
Others claim it is utterly hopeless trying to get ahead by timing the market in any way, and simply plop down their stash and make one big investment and hope for the best over the intervening years.
A variation of this entails buying at regular intervals, perhaps once per month, and investing the same amount each time. This is known as dollar cost averaging. When prices are rising, the investor will receive less shares of his chosen investment. When prices are falling, he'll receive more shares for the same dollar amount.
Over time, the investor is averaging out his purchases, and since he is buying more shares when they are lower priced, and less shares when they are higher priced, he automatically guarantees that he is accumulating shares, over long periods, at lower average prices overall.
Some very conservative investors take this approach with index funds. Thinking they are not capable enough, or knowledgeable enough to determine what equities represent a good buy, and at what price, they spread their bet by buying an index fund that tracks some benchmark.
Popular index funds track the S&P 500 index, like Vanguard's 500 Index Inv (MUTF:
VFINX
), or ETFs like the SPDR S&P 500 ETF (NYSEARCA:
SPY
). Some track the Dow Jones Industrial Average with the iShares Dow Jones US (NYSEARCA:
IYY
) , while others track the Russell 2000 index to gain exposure to 2000 small, domestic companies in one ETF like the iShares Russell 2000 ETF, iShares Russell 2000 (NYSEARCA:
IWM
).
Some investors, like our fellow SA member Buyandhold 2012, prefer to wait until the S&P 500 index falls 20% or more from a previous high before considering making any purchases whatsoever. Then he'll hold those positions forever. Of course, following this course means, often, the investor will be totally out of the market for many years at a time. Since we have not had a 20% correction from the 18,351 Dow high reached this year, nor have we had one along the way, since the market reached a bottom on March 9, 2009, investors who follow this course are left out in the cold. This has been seven long years of an astounding bull market that has left those practitioners on the sidelines.
In my opinion, in the intervening 7 years since that bottom, there have been numerous opportunities for the dividend growth investor to enter the market, with what I like to refer to as "Better-Timed Entry Points".
Better-Timed Entry Points
Though this is technically a form of market timing, the application of this concept is more equity-specific rather than broad index-based.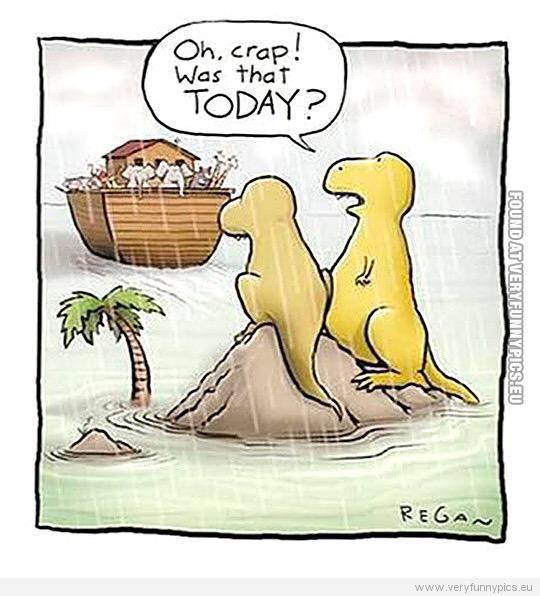 The marketplace is always undergoing some type of rotation, from one sector to another. One sector, like healthcare, can be in favor, and investors will flock to the stocks in that sector. Greater demand for them will push their prices up. If they pay dividends, their yields will go down.
Price up= Yields down.
While this is happening, a different sector, like oil and energy, can be out of favor, as it has been for the past eighteen months with the crash in oil prices from $120 to a low of $26 per barrel reached just last week.
While those prices in the energy sector were coming under pressure, their yields were shooting to the sky.
Prices down= Yields Up.
Especially in the midstream energy MLP sector, most of those companies got taken to the woodshed with the fall in oil prices, even though many of them are not commodity dependant at all.
How To Maximize Dividend Streams Using Better-Timed Entry Points
Because there is always a bull market somewhere, the opposite is also true. Again, I am referring to those pockets of the marketplace that fall out of favor temporarily due to any number of factors.
Since this is most often the case, good preparation for the investor would consist of putting together a watch list of those companies he'd like to own in various market sectors.
It might look something like this:
Wish List
Sector / Company
| | |
| --- | --- |
| Energy | XOM |
| REIT | O |
| Healthcare | JNJ |
| Industrial | GE |
| Utility | ED |
For simplicity sake, I've listed only 5 industry sectors, and just one name in each sector. In practice, in order to enhance your chance of catching one or more names at a better-timed entry price, you'd be wise to look into perhaps ten or more sectors, and add 5 or so names to your list for each sector.
This approach will yield a larger universe of say 50 possible names that may help you to snag a few when sector rotation hits your sector, opening the window of opportunity for you.
Let's assume you have already done your due diligence, your research into each name, and have decided these names would add to your portfolio and dividend income that you seek to grow.
The final step would be to decide on a price you'd like to pay to give you the yield you seek to grow your income.
In a previous edition, we discussed the concept of using Seeking Alpha's metrics, available free to all members, to determine what a company's five year average dividend yield was.
Let's use Main Street Capital Corporation (NYSE:MAIN) as an example. Since I own this company personally and in the Fill-The-Gap portfolio I manage here on Seeking Alpha and in our premium subscriber portfolio, I can find it easily in the portfolio function of Seeking Alpha. If I look to the rightmost column, I can discover that this company's 5 year average dividend yield is 6.9%. As I write this, MAIN's current yield is 8%. This, by itself, would be a good indicator to me that MAIN is representing better than fair value since its price has been depressed, along with the general market's recent correction, so that it yields significantly higher than its 5 year average.
But what if I wanted an even better yield on this company and believed that the market would weaken from here and give me a higher yield?
A Simple Formula To Derive A Better-Timed Price For Yield
O.K., so MAIN currently yields 8%, but you say you'd like to get an 8.25% yield on this investment? MAIN closed, at time of this writing, at $27.01.
Just take the current year's dividend of $2.16 and divide by 8.25% (.0825) to find the better-timed price you desire.
$2.16/.0825= $26.18
If you wanted no less than an 8.5% yield, again the formula would reveal the price you want to pay.
$2.16/.085= $25.41
Notice how the higher the yield you seek, the lower you become willing to pay for this equity. This is how you can better time your entry points in order to get the price you want and the yield and income that you seek by entering limit orders with the price you want to pay that gives you yield and income you want to receive.
Main Street Capital Corp.
This is a brief synopsis of this business development company, courtesy of Yahoo Finance:
"Main Street Capital Corporation is a business development company specializing in long- term equity and debt investments in small and lower middle market companies. The firm focuses on investments in, subordinated loans, private equity, venture debt, mezzanine investments, mature, mid venture, industry consolidation, later stage, late venture, emerging growth, management buyouts, change of control transactions, ownership transitions, recapitalizations, strategic acquisitions, refinancing, business expansion capital, growth financings, family estate planning, and other growth initiatives primarily for later stage businesses. It invests in consumer discretionary, consumer staples, energy, healthcare, industrials, information technology, materials, telecommunication services, and utilities sectors. It does not seek to invest in start-up companies or companies with speculative business plans. It seeks to invest in traditional or basic businesses. The firm primarily invests in companies based in the Southern, South Central, and Southwestern regions of the United States but also considers other domestic investment opportunities. It invests between $2 million and $75 million in companies with revenues between $5 million and $300 million, enterprise values between $3 million and $50 million, and EBITDA between $1 million and $20 million. The firm seeks to charge a fixed interest rate between 12 percent and 14 percent, payable in cash, in case of its mezzanine loan investments. The firm typically invests in the form of term debt with equity participation and/or direct equity investments."
This is a $1.41 billion market cap company that has paid a growing stream of dividends since 2007. In the teeth of the financial crisis, MAIN increased its dividend by more than 4% and kept it steady while many companies cut or eliminated their dividends.
Since 2008, it has paid a dividend monthly. This steady cash flow adds to this company's allure. In addition to this dependable dividend stream, MAIN, since January 2013, has paid out 2 extra dividends per year, the latest of which have been $.275, two times in 2014, and two times again in 2015. While the monthly run rate on the dividend was just raised 5.9% again, year over year, to $.18, these extra $.275 dividends, paid twice a year, are boosting the yield on MAIN considerably.
$.18 X 12 = $2.16 + $.55= $2.71
If the company maintains these extras going forward, it will represent an annualized yield of:
$2.71/$27.01= 10.03%
Risk To The Extra Dividend
Though MAIN has made a good habit of sharing extra profits with shareholders for the past three years, there is no way of knowing whether they will be able to continue these extra payouts.
Currently, the company has a payout ratio of 79.94%, which indicates they have a decent amount of room and cash flow to not only cover the current dividend, but also to grow it for us over the coming years. It has not disappointed yet.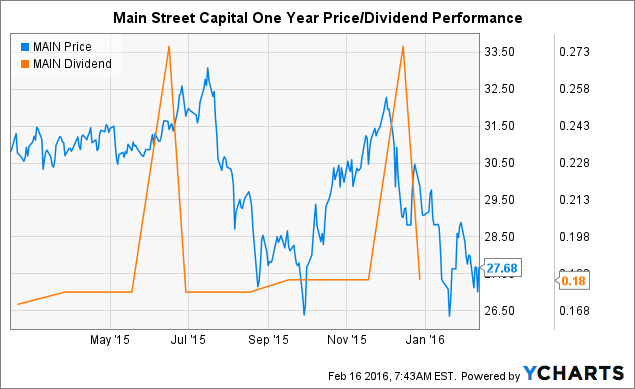 You can see that MAIN has been under pricing pressure, along with many rate-sensitive equities, including the BDC sector and the REIT sector in particular. This has been ongoing for the past several months, as the Fed couldn't seem to get the rate lift-off party started. Now that they finally introduced the first increase in about 10 years, this has created further uncertainty in the investment community. It has led to the sector rotation we discussed above, with investors rotating out of the BDCs, thus causing their prices to fall. This has given rise to a good opportunity for dividend growth investors.
The chart also clearly displays, in orange, the extra dividends paid, as spikes from the regular path. Notice how the company continued paying out their regular dividend, and paid out two very large extras in addition. Regardless of the stock price peaking and diving several times, MAIN kept on paying. Stock price is not a major concern of company management, nor is it very important to dividend growth investors except for entry points for initial and follow-on investments and reinvestment of dividends.
MAIN is now selling for less than its mean, from its 52 week high of $33.15 and its low of $26.08.
Actionable
My suggestion would be to put together a watch list of some 50 names in a diversity of sectors. After you perform your due diligence on these names, winnow the list to those you feel would be great to own if they came down to below fair value. Use the formula in this edition to determine what price you'd be willing to pay for the yield you seek, then place limit orders for the number of shares you could afford to invest if all your desired equities hit their marks, all at the same time.
Of course, this will never happen, except perhaps in a flash crash, but, to be safe, you want to know that you can pay for all the shares you ordered.
Chances are, over several months time, especially if the market weakens further, your limit orders will be executed for at least a few names.
When this happens, you'll be satisfied to know that you got your shares at the exact price you were willing to pay, not a penny more. And by using a better-timed entry price, you will have achieved a lifetime of higher income.
The Fill-The-Gap Portfolio
I began writing a series of articles on December 24, 2014, to demonstrate a real live construction and management of a portfolio dedicated to growing income to close a yawning gap that so many millions of seniors and near retirees face today.
The beginning article was entitled, "This Is Not Your Father's Retirement Plan." This project began with $411,600 in capital that was deployed in such a way that each of the portfolio constituents yielded approximately equal amounts of yearly income.
The FTG Portfolio Constituents
Constructed beginning on 12/24/14, this portfolio now consists of 18 companies, including AT&T, Inc., Altria Group, Inc., (NYSE:MO), Consolidated Edison, Inc. (NYSE:ED), Verizon Communications, Inc. (NYSE:VZ), CenturyLink, Inc. (NYSE:CTL), Main Street Capital Corporation (NYSE:MAIN), Ares Capital Corporation (NASDAQ:ARCC), Reynolds American, Inc. (NYSE:RAI), Vector Group Ltd. (NYSE:VGR), EPR Properties (NYSE:EPR), Realty Income Corporation (NYSE:O), Sun Communities, Inc. (NYSE:SUI), Omega Healthcare Investors (NYSE:OHI), StoneMor Partners LP (NYSE:STON), W.P. Carey, Inc. (NYSE:WPC), Government Properties Income Trust (NYSE:GOV), The GEO Group (NYSE:GEO) and The RMR Group (NASDAQ:RMR).
These portfolio constituents represent an example of where retired investors, near-retired investors and younger investors can constantly source cash to use as dry powder to make new investments when stocks fall to better-timed entry points in order to grow portfolio income.
I have recently completed work on a Real-Time Portfolio Tracker that helps me and subscribers focus on our portfolio income. All data for the portfolio is updated in real time, constantly throughout the day, helping us to monitor positions and suggest possible entry points for additional shares.
This is a sample of what it looks like:
Real Time Portfolio Tracker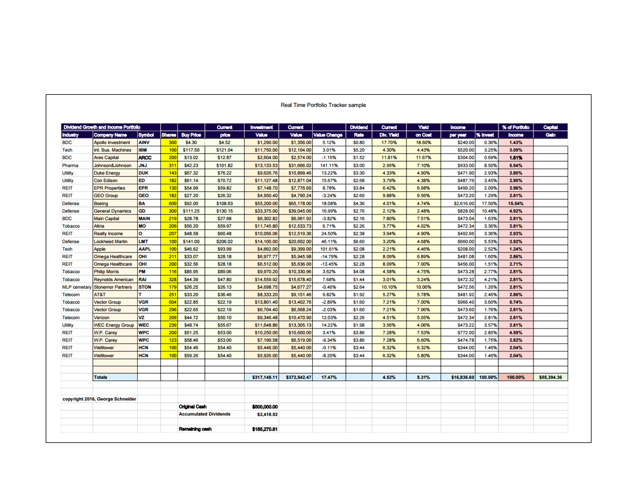 Click to enlarge
Announcing The New, Real-Time Portfolio Tracker
I am pleased to announce that I have just completed work on the Real-Time Portfolio Tracker that will perform all of the following functions automatically, without any effort required of the user:
1. Once you enter your stock tickers, the tracker will automatically update the prices of each of your positions throughout the day.
2. It will display the current price of your equities, grabbed all day from a finance site.
3. It will display the amount you invested in each equity.
4. It will update the current total value of each position throughout the day.
5. This tracker will show you your percentage gain or loss on each position in real time.
6. The tracker will automatically grab the correct annual dividend amount from a finance site.
7. It will display your current yield based on the moment's price.
8. It will show you the yield you received based on the price YOU paid.
9. It will tell you how much annual income each position is paying you.
10. It will break down in percentage terms, how much value each position represents of your overall portfolio based on current prices.
11. Most importantly, it will tell you what percentage of total portfolio income each position pays to you.
12. It displays the total amount you have invested in your portfolio.
13. It gives you a total portfolio value, updated all day long.
14. The tracker will tell you, automatically, what percent your total portfolio is up or down from purchase.
15. It will display the current total portfolio dividend yield as well as the total portfolio yield on cost.
16. It will tell you your total portfolio capital gain or loss.
17. Lastly, it will display the remaining cash left in your portfolio available for investment.
This Real-Time Portfolio Tracker is a very powerful tool that will allow the investor to stay current and up to the minute on every important aspect of his portfolio. Used creatively, it can point to positions that need topping off or trimming in order to arrive at a portfolio that throws off equal amounts of income from each position.
Again, if you think this new tool can help you in your planning, maintenance and management of your portfolio while everything is on auto-pilot for you, please send me a direct message. This tool is also available to readers for a very nominal amount and at a substantial discount for subscribers. I have already provided this tool to many readers and subscribers and the feedback has been extremely favorable.
When we first began the premium subscriber portfolio on November 1, 2015, just 3 months ago, our overall portfolio yield was 5.77%. The comparable figure to our yield on cost, based on all of our purchases has grown to 6.43%. Since the portfolio has increased considerably in capital appreciation, the current dividend yield based on Wednesday's prices is 6.17%.
The Real Time Portfolio Tracker allows us to see at a glance how our annual income on the portfolio has grown and what we have so far. We can also quickly learn that when we add this period's dividend income to our beginning commitment to this portfolio and subtract the amount we've already invested, we can see the balance still available to invest for upcoming opportunities that come our way.
As we see how the quarterly income has grown, we can infer our new annual income. You can also see from the dividend table that thirteen of our companies have recently increased their dividend payments. These increases and the payment of the dividends will form the foundation of our compounding of income based on their reinvestment.
The Portfolio Income Tracker Spreadsheet
To help my subscribers stay focused on income production, at no cost, I provide them with a spreadsheet I've created that allows them to track the exclusive subscriber portfolio we manage. It is available to non-subscribers for a nominal amount. It also allows them to input their own portfolio holdings, share amounts and dividend amounts. The formulas I've built into it then figures their annual income from each component, shows the current yield and totals the portfolio income.
It looks like this:
Portfolio Income Tracker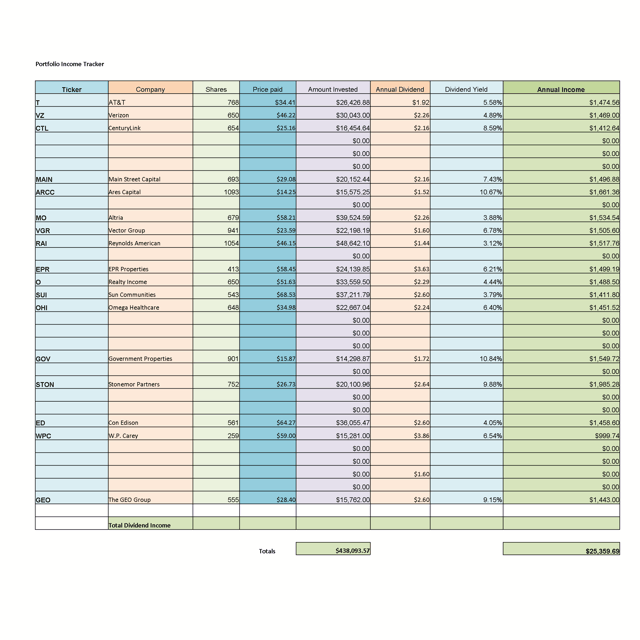 Click to enlarge
If you feel this spreadsheet would be a useful tool to track your own investments and income, and would like to have one, simply send me a direct message on Seeking Alpha, and ask for the Portfolio Income Tracker. It is free for subscribers and will be provided to other readers for a very nominal amount. I'll be glad to email you one for your use. Just send me your email address in a direct message.
Plan of Action-Portfolio Management
Our aim is to get the most bang for our bucks. We will look toward any further weakening in the markets as our developing opportunities to buy more income for the portfolio at cheaper prices, gaining higher yield along the way.
We are in no hurry here. We will follow our playbook just as we did with the recent W.P. Carey and The Geo Group purchases made this past last Friday on a 4% dip which yielded us 9% on this private prison REIT. We've done the same with our recent purchases of Omega Healthcare Investors, Ares Capital and Welltower. We'll pick our spots, and when those entry points arrive, we'll pounce. Thursday, additional positions were taken in W.P. Carey at a 9% sale giving us a 7.53% dividend yield.
Final Thoughts
The Fill-The-Gap Portfolio for 2016 presents a new beginning, an opportunity for retirees, near-retirees and new, younger millennial investors to start the process of making their transition to dividend growth investing in some of the safest, most predictable, long-paying, high-payout companies in America.
For younger millennial investors willing to be open to ideas to further their financial education, this portfolio represents a solid foundation. For them, and all pre-retirees and retirees, this model of portfolio construction is offered as a foundational way to build retirement income for the future that addresses inflation head on. The dividends in this portfolio will continue to grow in such a way that future income will not be degraded and decimated by inflation. On the contrary, purchasing power will be preserved, unlike what would befall an investor buying 0% T-bills today or negative interest rate T-bills next week as discussed in those articles I penned.
Author's note: Please consider following me in real time. This will enable you to receive an email the moment any of my articles are published on Seeking Alpha. Just click the down-arrow next to the "Follow" link above this article title, and check the boxes for "Follow this author" and "Real-time alerts on this author."
Please don't keep me a secret. I'd appreciate it if you forwarded this article to your friends, colleagues and family who you think might find this work interesting and something they might benefit from.
If you found this article, the concept and investment results interesting and intriguing, I invite you to read the other articles in this series. Stay tuned for further articles that will introduce additional sectors and names to further diversify a portfolio for continued ballast and mitigation of risks to any one sector.
Should you be interested in reading any of my other articles detailing various strategies to enhance your returns on a dividend growth portfolio, you will find them here.
As always, I look forward to your comments, discussion and questions.
To learn more about my premium subscription service, please click this link:
Retirement: One Dividend At A Time
Please feel free to ask me anything by typing your question into the "Ask Me Anything" box.
Disclaimer: This article is intended to provide information to interested parties. As I have no knowledge of individual investor circumstances, goals, and/or portfolio concentration or diversification, readers are expected to complete their own due diligence before purchasing any stocks mentioned or recommended.
Disclosure: I am/we are long ARCC, CTL, ED, EPR, GEO, MO, O, OHI, RAI, RMR, STON, SUI, T, VZ, WEC, WPC, VGR.
I wrote this article myself, and it expresses my own opinions. I am not receiving compensation for it (other than from Seeking Alpha). I have no business relationship with any company whose stock is mentioned in this article.