High Ground: Advantage, not Safety
Military tacticians generally agree that defensive positions should be situated on the high ground. History has shown that it is far more difficult to overtake these positions as they provide a long field of vision, stand-off distance from an enemy, and allow the defenders to put out minimal energy as attackers attempt to take the position. Having been on staff rides to Gettysburg multiple times over the past few years, it is one battle that demonstrates this advantage (note, I did not say "safety"). General Buford noted this need for the high ground for the Union upon his arrival - an observation that Samuel Elliott made famous in the battle's movie. And in that battle, the high ground proved critical, whether on Little Round Top, the Slaughter Pen (near the Devil's Den), or on the final day of Pickett's Charge into the Bloody Angle. However, here is the catch - high ground is not a place where blood will not be shed - the Union held that vast majority of these locations (or used them to trade space for time), but the Confederates still inflicted mass casualties.
Running for the Hills in Times of Crisis
So how does this relate to recent market action? Simply put, investors have perceived the recent "attack" on the markets and are running for the hills - the high ground looks "safer" in times of crisis and provides the perception of a place to stash cash. The S&P has declined more than 9% and NASDAQ more than 13% since the year began as seen below.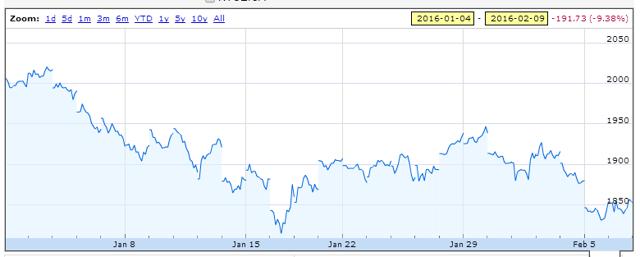 Click to enlarge

Click to enlargeAll charts sourced from Google Finance.
But not all stocks are created equal and based upon only my SA watchlist, it is fairly simple to break the market into a two main categories - those that have felt the pain as they were caught in the under-defended yet plentiful valleys and villages, and those that have fortified positions in the hills.
My Watchlist (of note, I do not own all of these, but do own over ¾ and have been a consumer staples buyer since XLP was under 30)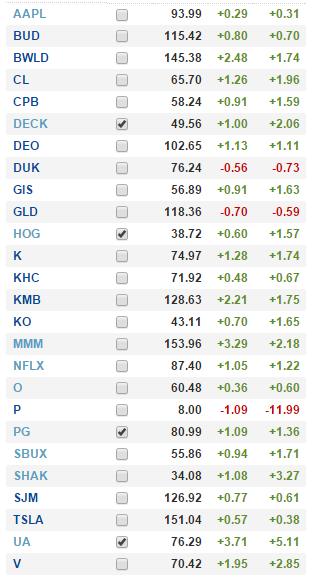 Breaking a few of these down in comparison (Apple (NASDAQ:AAPL), Buffalo Wild Wings (NASDAQ:BWLD), Starbucks (NASDAQ:SBUX), and Tesla (NASDAQ:TSLA)), these darlings of investors over the past few years - those generally with high P/E (AAPL excluded) and/or sensitivity to any growth slow down (AAPL included) have felt the pain as seen below. Note that most of these came out with earnings that were "ok" to good, but definitely not great, and are perceived to face more pressures from a domestic and global slowdown.

Click to enlarge
But then another group of stocks - those that are the ones in the hills, that often investors don't find as attractive in times of growth, have seen a completely different pattern of trading as of late. And it is not just the consumer staples - it is REITs with strong balance sheets, and the utilities at large…and even 3M (NYSE:MMM), which definitely had a lackluster quarter but appears "safe." So while the S&P is down, this group (Campbell's Soup (NYSE:CPB), Duke Energy (NYSE:DUK), General Mills (NYSE:GIS), Realty Income (NYSE:O), and MMM) is neutral or thriving.

Click to enlarge
Realty Income: Price is starting to dilute investors' income
And of these stocks, one REIT, Realty Income, has been the most contentious as of late as its hike in price has dropped the dividend under 4%. Last week two separate articles appeared within hours of each other recommending that investors consider selling O (by Dane Bowler and Reuben Gregg Brewer). The reader remarks on both ranged from civil to near personal attacks as this stock has emotional attachment to most investors - it is, after all, a buy and hold stock for most that provides the livelihood for many in their retirement. I don't disagree with either authors' assessment - the P/E was a bit high, especially based on O's historic movement, but I am not convinced to sell and in fact continue to buy at these prices.
Then of course earnings for O came out later in the week, and the stock jumped from the $56-57 range to above $60 where it now sits. It has prompted further commentary about the desire to wait for a pullback from Achillies Research. His points are solid, and while set on O, they cover what we are seeing in the overall dividend market right now - not just O. O is just a prime example of investors running for the hills, because where else can they go for any type of solid yield? Treasuries are back near all-time lows; high growth stocks are in danger and may have further to fall; REITs with riskier balance sheets, such as Gladstone Commercial (NASDAQ:GOOD), Lexington Realty (NYSE:LXP) and Omega Healthcare (NYSE:OHI), all recommended as O alternatives by Mr. Bowler, are "undervalued" with high yields - maybe for a good reason. While there may be better alternatives for some and O will likely fall back in price, one responder put it best - "there may never be a bad time to buy O."
The Hills are becoming Crowded
So investors instead are running for the Procter & Gamble (NYSE:PG) and anything inside the SPDR Consumer Staples ETF (NYSEARCA:XLP); they are running for utilities (NYSEARCA:XLU), and REITs that look less risky, but are staying away from financials. And this of course, this is building a false sense of security with plenty of people on the hill to defend.
So why is this a false sense?
Remember that the high ground, from a tactical perspective, was not so much safety, but an advantage. You can hold that ground but still be bloodied, and you can lose the hill. Chris Ciovacco's piece rehashed this exact point, in that investors ran to dividend stocks in 2007-2009 only to find that they were safer, but not "safety." investors . So while some will say more people will yield better results, defense relies heavily on morale and those who stand their ground. Some investors, usually those with long-time holdings, will be more dedicated to defending these high points while others will be quick to abandon their posts. The veterans tend to be the most dedicated to their position and will endure much pain before departing those hallowed grounds - hence the sentiment of most DGIs who are in for the long haul. One can assume that many of these newcomers will be quick to depart these stocks when the going gets tough. Thus, the current rise is a bit concerning in that prices can definitely decline in the near future and these stocks are not invincible.
However, in this light, one thing Mr. Ciovacco did not show was that these stocks (excluding financials as we are not seeing these rise right now) had two advantages in his noted time of crisis. First, they had a dividend that for most high-quality blue chips remained intact - some were cut and/or frozen, but few went to zero (O in fact raised their dividend during this time). Second, they performed far better than the S&P over this time period - so they were bloodied, but able to reconstitute forces and retake any ground lost.

Click to enlarge
What to do now? It depends...
But what was really missing from Mr. Ciovacco's article was what any commander of his/her portfolio wants to know - what is the "so what" for today? What is the actionable intelligence to develop a Course of Action?
First, every investor is different - know what you want/need out of the market and use prudent judgment and diligence in your decisions. Retirees and DGIs have different goals that traders or tech investors. While selling is an option for some, you need another vehicle to invest that money in to build wealth and provide income unless you are doing so only to hold cash and await better entry points. Right now, while I see few undervalued assets with the same yields and performance as stocks like O and those in XLP, avoiding this sector altogether may leave investors awaiting entry points that never come to fruition.
Additionally, selling any stock, like O, is that it comes down to timing, which is luck with a bit of skill. While it is always better to be lucky than good, few will likely have that kind of luck and may depart too soon or depart for less stellar performers. In this regard, here are a couple other ideas to consider:
If you are a DRIPer, then consider two options. First, you can halt the recurring investments or reduce the regular amounts and stow the money as a cash reserve. Second, you can, if you are not relying on the payments to live day-in and day-out, to have the dividends be paid in cash. Those who did one or both in 2007-2008 profited well by awaiting 2009. If you choose this route, then make sure you know your prices to buy - bottoms are rarely called accurately by any "pro," but buying on the way down, as long as the stocks are not falling knives, will pay off in the end. I did much of this with a mutual fund after 9/11 - I stopped recurring investments and every day the market was down more than 1%, $50 went into that fund. Those discounts add up.
(Full disclosure: I have executed no changes to my twins' investments portfolio - the O DRIP plan of bi-monthly $100 investments remains steady, along with those of weekly $50 buys into SBUX, V, and MMM. However, I am contemplating a reduction in O's contributions if it continues above $62.50, as I would be concerned it would soon see a dip. However, I will not halt the investments, only drop them to the minimum DRIP required amount.
Another "option" is options. If you are really intent on hedging stocks like O, then consider selling a $60 strike for your shares for June for ~$3.50 as of Friday, or getting over $7 for the $55 strike in the same time frame. For the $60 strike, it is $0.50 in the money, but gives you over a year's worth of dividends (pre-tax) in profits. It is something to consider in all the dividend stocks, or you could go just a bit out of the money if you feel the rally in this area still has legs or want to pocket the premium and keep the shares.
Lastly, and the most risky, is to follow the herd by buying into these stocks heavily and hope you depart for prior to the well possibly running dry - again, a timing move requiring luck and some skill. However, if history rhymes, in 2007, there were several points where XLP/XLU outperformed and kept rising, even while the S&P fell. However, this comes with the risk that you don't hear the music stop and the party ends leaving you without a ride home.
No matter what, don't panic. Use the current market sentiment as you see fit in your own goals and investing techniques. And as always, keep calm and carry on in your investing activities.
Disclaimer: This article is intended to provide information to interested parties. As I have no knowledge of individual investor circumstances, goals, and/or portfolio concentration or diversification, readers are expected to complete their own due diligence before purchasing any stocks mentioned or recommended.
Disclosure: I am/we are long AAPL, GIS, XLP, XLU, CPB, DUK, SBUX, MMM, PG.
I wrote this article myself, and it expresses my own opinions. I am not receiving compensation for it (other than from Seeking Alpha). I have no business relationship with any company whose stock is mentioned in this article.
Additional disclosure: I have a strangle position on BWLD with options that expire in March and January.