Introduction
Three weeks ago, I made a case for taking a long position in Cambian group (LON:CMBN) or in its OTC-equivalent (OTC:CMBGF) if you value a denomination in USD over market liquidity. This case, which you can find here was mainly built around the fact that Cambian is trading at a steep discount to its net asset value, the value created by the market overreaction and the significant M&A potential that has been confirmed in the second half of 2015.
Earlier this week, on the 9th of February, Cambian released a trading update stating that in contradiction to the October 2015 trading update adjusted EBITDA will be below the minimum of £49m ($71.02) which was stated in the October profit warning. The unaudited adjusted EBITDA came in at £46m ( $66.65m), which represents a 6,12% shortfall over the previously announced minimum and causes Cambian to nearly breach on its debt covenants. Of course Cambian wouldn't be Cambian if its shareholders did not decide to react to this trading update by invoking a massive sell-off cutting the already undervalued share price in half. The stock price plummeted from £1.19 ($1.73) to £0.52 ($0.75), which equals a drop of no less than 56%. This overreaction on a distressed stock price which was already suffering from the general economic environment and the previous market overreaction triggered by the October 2015 profit warning, makes the upside potential on this stock skyrocket. The market seems to be partly realizing the error in its irrationality, since the stock price has risen to £0.66 ($0.96), a 27% increase to Tuesday's closing price. There is, however, still enormous value potential at this level and in this article I will quickly highlight the arguments supporting this statement.

Click to enlarge
Cambian Group Ltd: Who? Where? What?
For those who did not read my previous article and are unfamiliar to Cambian, I will provide a short introduction to the company.
Cambian is one of the largest specialist behavioral healthcare providers in the United Kingdom. The company targets both children and adults who require mental related health treatment. The services offered to adults range from brain injury and mental health services to learning disability and residential care services while the children service offering is divided into specialist mental-, residential- and educational-services in addition to foster care services. The total portfolio consists of 23 schools, 35 hospitals, 188 specialist care homes, day services and 3 fostering offices. The company employs over 6,000 employees, of which 572 are part of a clinically-led multi-disciplinary team, making Cambian one of the largest private healthcare providers within the UK.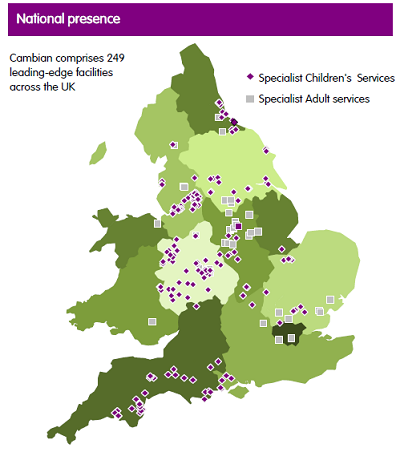 The company focuses on patients with a strong severity (7-9 on a scale to 10) and exclusively operates in the United Kingdom. Together with a well-defined scope of activities that the company wishes to offer, the focus on these high severity UK patients makes Cambian a segment specialist operating in a market with high entry barriers. Barriers to entry which originate from a diversity of capital, knowledge, relational and reputational requirements. This places Cambian in an excellent position to defend its market share in this market.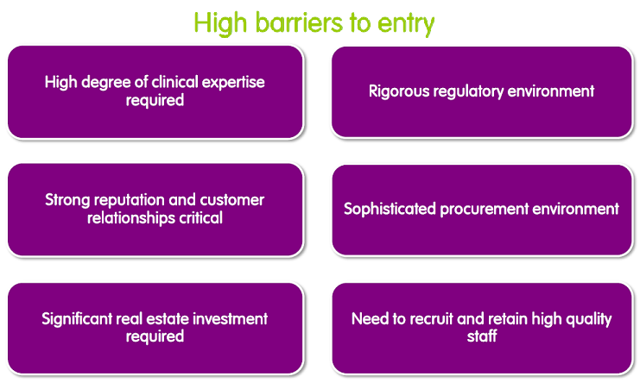 Click to enlarge
This specialized sector offering, however, does not mean that Cambian is operating in a small niche market with limited potential. For its June 2014 company presentation, Cambian estimated the market potential at £13bn ($18.86bn). This number is, however, an internally derived estimation by Cambian and Cambian has shown us time after time that they tend to make overly optimistic estimates.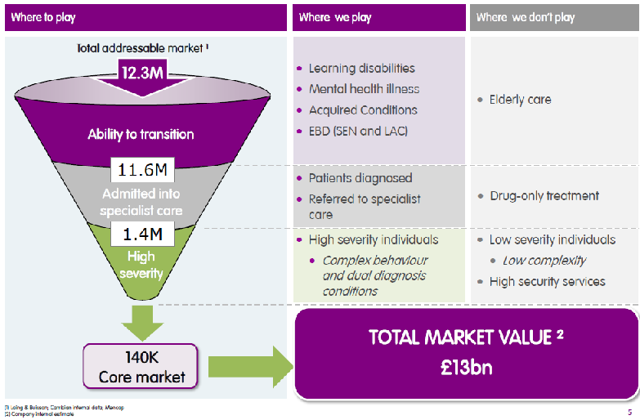 Click to enlarge
As far as the shareholder structure goes, the pie chart below shows that the top 5 shareholders represent 64.97% of the shares. It is the midcap focused GI Partners that is the largest shareholder with a stake of nearly 43%, followed by Kabouter Management with a substantially smaller stake of around 8%.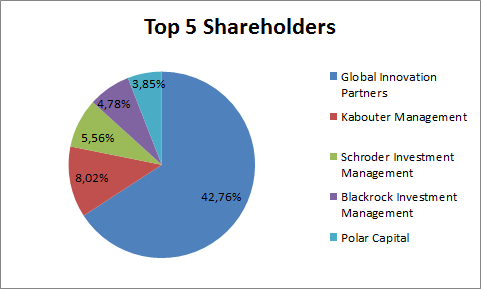 An enormous discount to its net asset value
In my previous article, I used a net asset value of £362m ($523.08m) which was based on the real estate valuation of £577m ($834m) determined by Knight Frank LLP at the time of Cambian's IPO in April 2014, an additional £15m ($21.68m) in real estate value to account for the new buildings that were added since the IPO and a net debt of £240m ($346.86m). In this week's trading statement, Cambian stated that the net debt at 12/31/2015 was £241m ($348.33m), so I believe that the previously derived net asset value of £362m ($523.08m) is still pretty accurate.
On the 20th of January 2016, this meant that the share was trading at a 42.5% discount to that net asset value. Now that the share is trading at £0.66 ($0.96), that discount has skyrocketed to no less than 66.36%.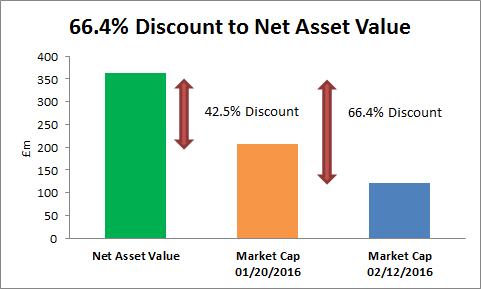 The point can be raised that most of Cambian's real estate is located outside of the popular hotspots such as London and that it is therefore questionable that Cambian would be able to realize the estimated value in a short timeframe but even when applying a 30% discount to the estimated real estate value, this would still result in a net asset value of £174.4m ($252.8m) and a discount of 30.2% to this net asset value.
The M&A potential
In my previous article, we used a conservative average derived from taking both the transaction multiples of the most recent transaction in the UK private healthcare market, Acadia Healthcare (NASDAQ:ACHC) acquiring the Priory Group (11.3x EBITDA | 2.6x Revenue) and the transaction multiples of the major transactions that took place in 2014 in the UK private health care market. The latter referring to Acadia Healthcare's acquisition of Partnerships in Care and Universal Health Services (NYSE:UHS) acquiring Cygnet Healthcare.
Last time, we applied the expected revenue and expected EBITDA for the year 2016. When we apply the unaudited actual numbers of the FY2015 and use the same conservative methodology (diluting the high multiples from the Priory Group acquisition) then we get an upside potential ranging from 74.5% to 278.2%. The implied £1,15 ($1.67) resulting from the EBITDA metric, is of course based on the disappointing £46m ($66.65m) which can significantly increase if the management gets its costs under control and if it can further improve on the occupancy rate. In any case, using the FY2015 numbers and using this conservative methodology should provide us with very conservative minimum value that can be achieved in an M&A sale process. Using the £62.35m ($90.26m) 2016E EBITDA that we used in the previous article, would raise the implied share price based on the EBITDA multiple to £2.03 ($2.93) which represents 207% upside potential. Likewise, applying the EBITDA multiple that Arcadia paid for the Priory Group on the 2015 achieved adjusted EBITDA of £46m ( $66.65m), results in an implied share price of £1.51 ($2.19) or 129% upside potential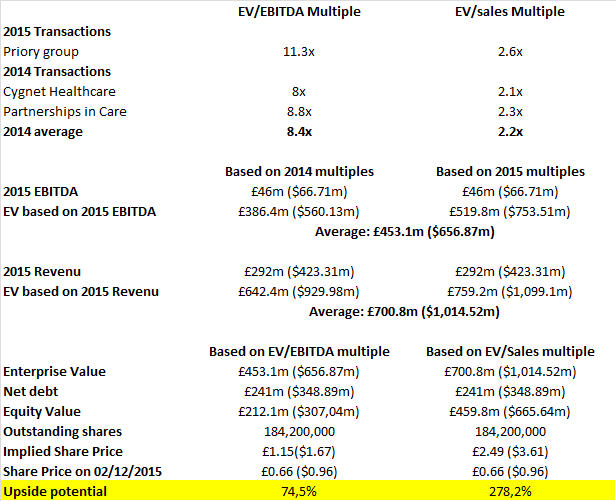 As mentioned last time, the higher multiples paid in the acquisition of the Priory Group by Acadia Healthcare and the rumor that both Universal Health Services and Ramsay Health Care (OTC:RMYHY, OTCPK:RMSYF) (JPM 2015) expressed interest in the Priory Group, highlights the attractiveness of the UK private healthcare market and the high odds that Cambian will be able to attract the interest of potential acquirers in the near and mid-term future.
An earnings perspective
As far as earnings go, it is clear that at the current share price the P/E is extremely low for a firm operating in strong demand-driven sector where there is still a lot of room for growth and occupancy improvement. I did not include dividends per share in the table below (2015 numbers based on adapted Barclays 2015 equity research; 2016/2017 on Thomson One Consensus estimates) as it will remain unclear how much Cambian will hand out to its shareholders. The trading update suggested that there will be no final dividend for the FY 2015, which creates a lot of uncertainty in regards to the 2016 and 2017 dividends. At the current stock price, the originally 2016/2017 anticipated dividend of £0.03 ($0.04) would already represent a 4.5% dividend yield but the covenants which I will explain later on, may lead to Cambian not distributing any dividends within this period.

CAPEX, Covenants and the living wage
The trading update also covers additional aspects of which I will briefly discuss the most important ones. In regards to the covenants, the following statement was made:

Click to enlarge
In June 2016, the covenants on the debt which are currently set at 4.95x net debt/EBITDA will drop to a ratio of 4.5x. With a net debt of £241m ($348.33m), the company is currently at a ratio of 4.92x (Barclays Feb 2015), which is awfully close to the 4.95x limit. Since I don't see the company raising its EBITDA margin from 16.77% to the 18.34% margin that would be required to reach the required EBITDA of £53.55m ($77.69m) in just 4 months , revenue will need to increase in addition to improved margins in order to comply with the June 2016 covenant. Something which is not likely to occur given the following statement in the trading update:

Click to enlarge
With a lower EBITDA to be expected in the first half of 2016, it is highly unlikely that Cambian will be complying with its original covenants. Cambian even expects a lower EBITDA result while at the same time stating that they expect to transfer all the costs from the introduction of the UK living wage act in April 2016

Click to enlarge
A doubtful statement given the history of claims and promises that Cambian made over the last year. At least, the company seems to realize that they will have to abandon the growth strategy and focus on achieving a high occupancy rate and cost cutting.

Click to enlarge

Click to enlarge
That last statement probably summarizes the situation pretty well. Cambian needs to refocus on its core business, work on its occupancy rate, getting their EBITDA margin back to around the 2014 level of 20% and only then will it be able to pick up its expansion plans again. While this may not sound very appealing on the short term compared to the initially anticipated strong growth numbers, there is still plenty of value in the long term. I expect that high real estate collateral will indeed allow Cambian to successfully renegotiate its covenants. In the meantime, Cambian still offers investors an attractive upside potential of at least 74.5% from an M&A perspective and a net asset value per share of no less than £1.96 ($2.84).
The investment thesis
For the second time in less than 6 months, Cambian has seen its share price plummet with more than 50% on one day due to profit warnings. This time the warning only announced a 6,12% shortfall on the adjusted EBITDA based on the revised guidance that the company released in October 2015. The two main issues here, are that this is the second time in just one year where the management has failed to make accurate predictions on its future performance and that the company is now very close to breaching the covenants on its debt, requiring them to negotiate new covenants with the banks. Given that Cambian's real estate is worth nearly £600m ($870.27m) and the net asset value is situated around £362m ($523.08m), which equals £1.96 ($2.84) per share, I am convinced that the banks will be willing to cut Cambian some slack. While the company will be forced to abandon further expansions and focusing on improving its occupancy rate and on raising its 2015 EBITDA margin of 16.77% back to the 2014 margin of 20%. The latter would result in an EBITDA of £58.4m ($84.71), and a net debt/EBITDA ratio of 4.13x which is well below both the current covenant requirement of 4.95x and the stricter June 2016 covenant of 4.5x. In the meantime, the stock offers investors an attractive discount to its net asset value of no less than 66.36% and potential upside from M&A in the range of 74.5% - 278.2%. Needless to say, the upside will significantly increase if the company manages to improve its margins and occupancy rates.
Surely, Cambian faces some difficult challenges in the near future, but at this price level, the upside potential is already significant and any improvement will only exponentially increase this upside potential, making it a great investment for long-term value investors.
Disclosure: I am/we are long LON:CMBN.
I wrote this article myself, and it expresses my own opinions. I am not receiving compensation for it (other than from Seeking Alpha). I have no business relationship with any company whose stock is mentioned in this article.