The drama in energy is second only to the drama in energy… Nonsensical, but everything requires energy, or the world stops. If you're not an energy bull then stop here. A day will come where there's no fossil fuel and another's day will rein. Until then, buy SWN. Why and what changed since early 2105?
I've long been a fan of SWN, taken my beatings, as I've written positively in early 2015. Too early, too eager… then I/everyone was critical of the ill timed acquisition of CHK's Marcellus… what a fiasco on the surface, but the structural reasons for that deal are just now coming to fruition.
Production from the Marcellus has grown fantastically as evidenced in the below EIA chart on the regions' production. Never mind 2016's tapering production, rather appreciate the parabolic growth over the recent years. According to the EIA, "natural gas production in the Marcellus and Utica areas has grown significantly: their combined growth of 12 billion cubic feet per day since 2011 accounts for 89% of the United States' total growth in natural gas production."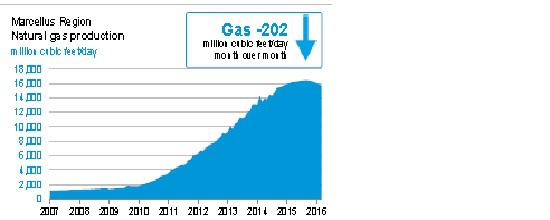 Importantly, SWN's long thesis required two developments; Production was only the beginning. The second is that production necessitates Takeaway Capacity… a lesser followed but equally necessary component for an E&P's success. The anticipated relief of the bottleneck is arriving which was the central theme of my article in March 2015. Superficial prognosticators confuse the direction of the commodity's price to the value of the underlying E&P which has continued to obscure Muller's foresight (SWN's CEO).
Well observed is the increase in Marcellus take-away capacity, several new pipeline projects have come online to move natural gas to the Mid-Atlantic area (New York, New Jersey, and Pennsylvania who pay the nations' highest natural gas prices) and to supply existing midstream infrastructure that delivers natural gas to more distant regions, i.e. the U.S. Gulf Coast (think LNG exports and industrial uses). The EIA documents approx 30% increase in takeaway capacity in 2015/16 from 2014 and 60% increase from 2013.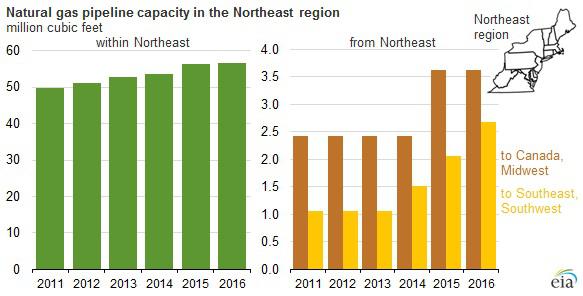 Under the hood:
Look back, it was just 2012 when the EIA reported spot natural gas prices at Marcellus trading point reflecting midstream constraints, http://www.eia.gov/todayinenergy/detail.cfm?id=7210#. That bottleneck was exacerbated by the relentless increase in production from the region. The divergence in price from the Tennessee Zone 4 (Marcellus) to Henry Hub (Gulf Coast) will fade fast! Current Henry Hub spot prices press $2.50. Supply is tapering, uses are expanding (utility power generation), and takeaway capacity has arrived and growing. Marcellus prices should rise from below $1.50. See the arbitrage below.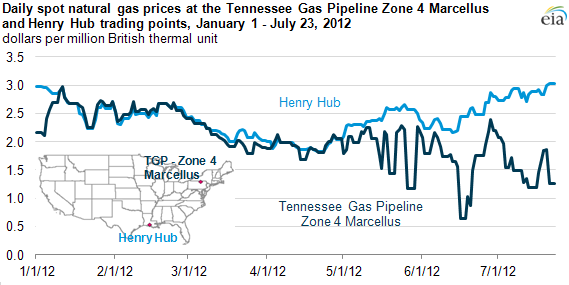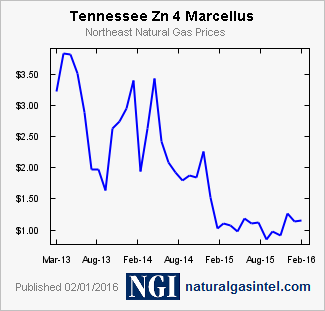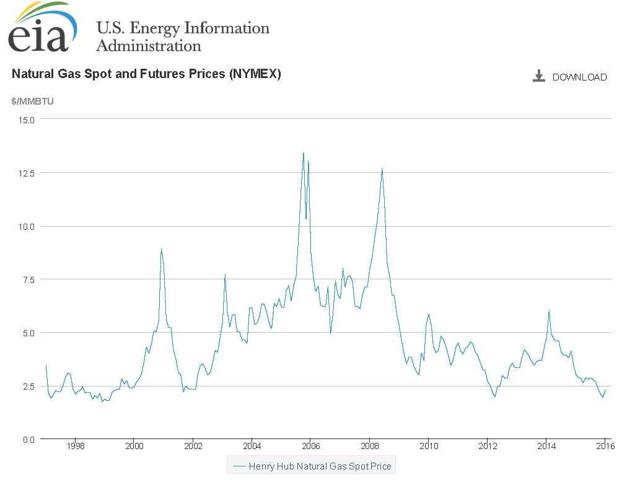 Pictured above; Marcellus 2012 v Henry Hub becomes stretched in 2012 due to bottleneck takeaway. Marcellus nat gas 2016 prices in 2016 are crushed but show signs of bottoming below Henry Hub. Henry Hub trades greater than Marcellus...nearly 40%.
The Trade and How to Express your Opinion:
Breaking headlines will surely scare timid hands to the sidelines. Evidence, as reported by in the WSJ on Feb. 2nd, "Standard & Poor's Ratings Services on Tuesday cut the ratings of 10 U.S. oil and gas exploration and production companies, citing the sharp drop in crude oil prices." Unsurprisingly SWN was included on the list… trimmed a single notch of its earlier rating BBB to BBB-. I'm unconvinced of the intrinsic value to that update because SWN is committed to operate within its cash flow and isn't going to tap equity or debt markets. Perhaps it is comforting to note SWN remains investment grade. Importantly, rolling debt has been materially pushed off until 2017 and total debt remains 51% of capital (ValueLine).
I keep in mind SWN is the 3rd largest US gas producer behind XOM and CHK, and an investor could buy SWN outright. This is a value, capital appreciation, and energy forecast that depends on stabilizing commodity prices and continued expansion of Nat Gas uses or exports, levered by the takeaway / midstream developments. Personally I view the overdue hibernation will end. Shorts, who have profited wildly, I sense have been lulled into complacency who consume 30% of the float. Upside to the commodity and upside to the convergence of pricing will put the Anaconda squeeze on! Forget about the all time low in December at $5, reserved for liars. Whilst still in the single digits, you'll soon find yourself reminiscing from significantly higher prices.
Alternative Investment:
I am a devout options investor…. A Seller when volatility is high and, selectively, a Buyer when lower. But such an options strategy depends on a rational underlying. Energy is everything except rational so an options play is less interesting than outright owning the underlying. I don't even like a Married Put here. The equity is trading in single digits and a Put isn't protecting much. A Long Call is also too expensive relative to the underlying and the added leverage pales in comparison to pure play upside and there's no reason to limit your gain to a contract's expiration date. Shorting (selling the expensive premium) on either side still leaves too much opportunity on the table. Ride SWN higher.
Disclosure:
Short SWN put options. Long SWN. The foregoing is not intended to be specific investment advice, but concepts to consider when investing. Consult your Investment Adviser.
Disclosure: I am/we are long SWN.
I wrote this article myself, and it expresses my own opinions. I am not receiving compensation for it (other than from Seeking Alpha). I have no business relationship with any company whose stock is mentioned in this article.
Additional disclosure: SWN (SOuthwest Energy) should be the primary symbol