Having been an avid follower/investor in the HDD industry over the last decade, I will be the first to admit it's not for the faint-hearted. 2012 marked a Rubicon moment - there was a fundamental shift in favor of the suppliers after the Thai floods, which incapacitated more than half the global supply. The price per drive which averaged $45 for Western Digital (NYSE:WDC) suddenly escalated to $60-plus. And the gross profit filtered right down to earnings.
But more importantly, the incumbent suppliers realized the enormous investment required in this rapidly changing technology space to remain relevant. Drawing from my 2012 article on Seeking Alpha (Western Digital-Hitachi Merger: A Huge Positive For The Former), that is as relevant today as then, the HDD suppliers had an epiphany:
"HDDs are the bedrock of the digital highway. Whatever message or photo taken on whatever device, it ends up being stored on a hard disk drive as the preferred, cost-efficient medium of the digital highway. Pure and simple.

In total, 60% of world capacity was wiped out in the Thai floods. Unfortunate as it was, it drew financial minds to the importance of HDDs. A complex substrate, a precision magnetic storage element, a disk spinning at 7200 revs per minute, these are the elements, the skill, the R&D, required to make that storage space that we all take for granted. After the floods, we have to rebuild capacity. We realize the costs. We see the shortage. We see prices rising by 100%, even 200% at the retail level. So what do we do as HDD suppliers?

We realize that the complexity and importance of our product has been grossly under-appreciated. We realize that if the average selling price (ASP) was $45 before the floods, we can now get $65. Why? Because there is no alternative. The rumors swirling of late, that solid state drives would render HDD's redundant, are negated. The industry and market have realized that a SSD medium storing 250 gigabytes costs more, much more, by a factor of 3 and higher as you move up the storage size. The world finally gets it."
The world did finally get it, until the 4Q 2015 weakness in enterprise spending and in the personal computing space. Today, supply is finally balanced with demand on a secular basis, but the combined downturn has led to a short-term glut in HDDs - both WDC and Seagate (NASDAQ:STX) saw a decline in operating margins in the December 2015 quarter.
There are two red herrings that have rattled investors: the decline of the PC and the threat of flash memory.
Regarding PC's (desktops and notebooks) it's undeniable that HDD demand is being cannibalized by tablets and smartphones that both use flash memory as their storage medium. However what investors have failed to register is the diminishing role PCs play. For WDC in F2011 PC units comprised 72% of HDD units, in the Dec 15 quarter (Q2 F16) they represented a mere 53%. The mix is even smaller in revenue terms (<< 50%) as PC units sell for a much lower ASP. Don't forget the PC is not dead - you can't perform most office work (spreadsheets, word documents, heavy duty analysis or editing) on a tablet or smartphone.
The other red herring is more nuanced. For small factor memory, say up to 30 gigabytes, flash does offer a feasible alternative. Today's smartphones are endowed with impressive storage, all powered by flash (at a declining price per byte of storage), and the smartphone's processing power has definitely permitted it to displace many PC functionalities. However virtually every photo, Facebook post and tweet is ultimately stored in a data center in the cloud. And the cloud is comprised virtually exclusively of an array of HDDs.
Don't take my word for it. This is David Mosley, the president of technology at Seagate, in the most recent earnings call for STX:
"In terms of the macro view on the industry, I still think the investing world is not quite grasping it. The transition is around where storage is being stored. It's locale of the storage, just not the amount of what's being stored that's basically shifting and those are architectural implications. And architectural implications are actually enhancing the application. So it's feeding off of one another, but from every source of data that we have, we still have 95% to 98% of your bits that are ultimately being stored on a disk drive.

"As you know, cloud infrastructures usually replicate. So even though there is a reduced number of drives being in the client, the data being generated by the client is still ultimately stored on a disk drive. And as it turns out, it's exactly stored in a disk drive that is harder to make and takes more absorption in the factories in terms of number of heads and disk and the content in those heads and disk is quite a bit higher."
This is precisely why the future of HDDs is secure. There might be a new application layer (e.g. a cell phone app using Instagram to post on WhatsApp) using flash memory, but ultimately everything we store ends up on a hard drive, either on or off premises, either on your home/office server or in the cloud.
The current duopoly plus one (WDC 45%, Seagate 40%, Toshiba (OTCPK:TOSBF) 15%) portends a very lucrative future for the entrenched players. Evidence suggests Toshiba doesn't have the scale or capital to maintain a profitable presence, but even if they persist and continue to incur losses, the exponential growth in demand for digital storage will eclipse supply after the current spate of weakness.
So the question that begs asking is why on earth is WDC buying SanDisk? For $19bn, when WDC's market value has fallen to half that figure? It's absurd. To quote WDC's rationale, "we will acquire the broadest set of products to offer our customers for our overall strategic plan."
WDC, you don't need the broadest product range, what you have is a perfectly respectable opportunity to grow and sustain. You are the dominant player in an HDD duopoly. More importantly there are inherent risks of a paradigm shift in flash technology that may render SNDK less relevant. And the price you have committed to pay has resulted in a decimation of your share price over the last year, leading to an underperformance of the S&P 500 by 50%.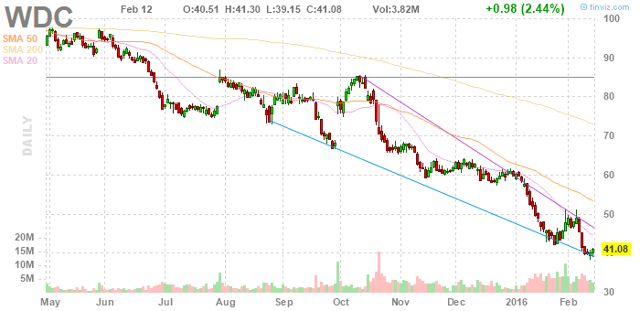 Click to enlarge
The Unisplendour Investment
Before we get into the pricing of the SNDK buyout, one must review Unisplendour's proposed investment. In Sept 2015, WDC announced a proposed equity investment of $3.8bn by Unisplendour, at a price of $92.50 per WDC share (note the current price of WDC is around $40/share). There are two conditions under which either may choose to withdraw from the agreement.
1. If CFIUS (The Committee on Foreign Investment in the United States) determines it is a covered transaction.
2. If the closing conditions are not met as of 29 February.
Given the relative quantum of the deal (a $3.8bn cash injection for an 18% increase in WDC shares would represent a massive 40% increase in WDC current market cap of $9.5bn) the imminent approval of this investment would be a massive boon to WDC.
I'm not going to speculate on its likelihood. It is relevant as it affects the terms of the SNDK buyout offer. In summary, the price paid for SNDK will vary upon successful completion of the Unisplendour Investment.
| | | | | | | | |
| --- | --- | --- | --- | --- | --- | --- | --- |
| | shares o/s | sh iss with unis | new wdc shares | cash paid | wdc sh @50/sh | total price for SNDK | |
| sandisk | 209000000 | 0.0176 | 3 678 400 | 18 078 500 000 | 183 920 000 | 18 262 420 000 | |
| | | | | | | | |
| | | sh iss withou unis | | | | | |
| | | 0.2387 | 49 888 300 | 14 107 500 000 | 2 494 415 000 | 16 601 915 000 | |
In either event, WDC will incur between $15-18bn additional debt to fund the SNDK buyout. What is most galling is that this is a premium of 76% based on the closing price per share of SanDisk common stock of $49.09 on September 29, 2015, the last day of trading prior to the announcement of Unisplendour's investment in Western Digital. The bid price is a 26.5X PE on SNDK's earnings, vs. an 8X PE on WDC as a standalone entity.
No doubt, WDC management wants this deal - it will create a more secure tenure for them, in light the larger product offering. But this additional security for management is entirely at the expense of existing WDC shareholders.
Management believes the SNDK buyout will be accretive, as per their prospectus, and current consensus agrees. But I urge the reader to note the qualifiers in the WDC prospectus, my emphasis:
"Western Digital believes that relative to Western Digital on a standalone basis, and excluding impacts of acquisition accounting, the Merger will be accretive to Western Digital's earnings per share, within 12 months following the consummation of the Merger. However, Western Digital cannot assure you that the Merger will be accretive to Western Digital's earnings per share within 12 months following the consummation of the Merger or at all."
So in summation, WDC is not certain the deal will be accretive within or beyond 12 months. That is far from the certainty one seeks.
Why take on this additional risk of SNDK's technological obsolescence and $18bn of new debt? Particularly when one can walk away and WDC can register a significant appreciation based on its standalone operating cash flow?
The benefits of the deal being passed
As noted above, WDC believes the deal will be accretive, possibly within 12 months. The 345-page prospectus details a gamut of justifiable prices for SNDK, each with a different set of assumptions and valuators (JPMorgan, Goldman Sachs, et al). It is very difficult to draw any comfort from these parameters as the prices and underlying assumptions vary greatly. In summation, an appropriate price for SNDK ranges from $48 to $108 as per the various valuation criteria cited in the prospectus above.
The SNDK deal displaces a major competitor
A non-quantifable consequence of the SNDK deal is the pre-eminance it would give WDC over its doupolist STX. A merged WDC/SNDK would provide an unparalleled road map for any prospective enterprise that required a holistic strategy, one encompassing both HDD and Flash for digital storage. The bulls for the SNDK buyout would argue this holistic offering justifies the deal, even if the benefits are beyond the quantifiable investment horizon. Note this benefit is not quantifiable (of a very long-term nature) and if unduly stressed would only draw attention from antitrust regulators. Note also it is hardly mentioned in the above 345-page prospectus.
Valuation of WDC on a standalone basis without SNDK
WDC's share price has underperformed the market by about 50% in the last 12 months. The current value is $9.3 bn ($40/sh * 232m shares). The current cash and short term investments less debt amount to $3.6 bn, giving an enterprise value of $5.7 bn.
WDC is a cash spewing machine. Net cash provided by operations was $2.2bn in F2015, $2.8bn in F2014 and $3.1bn in F2013. This is the entire history after the Hitachi HDD unit was consummated in the new era of consolidated HDD suppliers - further cost synergies for the merged entity are still to be realized after recent regulatory hurdles have been cleared.
Wait! Did you get that? The company made operating cash of $2.2 bn; take off capex at $400m and WDC generates cash from operations after capex of $1.8bn. The enterprise value is currently $5.7bn, meaning the EV/free cash flow ratio is 3.2 times. So at the current depressed price, WDC could generate enough cash to pay back your purchase price in 3.2 years. In my opinion, this is one of the most compelling buys on the entire stock market. Note this does not factor in the possible $3.3bn cash injection from Unisplendour, which only sweetens WDC's upside further.
But wait a minute, we're going through a rough patch in the HDD industry. F2016 might (only!) generate $1.2bn free cash flow. Note this is an extremely conservative estimate, implying margins fall by another 500 basis points in 2016.
I post a table below showing the sensitivity to two parameters. The cash flow generated and the price/cash flow multiple an investor is willing to accord WDC. The results show the value per share, after accounting for the $3.7bn net cash.
What Multiple would you give a standalone WDC?

Price/Cash Flow Multiple

Cash Flow $ 'm

7

8

9

10

11

12

1200

52.2

57.3

62.5

67.7

72.8

78.0

1400

58.2

64.2

70.3

76.3

82.3

88.4

1600

64.2

71.1

78.0

84.9

91.8

98.7

1800

70.3

78.0

85.8

93.5

101.3

109.1

2000

76.3

84.9

93.5

102.2

110.8

119.4
The cell in bold above represents my best judgment: WDC generates $1.4bn in operational cash and trades at a price/cash flow multiple of 9 times, giving a current fair value of $70 per share today. This represents 73% upside from the current price of $40. Note my estimate of the equivalent market multiple is 18-20X, so effectively a 50% discount.
Conclusion
My entry into WDC in early 2012 was based on a careful analysis of the supply/demand dynamics after the Thai floods, the consolidation in suppliers and the geometric growth in digital storage - the fears of displacement by flash memory were totally overblown. My exit in early 2014 (after a three-bagger) was fortuitous - I never expected this vertiginous decline. I have total confidence in the cash generating ability and the operational excellence of the company. It's a disciplined duopoly which admittedly may not exhibit stellar revenue growth, but the relentless demand for digital storage secures WDC a benign and steady future.
The current valuation is a direct consequence of the uncertainty and risks introduced by the SanDisk buyout. Granted, it might ensure a more secure tenure for management via a broader product offering, and it might be justified in a longer but unquantifiable investment horizon, but the exorbitant price paid certainly doesn't do WDC shareholders any short-term favors. As a standalone entity, without SNDK, WDC is my most compelling opportunity on the stock market.
WDC shareholders, veto the SNDK deal on March 15 and watch a significant leap in your investment.
Disclosure: I am/we are long WDC.
I wrote this article myself, and it expresses my own opinions. I am not receiving compensation for it (other than from Seeking Alpha). I have no business relationship with any company whose stock is mentioned in this article.
Additional disclosure: Hello I cant place the primary or secondary tickers primary WDC secondary STX SNDK