Trupanion (NYSE:TRUP) recently reported Q4 2015 results, and the numbers were nothing short of stellar - it wasn't a surprise to me that the stock rallied 15% on the news. While the company has drawn its fair share of critics, both on Seeking Alpha and elsewhere, thus far the longs have been on the right side of the trade. The share price has already been rapidly expanding since my first article on the company (exclusive to PRO). With a cost basis of $6.98/share, Trupanion's 30%+ performance in my own portfolio has made it one of my better-performing positions in 2015, with significant momentum heading into 2016.
Despite those gains, I still believe it to be an excellent long-term buy. The company still sits far below my fair updated fair value target of $14/share, which is predicated upon a $19.40-$22.00/share fiscal 2018 price target. Management's continued execution heading into 2016 only bolsters my confidence in the company being able to meet both my price target and management's business goals.
Margin Improvement
If you've read my prior research on the company, you'll know that the Trupanion thesis relies on operating leverage and scale. Revenue growth of 27%+ on the top-line that we've seen at Trupanion means nothing for a currently money-losing business - that's simply a recipe for losing more money, not making it. Margin expansion is incredibly important for this company. With full-year results now in, how did 2015 compare to the prior year?

Click to enlarge
*Trupanion, Q4 2015 Investor Presentation
Full-year GAAP gross margin in 2014 was 17.15%, while full-year 2015 GAAP gross margin came in at 17.16%. Now, we wouldn't necessarily see to expect gross margin improvement in this business. Gross margin is made up of primarily claims expenses, along with fees paid out on the referral network, credit card transaction fees, and premium taxes. What flat gross margins do tell me, along with the excellent growth in subscribed pets which feeds into revenue, is that Trupanion has not cut prices on its plans in the name of adding more pets. In the end for this business, 17% gross margins will be plenty to drive profitability, and it is a number I suggest investors track closely going forward. With that said, Trupanion did have higher gross margins than average in Q4, which likely helped the EPS beat on the earnings report. I wouldn't necessarily expect that to continue, although it would obviously be received favorably by shareholders. While we will see some thinning of competitors over time, Nationwide's product offerings in the pet insurance space are competitively priced to Trupanion, which keeps pricing in check. Gross margin expansion isn't a key to the long-term potential of the stock.
Where we should (and did) see signs of leverage is further down the income statement, in general & administrative expenses. G&A came in at 11.66% of revenue in 2015, down from 13.83% in 2014. Q4 came in at 10.3% of revenue, suggesting possible sub 10% numbers in 2016. Marketing and technology spending was relatively flat y/y, although I've modeled some downtrends in technology costs as the company continues to help veterinarians roll out the Trupanion Express infrastructure, along with updating company systems to be able to accept and handle claims coming in real-time from veterinary offices.
This improvement in G&A drove operating margin expansion, with GAAP operating margins coming in at -11.41%, compared to -13.75% operating margins in 2014. Yes, Trupanion is not currently profitable. It is still years away from GAAP profitability according to my models. But that isn't a reason to not own the company, given the trajectory of margin improvement. Q4 operating margin was just -7.4%, and given the rapid expansion on the top-line, it won't be long until we GAAP profitability. But first, we'll see cash flow breakeven.
Cash Flow Breakeven Target On Track
Cash flow breakeven is an important catalyst for the company in 2016, and something I have been closely following. Management remains optimistic this will occur in the middle of the year.
"In the fourth quarter our adjusted operating margin was 5.5% up 470 basis points from the fourth quarter of 2014. This trend positions us well to achieve our stated goal of becoming cash flow breakeven in the second or third quarter of 2016. In the long term, we targeted an adjusted operating income margin of 15% and I'm really excited that our plans for 2016 contemplate continued similar progress toward this objective."
Trupanion's IPO allowed it to raise a significant amount of capital ($72.7M) to fund existing losses until reaching profitability. The company carries no long-term debt. The company ended 2015 with $18M in cash, with Q4 having an operating cash flow loss of just $658K and free cash flow loss of $1.7M.
Reaching cash flow breakeven ensures the company does not have to go back to the capital markets to raise capital, either through a secondary offering that would dilute current shareholders or through an interest raise. Achieving, and maintaining, this metric is an important step in proving the viability of the business model and attracting new investors to the company.
Area of Improvement: LVP / PAC
The Lifetime Value of a Pet (LVP) / Pet Acquisition Cost (PAC) metric is an important one, and one. You can find the description of these non-GAAP metrics below from the Trupanion's most recent 10-K:
Lifetime value of a pet. Lifetime value of a pet (LVP) is calculated in a reporting period as the average monthly contribution margin per pet over the 12 months prior to the period end date, multiplied by the implied average subscriber life in months. The average monthly contribution margin per pet is calculated by dividing gross profit for our subscription business for the period, excluding sign-up fee revenue, the change in deferred revenue and stock based compensation expense recorded in cost of revenue by the number of subscription pet months in the 12-month period. Implied average subscriber life in months is calculated as the quotient obtained by dividing one by one minus the average monthly retention rate. We monitor LVP to assess how much lifetime contribution margin we might expect from new pets over their implied average subscriber life in months and to evaluate the amount of sales and marketing expenses we may want to incur to attract new pet enrollments.

Average pet acquisition cost. Pet acquisition cost is calculated as acquisition cost divided by the total number of new pets enrolled in that period. Acquisition cost, a non-GAAP financial measure, is calculated in a reporting period as sales and marketing expenses, excluding stock-based compensation, offset by sign-up fee revenue. We offset sales and marketing expenses with sign-up fee revenue since it is a one-time charge to new members used to partially offset initial setup costs, which are included in sales and marketing expenses. We monitor average pet acquisition cost to evaluate the efficiency of our sales and marketing programs in acquiring new members and measure effectiveness using the ratio of our lifetime value of a pet to average pet acquisition cost.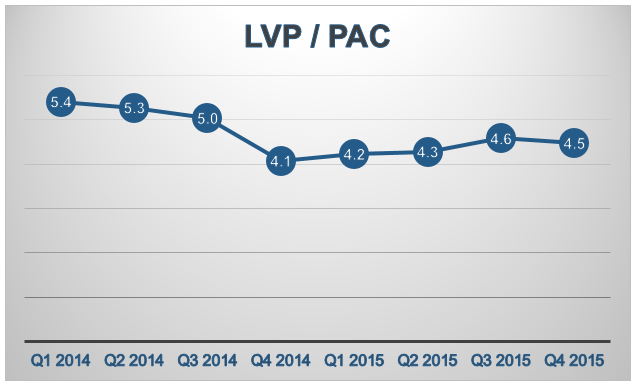 *Trupanion LVP / PAC, author-created graphic
This is, at its most basic level, a profitability metric designed to track the likely gross profit that each new subscribed pet will bring. If LVP is $600, and PAC is $100, then Trupanion as a result expects to make $500 over the life of that sign-up, given current retention numbers. Trupanion's spread has eroded from $499 in Q1 of 2014 to $459 at the end of Q4 2015. Management's goal is to get back to the 5:1 target, all the while not sacrificing the current spread.
Conclusion
Q4 2015 brought investors a lot of things they wanted to see: better sequential pet additions from Q3 to Q4 than in 2014, improving margins that yield true signs of leverage, and a further commitment to cash flow breakeven in 2016. Even after the run in the stock price, there is likely still some significant value here for investors who have not opened a position already, and I still recommend Trupanion as a Buy.
Disclosure: I am/we are long TRUP.
I wrote this article myself, and it expresses my own opinions. I am not receiving compensation for it (other than from Seeking Alpha). I have no business relationship with any company whose stock is mentioned in this article.