To see what is really going on a person needs to dig beneath the surface. While 2015 appeared to be a so-so year for equity investors, there was more to the story than met the eye.
The overall S&P 500 increased in 2015 by 1.4%. That is well below the historic norm for the index but was certainly no disaster. Breaking down the components of the S&P's performance reveals some interesting numbers.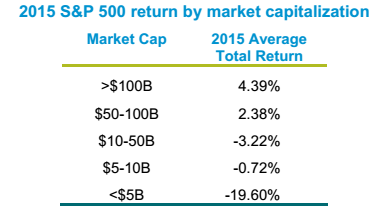 Source of image: Crescent Fund Q4 Investor Letter
For the largest companies in the market 2015 was better than it was for the overall index. Companies with market capitalizations in excess of $50 billion had positive stock returns for the year.
For smaller companies 2015 was worse. Companies with market capitalizations ranging from $5 to $10 billion has slightly negative returns. S&P 500 companies with market capitalizations below $5 billion dropped on average by nearly 20% in 2015.
If you are looking for undervalued opportunities it only makes sense right now to be looking outside the S&P 500. We can narrow down that focus for you even further.
Who Is Bill Ackman?
Over the last 20 years there aren't many investors with a better track record than Pershing Square's Bill Ackman.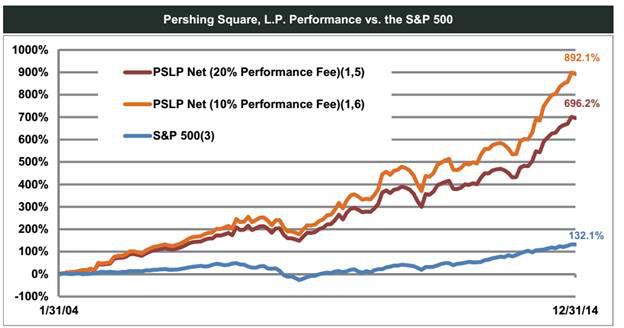 Source of image: Pershing Square Holdings 2014 Annual Report
The slide above shows the performance of his hedge fund Pershing Square LP against the S&P 500 from its inception through December 31, 2014.
The orange line is fund performance after deducting a 10% performance fee. The red line is the same with a 20% performance fee deducted.
Ackman crushed the market over that ten year period.
2015 Was Very Different For Ackman
As we mentioned at the start of this article, 2015 was pretty good for the mega-cap S&P 500 companies and not so good for everyone else.
Bill Ackman's portfolio would fall into the grouping of "everyone else".

Source: Pershing Square Holdings Q4 2015 Letter
Ackman is a value investor who looks to buy undervalued companies and sell them when they become fairly valued. He often takes an active approach by providing a catalyst to help the market realize that value.
Such catalysts could include him forcing a management change, the institution of a dividend or the disposition of a business segment to shore up a company's balance sheet.
That means that Ackman doesn't hold positions in the mega-caps which did well in 2015. Instead in 2015 he held positions mostly in companies that aren't included in the index. From August 1, 2015 onward those positions have performed miserably.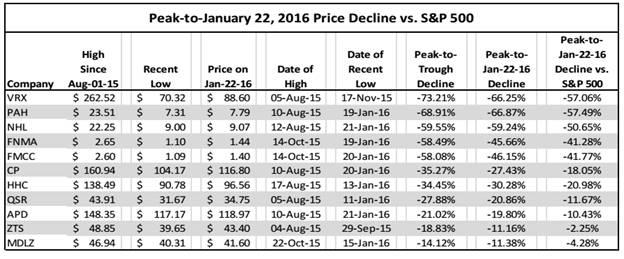 Source of image: Pershing Square Holdings Q4 2015 Letter
Here is what Ackman had to say in late January 2016 about the positions in his portfolio:
The Pershing Square Portfolio Trades at a Large Discount to Intrinsic Value
While the Pershing Square funds have dramatically outperformed the S&P 500 since the inception of our first fund in January of 2004 by an average of ~1,000 basis points per annum, last year we substantially underperformed the market.
As our investment holdings have not materially changed (we have sold some Mondelez and bought more Valeant as described further below) the result of this underperformance is that we believe that our portfolio is trading at the largest discount to intrinsic value in its 12-year history, other than perhaps during March 2009 at the market bottom.
While capital flows drive market prices in the short term, value drives markets over the long term. As an investor with substantial influence over the companies we own, we can be a catalyst to unlock, enhance, and protect their value. The low market valuation of, and our influence over, our portfolio companies give us confidence about our future performance. While the recent stock price declines impair our short-term performance, they should inherently increase the returns available in the future for our current or new investors.
Since the inception of his fund in 2004 Ackman has beaten the market annually by 10% on average. Given the concentrated nature of his fund there have been several shorter term periods where he has underperformed the market.
Clearly, given his statement about the current undervaluation of his portfolio Ackman believes his performance going forward is going to look more like his long term average.
We Are Starting To Smell Opportunity
Here at Hedge Fund Insiders we limit our focus to only investments that have made it into the portfolios of the best professional managers. That means that we are constantly watching what these great investors are buying and selling and how their portfolios are performing.
What we are seeing is that the second half of 2015 was rough on many of these great investors. For us, that is terrific news. There could not be a better time to be digging through the portfolios of these great investors and finding their best ideas.
Not every investment these great investors make will be golden. On average over time though, these investors do outperform by a considerable margin. That is why we believe a portfolio built from the best ideas that these great investors generate will do the same.
Except it will do it without the 2 and 20 fees that these great investors charge.
We bet if today you built an equal weighted basket of those Bill Ackman underpeforming stocks listed above and held it for two years you will soundly beat the market. Those stocks would include:
Valeant (NYSE:VRX) at $88.39
Platform Speciality Products (NYSE:PAH) at $5.90
Fannie Mae (OTCQB:FNMA) at $1.30
Freddie Mac (OTCQB:FMCC) at $1.30
Canadian Pacific (NYSE:CP) at $124.01
Howard Hughes (NYSE:HHC) at $85.03
Restaraunt Brands (NYSE:QSR) at $32.01
Air Products And Chemicals (NYSE:APD) at $130.35
Zoetis Inc (NYSE:ZTS) at $40.43
Mondelez (NASDAQ:MDLZ) at $38.10
Bill Ackman believes his portfolio has never been this undervalued. We are inclined to believe him.
Anyone want to take that bet?
Disclosure: I/we have no positions in any stocks mentioned, and no plans to initiate any positions within the next 72 hours.
I wrote this article myself, and it expresses my own opinions. I am not receiving compensation for it (other than from Seeking Alpha). I have no business relationship with any company whose stock is mentioned in this article.
Editor's Note: This article discusses one or more securities that do not trade on a major U.S. exchange. Please be aware of the risks associated with these stocks.