Masco Corporation (NYSE:MAS) manufactures and distributes a variety of home improvement products, primarily mid-level branded consumer products targeted at consumers and sold to both contractors and through national retail chains like Home Depot (NYSE:HD) and Lowe's (NYSE:LOW). The company's equity has been on a tear since mid-2011, up 250% since that time. The recently announced spin-off of the installation/services business in June 2015, now traded as TopBuild (NYSE:BLD), is a potential catalyst for shares as it improves the company's focus, allowing an easier pitch to shareholders on Masco's value proposition. Do the company's strong consumer brands and newly-renewed focus present an opportunity for investors to buy in before the company continues to see its share price surge?
TopBuild Spin-Off Catalyst
TopBuild's primary business was insulation installation in new build residential construction in North America (insulation 71% of sales, residential construction 66% of sales). As a result, the spin-off gives Masco more international exposure and less reliance on North American housing starts, which still remain below long-term historical averages. While I'm bullish on housing starts in general, owning insulation maker Owens Corning makes more sense to me than buying a service business that doesn't offer as much scale and leverage advantage.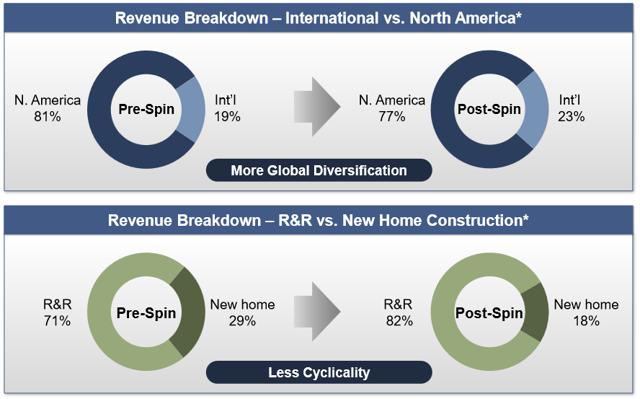 Click to enlarge
*Masco Corporation, Investor Presentation
While the nation-wide business of TopBuild helps it somewhat to compete against local players, in the end the service business simply comes down to product sourcing costs, labor, and reputation. While I'm sure TopBuild can do some of that incrementally better than small, locally-owned operations, gains will be incremental. It isn't surprising to me that TopBuild, despite what will be four years of over one billion in annual revenue, generates low single digit operating and profit margins and is barely operating cash flow positive. I can only see the separation of this business from results helping Masco, not hurting it, in the long term.
Brand Power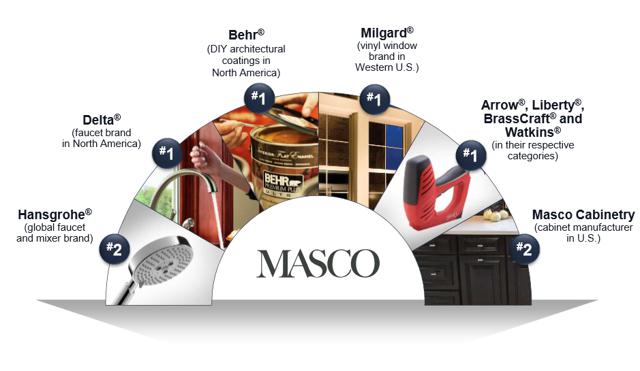 Click to enlarge
*Masco Corporation, Investor Presentation
When we look at a consumer products company, branding is incredibly important. Companies with stellar, long-lasting brand reputation are most often the ones that outperform; i.e, Apple (NASDAQ:AAPL) or Coca-Cola (NYSE:KO). Masco Corporation owns some of the premier brands in home décor and remodels, and has done an excellent job of consolidating its brands into just a handful of powerhouses in order to improve visibility with both contractors and consumers. As a result of management stewardship, if you own a home you will likely recognize some of the above brands. Most of the company's brands target the midrange price point in its product offerings; solid enough products to build a reputation for quality and craftsmanship, but priced low enough so that they are not out of reach of the average consumer. You can find an example of this below with Masco's Delta faucet brand: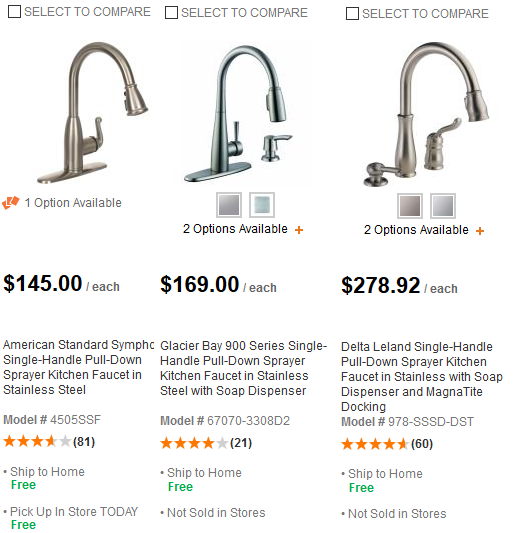 *Delta pricing versus cheaper competitor brands, pulled from Home Depot
Masco's brands, especially those within Plumbing and Decorative Architecture (which generate most of company EBIT), did not reach their current leadership positions in the North American markets by chance. The products come highly recommended, are well reviewed, and have significant sticking power with consumers.
Margins, Margins, Margins

*Sourced from Masco Corporation 10-Q and 10-K filings. Pre-corporate overhead.
Masco Corporation recently reported full year 2015 results, and the numbers were about what was expected. The Plumbing Products segment, with brands like Delta and Hansgrohe, generated EBIT margins of 15.3%, which was relatively flat y/y. However, segment margins have been trending upwards for several years. Management believes the segment is capable of increasing EBIT margin to 16-17% margins over the next three years, good enough for another $50M in EBIT at the high end of that target on 2015 segment sales.
Decorative Architectural has been the growth segment, being made up of paints sold under the KILZ, Behr, and Liberty brands. EBIT margins improved to 20% in 2015, above management targets of 18%. This has likely been predicated by the precipitous fall in crude oil; acrylic resins that are used in the paint manufacturing process are derived from crude. A fall to management's EBIT guidance would have driven EBIT down $37M on 2015 full year results.
Those two segments generate substantially all of current company earnings, and this is where most investor focus ends. However, I think discounting Cabinetry and Other Specialty Products is unfair to those divisions, which both have incredible potential.
Cabinetry
Management set $10M EBIT goal for Cabinetry heading into 2015. At the time, this seemed like a lofty endeavor, as Cabinetry had done nothing but generate losses for Masco for several years. Competition has been high, and high-end renovation and new home construction low. Returning to significant profitability in 2015, and swinging to a profitable 5% EBIT margin, is a significant step. Competitor American Woodmark (NASDAQ:AMWD) shows what this segment could generate as it improves. That company currently sports 10% EBIT margins, despite competing in similar markets and lacking the depth of relationships that Masco has with big-box retailers like Lowe's and Home Depot, along with longer-standing relationships with many homebuilders and professional contractors that would like nothing more than a one-stop shop for all their home furnishing needs.
Analysts are expecting 12% revenue growth from American Woodmark in their fiscal 2017 (ending April 2017), predicated on continued growth in U.S. new housing starts, along with a stronger high-end repair and remodel market. While Masco has not given EBIT or revenue targets on the segment, likely due to the poor prior results, this could be a $100-120M EBIT business in fiscal 2016 for the company if it continues to improve margins and benefits along with peers on continued strength in North American housing. Management already sees another $15M in EBIT improvement simply from restructuring and cost initiatives; margin improvement and a st
Other Specialty Products
The Other Specialty Products segment is primarily driven by windows and doors. Like Plumbing once did, the company appears to have a wide variety of brands (Duraflex, Milgard, Griffin, Premier, Evolution) that could be ripe for some consolidation to improve visibility. As far as improvement and revenue projections go, this is where management is forecasting both the most growth and EBIT margin improvement; from 7.5% 2015 EBIT margin to a stated goal of 10-13%, along with 10-13% CAGR over the next three years. This division is just a few short years away from being another billion dollar business for Masco.
Conclusion
All told, Masco's business lines could generate $1.2B in EBIT in 2016; $540M from Plumbing, $460M from Architectural, and $100M each from Cabinetry and Specialty Products if margin improvement continues. Factor in $100M for corporate overhead and you're looking at potential 9.4x next year's EBIT. Unfortunately, this likely represents fair value. The story might have been different if the company's equity had fallen along with the broader market, but with shares up 10% since the spin-off, along with the broader market being down 10%, there are some better plays out there for investor capital. With that said, Masco is a solid Hold. There are ways for management to unlock value and grow earnings, and the company is far from mature. Solid bolt-on acquisitions at a discount to market value could substantially boost the value of the company, and I suspect management is looking very closely at potential opportunities.
Disclosure: I/we have no positions in any stocks mentioned, and no plans to initiate any positions within the next 72 hours.
I wrote this article myself, and it expresses my own opinions. I am not receiving compensation for it (other than from Seeking Alpha). I have no business relationship with any company whose stock is mentioned in this article.