Orion Energy Systems (NASDAQ:OESX) reported earnings February 9 with a year-over-year revenue shortfall of $9.3 million, sending the stock to near all-time lows near $1.20 per share. After covering the Orion story consistently and also choosing OESX as a best pick for 2016 in a Seeking Alpha contest, the author feels a responsibility to update readers on the story and assess its current viability. It's easy to cover a stock when all is going well, but even more important to update investors with an analysis and evaluation when things are not going well.
Current results:
Orion typically records its best quarterly revenue in the period ending December 31 but, according to management, the company experienced "reduced customer spending activity in the industrial sector as a result of macro-economic uncertainty related to commodity prices and foreign exchange rates, as well as capital expenditure push outs of large national account projects." Recent earnings reports from several multi-national companies, as well as reports in the media, confirm that business sentiment has turned negative as global markets unwind and anticipate possible recession. Confirming recent sentiment, the PMI (Purchasing Managers Index) has been trending down for awhile as noted in the link here. While the U. S. economy continues to do OK amid a global slowdown, it remains to be seen whether global developments will hamper the U. S. economy to any significant degree. Since Orion's product sales represent discretionary spending to its customers, purchases are easily withheld when sentiment turns negative.
During most of its existence, Orion Energy Systems has supplied lighting to industrial customers which represented the majority of revenue. In the last two years, however, management has been repositioning the company to benefit from the transition to LED lighting in not only the industrial space, but in commercial, retail, government, educational, transportation, healthcare, parking, agricultural and other applications. While the company continues to be vulnerable to a slowdown in activity at the industrial level, announcements of new business wins in retail, government, healthcare and education confirm that other segments are gaining traction. While it is encouraging to see Orion diversifying its business, it should be realized that new markets take time to develop in full scale. Coming announcements should be monitored to track progress.
Q3 quarterly results:
Before analyzing the near-term future prospects of the company, however, a review of the current status of the company will be undertaken. The table below illustrates key financial metrics for the quarters ending December 31, September 30 and December 31, 2014. In viewing the comparison between the 2014 and 2015 quarters, it is encouraging to note that all of the numbers are moving in the right direction, except revenue, which decreased by a whopping 35.9%. The big revenue miss illustrates how a tiny company in the beginning stages of restructuring and reinventing the business is extremely vulnerable to wide revenue swings before the business is built to significant volume and scale. In its early stages of development, wide revenue swings are to be expected, sometimes to the downside but also to the upside as the business gains traction from a very small base. Even at a greatly smaller revenue number, the company was able to increase total gross profit dollars from $3.8 to $4.7 million with gross margins increasing from 14.6% to 28%, respectively. At the same time, management was able to hold expenses in line and actually reduce total operating expenses by $1.8 million in the quarter. Concerning balance sheet items, cash increased to $17.5 million from $4.8 million a year earlier and $13.4 million sequentially. Since OESX issued a secondary stock offering early in 2015, cash increased early in the year. However, on a sequential basis, cash increased in the recent quarter from $13.4 to $17.5 million. The cash number is significant since it confirms that cash burn has been eliminated or greatly reduced, indicating that it is now much more unlikely that an additional capital raise will be needed. Working capital also increased both year-over-year and sequentially to $34.1 million.
Income Items:

$ in millions

Dec 31 2014
Dec 31 2015
Qtr %Change
Sep 30 2015
Revenue
$26.1
$16.8
-35.9%
$15.7
Gross profit
3.8
4.7
23.1%
2.9%
Gross profit%
14.6%
28.0%
92.5%
18.5%
G & A expense
3.8
3.8
0.0%
3.4
Sales/Mkt expense
3.7
2.4
-35%
2.6
Total expenses
8.5
6.7
-21.0%
6.5
Net profit
-4.7
-2.0
57%
-3.6
Balance Sheet:
Cash
$4.8
$17.5
265%
$13.4
Current assets
46.3
51.1
10.4%
46.6
Working capital
21.6
34.1
57.8%
3.2
Current ratio
1.9
3.0
57.9%
3.2
Current liabilities
24.7
17.0
-31%
14.5
Long-term debt
1.7
0.3
-82%
0.7
Total liabilities
28.1
23.9
-14.9%
18.9
Shareholder equity
51.4
56.5
9.9
58
Shares out
21.9 m
27.6m
26.3%
27.6

Equity per share

$2.34
$2.05

-12%

$2.10
(Source: Company reports)
In analyzing the foregoing, it should also be recalled that OESX has been launching a steady stream of new products while sales and marketing expenses decreased from $3.7 million to $2.4 million year-over-year. All of the foregoing illustrates that management has done a good job in positioning the company as a lean operation that can perform fairly well in difficult times, gaining strength operationally to benefit as new markets are penetrated and industrial sales improve. In addition to adding new products, the company has added a new lineup of lighting distributors, represented by 120 sales personnel, illustrated by the logos below: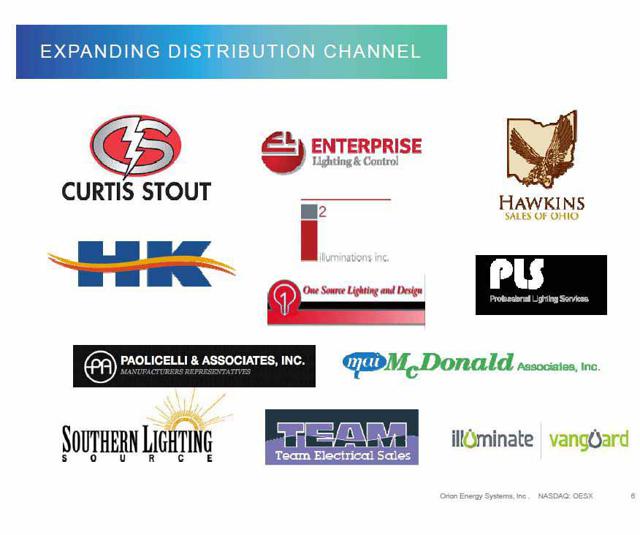 Near-term prospects:
Looking at near-term prospects it is difficult to predict what revenue may look like in the final quarter of current fiscal year, especially due to the current business environment. Several projects have been announced and an approximately $7 million project is due for completion at Ford Motor Company (NYSE:F). Revenue in Q4 2015 totaled $19.4 million, a fairly large number to overcome but, due to Ford and other announced business, could be beat. However, it must be pointed out that management expects gross margins to decline somewhat in the fourth quarter due to lower margins on the Ford business. Going forward, management is guiding steady margin improvements to industry levels, which range to 30% and above.
As the company progresses through the current business environment, investors should focus on new customer win announcements. Although business win announcements do not reflect total revenue expected, the nature of projects announced should give an indication of how diversification is progressing. Since product and customer diversification appears to be well underway, management has stated that quarterly revenue is beginning to spread more evenly throughout the year. While industrial customers typically increase purchases to take advantage of budgeted funds at year end, new business segments have their own set of circumstances to guide purchases. For example, educational establishments tend to complete projects during the summer month vacation shutdowns. Government, retail and healthcare establishments may not be concerned with seasonal requirements, which could result in significant revenue throughout the year. In addition, new products are in the pipeline, such as a new higher-performing LED troffer replacement for office and retail, which will be released soon. If it is shown that the company is gaining new diversified projects in its pipeline, volume should ramp throughout the year.
In evaluating Orion Energy Systems as an investment, investors should realize it is a David and Goliath situation. OESX is a tiny company that competes with giants in the lighting market. As indicated by management, two of their largest competitors are GE (NYSE:GE) and Flextronics (NASDAQ:FLEX) which are huge by comparison. Both GE and Flextronics, however, are not known for predatory pricing and it is logical to conclude they will pursue business on the merits of their companies and products. Orion, on the other hand, has the advantage of focus and a strong history of working with over 174 Fortune 500 companies in servicing their lighting needs. In addition, as noted in the recently reported quarter, Orion has developed a lean operation with lower relative fixed costs which should benefit as volume ramps from a very low base.
Since the recent stock plunge, Orion management has been busy buying shares on the open market, as indicated in the link here, documenting purchases by John Scribante, CEO and Bill Hull, CFO. The author also has followed suit by expanding share holdings by 33%.
Final thoughts:
As is definitely the case for Orion, micro-cap investing is risky, especially in the short term. As with all investments, it is management that makes the difference. As covered in several previous articles, Orion management has undertaken and executed on plans to offer new LED products to a growing market in the LED space. With a growing product line supplied to a growing pipeline evidenced by new business wins, the company is poised to do well as business conditions improve. With new product offerings recently introduced and more on the way in 2016, the company stands to prosper from lean operations evident in the Q3 quarterly report. Except for revenue, the numbers continue to improve and signify that management is performing well. New products, an expanded pipeline, and new distributors all signify that the business will likely move forward even in less than optimal business conditions, which will continue to be tracked in the coming months and quarters.
Disclosure: I am/we are long OESX.
I wrote this article myself, and it expresses my own opinions. I am not receiving compensation for it (other than from Seeking Alpha). I have no business relationship with any company whose stock is mentioned in this article.
Additional disclosure: As has been confirmed recently, shares in very small micro cap stocks can be extremely volatile. Please consider an investment giving ample consideration of your own risk tolerance and time horizon.
Editor's Note: This article covers one or more stocks trading at less than $1 per share and/or with less than a $100 million market cap. Please be aware of the risks associated with these stocks.