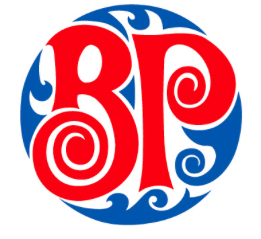 On February 10th, Boston Pizza Royalty Income Fund (OTC:BPZZF) reported good same-store sales results and an increase to the 2016 distribution. The stock, however, remains range-bound reflecting worries over the state of Alberta's economy - home to 30% of stores. The share price is down nearly 30% from an all-time high of $24 and currently yielding 8%.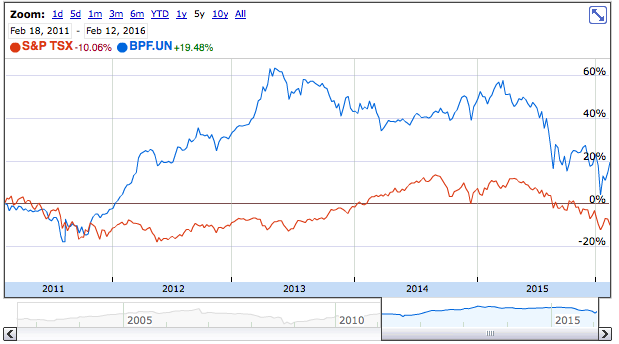 At more than $1 billion in system-wide sales, Boston Pizza is one of Canada's largest casual restaurants. The fund earns a royalty on sales (excluding liquor and select promotions) at more than 350 Boston Pizza restaurants across Canada and pays substantially all its cash flow out as a distribution.
The brand has begun to mature with same-store sales moderating in recent years as new store openings slowed and customer behavior shifted to fast casual options.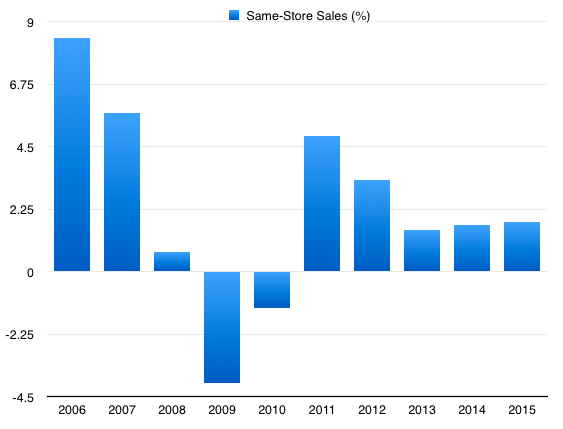 Q4 2015 results
In the quarter, revenue increased 3.8% as a result of a 2.1% increase in same-store sales and an additional 8 new stores. In the same period last year, the fund reported a 1.7% decline in same-store sales.
While Boston Pizza's history is as a Western Canadian based chain, in the past 10 years, the business has expanded across the country and Ontario is now the largest market. Approximately 65% of stores are outside Canada's primary oil-producing provinces, Saskatchewan and Alberta, allowing the business to thus far overcome Canada's oil-related malaise.
On the conference call, management provided some interesting insight:
- Same-store sales in Alberta are down, everywhere else is positive
- In Q4 average cheque was up ~2% while traffic is flat to up slightly
- If no Canadian hockey teams made the playoffs, it would represent a modest traffic headwind. If the Raptors basketball team made the playoffs and had a good run, national interest could offset hockey related headwinds.
- Q4 was buoyed by the Toronto Blue Jays playoff run, which increased traffic across Canada
- Restaurant operators are seeing moderate inflation, particularly in produce and protein, as a result of the declining Canadian dollar.
The bifurcation in sales between oil-based provinces and the rest of Canada is similar to Pizza Pizza (OTC:PZRIF) - YTD same-store sales at their Western Canada operations were 0.8% while the rest of Canada (mainly Ontario) delivered 7.5%
An 8% Yield?!
The purpose of the fund is to pay all excess cash flow to shareholders. With modest operating expenses, same-store sales and distribution growth should track each other.
However, in 2015, the company purchased an additional interest in the restaurant royalty - now 6.5% of sales (from 5% previously). As a result, the payout ratio was 94% in 2015 and we continue to see the distribution catch-up to sales.

For Q1 2016, management increased the distribution by another 6.2% for an annual distribution of $1.38 (from $1.30) or approximately an 8% yield.
Why is the yield so high?
These royalty corporations typically have higher yields but Boston Pizza does stand out - the yield is ~2% higher than The Keg (6.1%) and A&W (5.5%), for example.

To start, their is general aversion to companies with exposure to the oil industry and, to be fair, same-store sales are lagging other chains. In times of economic weakness, customers likely trade-down from restaurants like Boston Pizza.
Further, the high-yield may also reflect investor worry that same-store sales go negative. A sustained period of negative same-store sales (2-3 years) could use up any reserve cash and the payout ratio buffer, putting management in a position where they would have to re-evaluate the distribution.
That said, these conclusions seem unfounded thus far - growth is actually modestly accelerating and the company is managing through economic weakness reasonably well. 2016 may bring more challenges but as long as same-store sales are positive, the 8% yield is safe in my view.
A&W's Success
I'll extend this article with brief focus on A&W's unique success. A&W is the second largest burger chain in Canada with just over $1 billion in sales. McDonald's remains the market leader with nearly $4 billion in sales and 65% of the burger market. In recent years, an aggressive expansion plan into Ontario and Quebec, restaurant re-imaging and a unique marketing campaign have fueled market share gains.
While Western Canada represents 50% of the store base, more than 70% of new unit growth is in Ontario and Quebec where the brand less penetrated. The store base is now more than 50% re-imaged. Perhaps most unique is their marketing campaign, which promotes the use of hormone-free beef and organic coffee.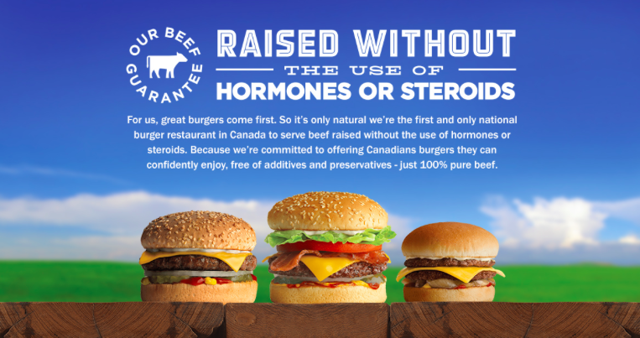 Not only were they one of the early "better ingredients" adopters among burger chains, the marketing has been on point serving to differentiate the brand in a crowded market. The result has been a substantial rise in same-store sales since the initial push in 2013.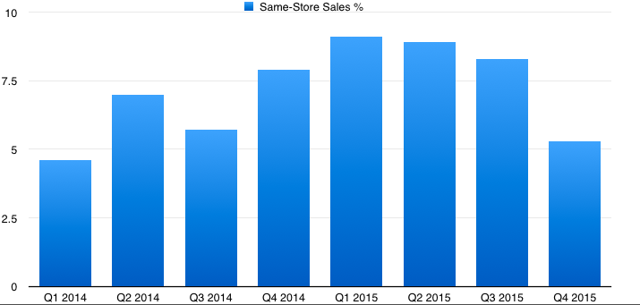 Looking forward, the brand will begin to lap some tough same-store sales comparables in 2016 and undoubtedly feel some of the pinch in Alberta. Like with Boston Pizza, I think investors are simply hoping growth in the rest of Canada continues to offset the effects of a low oil price.
Disclosure: I am/we are long PZRIF.
I wrote this article myself, and it expresses my own opinions. I am not receiving compensation for it (other than from Seeking Alpha). I have no business relationship with any company whose stock is mentioned in this article.
Editor's Note: This article discusses one or more securities that do not trade on a major U.S. exchange. Please be aware of the risks associated with these stocks.