Introduction
This is part of a series of quarterly reviews that analyze the performance and portfolio characteristics of interesting equity managers running either public (mutual funds) or private pooled investment vehicles (hedge funds) that are not accessible by retail investors. Our aim is to provide readers:
An analysis of the manager's return and risk characteristics
An analysis of the manager's top portfolio holdings
An opinion on whether readers should replicate their portfolio
All analysis is based on a clone portfolio of the manager's top 10 disclosed holdings, which allows readers to replicate the portfolio with ease if desired. It may not be an accurate reflection of the manager's actual investment performance. That said, it is possible for some clone portfolios to outperform the manager's actual portfolio over time, due to the following factors:
No Fee Drag: Absence of management fees (high base fees + performance fees in some cases). Investors can buy the stocks directly to access the manager's stock-picking skill.
Higher Concentration: Managers typically over-diversify. Returns from the best ideas are usually diluted by a long tail of lower quality ideas. We focus only on the Top 10 holdings.
Equal-Weighting: Managers may have good stockpicking skills, but can be terrible at sizing ideas correctly. Our clone portfolios are equally-weighted so all ideas have an impact on returns.
Lower Trading: Managers typically add/trim positions on the margin too often. Quarterly re-balancing in line with 13-F releases reinforces a buy-and-hold discipline and reduces costs.
Manager Brief
| | |
| --- | --- |
| Manager Name: | Lansdowne Partners LLP |
| Location: | London, United Kingdom |
| Year Established: | 1998 |
| Investment Style: | Global Equity Long/Short, Growth |
| Portfolio Manager(s): | Peter Davis, Stuart Roden and Jonathan Regis (Developed Markets Fund) |
| Number of Employees: | 70 |
| MV of Latest 13-F Holdings: | $14.6bn |
Founded in London by Paul Ruddock and Steven Heinz, Lansdowne is one of Europe's largest and longest running hedge funds. The firm's flagship Developed Markets fund, which is respected in the industry for the consistency of returns, has generated annualised performance of 14% since inception.
Performance Analysis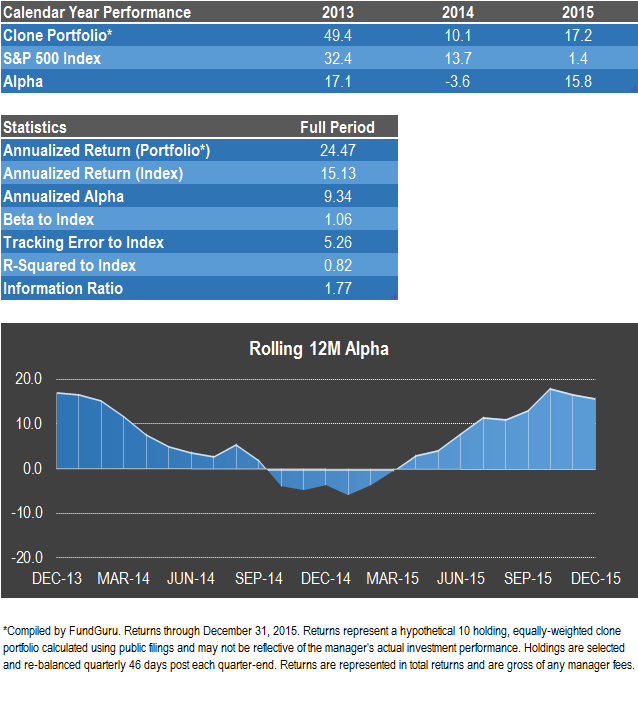 Our clone portfolio of Lansdowne, which represents the top disclosed long US positions of the manager, has returned +24.5% annualized over the past 3 years, versus +15.1% for the S&P 500. This is an excellent result, helped by strong years in 2013 and 2015.
Holdings Analysis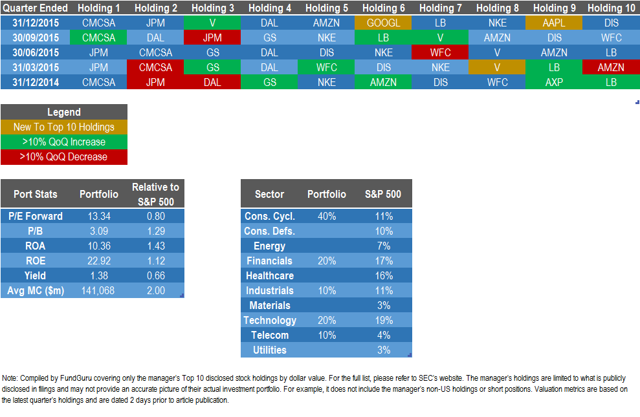 Click to enlarge
Portfolio Characteristics
This is a mega-cap portfolio with an average capitalization of $141bn. This may be explained by the firm's sizable assets under management, which may prevent it from investing in smaller capitalization companies. The portfolio's valuation is not demanding, trading at 13.3x P/E. Consumer cyclicals represent 40% of the clone portfolio.
Individual Name Performance
Lansdowne's top holdings have been quite static. Of the top 10 holdings currently, 7 have been in the portfolio for the past year. This is how they have performed: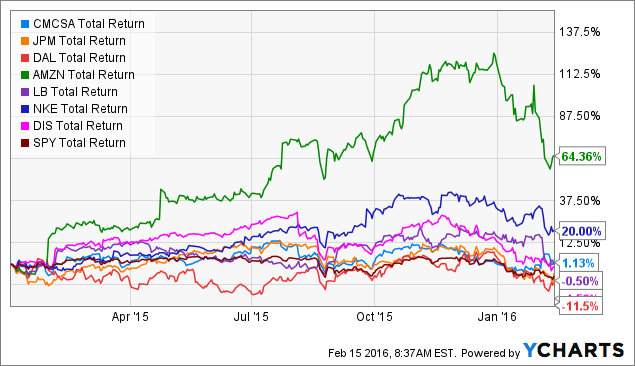 Performance appears to be broad-based without material detractors. The largest contributors to performance were Amazon (NASDAQ:AMZN) and Nike (NYSE:NKE), while Delta (NYSE:DAL) was the largest detractor. It is worth noting that a lot of these names have come down dramatically this year, particularly AMZN: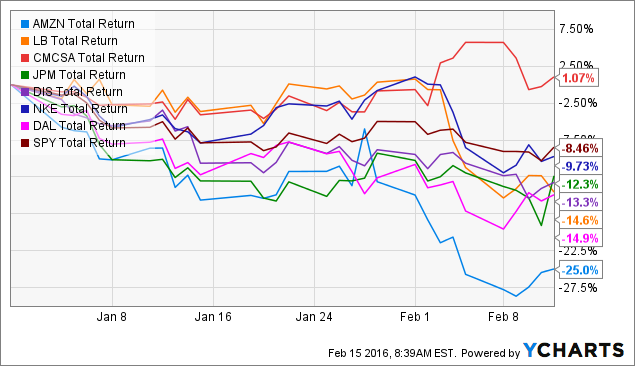 We previously covered Comcast (NASDAQ:CMCSA) and L Brands (NYSE:LB) in our review of HS Management and Valiant Capital, and see these names are potentially interesting investments.
Recent Portfolio Activity
During Q4, Lansdowne upped its stake in Alphabet (NASDAQ:GOOGL) and Apple (NASDAQ:AAPL) significantly. This is how they've done since 1 October: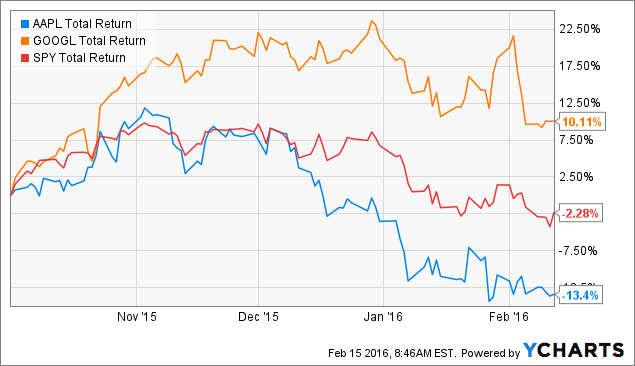 Apple has not performed well since being added to the Top 10. With recent price weakness (off 30% from its 52 week highs), the company is currently attractively valued, trading at a free cash flow yield of 11% and a P/E of 10x. It also has plenty of cash on its balance sheet.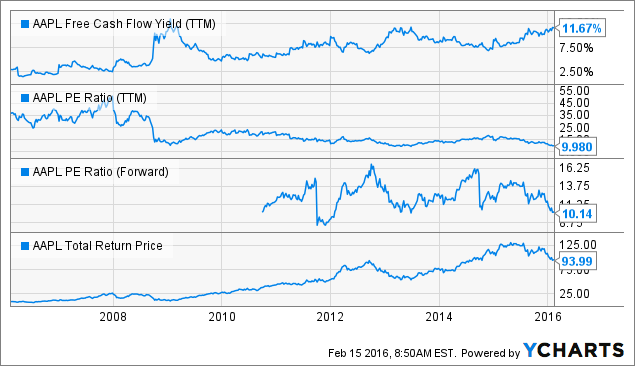 Our Take
We Liked:
Established European hedge fund with depth of resources
Strong long-term track record
Low turnover portfolio, indicative of less trading mentality and long holding periods
We Didn't Like:
Sizable AUM may be preventing the manager from investing in smaller capitalization names
None at this stage. Although recent strong performance will no doubt lead to a period of weaker relative performance
Bottom Line
We like Lansdowne's portfolio but do not recommend readers clone it at this point in time. It has done very well over the past three years, which means it will likely experience a period of weaker performance going forward. We recommend readers to take a look at some of the individual names that have not run up as much, such as CMCSA and AAPL.
Interested in following more alpha? Follow us now and get live updates as we publish more manager reviews. For now, take a look at some of the recent articles we've published in this series:
Disclosure: I am/we are long AAPL.
I wrote this article myself, and it expresses my own opinions. I am not receiving compensation for it (other than from Seeking Alpha). I have no business relationship with any company whose stock is mentioned in this article.