One of the largest private companies, US Foods (NYSE:USFD) has filed for an IPO. The company is a leader in the highly competitive and fragmented food distribution industry. If they go through with their IPO it can be one of the biggest of the year, however poor market conditions and subpar financials and prevent this company from really gaining traction among investors. Here are four things to know about the US Foods IPO:
There will be no dividend. Given that the company is producing a negative net it shouldn't be surprising that they have no plans on paying out dividends. Glancing over their financials, anyone can see that it wouldn't be in the best interests of the company to start distributing cash to shareholders out of the IPO gate until some of their debt is at least paid down. However, for the lucky private equity firms Clayton, Dubilier & Rice and KKR (NYSE:KKR) who own U.S. Foods, they received a special cash distribution of $666.3 million in January 2016 - not too shabby.
Their operating margin is poor. The Food Distribution industry runs on a low operating margin with an average of 2.4%, which leaves little room for error. US Foods' operating margin seems to be on a decline, falling year over year and at only 0.8% for the 39 weeks ending September 26, 2015. With the amount of debt on their books they are going to need to address their operating costs.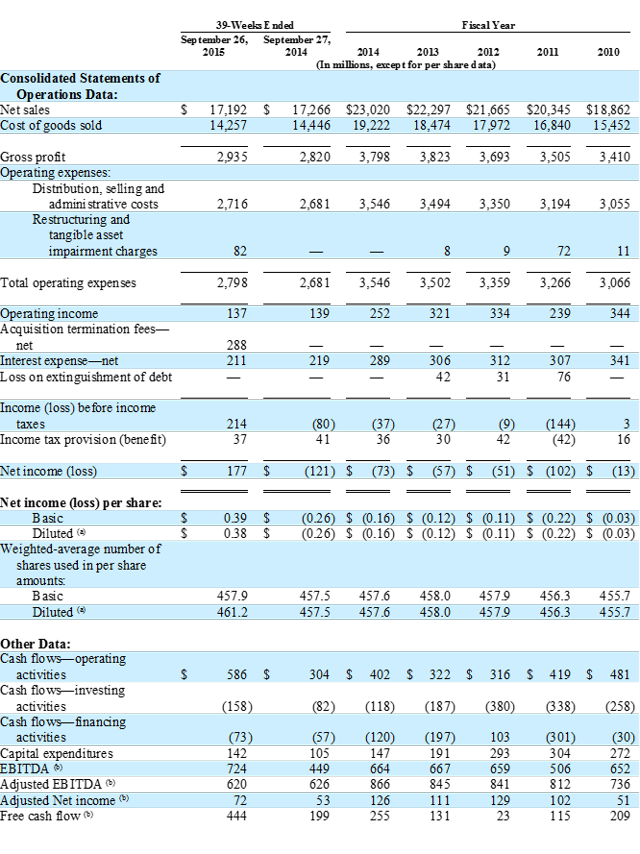 Click to enlarge
Source: US Foods' S-1
The debt is a burden. $4.7 billion in long-term debt can really weigh down a balance sheet. The interest expense is what is holding US Foods back from producing a positive net margin. This debt is not going away overnight, and will likely be sitting on the balance sheet for quite a while hurting shareholder value.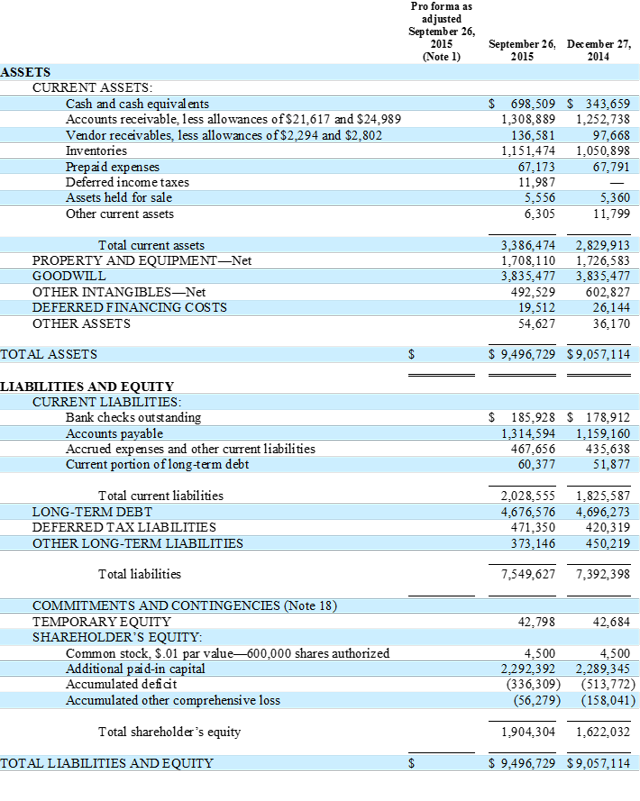 Click to enlarge
Source: US Foods' IPO
They shouldn't even be thinking about going public right now. It's a bit odd that a company of this size even considers going public during one of the most volatile markets we've seen recently. The markets have not been nice to IPOs in 2015, as KKR should have learned from First Data (NYSE:FDC), and I'm not so sure 2016 will shape up to be much better. The only positive marketing material this company has in an IPO is their positive net income during first 39 months of 2015, which was $177 million. Although investors are going to see right through that. Those 39 months produced US Foods' lowest operating margin I can find going back to 2010, yet they produced a positive bottom-line with heavy debt. This was due solely to acquisition termination fees of $288 million which they collected from the termination of the asset purchase agreement with Performance Food Group. Simply put, their current "profitability" is nothing more than a hoax.
Conclusion
Just because US Foods filed for an IPO doesn't mean we're going to see it any time soon - I hope we don't. However, if anyone is interested in this investment opportunity proceed with caution. I don't know how this one will be priced quite yet, but it seems to me like the $7.1 billion price tag to take it private in 2007 was a premium. My guess is that this company will get priced around the $5.5-6 billion range when it decides to hit the market.
Disclosure: I/we have no positions in any stocks mentioned, and no plans to initiate any positions within the next 72 hours.
I wrote this article myself, and it expresses my own opinions. I am not receiving compensation for it (other than from Seeking Alpha). I have no business relationship with any company whose stock is mentioned in this article.