I did not see it coming when I was writing "Freeport-McMoRan: No Strategic Alternatives Now" at the beginning of January. However, this is a fact now - Freeport-McMoRan (NYSE: FCX) decided to sell a 13% interest in its Morenci mine for $1 billion of cash.
In the press release, Freeport-McMoRan stated: "This transaction represents an important initial step toward our objective to accelerate debt reduction and restore our balance sheet". So, while most investors were thinking about whether Freeport-McMoRan will be able to sell its oil and gas assets, the company came up with a deal to sell a part of its key copper asset.
Morenci is Freeport's biggest mine by production and the largest copper mine in North America. In short, Morenci is Freeport's crown jewel asset with the biggest copper reserves and the longest mine life.
In this light, there is little surprise that Sumitomo, which already owned 15% of the mine, wanted to increase its share in the current environment when Freeport needs cash to decrease its debt load. As a result, the company's asset sales start with the sale of the interest in Freeport's core mine.
The transaction values Morenci at $7.7 billion. It's interesting to compare this figure with the deal that Freeport previously offered to the Indonesian government regarding the sale of the Grasberg stake. In January, Freeport reportedly asked $1.7 billion for a 10.64% stake in Grasberg.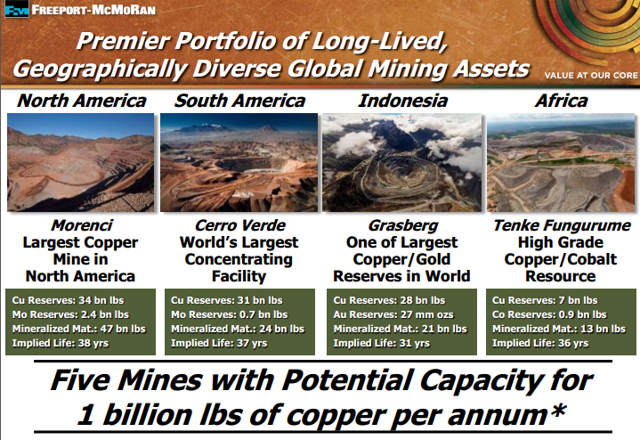 Click to enlarge
The key point is to see whether Grasberg's valuation is in touch with reality given the Morenci transaction. If both Grasberg and Morenci were valued fairly, then Freeport-McMoRan is grossly undervalued at current prices. The supposed valuation of Grasberg and Morenci combined is $23.7 billion. The total valuation of Freeport-McMoRan when we take debt into account is $26.5 billion.
Speaking about Grasberg, we must take into account that the asset surely deserves a discount due to the fact that it is situated in Indonesia, where rules have been changing on the fly in the last few years. While Freeport-McMoRan ultimately renewed its Indonesian copper export permit for another six months, but a $530 million deposit payment for the future smelter remains a threat for the company. The other fact that diminishes the value of Grasberg is that the mine is transitioning into an underground operation and will require serious investments in the coming years. On the other hand, the mine is a clear winner on costs.

Click to enlarge
I think that in the current environment we must think about the value of the asset with the potential buyer in mind. As Freeport-McMoRan clearly wants to deleverage now, the "intrinsic" value of an asset won't be too important. In Morenci case, the mine was already partly owned by Sumitomo, who was ready to pay in cash. The absence of jurisdiction risk in Morenci's purchase is also worth noting. The situation with Grasberg is more difficult.
We know that there will ultimately be a deal, as Freeport-McMoRan has to divest a part of Grasberg. We also know where the buyer will come from - Indonesia. We don't know the details - the mine could be purchased by the national government, by the regional government or by state-controlled firm.
However, the fact that buyers' origin is limited to Indonesia must put big pressure on the price tag. If Freeport-McMoRan will really be able to sell a 10.64% stake in Grasberg for $1.7 billion this will be a huge positive. However, I believe that the price tag is unrealistic in the current environment.
Currently, it looks like it will be easier to sell copper assets than oil assets for Freeport-McMoRan. This is good from a tactical point of view, although I view this as a bad development from the long-term point of view.
Freeport-McMoRan itself stated multiple times that good copper assets are very hard to find (look at almost each of their presentations when they speak about copper fundamentals), but now the company is selling its copper assets to get rid of the debt created by the oil asset purchase.
I've previously written about how long-term investing differs for institutional buyers and retail investors, using Freeport-McMoRan as an example. I won't repeat myself here, so if you are interested, you can read the original article. I just wanted to make a side note on the topic.
If oil prices stay lower for longer than most expect, the share of oil segment may become bigger with every quarter as the company will be divesting copper asset to cover its debt. It's certainly not an ideal scenario for those who look at Freeport-McMoRan as their prime source for copper exposure. This once again shows that tactics will always prevail over strategy when companies face tough times, and that long-term investors will be deprived of their original thesis whether they want it or not.
All in all, I see positive short-term effect from the deal on Freeport-McMoRan shares. However, I don't see a significant recovery without a corresponding recovery in copper prices. The price tag for Morenci was very good, but the pessimist in me tells that other deals may not be that attractively priced. Nevertheless, this is a positive step in the direction of unlocking short-term value and could fuel a rebound in share price if copper prices permit.
Disclosure: I/we have no positions in any stocks mentioned, but may initiate a long position in FCX over the next 72 hours.
I wrote this article myself, and it expresses my own opinions. I am not receiving compensation for it (other than from Seeking Alpha). I have no business relationship with any company whose stock is mentioned in this article.