It's been a near-perfect storm for the big banks lately as a number of factors have driven this sector to new 52-week lows. First of all, there has been a market correction that has led to a plunge of about 10% in the S&P 500 Index (NYSEARCA:SPY). But financial and bank stocks have been hit much worse in the past few weeks due to fears about loan losses from the energy sector, contagion from European banks, and the potential risk of "NIRP" or a negative interest rate policy coming to the U.S. There is also concern that the U.S. could be heading for a recession.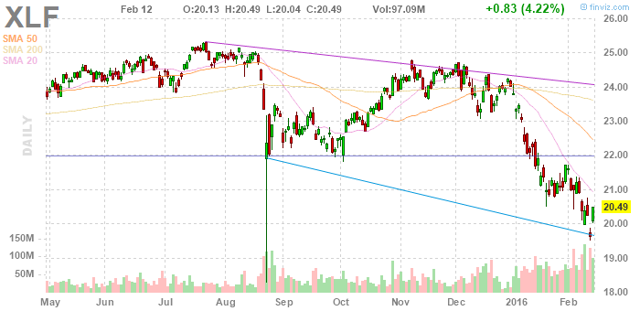 Click to enlarge
As the chart above shows, the Financial Select Sector SPDR ETF (NYSEARCA:XLF) was trading near $25 per share in December and recently traded down to about $20. That is about a 20% decline in just a few weeks, which is very significant, especially for a major ETF. However, the decline in some bank stocks has been even more significant. Bank of America (NYSE:BAC) shares were trading around $17 late last year but recently went below $12. JPMorgan Chase (NYSE:JPM) was at about $66 in December and recently traded for around $54 per share. Citigroup (NYSE:C) shares have been amongst the hardest hit stock in the financial sector with a drop from $55 late last year, to a recent $35 per share. These are some extreme share price declines of around 20% to 40% in just the past couple of months or so.
I think the fears hitting this sector are way overblown. There are many concerns hitting the financial sector which have caused a lot of emotional and fear-based selling that probably is not warranted by the fundamentals. The European banks are not considered to be as strong as the U.S. banks, but how many times are we going to fall for the idea that Europe is going to collapse along with the banking system? Chances are that Mario Draghi (the head of the European Central Bank) is going to do what it takes to keep the banking system alive. As for worries about energy loan exposure, this also seems like a paper tiger because exposure to the energy sector is offset by many other industries and many loans are secured by real assets or might be converted into equity if there is a restructuring. It also seems unlikely that NIRP is coming to the U.S., because that is an extreme measure that is not warranted by the slow, but steady growth in this country. As for the fear about a recession, this looks more like a growth scare, not a real recession. Many parts of the economy are still seeing growth and the jobs market continues to improve. Sentiment about the economy is very negative these days, but that could change just as quickly as it soured. It is also important to remember the words of an economist named Paul Samuelson who famously said "the stock market has predicted 9 out of the last 5 recessions". For all these reasons, this could very well be just another growth scare and that means it's a big buying opportunity.
The CEOs of some of the largest banks are taking advantage of the bargains in the banking sector: Jamie Dimon is the CEO of JPMorgan Chase and he recently purchased 500,000 shares for a total transaction value of about $25 million. On January 22, 2016, Michael Corbat, CEO of Citigroup, reported buying 25,000 shares in a transaction valued at over $1 million. On the same day, Michael Oneil, the Chairman of Citigroup, also bought 25,000 shares. In recent days, there has also been a significant amount of insider buying in many other bank and financial stocks.
Bank CEOs and other top insiders would appear to have a significant amount of insight into the strength of European banks, the exposure to the energy sector, as well as information on the overall strength of the U.S. economy and the potential for a recession. The recent level of insider buying in the financial sector could be a sign that the emotional, fear-based selling in these stocks is way overdone. Citigroup is now trading for just around 6 times earnings and Bank of America and JPMorgan Chase are trading for not much more than that. These stocks appear to be bargains and it makes sense to start accumulating stock in this sector now. Please follow me for future updates and stock picks.
Data is sourced from Yahoo Finance. No guarantees or representations are made. Hawkinvest is not a registered investment advisor and does not provide specific investment advice. The information is for informational purposes only. You should always consult a financial advisor.
Disclosure: I am/we are long C.
I wrote this article myself, and it expresses my own opinions. I am not receiving compensation for it (other than from Seeking Alpha). I have no business relationship with any company whose stock is mentioned in this article.