J.C. Penney Company, Inc. (NYSE: JCP) Industry: Retail/Department Stores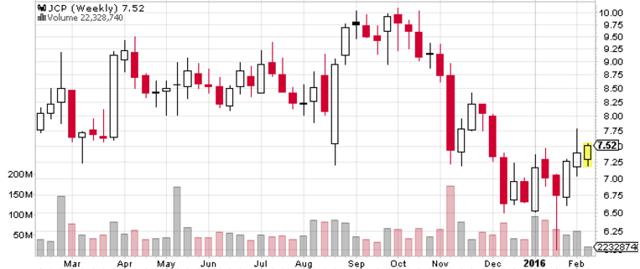 Click to enlarge
Recommendation: Long 12-18 month Target Price: $12.53 (78% upside)

Company Description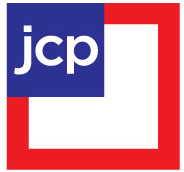 J. C. Penney Company, Inc., through its subsidiary, J. C. Penney Corporation, Inc., sells merchandise through department stores in the United States. The company sells family apparel and footwear, accessories, fine and fashion jewelry, beauty products, and home furnishings, as well as provides various services, including styling salon, optical, portrait photography, and custom decorating. As of March 18, 2015, it operated approximately 1,060 stores. The company also sells its products through its website, jcpenney.com. J. C. Penney Company, Inc. was founded in 1902 and is based in Plano, Texas.
Investment Thesis
I believe JCP is currently trading cheap in terms of a relative and historical valuation due to the decline of sales and margins over the past couple of years. While the drop over this time period has been warranted, JCP should see multiple expansion as the turnaround begins to gain traction. JCP will continue to see an increase in market share, the return of core customers, and higher margins in the intermediate future. Under current management, JCP is much better positioned than it has been in recent past with a reduction in CapEx from the closing of underperforming stores and free cash flow generation moving forward.
Currently, the market views JCP as a high-risk, low-reward stock with too much debt and a short interest of about 33% which signals the potential for a major squeeze moving forward. The market has placed low multiples on JCP and I believe these will expand as strong earnings and sales growth begin to take foot. JCP has beaten expectations by more than 10% the past three quarters and is continuously raising future guidance. I believe over the next 12-18 months, JCP can see major price appreciation and is trading at a great level to accumulate shares before the 4Q15 earnings on 2/26/16. The stock has been trading in a defined range since the end of 2014 and is at the lower end of this range at today's levels. Accumulation below the $8 handle would be a bargain given the potential upside in the next 12-18 months.
Key Company Drivers
Engaging Core Customers is one of the core functions of JCP and has contributed to the brand being around for over 100 years. In recent years, customers have been shopping at competitors when prior management tried to change the historical success of JCP's strategy. Marvin Ellison, the current CEO, has done a great job in reengaging these core customers and believes that the company has approximately the same number of customers as they did in 2011. This bodes well for what I believe to be an increase in revenue per customer with the strategy in place to remodel the central core of JCP's stores around Sephora.
Inventory to Fuel Future Growth - Inventory capacity was an issue in the late stages of 2014 when products were going out of stock for months at a time during the holiday season. In 2015, inventory for the first nine months of 2015 is up 140% versus the same period last year. I believe this will allow JCP to deliver strong 4Q15 results with a reduction in lost sales. I have taken many periodic visits to shopping malls around the New England area and the traffic in JCP is much higher than its department store competitors. Furthermore, almost every customer during the holiday season was carrying some sort of merchandise from the store signaling products that are both in stock and actually being bought.
Increase in Online Demand and Traffic in Holiday Season - For the holiday shopping months of November and December, JCP has already announced that same-store sales rose 3.9% compared to last year. This announcement came after many other retailers were reporting weaker same-store sales during the holiday season due to warmer weather. This further validates my belief that JCP continues to take back market share from competitors and grow online. I also believe JCP will continue to grow their revenue per customer with management speaking of in-store salon additions that should fuel customer acquisition along with Sephora which is an integral part of JCP's turnaround. Jcpenney.com has climbed from a 1200th global rank in traffic to 524 globally and 178 in the United States according to Alexa. Management has also discussed the online site to have increased speed by 30% with 40% more product reviews.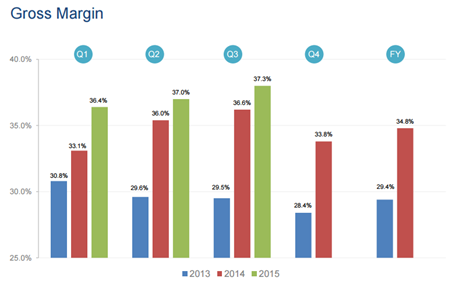 Driving Private Brands and Increase Margins - Under Ellison, JCP has revamped its product base both in-store and online with the return to core private brands. Ellison has discussed how important JCP's private brands are and I believe it is what will make JCP profitable in the near-term with the expansion of gross margins. These products have higher margin, more customer loyalty, and a higher-quality feel. The company recently announced a new private brand, Belle + Sky, which targets the segment of millennial woman. This product line will drive the core millennial demographic even further with a strong focus on fashion and style. I believe the movement towards core private brands will allow JCP to see higher earnings growth relative to sales in the intermediate term due to improving margins. I also view the recent announcement to reenter the appliance market as a positive but with great risk. JCP will only hold store-level inventory which should reduce some of the risk but it is a market that the company has not been in in over 30 years.
Reducing Debt; Expenses - This has been one of the major concerns in the market and has contributed directly to JCP's poor stock performance. Currently, annual interest expense is roughly $400m which has had a major impact on both the bottom-line and cash flow generation of JCP. I believe the company will continue to pay off debt in the near term with further reducing headcount, closing additional stores (if not profitable), and reducing their pension obligation. JCP has also recently announced the intention to sell its Plano, Texas headquarters to raise more cash in a thriving real estate market. This is yet another move in the right direction for JCP to reduce long-term debt and return to profitability in 2016. Furthermore, JCP has already made substantial progress with reducing SG&A over 200bps over the past two years. I expect further declines in future years as they turn towards profitability.
Risks to Recommendation
Inventory Buildup - While the growth in inventory is a positive, it puts JCP in a very sensitive situation if demand does not rise as expected in 4Q15. This would result in a major buildup of inventory and force the company to offer major discounts on products in the near-term future. The effect of this would be a decline in gross margins, net income, and cash generation. While this risk is a possibility, I believe it is less so in the near term given the recent November and December same-store sales growth announcement.
Debt Reduction & Free Cash Flow Generation - The ability of JCP to reduce debt through positive cash flow generation remains a significant threat to my investment thesis. Interest expense has a $400m impact on the bottom-line and the company has $2.5bn of term loans maturing in 2018. While the debt situation has become more stable, JCP is still operating at a much higher debt/assets ratio than any of its competitors. If JCP cannot generate free cash flow or reduce expenses moving forward, debt and interest expenses will continue to weigh on results and the growth of JCP.
Retail Industry -While there are many steps JCP can take to improving its own business there is still the risk of the overall retail industry. Consumer spending and retail sales have been sluggish for the past year and it has shown in many competitors' same-stores sales growth numbers. I believe that given JCP's new strategies, this overall industry risk will have less of an impact as they continue to grow sales, margins, and return the core customer base.
Failure to Retain Core Customers - The 100 year success of JCP has relied on the loyalty of the core customer base. In recent years, JCP has lost many of these customers due to a rebranding attempt by prior management. Current management is on the right track to reengaging these core customers but the success or failure of this will be seen in future quarters and years. The inability to keep these core customers from shopping elsewhere will determine the success of JCP's turnaround.
Valuation Approach
JCP has recently been trading at a Price-to-Sales ratio of 0.18x which is far below the industry average of 0.41x. Even with a multiple expansion to 0.3x, which is JCP's 5-year average, the stock would have upside of 75% from today's levels. This is a very conservative estimate given the premium KSS and M are trading at while experiencing declining same-store sales.
The current EV/EBITDA multiple for JCP is 6.8x which is slightly above the competitor average of 5.7x. This has been an improving trend for JCP this year as it looks to achieve management's goal of $1.2B EBITDA in 2017.
Same-Store Sales Growth has been positive for the past two years and posted a positive 6.4% in Q315 versus many competitors that saw negative growth. Kohl's (KSS) recently announced same-store sales growth of only 0.4% which saw its stock drop 19%. Macy's (M) also reported a decline of 5.2% in November and December. It is apparent that JCP is taking back market share given the recent weakness in reported comparable stores growth from competitors.
Price Target Scenario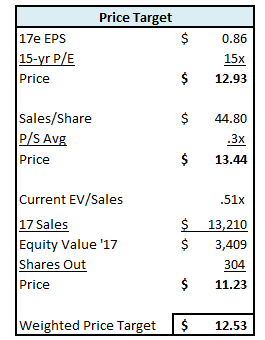 The 12-18 month price target is arrived at by using a weighted average of 2017e P/E ratio, P/S, and EV/Sales. These multiples are based on revenue growth of 2% in 2016 and 2017 with 305m and 304m shares outstanding respectively. 2017 Equity Value is based on $5,000m of debt and cash & cash equivalents of $2,200m.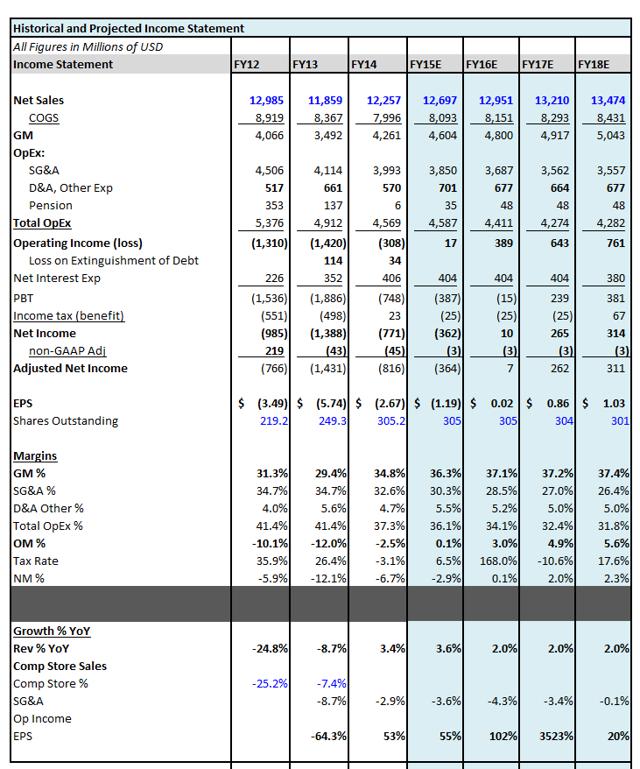 Click to enlarge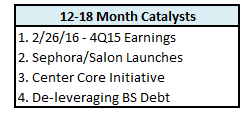 Click to enlarge

Click to enlarge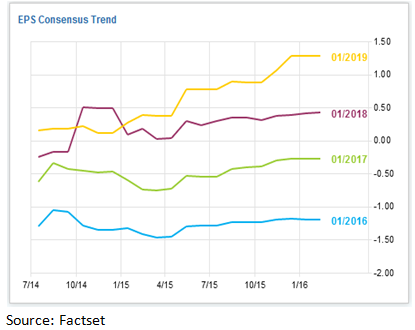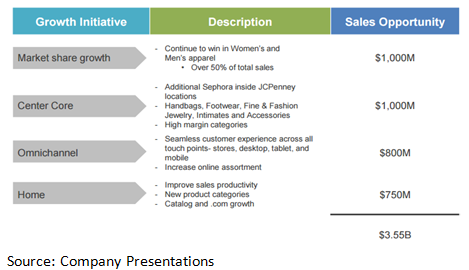 Disclosure: I/we have no positions in any stocks mentioned, but may initiate a long position in JCP over the next 72 hours.
I wrote this article myself, and it expresses my own opinions. I am not receiving compensation for it (other than from Seeking Alpha). I have no business relationship with any company whose stock is mentioned in this article.