Foreword
This article should have been posted by the end of January when I built my financial model. The recommendation would be sell, while Amazon's (NASDAQ:AMZN) price was $530 per share then. Now it is $507 (4% lower). I wish I knew it would fall so quickly (see Diagram 1). However, there's still a downside opportunity in this stock.
Diagram 1.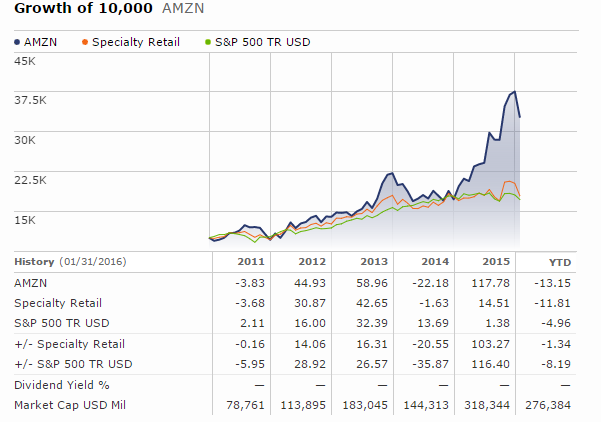 Source: Morningstar.com
Company's Overview and Main Trends
Amazon.com is a company that does not need presentation. It's a world-known brand that made its first steps in 1995. Born in the epicenter of the DotCom boom, it did not crash like other web companies. Moreover, it has become much stronger since then.
At first, the company had a book-selling business. In the present time, the company makes its living by selling everything and everywhere inexpensively: from e-books to groceries, music, video, automotive parts and accessories, apparel, jewelry and other. The company also manufactures some of its own products (e.g. Kindle, Echo). The company's total turnover in the last fiscal year exceeded $100B. The average revenue CAGR during the last five years was more than 22%. These are astonishing results, are they not? However, there are points of concern as well. The first one is that the company's operations are low margin, so its net income hardly touches the $600M mark.
What comes from that? First of all, this is the reason why all of the company's fundamental ratios are quite poor. Look at Diagram 2. How can a business with such a long payback period be priced like that under modern conditions? What is the reason for such extremely positive expectations? Is it the first commercial spaceship in the history of humanity or a time machine? Exactly, it is not. That is why they have to "show me the money" (Jerry Maguire's famous line).
Diagram 2.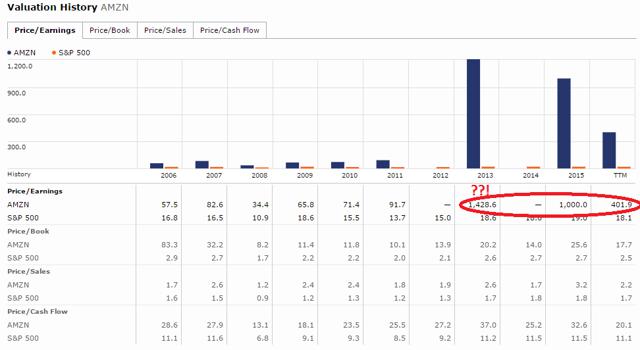 Click to enlarge
Source: Morningstar.com
Secondly, there is operating inefficiency. Look at Diagram 3, where the company is compared with Wal-Mart (NYSE:WMT). Wal-Mart is one of the strongest and closest competitors to Amazon. You do not have to be a math genius to see that all of Amazon's operating metrics (the operating margin, the net profit margin, ROA, ROE) are much worse than Wal-Mart's. Its operating margin is more than two times lower, while the net profit margin is more than five times lower. There is nothing to say about ROA and ROE. However, Wal-Mart's valuation looks much lower than Amazon's, on all accounts. So, where is the money here (again)?
Diagram 3.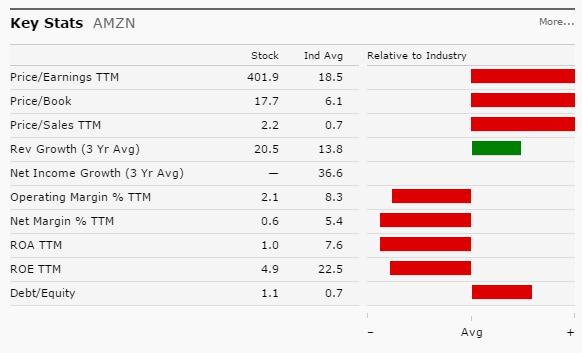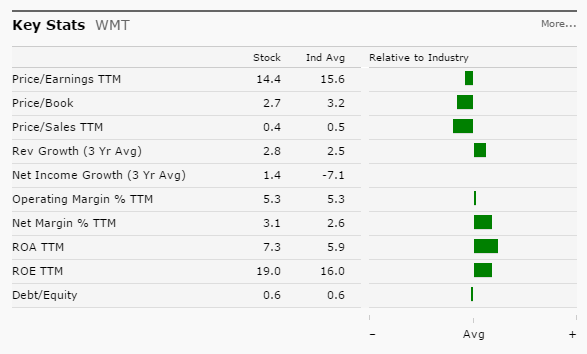 Source: Morningstar.com
Third, I want to challenge those who believe that the operational cash flow (OCF) growth is a key argument that supports Amazon's valuation. It is true that the OCF is increasing (see Diagram 4). However, have you pinpointed the sources of its growth? I have done this for you in Diagram 5, which is a print screen of the company's most recent OCF in the latest 10-K report.
It definitely shows the truth about the company's growth: it is dependent on the company's future capital expenditures. This does not make the company profitable but shows better D&A expenditures (look again at the net profit margin of around 0.6%). Additionally, the positive stock options treatment in the OCF each year (i.e. adding them up to the cash flow) enhances the OCF figure by more than $1B per annum. The net profit only makes about 5% of the total OCF which is rather poor.
Diagram 4.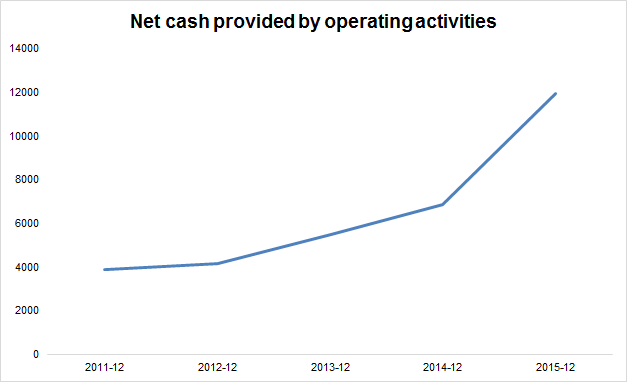 Source: data - Morningstar.com, infographics by author
Diagram 5.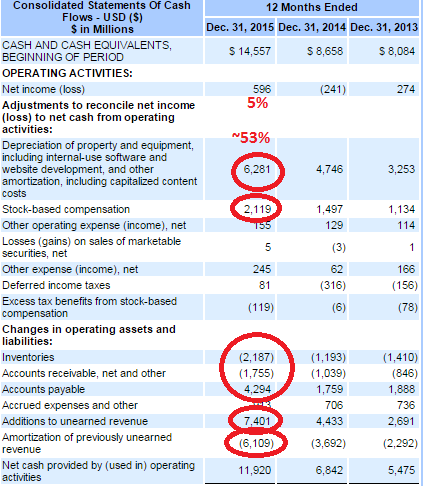 Source: Company's 10-K on sec.gov
Finally, for those who still believe in this company, I want to provide the most convincing argument showing why low-margin companies are not necessarily to become profitable in the future. Look at Diagram 5. I have calculated the company's working capital ratios, which show the company's ability to be strong in generating turnover in the future. There are three main conclusions you can make from this analysis:
DSO (days of sales outstanding) and DIH (days of inventory on hand) are significantly increasing (so the company's operating cycle has increased dramatically).
DOP (days of payables) is decreasing (so the suppliers' power has dropped).
Consequently, CCC (the cash conversion cycle) has grown to 4-plus days, while five years ago it was 16-plus days.
It means that during this period the company has lost its competitive advantage in two Porter's Forces: the bargaining power of customers, and the bargaining power of suppliers. Hence, it will decrease the asset turnover in the future which will make ROA and ROE fall even more.
Diagram 6.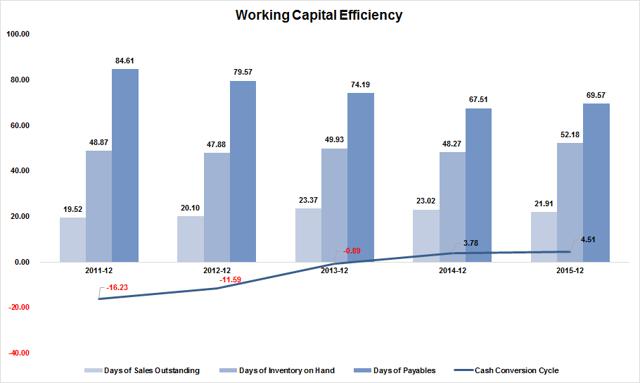 Click to enlarge
Source: data - Morningstar.com, infographics by author
According to these issues, the verdict is disappointing: the company looks too overvalued. Moreover, it looks inefficient and much worse than Wal-Mart. Next step I will present you my valuation. As usual, I used DCF, zero-growth and comparative analyses which have shown good results if combined together.
DCF analysis
My DCF model is presented in Diagram 7. In Diagram 8, you can see how different metrics of Amazon are expected to change during this period. I have made several assumptions, which can be easily seen in the "Assumptions" tab of my Excel file. Pay special attention to my forecasts:
Revenue CAGR to be more than 13% during the next seven years.
Gross profit margin to increase by 2 percentage points each year.
EBIT as % of GP to increase by 0.5 percentage points each year.
EBT as % of EBIT to become 85% in 2019.
As a result, net profit to be more than 300% higher than now (implied CAGR of ~28%).
These assumptions are quite positive. However, my model shows that, after subtracting the market value of debt, minority interest and adding back cash and investments with the discounted OWC balance, the market value of the equity is around $159.1B in the Base scenario. Consequently, the fair value per share is $333.62 per share. It is more than 34% lower than the current price ($508 per share).
Diagram 7.

Click to enlarge
Source: data - Morningstar.com, DCF model by author
Diagram 8.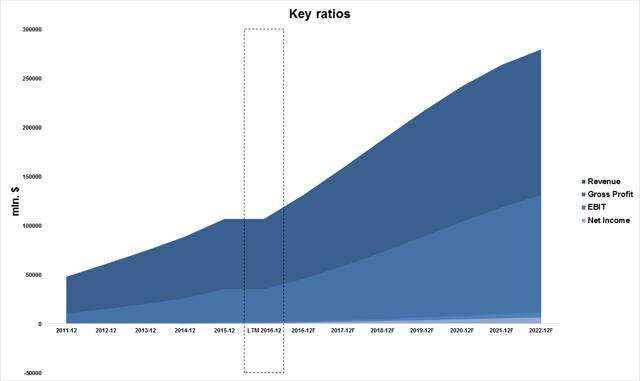 Click to enlarge
Source: data - Morningstar.com, model by author
Sensitivity Analysis
The sensitivity analysis is presented in Diagram 9. According to the Base scenario and the assumptions for the EV/EBITDA multiple and WACC, the price range is estimated to be between $346-$408 per share. This price range represents a 19%-32% downside risk for the stock.
Diagram 9.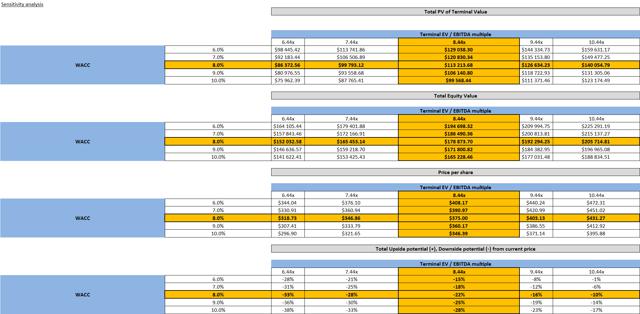 Click to enlarge
Source: data - Morningstar.com, model by author
Zero-Growth Analysis
The zero-growth analysis has been described in one of my articles. You can read more about it here.
According to this type of analysis, the current stock price shows no margin of safety. The valuation gives the stock a fair market value of equity of $86B, which translates into a fair price of $181 per share. This price level is nearly 64% lower than the current level. If we used only net income in the numerator, the result will be a share price of $16. It is 97% lower than the current price level. The benefits from the depreciation and amortization expense mean a lot here, but on average the fair value is 79% lower than the current level. Hence, the zero-growth analysis shows that the stock is currently overvalued and has no margin of safety at all.
Comparative Analysis
My comparative analysis is based on two key ratios: P/S and P/BV (see Diagram 10). Both ratios show that the company is extremely overvalued. The current EV/EBITDA multiple is 26.1x, which is 3.5x higher than Wal-Mart's. I think that no additional commentary is necessary.
Diagram 10.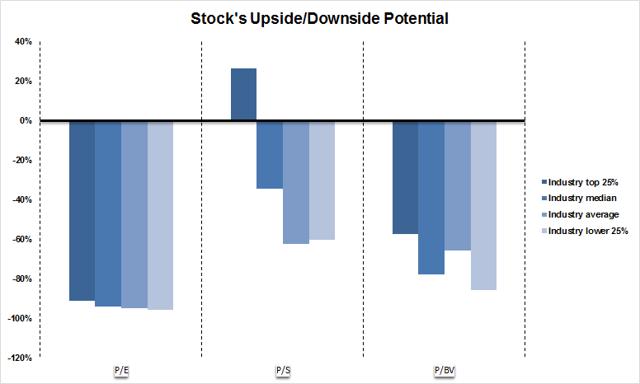 Click to enlarge
Source: data - Morningstar.com, infographics by author
Opinion
Amazon is a massive online retailer. However, the business is so unprofitable that even the future operating metrics' appreciation does not make the company look fairly valued. The DCF analysis, zero-growth and comparative analyses - they all show that the current level is far from the bottom. Hence, I issue a SELL recommendation on this stock. The target price range is between $346 and $408 per share. This price is translated into a 19%-32% downside risk for the stock.
Owing to the high volatility of the stock, I suggest that you buy put options instead of shorting the actual stock. The $400 puts for July 2016 cost $14.4 now, while the $350 puts are traded at $6.95. However, keep in mind that the implied volatility is relatively high now. Although I recommend buying options as soon as possible, you can wait and try to buy them cheaper when implied volatility falls. Nevertheless, remember about the delta and gamma risks, if the price rises promptly even temporarily.
Disclosure: I/we have no positions in any stocks mentioned, but may initiate a short position in AMZN over the next 72 hours.
I wrote this article myself, and it expresses my own opinions. I am not receiving compensation for it (other than from Seeking Alpha). I have no business relationship with any company whose stock is mentioned in this article.