Potash Corporation of Saskatchewan first came to my attention back in 2010 when I noticed it was getting a lot of attention. In an era when the Conservative government in Canada had allowed a half dozen foreign takeovers of Canadian companies to go through unopposed, they intervened to prevent Potash from being taken over by Australian mining giant BHP Billiton Inc at $130 a share. At that time Potash, one of only 2 S&P/TSX 60 constituents based in the province of Saskatchewan, had climbed from $13 in 2002 to over $240 on June 20, 2008 (not adjusted for splits). Former CEO Bill Doyle said that it amounted to "trying to steal" the company and that it was "grossly inadequate" because it "attempted to exploit the anomaly of Potash's equity market valuation". Here was the CEO of a Canadian corporate crown jewel standing up to an interloping foreign raider that had never mined a ton of potash.
This seems ridiculous now, but we have the benefit of hindsight. Still, these days, many Potash investors would probably be happy to get what BHP was offering. The company deals in a commodity which, like all commodities, is vulnerable to extended price slumps, like the one it is in right now (In truth it sells over fifty different products that are variants on types of fertilizer derived from 5 different chemicals, but for our analysis we will base it on the fertilizer commodity called Potash). Back in the heady Doyle days the stock was a high-flier as potash prices crested to almost $900 a ton in 2008. Unfortunately this stock is tied to that commodity, and look what has happened to the price of the commodity since then: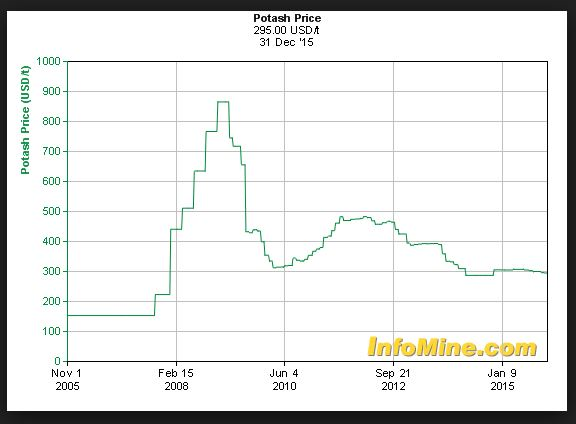 (Source: Infomine.com)
I always like to examine a stock's history to evaluate future potential and to see how it has behaved. Potash's long term chart is quite revealing, because there are three major highlights show how we got to where we are today. They are all related to volume: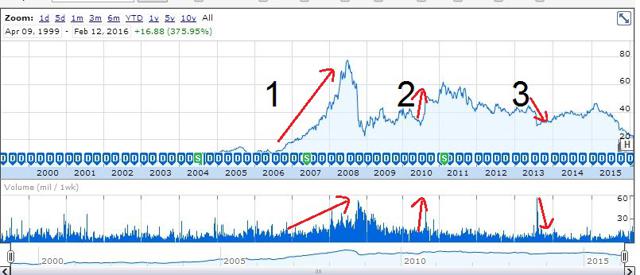 Click to enlarge
(Source: googlefinance.com)
Volume is one of my favourite market indicators because it is totally transparent and cannot be manipulated by a company. It doesn't lie. It measures interest in a stock and reaction to events. So event #1 on this chart is the bidding up of the stock that occurred over the 2006-2008 two year period at the end of the "commodity supercycle". This happened on the back of market volume that has not been seen or touched since, except for on two other notable volume spike occasions: Event #2, which is the August 2010 rejection by Potash of BHP Billiton's bid (which was officially rejected by the Canadian government that November), and Event #3, which was when the Russian potash giant Uralkrali withdrew from the Minsk-based Belarussian potash group to sell directly to China and POT took a 30% dive in one day in July 2013. Since then, the stock does volume more in line with its long term average and we see the 2006-2008 era really was unprecedented in terms of interest in the stock.
Previously, the stock had bottomed as low as $22.50 in December 2008, but that was amid the apocalyptic market selloff following the financial crisis. More recently, it did trade as high as $46 in Q1 2015. But the secular fundamental decline in this stock that started in late 2013 following the Russia/Belarus drama looks very much intact.
Potash did overcame that initial crash (the $46 Q1 rally) but the stock has had nothing but problems since then. Not long after that Potash puzzled investors with an ill-timed $8B hostile takeover bid of its own, for a German fertilizer company called K&S in Q2 2015. At first the news was greeted favourably but then rapidly became a millstone amid declining commodity prices. In addition to probably being overpriced, it was a horrible cultural fit (German company employees have much more direct say in corporate decisions their employers make, and they wanted none of it), and there was a collective sigh of relief when Potash withdrew the bid in October 2015.
Now, as the slump in prices and demand for fertilizer continues, Potash, former dividend champion and former dividend aristocrat, has seen the humiliation of being forced to cut its dividend for the first time since 1989 as the Canadian listing languishes in the 21-22$ range. To be fair, many market commentators called the cut, as they often will when a former blue chip dividend approaches a 10% yield. However, unlike Canadian oil companies, whose challenges are well known and whose vulnerabilities were apparent to some following repeated boom/bust cycles, there is a sense that Potash somehow messed up. As though this commodity was supposed to be more resilient. Hey, who doesn't like food? Well, with this stock we learned in 2008 that the price of potash goes as emerging market demand goes, except this time no one knows when or how that demand will pick up.
The current CEO Jochen Tilk has a more understated style than his predecessor and following his previous success at Inmet Mining, investors hope that he is the technocratic individual who can keep this company out of the ditch. The dividend cut was probably a smart move because as you can see below as of Q3 2015 it was no longer covered by revenues. Those years of dividend growth caught up to a company in a cyclical business with a black swan event for the industry (The Belarus/Russia spat and ensuing collapse) removing price stability. The company has also undertaken the brave but embarrassing decision to mothball two mines it had just opened in New Brunswick, as they are more costly to operate than its core assets in Saskatchewan. The good news is they are not totally abandoned; the bad news that idling mines represent an expense and therefore a drag on revenues. This year the company is approaching 95% payout ratio even with its conservative guidance (Source: ycharts.com)

Click to enlarge
(Source: googlefinance.com)
The willingness to make unpopular decisions shows courage on the part of the CEO and should reassure investors, but that's not to say they will be, as they are not usually fond of overbuilt unproductive assets or dividend cuts. Here is where we need to assess the risk in the name going forward. It is great to have a CEO preaching pain and layoffs but cutting will only get you so far when the dynamics of the industry have fundamentally changed. Here in Canada Potash owns 54% of a "marketing board" called Canpotex. Mosaic potash (owner of the K2 mine in Saskatchewan, biggest in the world) holds 38% with Agrium holding the balance. One of the major factors that killed BHP's bid was not nationalism or patriotism or politics, but the fact that BHP (in addition to not being an existing potash producer) wanted to withdraw from Canpotex and market the minerals directly itself. It wasn't just that BHP wanted to takeover the company which is a major employer and economic driver in Saskatchewan, it wanted to get rid of something that, in hindsight, made the business sustainably profitable. This is what made it easy for the government to say no.
So Canpotex covers Canada's potash pricing, and the Canadian government decision was probably responsible in light of that, but in the end it was meaningless. Why? Because what we are seeing now is effectively a replication of the dynamic in the oil market (with much smaller reverberations in the broader market) where the global group of producers has fallen apart because one player has decided to start a "race to the bottom". It is either Russia or Belarus, depending on who you believe in this sordid Eastern European corporate drama that would seem utterly bizarre in North America. It was a classic economics 101 prisoner's dilemma that occurs in a cartel; Russia accused Belarus of selling outside the cartel, withdrew from the cartel and extradited the CEO.
But unlike the oil price decline whose narrative is well known (Saudis intentionally trying to squeeze out North American shale and juniors), this spat between Russia and Belarus had the secondary effect of cratering the whole market. Canada, Canadian Potash companies, and Potash Corp are the collateral damage, and this is ironic because Canada literally is the Saudi Arabia of Potash.
When we look at the global production pie, we see that only three producers are big enough to move the needle with their actions, independent of demand. Belarus and Russia, whomever you think is at fault, did just that. The result is that Canpotex used to set the price with China (the world's largest importer), but as of last year has been undercut by Belarus who got there first and set the low price.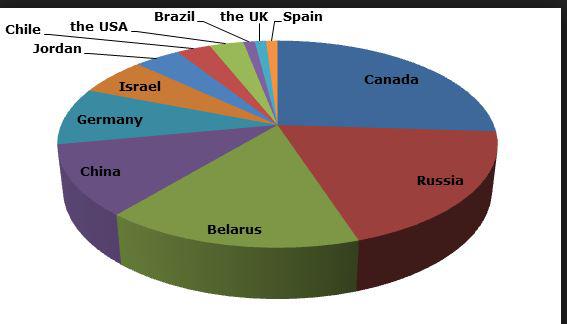 Source - mcgroup.co.uk/
The "needle movers" become even more stark when we look at global reserves: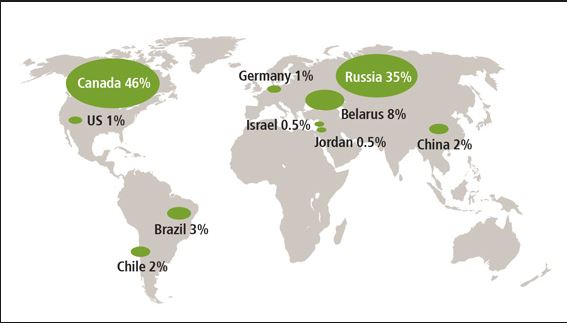 Source: potashcorp.com
Belarus, being poorer and smaller, but the only player other than Canada and Russia of any significance long term, is likely to continue to contribute to lower prices. It is stuck in the rock and the hard place of needing cash, so continuing to produce to earn the cash even if it has the effect of depressing prices and creating a vicious cycle. It seems unlikely that Belarus and Russia will be able to come to an agreement as they had in the past, and Potash Corp likely suffers as long as this is the case. Unlike the oil/OPEC dynamic where smaller countries are being starved by the big dog's actions, Potash is not a country and cannot alone correct the market by cutting output, nor can it "pull a Saudi Arabia" and flood the market as this would imperil its own financial position.
How do we put this all together?
The stock is surfing 52 week lows and there is no catalyst on the horizon. Value investors may be scooping it up at these levels but I imagine many more are staying away trying to avoid a value trap. We have just reviewed changes in the global market during the past five years and the long term outlook is uncertain. Given this, the name carries a fair bit of risk. Of course, Potash dwarfs all of its domestic competitors and has $17 billion and change of assets on its balance sheet. But $13 billion of that is physical assets and who's to say they won't take a writedown if prices remain depressed. Plus, there's over $4 billion in long term debt and $8 billion debt total to go with those. It's not junk but it's not sterling either, and the company doesn't generate the interest it once did, especially among institutional investors spooked by the heavy volatility in commodities.
To buy is of course to express the view that these low prices are unsustainable and they should move higher. There is a bullish credo that is incorporated into the marketing materials and investor day presentations of many public companies in agriculture-related businesses, including Potash, which is that the world's population will rise to 9 billion by 2050, we have to feed everyone, etc. Thing is, the world's population is already increasing pretty rapidly, there is record Potash demand forecast for 2016, and yet this stock has gone nowhere in 5 years. So even though I am an agriculture bull at heart because I believe food is useful and we will need it long after gas powered cars and iphones are gone, I do not want to risk significant capital banking on a reestablishment of the potash supply and demand world we knew in the mid-2000s. But I do believe a near term (3-9 month) rally in the stock is entirely possible.
One way right now to set up Potash is to start with 100 shares, which on the NYSE listing will cost about $1541 or $15.41 each. There are January 2017 $18 calls in the US option chain right now for $1.32. By selling this call against the shares, we reduce the cost to $14.09 which is lower than the 1 year low of $14.64 and a level not seen since before 2007. But if you are moderately bullish you can do this and sell the right to buy the stock 16.8% higher than it is today, bringing your total 1 year return to about 24% if you include the premium.
If you are skittish about near term declines and the tendency of commodities only to rally on central banker announcements (although Potash tends not to always move with the broader market), the best bang for your buck to layer on top of this is probably the April 1st $14.50 put, which is listed for $0.80 but with a $0.66 bid with only 1 contract of open interest. At $0.70 you would reduce your $1.32 premium from over 8% to about 4% return up front but are now protected against any near term declines. Remember there is a $17 dividend you will collect 3 times between now and January as well. Personally I would forgo the put because earnings are not until April 28, but I would keep an eye on the put chain. The Implied Volatility is very high on the short term options but drops off to around 45-50% on the April series. This means insuring this position is going to cost you no matter how you slice it. If the bullish thesis does plays out the put will only take away from it a little bit while negating almost all of the risk (it pushes you cost back up to 14.80 but now protects you against any decline until April), but after April you'd have to reassess.
I don't know if it will take weeks, months, or years for potash prices to recover, or if they ever will. What I do know is that this dividend should be covered with cash flow for the next year, and the current options offer the opportunity to plant the seeds for some extra yield over the next 10 months.
Disclosure: I/we have no positions in any stocks mentioned, and no plans to initiate any positions within the next 72 hours.
I wrote this article myself, and it expresses my own opinions. I am not receiving compensation for it (other than from Seeking Alpha). I have no business relationship with any company whose stock is mentioned in this article.