Last week I wrote an article going deeper into Kyle Bass's claims that China's financial sector is somewhere between zero and 5 months away from collapse. In that article I had argued that, while the situation is fragile, it might not be as bad as Bass' analysis suggests. Then this morning, Mr Zhou of the People's Bank of China broke his silence while the central bank re-pegged the Yuan, and trade data was released. Needless to say, it was a busy morning in China.
China's Markets Are Open Again
Everyone is back to work in China, fresh off a week-long (or in some cases, longer) vacation. It's the day Chinese financial markets re-opened, and it was actually pretty good. The graph below shows the action on the Shanghai Stock Exchange and shows that the exchange was trading mostly upward for the day, although it still posted a modest 0.59% loss compared to the pre-holiday close.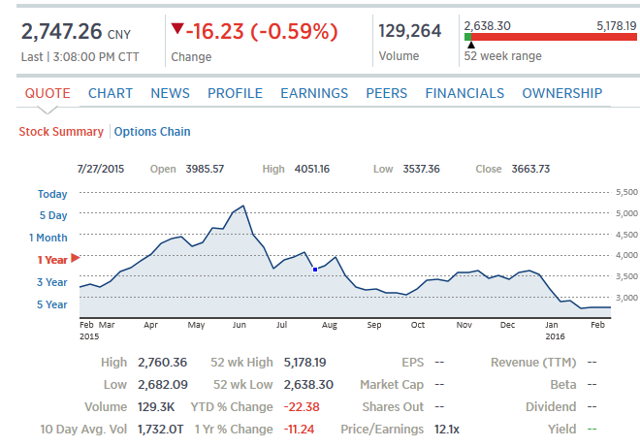 Source: CNBC.com.
Overall, this seems to be good news, considering that global markets have almost unanimously entered bear territory in the past week. Chinese investors seem to have been buoyed by rhetoric from central bank Governor Zhou Xiaochuan, despite weaker-than-expected trade data.
Exports? What Exports?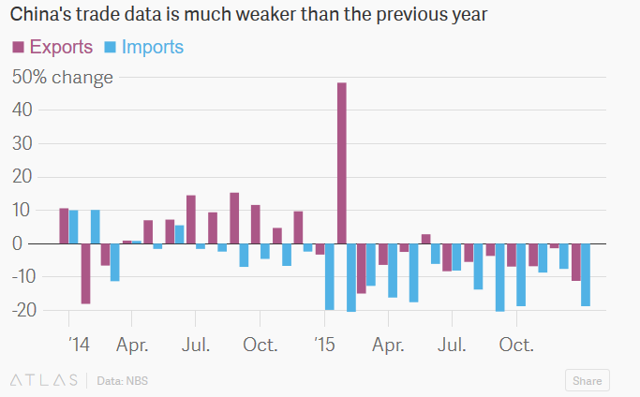 Source: Quartz.com.
First, let's take a look at the numbers: China's exports fell 11.2% last month, while imports fell by a whopping 18.8%; a pretty bad month, and in context it is even worse. There are 25 months of data on this chart, and in 21 of them, imports posted negative growth, while exports grew in 13 of those months; and only three times was export growth lower than import growth.
This trade imbalance, mostly the dramatic fall in imports the country has been buying, has led the country to run a massive trade surplus that has helped maintain the world's largest FX reserve. However, exports from China have fallen in 10 of the last 12 months, and this has some serious implications for China's economy.
As I discussed in the last article, China is about $500 billion in FX reserves away from its operational threshold, and the country is bleeding money through capital flight, mergers, and keeping the Yuan stable. A fall in revenues from exports is the last thing the country needs, as it implies two things: that China's economy will slow as an effect, and its FX reserves will be depleted much faster than expected; although accurately predicting when these reserves will fall to critical levels is little more than guesswork.
The Central Bank Has Its Say
China's trade data was bad, and it gives China bears a lot of ammunition to use to support their arguments. In response to all the bears out there that are speculating against the Chinese Yuan, the PBoC had something special in store for its first day back in business: it pegged the Yuan at 6.5118 per dollar, up 0.3% from its previous mark.
To go along with the currency reset, Zhou delivered a fairly comprehensive, but very political, lecture on China's currency strategy going forward. (Due to the importance of the speech, I will be writing another article dedicated to China's currency strategy ASAP). Basically, China is unimpressed with bearish speculators like Soros and Bass, and is unwilling to let these market forces weaken the Yuan at this time.
In short, the People's Bank of China has reaffirmed its commitment to maintaining a stable Yuan, and is not concerned with weak trade data. Zhou added that while real exports fell, their contribution to the economy remained constant; adding that the country's balance of payments remains healthy.
What It All Means
Zhou's remarks are timely indeed and were clearly meant to sooth volatile markets. It seems to have worked, as Chinese investors seem to have taken his words to mean that the government is going to continue to do whatever is necessary to keep the ship afloat; and the country's two major exchanges held mostly flat, even with such terrible trade data.
The big question will be: how will European and American investors take all this? The trade data was absolutely terrible, and raises even more questions about China, and the health of the global economy in general. Some investors will point out that a lack of demand for Chinese goods is another major signal that the world economy is in a recession. At the time of this writing, European markets are all up more than 2%, suggesting that Zhou's words have assuaged a lot of fears worldwide.
Today looks like it's going to be a good day, thanks to Zhou's words. But the fundamental problems that the data represents haven't been solved, so don't get too excited just yet.
Disclosure: I/we have no positions in any stocks mentioned, and no plans to initiate any positions within the next 72 hours.
I wrote this article myself, and it expresses my own opinions. I am not receiving compensation for it (other than from Seeking Alpha). I have no business relationship with any company whose stock is mentioned in this article.