Recently, I was watching Bloomberg Television as I ate breakfast before work. An ad for the Global X SuperDividend ETF (NYSEARCA:SDIV) flashed across the screen. In mid-2012, I had been prompted by Seeking Alpha founder and then-CEO David Jackson to take a look at the fund and potentially author an article. He knew that I had written some well received articles on dividend funds. Given Seeking Alpha's large "Income Investing" community, it seemed like an appealing piece for the audience. I was skeptical of the investment case for SDIV in 2012, and as I finished my breakfast that morning I resigned myself to re-examining the fund amidst what I assumed was a multi-year period of quite weak performance.
The appeal of the fund to retail investors - then and now - is clear. The fund offers access to one-hundred of the highest dividend yielding equities around the globe, currently sporting an annualized dividend yield in the mid-8% range that is paid monthly. A very high distribution yield, global diversification, and periodic rebalancing all in one vehicle. Sound too good to be true? Sort of. The fund has delivered on its stated mission of offering diversified high dividend yielding stocks, but the performance in terms of risk and return has been very weak.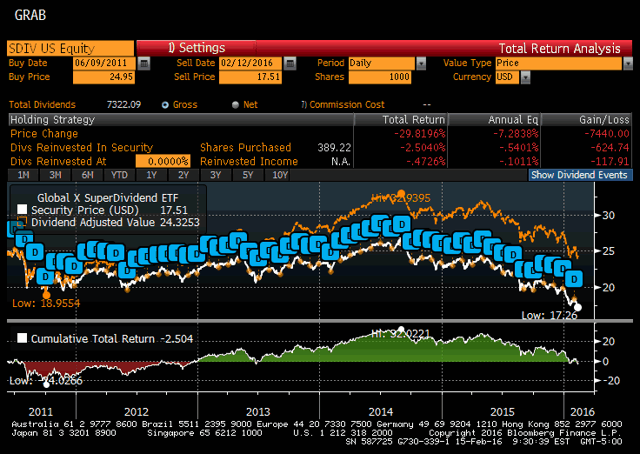 Click to enlarge
Source: Bloomberg
The total return of the SuperDividend ETF since inception in June 2011 has been effectively 0%. If these dividends were re-invested in the fund, the total return would have been -2.5% per year. If the dividends were not re-invested, as is typical for investors looking for income, the total return would have been -0.5% per year. What does that mean, Ploutos, I have been getting 7-8% dividends per year? The decline in your principal, the -7.3% change in the nominal price per year, has offset the income generated from this fund.
Why has the fund underperformed so dramatically? I offer a suggestions to readers.
Chasing Yield is a Bad Strategy
The Investment Case for SDIV shows that the fund eschews just high dividend payers to focus on "SuperDividend" payers within the highest tier of dividend payers. In a June 2012 article entitled "The Dividend Sweet Spot," I referenced a Morgan Stanley (NYSE:MS) piece that demonstrated that over a forty-plus year study history, dividend yields between 3% and 6% have produced the best total returns for dividend-paying stocks in the United States. Dividends above six percent have proven less sustainable on average, driving down the total returns of securities in this higher yielding cohort.
There are two ways to produce a high dividend yield - distributing increasing returns to shareholders, or seeing the price of your stock fall relative to your distribution rate. Currently, the highest dividend yielding companies in the S&P 500 names in the Energy sector where payouts may prove unsustainable - Williams (NYSE:WMB), OneOK (NYSE:OKE), Murphy Oil (NYSE:MUR), Ensco (NYSE:ESV) - and wireline telephone companies in a secularly challenged business - Frontier Communications (NYSE:FTR) and CenturyLink (NYSE:CTL). There is an argument to be made that companies that pay dividend rates well in excess of the market are returning cash to shareholders because their internal growth prospects are limited. There may be individual company circumstances where this is the correct choice by management and those stocks are appropriately valued or even cheap, but buying the highest tier of dividend paying stocks has not historically been a winning strategy. As I have written repeatedly with respect to the Dividend Aristocrats, buying stocks that have long track records of increasing sustainable returns to shareholders has been a strategy that has produced higher returns with less risk than the broader market. Over the ten-year history of the Solactive SuperDividend Index, the index on which SDIV is based, the index has underperformed the Dividend Aristocrats Index by about 3% per year for ten years with materially more variability.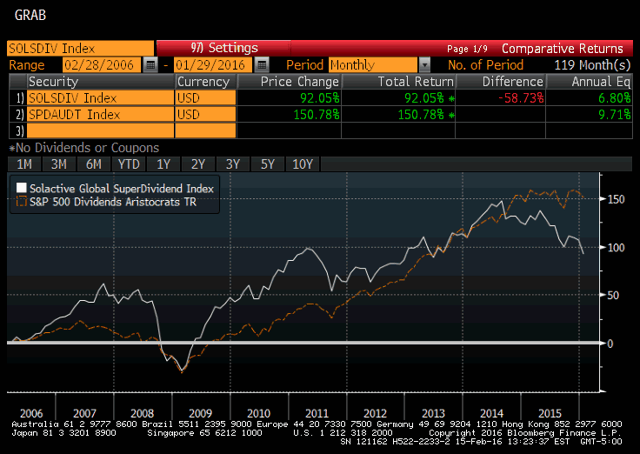 Click to enlarge
Source: Bloomberg
International Exposures Have Underperformed
Seventy-percent of the fund's current holdings are based outside the United States. Since the inception of SDIV, the MSCI All World Index has lagged the S&P 500 by more than six percent per annum as graphed below.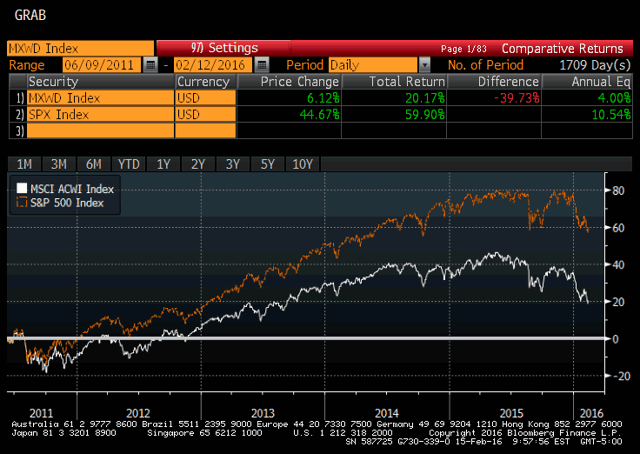 Click to enlarge
Source: Bloomberg
How do we dis-entangle "chasing yield" and the impact of weak international markets? Since March 2013, Global X has also sponsored the SuperDividend U.S. ETF (NYSEARCA:DIV). That U.S.-only index, while outperforming the more international SDIV, has still materially lagged the S&P 500 (NYSEARCA:SPY).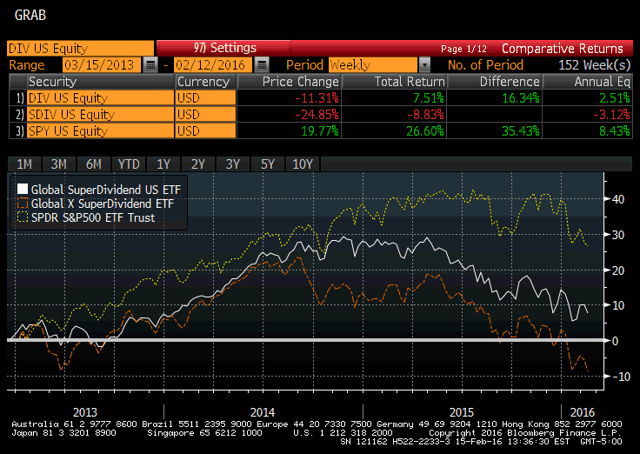 Click to enlarge
Source: Bloomberg
Summary
Chasing yield and underperforming international exposures have been principal drivers of the weak performance. Other elements have also contributed to the slightly negative total return since inception. Notably, the fund has been heavily invested in mortgage REITs, which have lagged since the "taper tantrum" in 2013 amidst the Fed's end of purchases of Agency mortgage-backed securities as part of quantitative easing.
Since I wrote the first version of this article, 25,000 readers have read about my bearish take on SDIV. That has not stopped the exchange-traded fund from quintupling its number of shares outstanding as funds have continued to flow into this strategy.
This article examines the historical performance, and as a standard financial market disclaimer, historic results may not be indicative of future performance. Foreign markets may reverse their performance versus domestic-focused funds. I am more skeptical that very high dividend paying instruments are likely to generate higher than average total returns over long periods.
Disclaimer: My articles may contain statements and projections that are forward-looking in nature, and therefore inherently subject to numerous risks, uncertainties and assumptions. While my articles focus on generating long-term risk-adjusted returns, investment decisions necessarily involve the risk of loss of principal. Individual investor circumstances vary significantly, and information gleaned from my articles should be applied to your own unique investment situation, objectives, risk tolerance, and investment horizon.
Disclosure: I am/we are long SPY.
I wrote this article myself, and it expresses my own opinions. I am not receiving compensation for it (other than from Seeking Alpha). I have no business relationship with any company whose stock is mentioned in this article.