Taubman Centers (NYSE:TCO) is a mall real estate investment trust, or REIT, with a different way of doing things. That makes it stand out in a couple of different ways, but one could become increasingly important if the stock market hits a rough patch. Here's why I have this REIT on my wish list.
Size isn't an issue

When it comes to size, Taubman is, at best, diminutive. After more than 60 years in the mall business, it still only owns or manages around 20 properties. Compare that to industry giant Simon Property Group (NYSE:SPG), which owns around 200 malls. But, in this case, size isn't everything.

For example, both Taubman and Simon focus on the high-end of the mall space. However, because of its small size Taubman can spend a lot of time ensuring that its malls are differentiated. It's produced results to back the benefit of this, with sales per square foot of over $800 versus Simon's around $615 a square foot.
That difference, however, speaks to more than just good malls. Taubman takes property management to an extreme. It has actually sold or exchanged 26 malls, using the proceeds to invest in other assets. Step back a second from that ... Taubman has jettisoned more malls than it owns or operates today. That's a huge statement about how deeply ingrained running the best malls is in Taubman's business model. It also helps explain why the company has a penchant for building from the ground up.
Being small, though, hasn't held the company's performance back. To emphasize that point, the company's dividend has never been cut, even during the deep 2007 to 2009 recession, and has generally headed higher. Over the past 10 years, the REIT's compound annual dividend growth is around 7%, in line with the growth achieved by Simon. Not bad for the tiny guy in the industry.
No Capital Market Worries

So Taubman is small, focused, and well run. That alone could get it on your watch list. But there's another feature of the company that's worth thinking about: it aggressively recycles capital. Those 26 malls that were sold or exchanged allowed Taubman to fund new investments without the need to tap the capital markets. For example, over the past decade, Taubman's share count expanded by around 25%. Over that same span, General Growth Properties (NYSE:GGP), another mall owner focused on the higher end, expanded its share base by around 300%. This is the normal growth model for a REIT. Looking at a completely different REIT sector to make that point, STAG Industrial (NYSE:STAG) basically doubled its share count in just two years between 2012 and 2014.
This isn't to suggest that any of these companies are good or bad. They simply do different things in different ways. STAG, for example, is focused on portfolio growth and it's achieved that by issuing new shares to buy assets. There's nothing out of the norm there, though this industrial REIT has grown aggressively. Taubman, however, has chosen to focus on a small number of great properties - which means it doesn't need to tap the capital markets in the same way. Moreover, shedding assets has allowed it to fund its business plans with internally generated cash - self funding, if you will.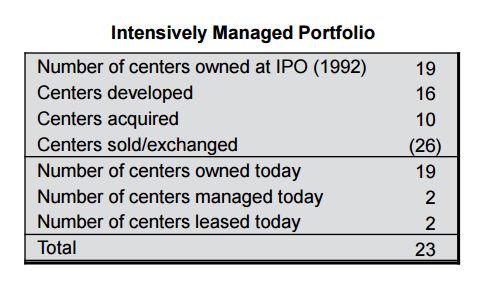 If capital markets shut down, Taubman isn't likely to skip a beat, but REITs that need access to fresh capital all the time could see their growth slow to a crawl. Or worse.
The opportunity?

I think Taubman is expensive right now. It's a great mall REIT, but I wouldn't be a buyer at recent prices. However, if there's a dislocation in the market, Taubman is likely to go down with the rest of the REIT industry, even though it's a standout performer. But, here's the important part, it's likely to see less impact on its operating business than most REITs because of its differentiated business model. In other words, if this baby gets tossed out with the bathwater it could be a real bargain. It's on my wish list and I think it should be on yours, too.
Disclosure: I/we have no positions in any stocks mentioned, and no plans to initiate any positions within the next 72 hours.
I wrote this article myself, and it expresses my own opinions. I am not receiving compensation for it (other than from Seeking Alpha). I have no business relationship with any company whose stock is mentioned in this article.