The doctor emerges from the operating theater
When the analysts gathered in the waiting room last week to take a look at Tesla's (NASDAQ:TSLA) latest chart, it was evident that the firm is one sick patient indeed.
All the analysts had expected an encouraging hematocrit, but the patient had continued to bleed from operating losses. Worse, it had an elevated fever - so high that its frightening cash burn continued.
Fortunately for Medical Director Elon Musk, Dr. Deepak Ahuja had recently stepped aside as the patient's Chief Physician. And a good thing, as fresh in the analysts' minds were Ahuja's promises to cool the cash flow fever by Q3 2015, and then by Q4 2015. Musk, at least, would be spared the embarrassment of trotting out Dr. Ahuja again.
Instead, Musk could introduce the new Chief Physician on the case, Dr. Jason Wheeler. Dr. Wheeler was freshly arrived, with something of a halo. His most recent patient was flourishing with all the ruddy signs of health that Tesla wanted - abundant profits, endless cash, and bullish investors.
Admittedly, Dr. Wheeler had been merely an associate physician for that celebrated former patient. But Musk hoped that would be enough.
Once in the waiting room, the new Chief Physician got right down to business. He understood his audience and knew exactly what they wanted to hear.
Yes, he acknowledged, the patient had grown a bit stout and lethargic. And, true, the patient was lagging in its treatment plan. However, the good doctor was hard at work - consulting with the Medical Director, reviewing the medications, and ordering surgical excision of Excess & Obsolescence.
Dr. Wheeler said he was confident that the patient would be healthy again soon. The operating loss bleeding would stop, and the cap ex muscle build would begin again, this time with free cash flow.
Pressed for details on how he would achieve these goals, the Chief Physician had his answer ready. He would, he promised, employ a determined course of perambulation. He would be vigorous in making his medical rounds:
I'll walk around and I'm on this every day, it's the relentless focus on automotive cost reductions.
Ah, and how pleased were the analysts to hear this! The good doctor would walk around each day. And not just walk, but walk with a determined focus.
One could almost see them nodding their heads in sage agreement, as if they already were envisioning Dr. Wheeler, on his daily rounds in Fremont, finding packets of cash hidden in the corners.
It would appear that Dr. Wheeler already has taken some other steps, even if they are not the walking around variety. His prescriptions to date (or, at least, those of his medical team) include maintaining the patient's megadose of Accounts payable, suing a parts supplier, adding debt capacity, and quietly raising service plan fees while eliminating the transferability of warranties and service plans.
This may all work out splendidly. Dr. Wheeler may become as celebrated as Dr. Gregory House, Dr. Marcus Welby, or even Dr. Julius Hibbert. For our money, though, based on what we heard last week, he seems to have much more in common with Dr. Dulcamara.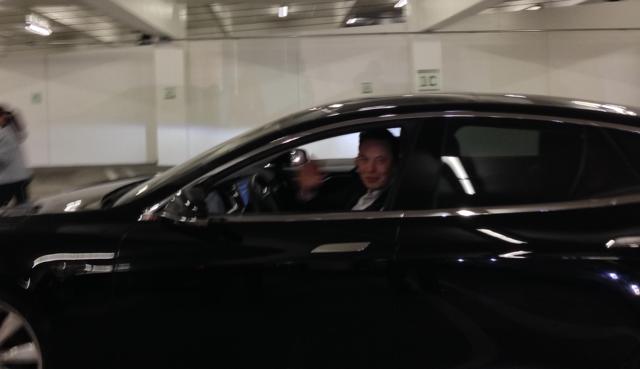 *Image used again at request of author; Elon Musk waving hello to SA Editor Rocco Pendola in 2014
Let's put down that stethoscope and discuss the Model 3, the Gigafactory, and Tesla Energy ...
Okay, let's dispense with the medical talk and discuss a few key issues that emerged from last week's Tesla conference call. We can skip the gory financial details, as those have been ably discussed by several others, including Seeking Alpha contributor Anton Wahlman.
We can also pass over the new "cash flow from operations" metric, which has been derided as a meaningless mash-up not just by mainstream financial writers such as Charley Grant at The Wall Street Journal, but also by long-time Tesla bull and Seeking Alpha Contributor Mark Hibben.
The folks at Zero Hedge also joined in, taking Tesla to task for its financial gimmickry and pointing out how for Q4, Tesla (without announcement) stopped posting its free cash flow figure.
With that ground already well-covered, we instead focus on three points from the conference call that we found striking.
1. Where, oh where, is the money for the Model 3?
Tesla is embarked on a do-or-die effort to fulfill its mission statement by developing a mass market car. The development won't come cheap; Tesla's Chief Technology Officer, J.B. Straubel, has promised that the Model 3 will be an all new design with an entirely new platform including new battery architecture, motor technology, and vehicle structure.
What will be the cost, then, to design and test all these new components, to source them from various vendors, to run the prototypes through a comprehensive production part approval process, to specify, purchase, and program the required tooling, and then to test the car as it proceeds through the process?
One educated estimate places the total cost at $1 billion or more. To our knowledge, Tesla has not said what the total cost estimate is, nor have the analysts asked. But north of $1 billion sounds about right.
Many of the Model 3 development tasks require months or years of lead time. So, at this moment, one would imagine that Tesla is pouring money into Model 3 expenditures.
Unfortunately, resolving the Model X problems appears to be occupying at least some of the time of the Tesla engineering talent that otherwise would be focused on the Model 3.
And the Model 3 development may be further crimped by the capital expenditure diet that CFO Wheeler has in mind for Tesla, at least in the near term. For instance, even though Tesla guided for $500 million of Q4 capital expenditures, it actually spent only $411 million. There are also reports that Tesla has slowed down construction of Supercharger sites.
Wheeler seemed to telegraph a new capital expenditure austerity when he said, "we've had a significant run-up investment over the last couple of years. Now it's time to absorb that and look for just greater capital efficiency."
The dilemma, of course, is that Tesla's entire growth narrative is premised on the further investment of billions more in capital expenditure:
design and development of the Model 3;
a fully completed Gigafactory to make production of 500,000 vehicle battery packs per year possible;
an entirely new set of production equipment to manufacture the Model 3;
Tesla's shareholder letter guides for $1.5 billion of capital expenditures in 2016. That number seems a bit skinny compared to what Tesla will need for its long list of capital intensive projects.
But where will even $1.5 billion for capital expenditures in 2016 come from, particularly if Tesla continues to rack up operating losses, at least in the early quarters?
With $135 million reportedly drawn at year end, Tesla has about $865 million of potential borrowing capacity on its asset-backed loan line (less whatever is now committed under the $200 million letter of credit sub-limit).
(And, it's worth noting, the asset-backed line has complex "Borrowing Base" tests that might restrict Tesla's borrowing capacity to less than $1 billion. The loan agreement was recently amended, and Tesla has not yet disclosed the new provisions.)
How about Model 3 reservations? At $1,000 per reservation, and a wildly optimistic projection of 300,000 reservations during 2016, that would add up to another $300 million. A substantial amount, but $20 million less than Tesla's Q4 operating loss.
In other words, all $865 million of potentially available loan proceeds plus (very optimistically) $300 million in Model 3 deposits would still fall $335 million shy of the $1.5 billion in guided capital expenditures. And that leaves no margin for operating losses.
Musk and Wheeler assured their investors last week that Tesla will not need to raise more equity in 2016. Do you believe that?
We are...what's that word? Yes, skeptical.
2. The Gigafactory, already far behind schedule, is now on hold.
CEO Musk, responding to a question at the February 10 conference call about Gigafactory progress, said, "[b]asically, to the best of our knowledge, you shouldn't worry about the Gigafactory as a constraint in Model 3." Moments later, he added, "[t]hat [the Gigafactory] does not appear to be anywhere near the critical path for Model 3."
Was Musk referring to the physical structure? If so, Tesla has built only the first of what Panasonic (OTCPK:PCRFY) claims are eight phases. Tesla is far behind its own forecasts for capital expenditures and hiring. Why shouldn't anyone who has up to now relied on Tesla's forecasts begin to worry?
Perhaps Musk meant that the one-sixth size "pilot" structure is all Tesla needs to get started on battery manufacture for the Model 3, and it can add the rest of the structure starting in a year or so.
If that's what Musk meant, then his statement still ignores a huge problem: none of the dozen or more sub-suppliers required for cell manufacture has yet agreed to locate at the Gigafactory. As a reminder, Tesla projected that all "Partner Discussions" would have concluded by the end of 2014: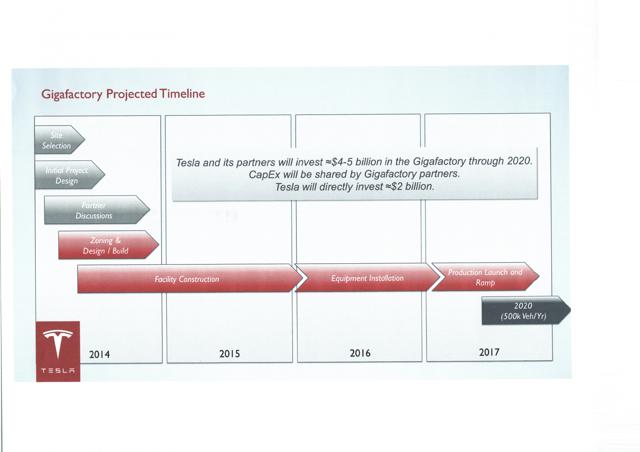 Click to enlarge
One of the analysts on the conference call, Dan Galves of Credit Suisse Securities, attempted to probe Tesla on this point:
There's been a lot of negative chatter about Gigafactory related to signing up of other partners, precursor partners, supply agreements for access to raw materials, and just kind of the general size of the plan. I was wondering if you could give us an update on kind of where you stand, and if you see any challenges to get up to the, you know, 35 gigawatt hours of cell production by 2020, 50 of packs.
As is clear from the text we've italicized, Galves asked directly about the issue of Tesla's supposed "partners" at the Gigafactory. Musk and Wheeler utterly failed to answer his question.
Instead, they criticized the negative press coverage and told fibs about Tesla's agreement with Nevada. The claims by Musk and Wheeler are so egregiously wrong that we are writing a separate article about them.
We will simply say here that Tesla is indeed far behind its promised Gigafactory construction and hiring forecasts. And that Musk is dead wrong when he says that Nevada can't lose.
As we will detail in our separate article (now published here), Tesla could fail to pour another cubic yard of concrete and could fail to hire another employee, and Nevada would be unable to do anything about it until mid-2024. And, even then, Nevada would be altogether unable to recover the value of the free land, discounted electricity, and free roadway construction that it has given Tesla.
Unfortunately, after getting no response to his question, Galves did not follow up, and no other analyst touched upon the matter.
So, Elon Musk, tell us? Where are all your partners? And how is the Gigafactory going to manufacture cells without them?
3. Whatever happened to those Tesla Energy profits?
Was August 2015 so long ago? It was on the August 6 conference call that Musk predicted that Tesla would realize $40 million to $50 million in Tesla Energy revenues during Q4, and then $400 million to $500 million during 2016 (with a "few billion" dollars "likely" in 2017).
And the gross margins would be sweet, too: 15% to begin with, rising over time to 25% or perhaps even 30%.
Colin Langan of UBS Securities asked Musk & Co. whether they are "still on track for storage of $400 million to $500 million this year, and two to five [billion] next year."
Musk replied that while energy storage is "a very enormous market," it is also "an exponential growth market" (are we the only people to notice how fond Musk has become of the word, "exponential"?). Consequently, "exactly where the calendar falls on that S-curve exponential makes a big difference on revenue." The revenues, therefore, "will be heavily weighted to the fourth quarter."
Musk kicked the question to Chief Technology Officer J.B. Straubel who added the following information: the Tesla Energy revenue growth is "not a linear extrapolation." Because it's all "a little bit tricky," Tesla wants to be "fairly cautious" and not "overpromise."
Powerwall and Powerpack production has begun, said Straubel, but it's too early to say "how exactly that exponential growth is going to really integrate."
We're not sure how you should translate those comments, but it would seem to us that if you're depending on Tesla Energy profits to contribute meaningfully to cash flow, you might wish to reconsider your assumption.
4. Finally, would someone please explain the Model X reservation claim?
Tesla's Q4 Shareholder Letter stated, "Model X reservations grew over 75% as compared to the prior year despite extremely limited initial exposure for this vehicle."
It's a bit difficult to make sense of that claim in view of the Model X reservation figures which have been recorded on a "wiki" at the Tesla Motors Club Forum site. Here are the numbers from TMC: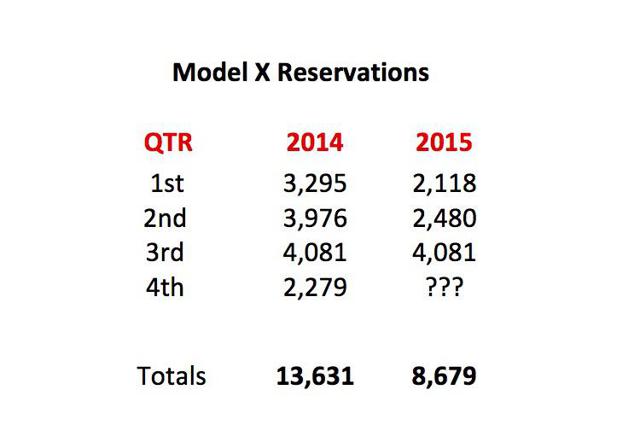 Click to enlargeFor 2015 reservation numbers to have increased by 75% over the 2014 numbers, the 2015 total reservation figure would need to be 23,889, which would require a Q4 2015 reservation number of 15,233. In other words, almost four times higher than any other quarter.
That seems highly unlikely. The "Customer deposits" on the balance sheet were $269.5 million on 9/30/15 and $283.4 million on December 31, 2015. In other words, a $13.9 million increase between Q3 and Q4 in 2015, which, at $5,000 per reservation, translates to 2,780 Model X reservations.
There is, of course, some "noise" in the "Customer deposits" figure, as it includes more than just reservation deposits. But, there's not that much noise. Plainly, something does not quite add up. There is more to this story, and making sense of it will require further disclosure by Tesla.
We won't hold our breath. During the most recent call, Patrick Archambault of Goldman Sachs asked for the "current run rate" on Model X production and for some information about what steps Tesla needed to take to achieve its promise of 1,000 Model X cars per week during the second quarter.
Here is Musk's answer:
I don't think we want to comment with that level of granularity. Unless people actually understand how production works, they reach incorrect conclusions. We stick to what our projections are, and leave it at that.
At a time when Tesla has not even managed to deliver all of its U.S. Signature Series Model X cars, and has repeatedly fallen short of its delivery promises, that would seem to be a disappointing answer indeed.
Conclusion
At the recent conference call, we heard lots of orotund and sonorous statements from Tesla's new CFO, Jason Wheeler, but confident words and vague plans will not make the Model X cars roll off the line any faster or break the Model S's long money-losing streak.
It's obvious that the Gigafactory work has halted. It seems likely that Wheeler is conserving cash by cutting back on capital expenditures. It seems even more likely that Tesla lacks the funds to develop the Model 3.
Tesla appears to be gambling that by cutting costs, slashing capital expenditures in the short term, extending its asset-backed lending line to the limit, and gathering in several hundred million dollars of Model 3 reservations, it can somehow survive 2016 without another capital raise.
We think that's a big gamble, and we doubt that Tesla's current share price, fallen though it has during the past several weeks, reflects all those risks.
A Note About the Other Contributors to this Article
As is my custom, I have used the first person plural ("we", "us", "our") in this article because my views have in large measure been shaped by the careful research and thoughtful analysis of others.
I am particularly indebted to the commenter here named investor.gator and to commenters at the Yahoo Tesla message board named dynamicviolence, metalapocalyptica, n0m0morenancy, and temagami.
It amuses me to read the occasional criticism that by relying on commenters at the Yahoo board, I am scraping the bottom of the barrel. Those whom I have mentioned are deeply knowledgeable about matters automotive, electrical, or financial, with extensive business or engineering backgrounds and accomplishments.
And a Note About How To Contact Montana Skeptic
I am on Twitter (Montana Skeptic@montanaskeptic1) and can be reached via email (montana.skeptic@gmail.com).
Disclosure: I am/we are short TSLA VIA PUTS.
I wrote this article myself, and it expresses my own opinions. I am not receiving compensation for it (other than from Seeking Alpha). I have no business relationship with any company whose stock is mentioned in this article.
Editor's Note: This article discusses one or more securities that do not trade on a major U.S. exchange. Please be aware of the risks associated with these stocks.