Note: this is a Canadian company and all its dollar figures are in Canadian dollars unless indicated otherwise.
In the current low commodity price environment, when producers are taking one writedown after another and reporting sizeable losses. A company that manages to report a profit of any kind in this environment, deserves a look and an inspection to check if that company has above average profitability and prospects.
Birchcliff Resources (OTCPK:BIREF) reported adjusted net income of C$1.8 million for the year. Two adjustments kept the company from reporting net income. First the company lost an appeal of a previous adverse decision regarding C$10.2 million in income taxes. This particular situation actually happened as the result of an acquisition made in 2011. Since the company will appeal the latest decision, there is no cash involved but the company made the decision to record the liability as now there is far less certainty that the company can win its case.
The second adjustment refers to the decision by Alberta, Canada to raise its income tax rate for corporations from 10% to 12%. This affected the deferred income tax liability account on the balance sheet which now needed an increased valuation. One of the problems with deferred taxes is that if the corporation has not yet paid them, then the estimated taxes are subject to revision. So, the company recorded a C$7.8 million increase in deferred tax expense. Again, this account covers things that likely happened in the past and there was no cash charge for the liability. Plus if deferred taxes are paid at all, they are usually paid far into the future. That is one liability account that rarely seems to decrease. Investors can bet on some excellent corporate tax planning. So basically both items total $18 million and neither had anything to do with this year's operations (in terms of cash expenses).
One of the first things this company tells shareholders about is how it cut costs for the fourth quarter. Management has always devoted a significant portion of its presentation to cost reduction progress. If management demonstrates a significant focus on this, then the probability of the company getting into trouble at the bottom of a cyclical market is reduced.
"Record low operating costs of C$4.16 per boe, a 5% decrease from C$4.39 per boe in the third quarter of 2015 and a 22% decrease from C$5.33 per boe in the fourth quarter of 2014.
Low general and administrative expense of C$2.01 per boe, which is comparable to C$2.02 per boe in the fourth quarter of 2014.
Low total cash costs of C$11.22 per boe (royalties, operating, transportation and marketing, general and administrative and interest expense), a 6% increase from C$10.58 per boe in the third quarter of 2015 and 14% decrease from C$13.00 per boe in the fourth quarter of 2014.
Funds flow netback of C$9.06 per boe, a 28% decrease from C$12.61 per boe in the third quarter of 2015 and a 49% decrease from C$17.79 per boe in the fourth quarter of 2014."
The company is fairly upfront about increases as well as decreases in expenses in its comparison for the fourth quarter. Still the overall cost picture is very good and very much a complement to the management of the company. Even for a company that primarily produces gas, these are some of the lowest costs that I have written about in an article.
The funds flow figure is a function of the decrease in commodity pricing. Even though the previous year was a good year for the company, the management still continued to reduce costs this year. That put the company in a position to do a little better than breakeven, which outperformed much of the industry before some noncash and non-operational adjustments.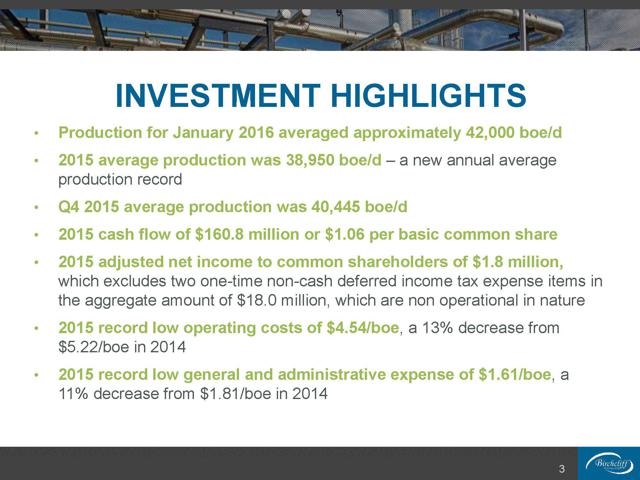 Click to enlarge
Source: February, 2016 Birchcliff Resources Corporate Presentation.
From the above slide, the annual figures look fairly decent also. This company is primarily a gas company, so the BOE figures will be lower than an oil company, but even so these appear to be excellent BOE numbers for a gas company.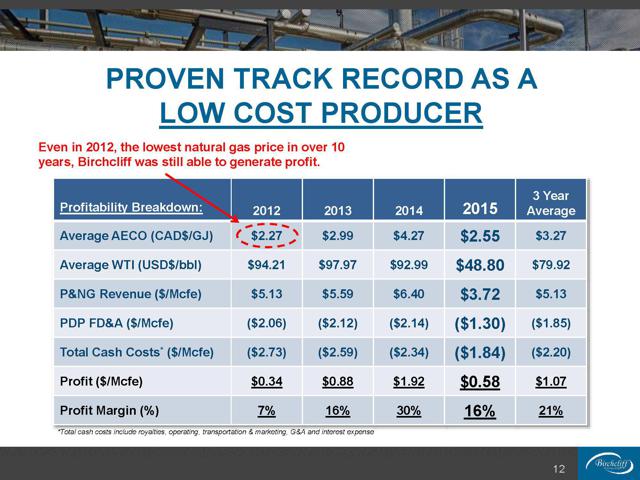 Click to enlarge
Source: February, 2016 Birchcliff Resources Corporate Presentation.
From the above slide, the 2015 costs are considerably below the three year average and the previous year costs. Another words this company cut costs until it was making a profit. Furthermore the company has given every indication it will continue to cut costs. First it introduced a capital budget for 2016 of C$140 million. But it then stated that should current market conditions persist, the management of the company expects to cut costs to the point where the company can survive with a C$90 million capital budget indefinitely until market conditions improve. The slide above lends a lot of credence to that statement.
Gas prices could always go lower and produce a situation that is worse than 2012. However, that risk seems minimal at the current time. Since this company is a low cost producer, it should be able to withstand some hostile industry conditions better than the rest of the competition.
The current situation of low oil prices is usually bullish for gas prices because a lower production of oil due to the low commodity pricing of oil leads to a lower production of gas, which is a by-product of oil production. So it is possible that gas prices may strengthen first if the lower pricing for oil persists. This company, since about 87% of its production is gas, may be one of the first to recover. Plus it is completely integrated and owns its own infrastructure, so it should be able to respond very quickly to changing industry conditions.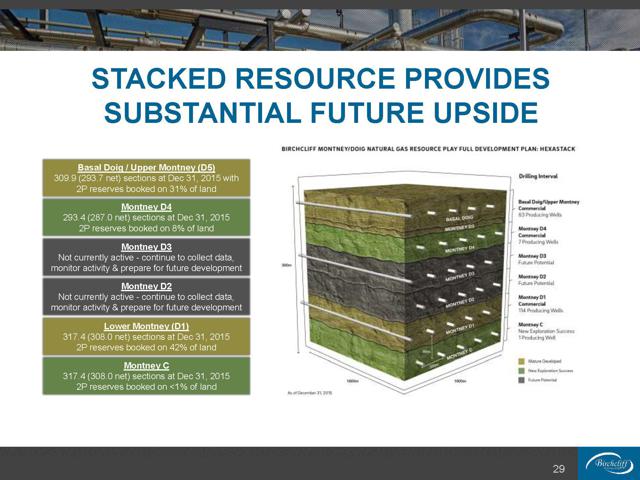 Click to enlarge
Source: February, 2016 Birchcliff Resources Corporate Presentation.
From the above slide, the company is booking reserves from only two of the above zones. Deloitte, the independent reserve appraiser, calculated reserves of 102.1 MMBOE (mostly gas that was converted using the six to one conversion ratio) from the top zone (Montney/Doig is 90% of 2P reserves) with some exploratory wells in the D4, and other properties. That was an increase of more than 30% from the year before. At least some of the increase was due to the track record of the newer wells out-performing the older wells to the point that some assumptions could be changed and the reserves increased.
Just with the current known reserves, the company estimates that it has a couple of decades of more locations to drill. The independent appraisal estimated finding and development costs at C$7.79 BOE and that cost has been declining due to better well performance and lower well drilling and completion costs. Expect that cost to continue to decline for another year because management has a goal to reduce the capital budget by at least 20% for 2017 in the operations area.
However, there are four more lower zones believed to contain gas, and to some extent liquids. Should the low pricing environment persist the company clearly has a lot of rework inventory available for recompletions into those lower zones at a far lower cost than drilling a new well from scratch. While those zones are a little more speculative at this time, there is considerable history of those zones producing in neighboring leases that would lower the risk. The company took at advantage of that information to drill some D4 exploratory wells that were successful. So prudently managed, those other zones could be a low cost source of more gas and liquids indefinitely. In fact, dual completions is a known technology that may be applied here to lower costs at some point. Management stated that they are positioning the company to ride out low prices indefinitely, and it looks like they have the tools to do just that.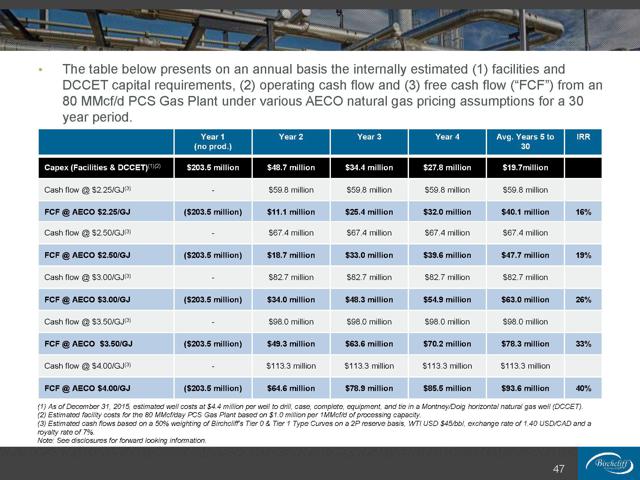 Click to enlarge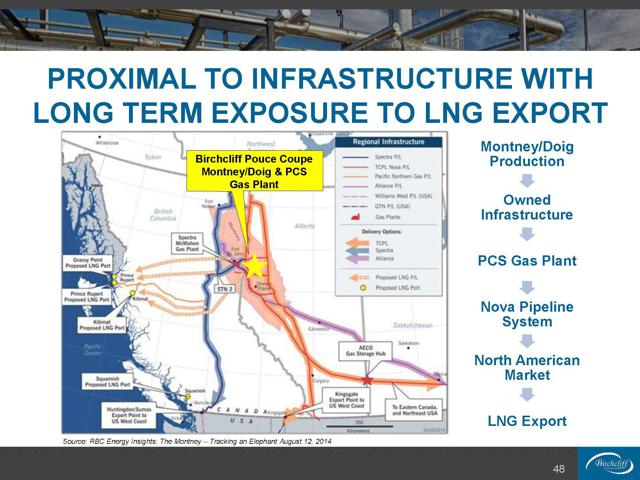 Click to enlarge
Source: February, 2016 Birchcliff Resources Corporate Presentation.
From the above slides, the gas plant is undergoing an expansion that has already started and the company is looking to build a second gas plant. Both of these proposals are capital intensive and the company has already warned that it does not expect an increase in its bank line at the next redetermination. It also does not see a sharp decrease in its credit line due to the sizeable increase in reserves and its fairly valuable infrastructure already in place. Most likely the company will slow the two projects so it can live within its cash flow or until commodity prices rise sufficiently. The company claims a reduction in cost of C$1 MCF due to the gas plant, as well as increased flexibility to increase or decrease production.
However, the gas plant will also provide the company with access to export markets where gas pricing is considerably stronger than the local markets the company serves. Even Alaska (though a small market) has higher gas prices than the rest of North America if the company can get its gas to that market. Larger markets with higher pricing include much of Asia and Europe. In short, the gas plant would give the company far more selling flexibility than it has just selling to the local markets and a brighter future.
So the gas plant expansion is a marginal proposition with current pricing, but it becomes a much better proposition if a significant amount of gas can be exported. Even though a fair amount of capital has already been spent on the expansion, and the startup is expected within a year depending upon commodity prices, the outcome of the expansion will probably influence the timing of the building and startup of the new gas plant.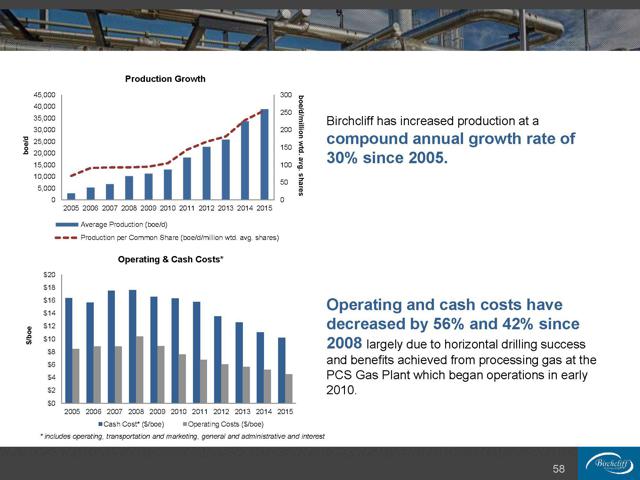 Click to enlarge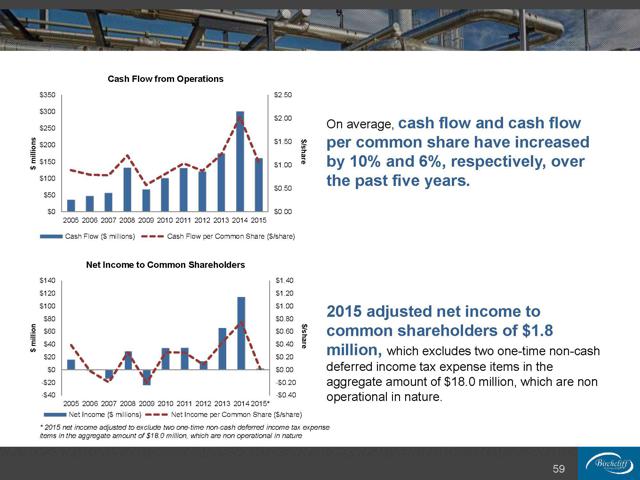 Click to enlarge
Source: February, 2016 Birchcliff Resources Corporate Presentation.
From the above slides, this company has a long history of growing production and decreasing costs. In fact it appears to be leading the industry in low costs. What is particularly impressive is that last year was a rotten year for the industry by most standards, yet this company could still show growth in cash flow of 6% per year for the past five years.
Back in 2012, the company made money with record low pricing for gas and some pretty impressive oil and liquids prices (at the time). Now, three years later, with oil and liquids pricing far lower but a little help in the fourth quarter from the gas pricing, the company made a small profit before adjustments. That demonstrates a management constantly focused on low costs even during the high profitability times in the industry. This management has kept the company in a position to survive the downturns in the industry at all times. When compared to all the companies that are heading to bankruptcy, that is no small accomplishment.
Gas prices could conceivably head lower than the record low of a few years back, but persistently lower prices does not appear to be a greater risk with capital budgets in the industry being cut across the board. Some sort of modest recovery appears inevitable later in the year plus the possibility of exporting some LNG for greater profits appears a much more likely chance. This company has a history of bouncing back from a marginal profit in the following year by cutting more costs and/or increasing sales prices.
The balance sheet is a bit leveraged, but cash flow is adequate, though not great. The company had cash costs of C$11.01 per BOE for this year (royalty payments, operating expenses, transportation expenses, marketing, general and administrative expenses, and interest expense), and management aims to reduce this further, probably by 10% at least (and more likely by another 20%), which would be half of the 21% accomplished in 2015. Needless to say, there is a risk that management may not achieve its cost cutting goals, however, management has a long history of cutting costs until the company is profitable whether or not there is a commodity price rally.
Long term bank debt was C$622.1 million. Since there is a gas plant expansion coming online that is expected to cut costs and production growth of three to five percent for the year, as well as administrative cost cutting and operational improvements projected, it seems reasonable to project a cash flow of about $160 million. That would give a ratio of long term debt to cash flow of roughly four-to-one. If the fourth quarter cash flow from operations is used (and that is closer to $30 million for the quarter and $120 or so annualized), then the ratio is five-to-one. While these ratios are not great, they are workable, especially with a management like this one that is focused on cost cutting. The lenders apparently agree somewhat as the loan has no covenants (though it is subject to periodic redeterminations).
The company has a current market cap of $606 million (based on the market close on February 12, 2016), about $200 million of preferred stock, and another $622 million of debt. That total value of $1.422 billion divided by the cash flow of a projected $160 million gives a ratio of nearly nine-to-one. While that is a premium to some of the companies out there, this management has shown superior execution for quite some time, and has flexibility to changing market conditions that many other companies do not have. Fourth quarter performance was a significant outperformance of the industry that the market may not have expected despite the history of this company. Despite the stock increasing about 50% from the previous article, it clearly has superior prospects to much of the industry and the stock price will appreciate further even without much help from commodity price increases. This management is determined to have the company not only outlast the current low commodity price environment, but also get it to thrive in this environment if it persist. With capital budgets declining sharply throughout the industry, and bankruptcies rising, the risk of further persistent commodity price decreases is small. While they would hurt this company and its stock price, they are unlikely to last if they occur. Management may not meet it goals, but it has a long history of making this company fairly profitable in some very hostile industry environments. My bet is on the management of this company.
The last article discussed the purchase of two million shares by a major shareholder. That shareholder has not sold and has already made more than two million Canadian dollars on his purchase.
The company is also a bet on the Canadian dollar value improving with respect to the U.S. dollar. While currently the Canadian dollar is at historical lows and it could decline further, that appears to be unlikely, so investors could benefit from this change in the conversion ratio over time. This stock, despite industry conditions has a lot of reasons to increase in the future, and not many reasons to decrease whether or not industry conditions improve. Following a major shareholder who purchases two million shares at the bottom of the market, to make an investment in this company could be a very wise move.
Disclaimer: I am not an investment advisor and this is not a recommendation to buy or sell a security. Investors are recommended to read all of the company's filings and press releases as well as do their own research to determine if the company fits their own investment objectives and risk portfolios.
Disclosure: I/we have no positions in any stocks mentioned, and no plans to initiate any positions within the next 72 hours.
I wrote this article myself, and it expresses my own opinions. I am not receiving compensation for it (other than from Seeking Alpha). I have no business relationship with any company whose stock is mentioned in this article.
Editor's Note: This article discusses one or more securities that do not trade on a major U.S. exchange. Please be aware of the risks associated with these stocks.