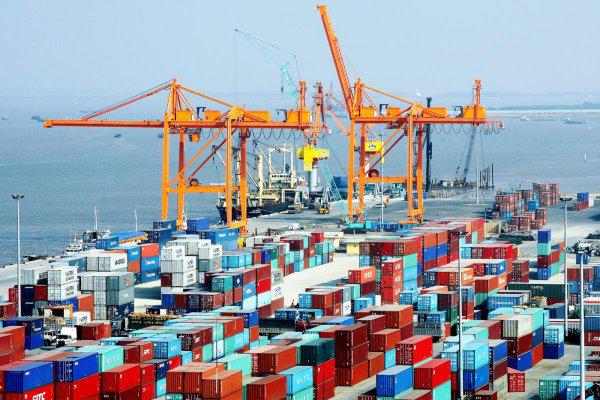 Source: China People's Daily
China's January trade data might not bode well for the global economy. According to the Financial Times, January exports and imports fell more than expected:
Exports fell 6.6 per cent year-on-year in January to Rmb1.14tn, following a 2.3 per cent gain in December. Economists expected a gain of 3.6 per cent. It was the biggest fall in exports since an 8.9 per cent drop in July last year.

The drop was even more pronounced measured in US dollars, with exports crashing 11.2 per cent year-on-year last month to $177.48bn. That was from a 1.4 per cent drop in December, and versus expectations for a 1.8 per cent slide. It was the biggest drop since a 15 per cent fall in March last year.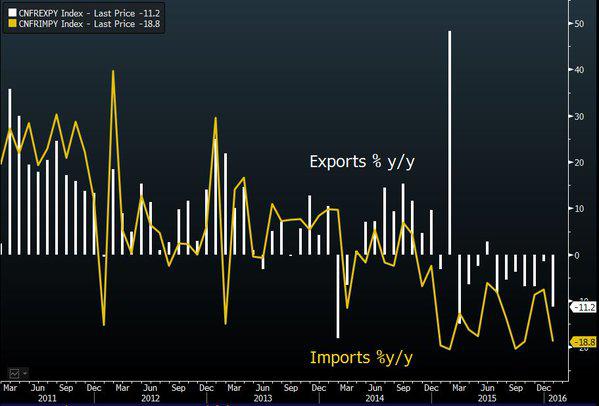 Source: China People's Daily
Imports fell 14.4% and 18.8% in renminbi terms and dollars terms, respectively. This was the biggest monthly drop in imports since September 2015.
Implications Of Disappointing Trade Data
China has been a potential black swan for the global economy. For months investors and economists have looked to China's trade data for signals of its domestic strength, and its potential impact on emerging countries who trade with China. This disappointing trade data could have the following implications:
U.S. Financial Markets Decline Further
Over the past year, the S&P 500 (NYSEARCA:SPY) is down about 10%. It has fallen about 7% since the Fed raised interest rates in mid-December. With the Fed no longer providing a stimulus to the economy, investors are concerned that the U.S. could fall into recession. Recent data on employment and U.S. manufacturing activity have not been encouraging. Secondly, the U.S. is expected to experience an earnings recession in 2015 for the first time since 2009.
At some point, asset prices and the state of the global economy might actually converge. If investors believe China's worsening trade data could drive the global economy lower, financial markets could fall in anticipation.
Emerging Markets Could Fall Further
China is the largest buyer of iron ore, steel, and other commodities. A fall in Chinese demand could hurt the economies of countries like Brazil, South Africa and Venezuela who sell into China. Currencies of these countries have been in free fall against the U.S. dollar; things have gotten so bad in Venezuela that some are predicting a default of its sovereign debt.
In my opinion, U.S. exposure to sovereign or corporate debt in emerging markets could be the next black swan. These bonds will likely impact retail investors with exposure to high yield bond funds or emerging markets funds.
China Could Devalue Its Currency Again
China's central bank is on record that there is no need to devalue the yuan. The government has been trying to shore up its currency in an attempt to break speculators betting on a yuan crash. However, China has long-engaged in the game of keeping its currency cheap vis-a-vis the dollar; this allows its products to be cheaper in the U.S. and potentially aid its exports to the U.S. Secondly, China's July 2015 exports fells 8.9% Y/Y and were extremely disappointing. The very next month China devalued its currency by 2%, sending U.S. financial markets into a tailspin.
Old habits are hard to break. If China's trade data continues to disappoint - there is no reason to think it will not - I would not be surprised if the government devalues its currency again. Whether U.S. markets free fall again on such an event remains to be seen.
Note: The article may also impact the following securities: the WisdomTree Chinese Yuan ETF (NYSEARCA:CYB), the First Trust China AlphaDEX ETF (NASDAQ:FCA), and the iShares China Large-Cap ETF (NYSEARCA:FXI).
Disclosure: I/we have no positions in any stocks mentioned, and no plans to initiate any positions within the next 72 hours.
I wrote this article myself, and it expresses my own opinions. I am not receiving compensation for it. I have no business relationship with any company whose stock is mentioned in this article.